ELISABETH BECKER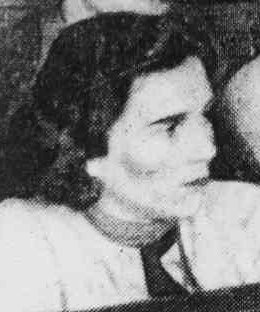 (1923- 1946)
Born 20.07.1923, lived in Neuteich, Feuerwebstrasse 3 (Nowy Staw) near Danzig,
German nationality, single
Since 1936 member of the NSDAP and the BDM
1938 - 1940 tramway conductor in Danzig
1940 - 1941 working in the company "Dokendorf" in Neuteich
1941 - 1944 occupation at the communal administration Neuteich as agricultural assistent
05.09.1944 - 15.01.1945 SS-Guard in SK-III Stutthof

It was proved that she had been beating prisoners and that she was in charge of leading them to the gaschambers

She fell ill with typhoid fever and was brought to the clinic in Danzig where she was arrested 13.04.1945

On 31. May 1946 she was sentenced to death by hanging

She introduced a plea for clemency at the Polish Presidency . The court gave a favorable opinion to her demand and suggested a 15 year's imprisonment instead of the capital punishment as her crimes were lesser then Jenny Barkmann's or Gerda Steinhoff's , but President Boleslaw Bierut rejected her plea, confirmed the sentence and Elisabeth Becker was publicly hanged on 4th July 1946.