---

---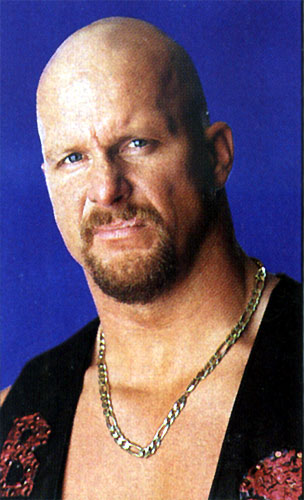 Real Name: Steve Williams (No, not THAT one...)
Height: 6'2"
Weight: 241 lbs.
Birthday: 12/18/1964
Hometown: Victoria, Texas
Entrance Theme:
"Glass Shatters" by Disturbed

Handler: Darth Gouki
Style and Focus:
Technical with Roughneck tendencies
Logic - Brawler, Grappler
Attack Focus - Neck and Upperbody (for the Stunner), limbs.
Trademark Moves:
Lou Thesz Press (w/ Punches)
Super Spinebuster
The "WHAT!" Stomp, aka Mudhole Stomping Austin sets up dazed opponent in the corner, and stomps repeatedly while the audiences chants "What!" with each stomp.
Angry Stomp A variant of the "WHAT!" Stomp, done while the opponent lays on the mat after being knocked down.
Stun Gun (Austin hangs his opponent on the second rope, then runs to the other side, slingshotting off it, and dropping a leg onto his opponent, effectively clothslining him on the second rope.)
Driving Elbow (Austin holds his forearm and plants the point of the elbow into the sternum of his opponent. Usually done from the second rope, but sometimes off the ropes when the opponent is lying on the mat.)
STF
Turnbuckle Clothesline
"Poke 'em in the eye!"
Belly to back suplex
Wishbone Stomp Austin grabs both feet of opponent while he/she is on their back, and stomps in the middle.
Other commonly used moves
DDT
Toe Kick
Snap Jab
Body Punch
Double Axe Handle
Elbow Smash
Back Chop
Wrist & Arm Wrench
Knee Strike
Headlock Takedown
Sidewalk Slam
Jawbreaker
Russian Leg Sweep
Backdrop
Elbow To Back Of Head
Forearm Smash
Back Side Slam
High Angle Backdrop
Superplex
Turnbuckle Toe Attack
Shoulder Strike
Vaulting Body Press
Flying Clothesline
Diving Elbow
Clothesline
Kitchen Sink
Mat Slam
Bulldog
Shoulder Back Toss
Hip Toss
Finishers:
Stone Cold Stunner A 3/4 Face Lock Bulldog, Austin begins with a kick to his opponent's gut, then applies the 3/4 face lock on his shoulder, then drops down to the mat, impacting the opponent's chin into his shoulder. Originally known as the Ace Crusher
AAA/Superhuman Abilities
Superstrength, Rattlesnake reflexes, and an uncanny tolerance for alcohol. And more alcohol. And alcohol after that. What?
Quotes/Catchphrases
"Austin 3:16 says I just whipped your ass!"
"DTA--Don't Trust Anybody!"
"And that's the bottom line, cuz Stone Cold said so!"
"Ehn-ehn! That just ain't gonna happen!"
"Look at me."
"What?!"
Ring Attire
Austin wrestles in simple black trunks, and knee braces of varying colors (although usually black). Muscular, but not ripped/chiseled. Prominent, but not overwhelmingly large "beer belly". Head shaved bald, with mustache and goatee. Blue eyes, blond facial hair. Tattoo of the state of Texas on his left ankle.
Gimmicks: Stunning Steve Austin, Superstar Steve Austin, The Ringmaster, etc.
Teams:
Hollywood Blonds w/ Brian Pillman
w/ Dude Love
w/ The Undertaker
Two Man Power Trip w/ Triple H
Stables:
The WCW/ECW Alliance: Leader: Stone Cold Steve Austin Members: DDP, Hurricane Helms, Hugh Morris, Shawn Stasiak, Shane and Stephanie McMahon, Paul Heyman, etc.

Titles Held

Current EAW Champion (as of 10.31.2005)
6-Time WWF Champion
2-Time WWF Intercontinental Champion
4-Time WWF Tag Team Champion (w/Shawn Michaels, Dude Love, Undertaker, and HHH)
1-Time Million Dollar Champion (unrecognized title)
2-Time WCW United States Champion
2-Time WCW Television Champion
1-Time WCW Tag Team Champion (w/Brian Pillman)

Other Career Highlights

1996 WWF King of the Ring
1997 Royal Rumble Winner
1998 Royal Rumble Winner
2001 Royal Rumble Winner