Gorky Parklife
---
from The Observer
9/12/99
by Susannah Clapp

Gorky's bright young things seem to have a lot going for them. But their life's no picnic...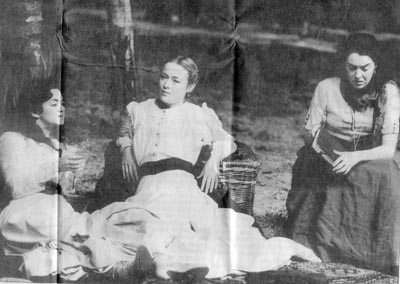 From left: Victoria Hamilton, Jennifer Ehle and Derble Crotty in Summerfolk at the National (photograph by Neil Libbert)
To see Trevor Nunn's gloriously acted, buzzing production of Summerfolk is to be made aware of a slice of Russian life which is seldom put on stage. Maxim Gorky's play - part soap opera, part political propaganda - was written within a year of The Cherry Orchard, and with Chekhov in mind. But the lives that it dramatises are very different.
The people of the title, gathered in a group of neighbouring dachas for the season, are the children of working-class parents, and the beneficiaries of Alexander II's educational reforms, reforms that resulted in a near-doubling of the number of undergraduates from poor families. These doctors and lawyers are the sons and daughters of cooks and launderesses. Some try to behave as if they are insouciant sprigs of the aristocracy; some squirm at what they consider their disadvantaged background; others rejoicingly declaim it. There are gossipy sybarites, and forceful truth-tellers eager to give everyone the benefit of their lack of doubt.
No prizes for guessing which characters Gorky favoured. The proponent of socialist realism, who had worked for his living from the age of eight, made his sympathies obvious in Summerfolk, which was turned down by the director of the Moscow Art Theatre, who had produced The Cherry Orchard, on the grounds that it was weakly structured and full of obvious satirical targets.
You can see what he meant. It is the didacticism that chiefly separates Gorky from Chekhov. Their concerns were often the same: gifted women shackled to hopeless husbands, amateur theatricals, disconsolate clinicians, hours spent debating the use of work. But Gorky's plot and characters develop more mechanically, without Chekhov's abundant waywardness. Jennifer Ehle, stuck from the start at the apex of Gorky's moral ladder, never gets beyond one note of long-drawn-out sorrow.
Nevertheless, this is a rich evening with a grand sweep. Gorky was always slipping the net of his own dogmatism. He couldn't help giving vivacity to the creatures he despised, and writing lines which undermined his own creed. In Nick Dear's pacey though sometimes strenuously idiomatic translation, one character explains that those women who are 'not worthy of respect, are most worthy of respect'.
And the vividness accorded these characters by the National Theatre's ensemble is tremendous. Here is Simon Russell Beale as a down-in-the-mouth medical man, showing the fluctuating state of his marriage with a slumped shoulder or a twitch of his mouth: opposite him, Beverley Klein shudders from vulnerability to voraciousness. Here is Henry Goodman, making something pointed and equivocal out of a once idealistic author who peers at people in the street and catches the unmistakable look of people who are not reading his books. Here is Michael Bryant, wheezing his home truths with his customary mixture of gravity and feathery lightness; and Patricia Hodge, autocratic but alluring in the interesting role of a woman doctor. Roger Allam is outstanding as a languid dolt.
The staging suggests continual movement. Christopher Oram's design has a gorgeous depth. It begins with a dapple of shadows from silver birches that, arching high, look oddly like palms. As the light flushes and fades, the dapple darkens and silhouettes appear. An evocatively heat-filled soundscape interweaves birdsong with mournful toots from a far-off train.
Summerfolk goes beyond social realism to supply a persuasive image of human transience. These creatures come together, merrily and disputatiously: they launch into their topics; they give off gaiety and anxiety. At the end of the evening, or season, they disperse, leaving only a mess behind.
---
Back to Summerfolk Article Index