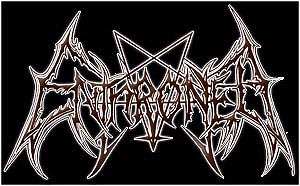 Interview for DEATHTHRASHER MAGAZINE by ARMANDO MUTILATOR :

Hails Armando,

Here comes the Interview...sorry for the delay but I've been very busy....I hope to see you on the South American tour next month
Take Care dude...keep on Metal man.

Sabathan.
DT: Did you ever play under the name of ENTHRONED? of did you use any other before? ... if so why the name ENTHRONED? Who take the word "ENTHRONED" for the name of the band?.
Sabathan: We ever used the Name ENTHRONED since we're formed in December 1993, ENTHRONED means Throne the evil, The triumph of Hell on Earth...Satan as the only one leader and God...Satan on the Throne forever and ever.
Is myself (SABATHAN) who take the name ENTHRONED....we never used another name than ENTHRONED cause it fits perfectly to our spirit, our music and our thoughs and feelings.

DT: Your current line - up?.
Sabathan:
LORD SABATHAN : Bass and Lead Vocals
NORNAGEST : Guitars and Backing Vocals
NGUAROTH : Guitars and Backing Vocals
and soon a new drummer but he's still in test session

DT: Do you like 70's Progressive Rock bands?.
Sabathan: Of course...my fave ones are RUSH and PINK FLOYD.
DT: What topics do you consider in your lyrics? .
Sabathan: Satan, Satan and Satan, and total annihilation hypocrite religions like Christianity and Islam.

DT: What do you think about PSYCHO (The Movie)?.
Sabathan: I cannot say to you because I've never seen it.

DT: Do you like Soccer, do you know ANDRES MENDOZA?.
Sabathan:No I don't like Soccer, I just know the name ANDRES MENDOZA but nothing more...is not my kind of stuff soccer.

DT: Do you read H.P. LOVECRAFT?
Sabathan:Yes I've read some books from him, he has made very interrestand works...I love it.

DT: Are you into Cocaine?.
Sabathan: Nooooooooo....beeuuurrrkkk...I hate drugs...I'm into beer, sex and metal...and rock n'roll....fuck drugs...is for feeble people peace and love hippies.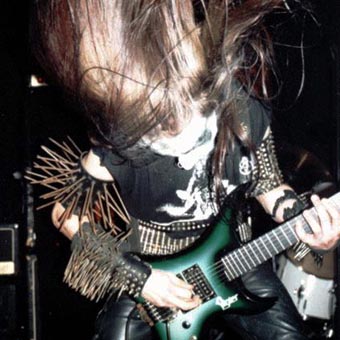 DT: Your fave bands?.
Sabathan: BATHORY, VENOM, CELTIC FROST, old MAYHEM, JUDAS PRIEST, MOTORHEAD, IRON MAIDEN, RUNNING WILD, SAXON, IMMORTAL, DARKTHRONE,SODOM, DESTRUCTION, RUSH, WATAIN, MORBID ANGEL....and many others...the list would be too long.

DT: Do you like Gore Movies?.
Sabathan:YEEEEAAAAAAHHHHHHHH.....!!!!!!

DT: Do you like VENOM?.
Sabathan: One the principal influence of ENTHRONED....We Worshipp VENOM.

DT: CHRIS BARNES or CORPSE GRINDER, BON SCOTT or BRIAN JOHNSON, ROB HALFORD or RIPPER OWENS, BRETT HOFFMANN or JASON BLACHOWICZ?
Sabathan: CORPSE "GEORGES" GRINDER.
Both of them BON SCOTT (with a little preference for him) but BRIAN JOHNSON rule too...AC/DC RUUULLLESSSSS...
ROB HALFORD for JUDAS PRIEST was the Only One, but TIM OWENS have made a incredible job to replace ROB HALFORD...Total respect to him, I loved PRIEST also with RIPPER and now RIPPER in ICED EARTH...it simply killer...a very excellent singer and frontman.
BRETT or JASON for me doesn't matter, I like them both.

DT: Your musical productions? (include rehearsals, demos, etc), and your best productions?.
Sabathan: Our best production...the upcoming new album "Xes Haereticum" so far.
for the rest take a eye on www.enthroned-horde.com is all detailed.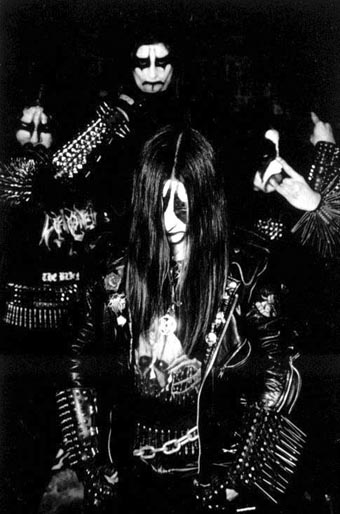 DT: What do you think about Occultism, Satanism and Black Magic?.
Sabathan:Is a part of our life.

DT: Do you like ANCIENT RITES?.
Sabathan:Yes, they're very good friends and a legendary band.

DT: Are you into Serial Killers? ... What do you think about HENRY LEE, LUCAS, RICHARD RAMIREZ, CHARLES MANSON and JOHN WAYNE GACY?.
Sabathan: They're interrestand persons....their stories a interresting.

DT: What do you thing about H.R. GIGER's art? .
Sabathan: Fuckin' the best I know...Hail Giger.

DT: Do you like American PIT BULLS, are you into Dog Fights?.
Sabathan: No....I doesn't matter me.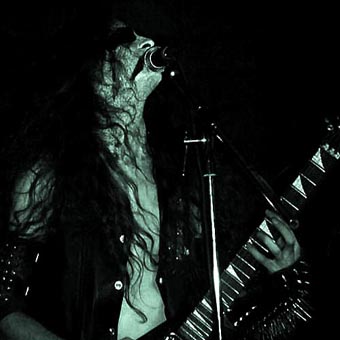 DT: Tell me about your Split EP with ANCIENT RITES for the AFTER DARK RECORDS
Sabathan: It has been released in 1994 a while after our Demo...is a brotherhood piece of Black Metal vinyl collector...it's very hard to find nowadays, and very expensive masterpiece too.

DT: Do you like RENAISSANCE?.
Sabathan: I love it, one of my fave period in time with Middle Age.

DT: Which was the best audience you ever play for?.
Sabathan: There's good audience a little bit everywhere, that's depend not of the country you play but the area and the venue you play.

DT: Do you know BORIS VALLEJO's Art?.
Sabathan: Yes, BORIS VALLEJO made very good art but I prefer so far LUIS ROYO in that kind of Art.

DT: Are you friends with SHIVER RECORDS?
Sabathan: Yes, they're very cool people.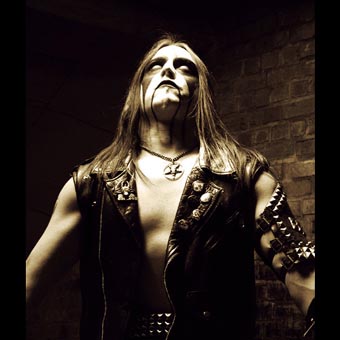 DT: Your 10 Best Albums for all the times?.
Sabathan:
BATHORY : Under The Sign Of The Black Mark
VENOM : Black Metal
MAYHEM : De Mysteriis Dom Sathanas
DARKTHRONE : Transilvanian Hunger
JUDAS PRIEST : Painkiller
IRON MAIDEN : The Number Of The Beast
MERCYFUL FATE : Don't Break The Oath
MORBID ANGEL : Altars Of Madness
IMMORTAL : Pure Holocaust
SLAYER : Reign In Blood...
but there's much more than ten albums for me which are the best of all times, but I've told the ones I had in mind.

DT: Do you know LUCILA CAMPOS "LA REINA DE LAS POLLADAS"?
Sabathan: No....never heard about.

DT: Do you like the Old Heavy Metal?.
Sabathan: I what I listen the most...old heavy metal bands from the eighties like, from the new wave of british heavy metal like; SATAN, ATOMKRAFT, ANGEL WITCH....and some German underground stuffs like FAITHFUL BREATH, STORMWITCH...and also the classical ones like SAXON, PRIEST, MAIDEN...and some US gods like WASP, MÖTLEY CRÜE, TWISTED SISTER...yyeaahhhh man....rock n' roll...\m/.

DT: Do you like AGATHOCLES?.
Sabathan: No so much...they're cool guys but I don't like grindcore.

DT: SABATHAN, tell me about your days in MORBID DEATH
Sabathan: It was the first band I've formed with CERNUNNOS (r.i.p.) in 1987, we played brutal Thrash / Death metal and released two Demos
Diabolic Force in 1989 and Demoniac 1988.
from the ashes of MORBID DEATH is born ENTHRONED in 1993.

DT: Do you really enjoy Heroin?
Sabathan: I Hate drugs I told you!!!!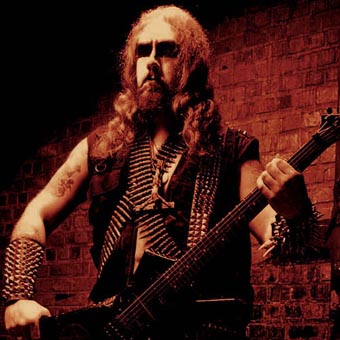 DT: Your "PROPHECIES OF PAGAN FIRE" (Evil Omen 1995) is available?.
Sabathan: Not anymore on EVIL OMEN unfortunately the label doesn't exist anymore....I prefer that one from the crap PLASTIC HEAD re-release.

DT: What Peruvian Magazines do you know?.
Sabathan: Yours is the best I think....(without to lick your ass).

DT: Are you an Anti - Homosexual band?
Sabathan: No!!!

DT: Do you like AC/DC?.
Sabathan: Rock n' Roll Gods of Gods who don't like AC/DC????? Kiddies of the neo Black Metal scene probably....hehehehe.

DT: What do you think about ROCKY BELMONTE ?.
Sabathan: Nothing....

DT: Tell us about the true cause of CERNUNNOS suicide
Sabathan: I'm tired to speak about....everybody knows the cause....in every interviews I got that question.
He was maniac depressive and could not escape of the bullshit...too much alcohol + medication have made him commit this act.
Rest In Peace Brother....until we will meet there.

DT: Tell us about your "TOWARDS THE SKULLTHRONE OF SATAN" (Blackened 1997).
Sabathan:It's for me the best and the succesfulest release of Enthroned...but for sure is the album we've sold the most and the one we got the best audience, tour and concerts.

DT: Do you like Swedish Death Metal?.
Sabathan: Yes, very much...bands like DISMEMBER, UNLEASHED, ENTOMBED, old TIAMAT / TREBLINKA, NECROPHOBIC...but I don't like bands like IN FLAMES and all that scene.

DT: Are there any famous Serial Killers in Belgium?.
Sabathan: There's one a while ago, but Belgium is more reputated for Pedophiliac which is a kind of serial killers.

DT: Tell me about your "THE APOCALYPSE MANIFESTO" (Blackened1999), is your best production?.
Sabathan: Is really not our best production, is the weakest album of ENTHRONED...and the poorer one in matter of composition....
"Carnage in Worlds Beyond" is far far better and much more mature.

DT: How did the idea of "ARMOURED BESTIAL HELL" (Blackened 2001).
Sabathan: The same than for "The Apocalypse Manifesto" but with a better sound production.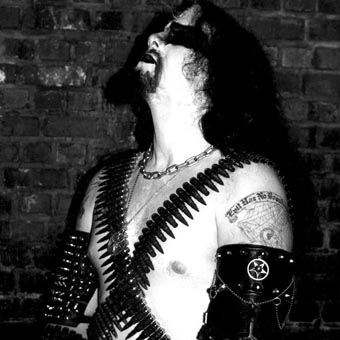 DT: Your future plans?.
Sabathan: The Release of our new album (which is already recorded since May) and the South American tour + many concerts, festivals and tours.

DT: Do you consider "GOATLUST" 7" like a cult gem? (Painkiller Records 2003).
Sabathan: Is just a 7"EP that we wanted to release...a kind of cult Gem yes.

DT: "CARNAGE IN WORLDS BEYOND" is your most brutal gem?.
Sabathan: The most accomplished album of the band...of course after the last one "Xes Haereticum" which is better again.

DT: Your last comment for DT. Readers… where can they find your stuff?
Sabathan: Come on to support us on the South American tour in September 2004....we hope to see you all guys...take care.

---

---