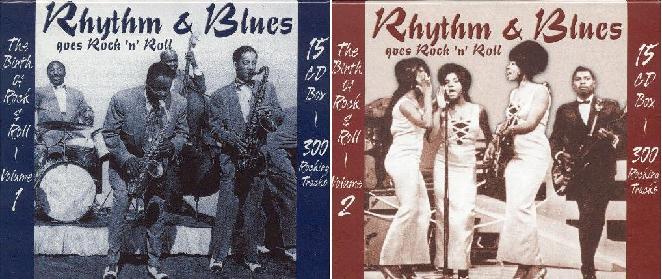 Six hundred R&B tracks on 30 CDs - at a reasonable price, too! These two 15-CD boxes released in 2002 by the International Music Company, AG, of Germany, would be a fantastic education if the notes in their 52-page booklets matched the quality of the music. Regrettably, the booklets are full of generalities and generalizations, providing no significant information about these 600 recordings. Another complaint - the artist pictures on the individual CD inserts provide no identification information and do not necessarily relate in any way to the songs on the particular CD . Nonetheless, these box sets are strongly recommended.
If you're looking for major hits, you'll have to look elsewhere; the package is far from the usual "great hits" stuff that can be found 'most anywhere. This is a compilation of "solid" R&B from the 1940s through the 1960s (with even a flashback to the '20s) covering a broad spectrum of artists, labels and styles. In the main, listening to these CDs is reminiscent of early Alan Freed broadcasts - a great number of single artists, a few instrumentals, and an occasional group record. And the beat just doesn't stop. Labels from all parts of the country, both major and minor, are represented in this collection, and we don't detect a bias for any particular region - it's a well-balanced package.
If you're into the "roots" of what was becoming Rock 'N' Roll, be sure to acquire these two boxes. Prices we've seen vary from under $35 to about $75 per box, so shop for these before you buy 'em - and be sure to check the on-line auctions. Even if you paid "top dollar," the purchase would be worthwhile, but why spend more than you need to?
Fortunately, the "Rockinrecords" Yahoo Internet Group, which normally specializes in rockabilly music, has compiled a track listing citing source records and recording/release years for almost all of the tracks, from which we have drawn liberally in producing the list below. The "Rockinrecords" file consists of a set of "homemade" insert sheets (in MS Word format), which can be printed out and inserted into the jewel cases of all 30 CDs. A word to the wise - we have added these inserts to our personal set - worth joining the Group just to get the inserts.
Rhythm & Blues Goes RockíníRoll Vol 1 - Disc 1
1. Fine Fine Baby - Mabel Scott (King 4386) 1950
2. Milton's Boogie - Roy Milton (Jukebox 503) 1945
3. Rock It - Lil Armstrong (Gotham 256) 1950
4. Joe's Boogie - Johnny Griffin w/ Joe Morris Orch. (Manor 1157) 1946
5. Brazos Bottom - Lloyd Glenn (Swingtime 199) 1950
6. It's You I'm Thinking Of - Jesse Thomas w/Lloyd Glenn (Swingtime 241) 1951
7. Teardrops From My Eyes - Wynonnie Harris w/ Lucky Millinder & his Orch. (King 4419) 1950
8. Bongo Boogie - Annisteen Allen w/ Lucky Millinder & his Orch. (King 4453) 1951
9. Doodle Doo Da Deet - Joe Liggins (Exclusive 219) 1946
10. Saxony Boogie - J. T. Brown (Meteor 5016) 1954
11. Kilroy Won't Be Back - Eddie Boyd (Victor 20-2311) 1947
12. I Just Couldn't Help It - Washboard Sam (Victor 20-2297) 1947
13. St. Louis Boogie - Booker T. Washington (Apex 1106) 1949
14. Jimmie's Jump - Memphis Jimmy (James Clark) w/ J.T. Brownís Boogie Band (Victor 20-2278) 1947
15. Round House Boogie - J. T. Brown (Meteor 5001) 1953
16. Cold Hearted Woman - Lowell Fulson (Swingtime 197) 1950
17. Wine-O Baby Boogie - Joe Turner (Swingtime 152) 1948
18. The Dirty Dozens - Sam Price (Decca 7811) 1940
19. I Found That Woman - Jimmy McCracklin (Swingtime 286) 1952
20. Gonna Send You Back - Eddie 'Cleanhead' Vinson (Mercury 8051) 1947
Rhythm & Blues Goes RockíníRoll Vol 1 - Disc 2
1. Base Ball Boogie - Mabel Scott (King 4368) 1950
2. Joogie Boogie - Lil Armstrong (Gotham 241) 1950
3. Chuck-A-Boogie - Johnny Griffin (issued as by Joe Morris) (Atlantic 885) 1949
4. Beans And Corn Bread - Joe Morris Septet (Atlantic 878) 1949
5. Dripper's Boogie - Joe Liggins (Exclusive 2320) 1946
6. Baby Won't You Jump With Me - Lowell Fulson (Swingtime 227) 1951
7. Rocket Boogie ę88Ľ - Joe Turner w/ Pete Johnson & his Orch. (Swingtime 169) 1949
8. Cheater - Jimmy McCracklin (Peacock 1639) 1954
9. Home Boy - Eddie 'Cleanhead' Vinson (King 4456) 1951
10. Subway Blues - Mabel Scott (King 4395) 1950
11. Juke Box Shuffle - Lowell Fulson (Swingtime 338) 1953
12. Blues Blasters Boogie - Jimmy McCracklin (Modern 926) 1954
13. Feed Me Baby - Brownie McGhee & the X-Rays (Savoy 760) 1950
14. Big Leg Mama - The Rockets (Atlantic 988) 1953
15. Catch 'Em Young - Mabel Scott (Coral 65057) 1951
16. Beer Bottle Boogie - Mary Deloatch (Marylin Scott) (Regent 1025) 1950
17. Bobby's Boogie - Morris Lane (Red Robin 101) 1952
18. Blues For What Iíve Never Had - Johnny Mooreís Three Blazers w/ Lee Barnes (RCA 20-0022) 1949
19. Roly Poly Mama - Harry Crafton (Gotham 196) 1949
20. Boogie Woogie Choo Choo Train - Mabel Scott (Coral 65063) 1951
Rhythm & Blues Goes RockíníRoll Vol 1 - Disc 3
1. Straighten Him Out - Mary Deloatch (Marylin Scott) (Regent 1024) 1950
2. Peter Blue And Jasper Too - Paul Gayten (Deluxe 1118) 1948
3. Wine-O - Jack McVea (Combo 57) 1954
4. Drinkin' Wine Spo Dee O Dee - Stick McGhee (Atlantic 873) 1949
5. I Like It - Ivory Joe Hunter (King 4255) 1948
6. Low Down Dog - Joe Turner (Aladdin 3013) 1947
7. Russell Street Hustle - King Porter (Paradise 124; King 4295) 1949
8. Come On In - King Porter (Marie Well ?) (King 4333) 1950
9. Keep A Dollar In Your Pocket - King Perry (Excelsior 522) 1947
10. 9:30 Shuffle - Lowell Fulson (Trilon 186) 1947
11. I Want To Die Easy - King Porter & Marylin Scott (Mary Deloatch) (Regent 1029) 1951
12. Creole Call - Paul Gayten (Deluxe 3215) 1950
13. My Rough And Ready Man - Annie Laurie (Regal 3235) 1949
14. Let's Do It - Stick McGhee (Atlantic 912) 1950
15. I Had A Girl - Ivory Joe Hunter (MGM 11459) 1953
16. My Gal's A Jockey - Joe Turner (National 4002) 1946
17. Rumors Of War - Marylin Scott (Mary Deloatch) (Savoy 4039) 1951
18. One Monkey Don't Stop The Show - Stick McGhee (Atlantic 937) 1951
19. I Got Love For Sale - Joe Turner (National 4002) 1946
20. The Lord's Gospel Train - Mary Deloatch (Marylin Scott) (Regent 1024) 1950
Rhythm & Blues Goes RockíníRoll Vol 1 - Disc 4
1. Mad Blues - Joe Turner (National 4009) 1946
2. Chitlin' Ball - King Porter (Imperial 5039) 1950
3. Leona's Boogie - Duke Henderson w/ King Perry (Excelsior 507) 1950
4. Goomp Blues - Johnny Otis (Mercury 8273) 1951
5. What's Your Name - Joe Swift (Exclusive 51X) 1948
6. Boogie Rambler - Clarence 'Gatemouth' Brown (Peacock 1505) 1950
7. Lollipop Mama - Wynonie Harris (King 4226) 1948
8. After Dark Blues - Billy Wright (Savoy 741) 1950
9. You Can't Stay Here - Pearl Reeves & the Concords (Harlem 2332) 1955
10. You Did Me Wrong - Big Mama Thornton (Bay-Tone 107) 1961
11. Rattlesnakin' Papa - Madonna Martin (Selective 104) 1949
12. Rockin' And Jumpin' - Honey Brown w/ Freddie Mitchell Orch. (Derby 761) 1951
13. Sally-Zu-Zazz - Joe Turner (National 4016) 1946
14. Big Fat Mama - King Perry Orch. (Excelsior 600) 1955
15. Madonna's Boogie - Madonna Martin (Selective 117) 1950
16. Ain't I Talkin' To You, Baby - Sheri Washington & Band (Lamp 2003) 1957
17. Work With It - Dell Graham w/ Que Martin & his Band (Big Town 120) 1954
18. You Oughta Quit It - Ann Carter (Blue Lake 103) 1954
19. Wait Now - King Perry Orch. (Excelsior 600) 1955
20. Siesta With Sonny - Ivory Joe Hunter (King 4220) 1948
Rhythm & Blues Goes RockíníRoll Vol 1 - Disc 5
1. Real Lovin' Mama - Floyd Dixon (Aladdin 3075) 1951
2. The Blues Pick On Me - Peppermint Harris (Sittin' In With 597) 1951
3. Pony Express - Freddie Mitchell (Derby 725) 1949
4. Hey Now - JB Summers w/ Tiny Grimes (Gotham 203) 1949
5. Ho Ho Ho - Tiny Grimes & The Rocking Highlanders (Gotham 319) 1956
6. Just Won't Let Her Go - Jimmy McCracklin (Modern 762) 1952
7. Jumpin' Tonight - Big Joe Turner (Imperial 5090) 1950
8. Shufflin' Boogie - Luke Jones (Atlas 122) 1946
9. Mumbles Blues - Paul Bascomb (Mercury 8299) 1952
10. Wine Wine Wine - Floyd Dixon (Aladdin 3135) 1952
11. Adam Bit The Apple - Joe Turner (Freedom 1531) 1950
12. Drinking Beer - JB Summers w/ Tiny Grimes (Gotham 203) 1949
13. Gotta Cut Out - Jimmy McCracklin (Modern 741) 1950
14. Ooh Little Girl - Floyd Dixon (Ebb 105) 1957
15. Blues Jump The Rabbit - Joe Turner (Bayou 015) 1953
16. Hey Mr. J. B. - Tiny Grimes (Krazy Kat LP 804) [Gotham unreleased, ca. 1950]
17. She Felt Too Good - Jimmy McCracklin (Peacock 16150 1953
18. Oh Gee Oh Wee - Charlie & Ray (Herald 461) 1955
19. I Gotta Go Home - Gene & Eunice (Aladdin 3305) 1955
20. I Wanna Make Love To You - Jimmy McCracklin & His Blues Blasters (Irma 102) 1956
Rhythm & Blues Goes RockíníRoll Vol 1 - Disc 6
1. 3 x 7 = 21 - Jewel King (Imperial 5055) 1950
2. Hey Girl, Hey Boy - Oscar McLollie & Jeanette Baker (Class 228) 1958
3. 7-11 - Gone All Stars (Gone 5016) 1958
4. Itís Me - Lee Andrews & The Hearts (Gotham 321) 1956
5. Rock, H-Bomb, Rock - H-Bomb Ferguson (Atlas 1001) 1951
6. Youíre Mine - Bobby & Ron (King 4961) 1956
7. Sick And Tired - Lula Reed (King 4748) 1954
8. Undertaker - Sonny Walker (Baron 100) 1973
9. Much Later - Jackie Brenston (Federal 12291) 1957
10. Looking For My Baby - Harmon 'Hump' Jones (Vision 200) 1957
11. I Ain't Guilty - Crawford Bros. (Aladdin 3397) 1957
12. Talk To Me Baby - Table Topper (Klondike 1010)
13. Bring It On Back - Mister Ruffin (Spark 115) 1955
14. Bloody Tears - Johnnie Littlejohn (Weis 1128) 1969
15. It's A Thing You Gotta Face - Polka Dot Slim (Instant 3269) 1965
16. I Think You're Lying - Big Daddy (Wynn 106) 1958
17. Yo Yo Twist - Sherman Evans (Manco 1049) 1963
18. Twistin' Beat - Phil Flowers & TNT Tribble's Combo (Domino 500) 1958
19. Looking For My Baby - Little Papa Joe (Jody Williams) (Blue Lake 116) 1955
20. Begginí Papa Blues - Freddie Clark (Nestor 14) 1956
Rhythm & Blues Goes RockíníRoll Vol 1 - Disc 7
1. Tough Enough - The Bees (Finch 7321) 1959
2. Easy Livin' Plan - Rufus Thomas (Meteor 5039) 1956
3. Rock Around The Clock - Wally Mercer (Dot 1099) 1952
4. Crazy Baby - Team Mates (La Cam 709) 1960
5. Trouble Up The Road - Jackie Brenston (Sue 736) 1961
6. Calling All Cows - The Blues Rockers (Excello 2062) 1955
7. I Wanna Be The Only One - Kip Anderson (Derrick 1000) 1959
8. Mad At You - Buddy Rogers (Buccaneer 503) 1962
9. You Got Me - Bobby Bland (Duke 185) 1958
10. Try Your Love - Johnnie Cook (Fargo 1052) 1964
11. I Don't Care - Sherman Evans (Manco 1049) 1963
12. You Move Me, Baby - Otis Blackwell (Jay-Dee 802) 1955
13. Shake That Thing - Finney Mo (Roulette 4518) 1963
14. Bye, Baby, Bye - Doc Palmer & The Paul Livert Orch. (w/ Sam Taylor) (Dawn 214) 1955
15. All Around The World - Jackie Dunham (Don-Dee) 1963
16. Love Blood Hound - K.C. Mojo Watson (Nanc 003) 1961
17. Everything Is Cool - Pork Chops (Herald 493) 1957
18. Don't Cut Out On Me - Tender Slim (Herald 571) 1962
19. Run Along Baby - The Premiers (RCA 47-6958) 1957
20. Sugar Babe - Buster Brown (Fire 507) 1962
Rhythm & Blues Goes RockíníRoll Vol 1 - Disc 8
1. Satisfied With My Lovin' - Marty Lewis (Flame 147) 1959
2. Good Rockin' Mama - Good Rockiní Sammy 'T' Taylor (Junior 500) 1960
3. Wolf Pack - Kid Thomas (Federal 12298) 1957
4. I Got A New Car - Irvin "Big Boy" Groves (Spark 114) 1955
5. Ramble - Albert Washington (VLM 334) 1962
6. Bye Bye Baby - Roy Perkins (Meladee 111) 1955
7. She Don't Want Me - H-Bomb Ferguson (Finch 354) 1957
8. The Dance - Lord Tennyson (Academy 5851) 1958
9. Now Do You Hear - Earl Gaines (Champion 1001) 1956
10. Down In The Bottom - Howlin' Wolf (Chess 1793) 1961
11. Slowly Losing My Mind - Willie Wright & Sparkles w/ Sammy Jr. (Federal 12372) 1960
12. Can't This Be Mine - Freddie Hall & His Aces (ABCo 103) 1956
13. Rock Me Daddy - Laurie Tate (Atlantic 965) 1952
14. I'm A Mojo Man - Lonesome Sundown (Excello 2132) 1957
15. Start All Over Again - Smokey Joe (Fonovox 100) 1956
16. Sleeping In An Ocean Of Tears - Brooks & Brown (Duke 172) 1957
17. Come On Home - Prince Charles (Teardrop 3003) 1965
18. You Better Hold Me - James Reed (Big Town 1170 1954
19. Roller Coaster - Little Walter (Checker 817) 1955
20. Peg Leg Woman - Willie King (Billy Gayles) w/ Ike Turner Orch. (Vita 123) 1956
Rhythm & Blues Goes RockíníRoll Vol 1 - Disc 9
1. I Want My Baby (When The Rooster Crows) - Joe Turner (Freedom 1545) 1951
2. Forgive Me Baby - Elmo Nixon (Savoy 878) 1953
3. Love Me Baby - Bernie Hardison (Excello 2020) 1953
4. Evil Man Blues - Doctor (Bob) Gaddy (Dot 1185) 1954
5. Big Legged Woman - Jimmy "Mr. Blues" Williams (Don-El 111) 1961
6. Betty Jane - Max "Scatman" Bailey (Coral 65065) 1951
7. Make Haste - Mr. Sad Head (William A. "Sunny" Thomas) (RCA 47-5388) 1953
8. Dream Blues - Gene Parrish (RCA 47-4240) 1951
9. Let's Make Love Tonight - Earl Williams (Savoy 1113) 1954
10. Rampaging Mama - Blow-Top Lynn & His House Rockers (RCA 50-0139) 1951
11. Baby Rock Me - Pat Valdelar (Mercury 70201) 1953
12. Shout Baby Shout - L.C. Williams (Freedom 1517) 1949
13. Love Me Pretty Baby - Max "Scatman" Bailey (Coral 65060) 1951
14. Papa Said Yes, Mama Said No, No, No - Lee Graves (Mercury 8214) 1951
15. Candy - Moohah (AC Williams) (Starmaker 501) 1958
16. Good Jax Boogie - Dave Bartholomew (Allied 1/2) 1950
17. Come Back Baby - King Perry (Trilyte 4001) 1956
18. Oh Baby - Bobby Jackson (Jan 101) 1958
19. Come On Rock Little Girl - Smokey Smothers (Federal 12405) 1961
20. So Worried - Charles Williams (Checker 866) 1957
Rhythm & Blues Goes RockíníRoll Vol 1 - Disc 10
1. If It's Too Late - J.L. Smith (Friendly Five 744) 1963
2. Set A Date - Homesick James (w/ Hound Dog Taylor) (Colt 632) 1962
3. No More, No More - Johnny Fuller (Irma 110) 1957
4. Don't You Wanna Man Like Me - Jay Nelson (Excello 2178) 1960
5. She's Gone - Schoolboy Cleve (Feature 3013) 1954
6. Midnite Blues - Baby Calloway (Baytone 100) 1958
7. Ways Of A Man - Guitar Shorty (Pull 301) 1959
8. Come By Here - Nat "The Cool Cat" (Talos) 1959
9. Just To Be Close To You - Paul Perryman (Duke 195) 1958
10. I Weep - B.B. Brown (Dit Dot 0001) 1967
11. I'm Not To Blame - Carter Bros. (Rexie 713) 1964
12. Don't Cry No More - Eugene Jefferson (Bay-Tone 108) 1961
13. I Love You - Elton Anderson (Trey 1002) 1960
14. My Baby Didn't Come Home - Harmonica Fats (Dot 16978) 1967
15. Tummer Tee - Rosco Gordon (Duke 173) 1957
16. Do Right Baby - Billy Gayles (Federal 12282) 1956
17. Rock'n'Roll Radio - Joe Boot & The Fabulous Minds (Celestial 111) 1958
18. Little Miss Bibbitty Bobbity Bom - Otis Riley (Kappa 209) 1958
19. Alice Mae Blues - Sonny Boy Williams (Duplex 9005) 1958
20. Knock Kneed Rooster - Hank Moore (Five-Four 5425) 1959
Rhythm & Blues Goes RockíníRoll Vol 1 - Disc 11
1. I Wanna - Cry Baby Curtis (Cash 1062) 1962
2. Down On My Knees - Walter Vaughn (Duchess 1001) 1961
3. It's Your Voodoo Working - Charles Sheffield (Excello 2200) 1961
4. You Know It Ain't Right - Charles Walker (Vest 829) 1959
5. Talk About A Party - Boogaloo (Kent Harris) & his Gallant Crew (Crest 1014) 1955
6. Hello Miss Simms - Garland the Great (Spark 121) 1955
7. Saturday Night - Kansas City Jimmy (Savoy 691) 1949
8. My Baby Is A Boxer - Junior Tamplin (Mercury 8239) 1951
9. You Look Bad - Danny "Run Joe" Taylor (RCA 5558) 1953
10. How About Rockin' With Me - Piney Brown (Apollo 423) 1951
11. I'm Clappin' & Shoutin' - Bumps Myers & His Frantic Five (Blu 115) 1952
12. Cheating Woman - Kansas City Jimmy (Savoy 691) 1949
13. You Better Stop - Junior Ryder (Morris Riden w/ Johnny Otis Orch.) (Duke 119) 1955
14. That's Right Baby - Piney Brown (Apollo 418) 1950
15. Bashful And Blue - Floyd Tumbam Orch. (Combo 24) 1952
16. Seein' You In My Dreams - Al Savage (w/ Joe Morris Orch.) (Herald 430) 1954
17. Decorate The Counter - Rufus Thomas Jr. (Chess 1517) 1952
18. They Were Right - Joe Fritz (Sittiní In With 602) 1951
19. Hole In The Ground - Freddie Kohlman Orch. (Jubilee 5123) 1953
20. Oh What A Fool - Mr. Google Eyes (w/ Johnny Otis Orch.) (Duke 117) 1953
Rhythm & Blues Goes RockíníRoll Vol 1 - Disc 12
1. Mama - Jimmy Smith (Savoy 709) 1949
2. You're Killin' Me - Milt Trenier & His Solid Six (RCA 5487) 1953
3. Talkin' About You - Piney Brown & his Blue Flashes (Atlas 1023) 1954
4. Red, Red Wine - Milton Buckner (Savoy 785) 1951
5. Ooh, You Bring Out The Wolf In Me - Piney Brown (Jubilee 5130) 1953
6. Oh, Babe - Jimmy Preston & Burnetta Evans (Derby 748) 1951
7. My, Oh My - Max "Scatman" Bailey (Federal 12003) 1951
8. Eatin' & Sleepin' Blues - Lemmy Johnson (MGM 11532) 1953
9. Let's Get Together And Make Some Love - Jimmy Lewis (Atlantic 943) 1952
10. I'm Telling You Baby - Bumps Myers & His Frantic Five (Blu 115) 1952
11. Flip Your Wigs - Milt Trenier & His Solid Six (RCA 5487) 1953
12. Big Man - Carl Matthews (Apollo 453) 1954
13. Till My Baby Comes Back - Jimmy Crawford (Gem 215) 1954
14. Your Money Ain't Good Enough - Cheri Lynn (Apollo 456) 1954
15. I'm Out Of My Mind - Melvin Smith (RCA 4907) 1952
16. Mean Poor Gal - Fletcher Smith (Swingtime 329) 1953
17. Hackensack Mama - Johnny "Blues" Taylor (Capitol 70003) 1949
18. Onion Breath Baby - Elroy Peace (Swingtime 334) 1953
19. Baby, Baby - Katie Webster & Ashton Conroy (Kry 100) 1958
20. I Just Can't Help It - Eddie Alston (Barry 109) 1964
Rhythm & Blues Goes RockíníRoll Vol 1 - Disc 13
1. Oh Oh Mojo - Johnny Duke & the Volcanos (Tailspin SP1-X) 1960
2. Take Your Fine Frame Home - Billy Gayles w/ Ike Turner's Kings Of Rhythm (Federal 12272) 1956
3. Chicken Stuff - Hop Wilson & his Chickens (Goldband 1071) 1958
4. My Baby Is Gone - TV Slim & His Heartbreakers (Speed 706) 1959
5. Fi Fo Fumm - Lorin Dean (Backbeat 504) 1957
6. Be My Love - Freddie Coaster (Arlen 508) 1961
7. Rock & Roll In The Groove - Cledus Harrison (Natural 502)
8. Wild Track - Guitar Frank (Bridges Music Den 3203/3204) 1960
9. Flat Foot Sam Met Jim Dandy - TV Slim (Speed 704) 1959
10. I'm Leaving This Town - Mr. Bo (Northern 3731) 1961
11. A Pretty Girl Dressed In Brown - Eugene Jefferson (Open 1617)
12. Let's Do The Wiggle - Mabel Franklin (Ritzy 1002) 1965
13. Shoo Shoo Chicken - Charles Sheffield w/ Big Sambo's Swingsters (Rocko 515) 1958
14. Don't Freeze On Me - Jessie Mae (D.R.A 319) 1962
15. She Just Won't Be True - Joe Conwright & his Lucky 7 (Ecko 208) 1951
16. It's Too Late Baby - Bill Johnson & His Stir Cats (Imperial 5148) 1951
17. House Rockerís Jamboree - Tucker Coles Orch. (Bullet 349) 1952
18. Rock This Morning - Jesse Allen (Aladdin 3129) 1952
19. Brand New Neighborhood - Fletcher Smith (Swingtime 329) 1953
20. Nobles Shuffle - Jimmy Milner & His Blue Ribbon Band (Fortune 125) 1951
Rhythm & Blues Goes RockíníRoll Vol 1 - Disc 14
1. Unwelcome Blues - Johnny "Blues" Taylor (Capitol 70003) 1949
2. Dig, Daddy Slack - Madman Taylor (Gotham 221) 1950
3. Got The Boogie Woogie Blues - Willie Johnson (Sittiní In With 570) 1950
4. Raid On Cedar Street - Tom "Shy Guy" Douglas (MGM 10769) 1950
5. Rock'n'Roll The Blues - Nicky Lee (K&M) 1956
6. Long Tall Papa - Erline Harris (Chess 1471) 1951
7. San Quentin Bait - Charlie "Boogie Woogie" Davis (Imperial 5011) 1947
8. Any Time You Ring My Bell - Arbee Stidham (RCA 0083) 1950
9. Rockin' Rhythm - Pee Wee Barnum (Imperial 5097) 1950
10. Man's Brand Boogie - Billy Wright (Atlanta 6000) 1959
11. Cool Kind Lover - Jesse Thomas (Hollywood 1072) 1957
12. Down On The Farm - Al Franklin Combo w/ Leroy Jones (Finch 352) 1957
13. Lot Of Shakin' Lot Of Jivin' - Piano Slim (Willard Burton) & His Rocking Four (C&P 103) 1961
14. Pack Your Clothes - Harmon "Hump" Jones (Vision 200) 1957
15. Hallelujah Rock And Roll - Sandra Grimms (Samson) 1956
16. I Ain't Botherin' Nobody - Guitar Tommy Moore (Ultra-Sonic 101) 1964
17. Nursery Rhyme Rock - Percy Welch & His House Rockers (Fran 791) 1957
18. Oh! Baby - Barbara Lynn (Jamie 1277) 1964
19. Back Door Man - Percy Welch & His House Rockers (Fran 791) 1957
20. The Duke Walks - Duke Jenkins (Cobra 5009) 1957
Rhythm & Blues Goes RockíníRoll Vol 1 - Disc 15
1. Woo Woo Baby - Eddie Carroll & The Montclairs (RuLu 6098) 1958
2. Your Car Machine - Guitar Tommy Moore (Ultra-Sonic 101) 1964
3. That's Alright With Me - Louis Payne Orch. feat. Bonnie Buckner & Danny Taylor (Saxony 102) 1955
4. That's Where It's At - Baby Wayne
5. Meet You In The Morning - Stick McGhee (Atlantic 991) 1953
6. Collins Shuffle - Albert Collins (Kangaroo 104) 1958
7. Let's Ball - Ray Snead (Mercury 8240) 1951
8. Sad Head Blues - Mr. Sad Head (William A. "Sunny" Thomas) (RCA 5089) 1952
9. Movin' On Now - Charlie Brantley Orch. (feat. Clarence Jolly) (King 4619) 1953
10. Little Annie - Ford Nelson Quintet (RCA 5036) 1952
11. Hook Line And Sinker - Fats Witherspoon (Hi Jazz 3858)
12. What's The Matter Now - T.J. Fowler w/ Frank Taylor (States 132) 1949
13. That Ain't Right - Jimmy Crawford (Gem 215) 1954
14. Fade Away Baby - Ray Snead (Mercury 8240) 1951
15. Talk To Me - Bob Williams Orch. (RCA 4406) 1952
16. California Baby Boy - Melvin Smith (RCA 4558) 1952
17. Somebody Help Me - Leon Tarver (Blue Lake 118) 1956
18. Will Call - Joe Jones (Capitol 1951) 1954
19. Screamin' In My Sleep - Gene Parrish (RCA 4610) 1952
20. I'm Your Rockin' Man - Herman Manzy & Orchestra (Fidelity 3003) 1958

Rhythm & Blues Goes RockíníRoll Vol 2 - Disc 1
1. Everythings Gonna Be Alright Tonight - King Perry & the Pied Pipers (Specialty 367) 1950
2. I'm The Fat Man - John Greer & Rhythm Rockers (RCA 47-5037) 1952
3. Something's Wrong - Woo Woo Moore (Mercury 70204), 1953
4. Great Big Hunk Of Man - Jimmy "T-99" Nelson (Chess 1587) 1955
5. Let's Drink Some Whiskey - Al Jackson (Royal Roost 607) 1955
6. Run Away - Jesse Stone (Atlantic 1028) 1954
7. Hush Your Lyin' Mouth - Sax Kari & His BallinĎ The Blues Band (Great Lakes 1204) 1953
8. Beer Bottle Boogie - Mr. Swing w/ Bobby Plater's Orch. (Bullet 327) 1950
9. Court Room Blues - Johnny Otis & Orch. (Excelsior 540) 1947
10. Woman Don't Want A Good Man No More - Earl Jackson & Orch. (Supreme 1532) 1949
11. I Want To Know - Vivian Verson & Red Calhoun Orch. (J-B 602) 1952
12. Oh Baby! - Bob Kent Orch. (Par 1303) 1952
13. Say Baby - Willie Johnson & his Band (Specialty 493), 1954
14. All Shook Out - Moohah (A.C. Williams) (Starmaker 501) 1958
15. Korea Korea - Bob Kent Band (Par 1303) 1952
16. Gonna Bring My Baby Back - Mr. Swing & Bobby Plater's Orch. (Bullet 327), 1950
17. Wild Life - Rudy Greene (Ember 1020) 1957
18. The Devil Is Mad - Dorothea Fleming (Jaguar 3009) 1954
19. What's Shakin' - Ralph Wilson (Tiara 6110) 1958
20. My Baby's Gone Away - Eddie Riff (w/ Mickey Baker) (Dover 102) 1956
Rhythm & Blues Goes RockíníRoll Vol 2 - Disc 2
1. Going Back Home - Harmonica Slim (Travis Blaylock) (Spry 103) 1954
2. 'Fore Day In The Morning - Jimmy Anthony & the Jap Curry Blazers (Howard 502) 1959
3. Tick Tock - Chris Allen (Hollywood 1101) 1959
4. Make Me Dance Little Ant - Joe Hughes (Kangaroo 105) 1960
5. Rockin' Shoes - Tony Allen (Imperial 5547) 1958
6. She's A Upsetter - Freddie Hall/Ike Perkins (CJ 601) 1963
7. You Can't Stay Here - Pearl Reeves & the Concords (Harlem 2332) 1955
8. Cash Box Boogie (Lowell Jumps One) - Lowell Fulson (Swingtime 335) 1953
9. My Heart Goes Diddly Bom - Potato (Lee) Christy (Tuxedo 907) 1956
10. Who Dat? - Mr. Rain (Feature 3010) 1954
11. Too Young Or Too Old - Felix Monta & the Bellnotes (Autograph 204) 1959
12. Shake, Pretty Baby, Shake - Eddie "Tex" Curtis (Gee 9) 1954
13. What I Say - Oliver Jones (Gee 4) 1954
14. Let's Party - Jesse Allen (Coral 65078) 1952
15. Iím A Good Rockiní Daddy - Ray Snead (Mercury 8250) 1951
16. I Love My Baby - H-Bomb Ferguson (Atlas 1001) 1951
17. Preachin' - Julian Dash & his Sextet (Sittin' In With 600) 1951
18. You Drive Me Crazy - Joan Shaw (Gem 205) 1953
19. No More Doggin' Around - Rufus Thomas (Chess 1492) 1951
20. All Night Long - The Royals (feat. Wynonie Harris) (Federal 12064) 1952
Rhythm & Blues Goes RockíníRoll Vol 2 - Disc 3
1. Bookies Blues - Dave Barton & The Royal Playboys (Dave Bartholomew & his Orch.) (Waldorf Music Hall 33-136LP) 1953
2. Country Girl - Mickey Cooper (Ruby 104) 1955
3. Shufflin' Boogie - George Jenkins (Tampa 113) 1956
4. Leave It Alone - Max Bailey (Domino 380) 1950
5. Booted - Shrewsbury Kid (Tommy Ridgley) (Waldorf Music Hall 33-136LP) 1953
6. Crazy About You Baby - Rufus Thomas (Chess 1492) 1951
7. Keep Me On Your Mind In '59 - Austin Wright (Cajam 101) 1959
8. Rock Everybody Rock - McKinley Mitchell & the Rhythm Rockers (Boxer 309) 1959
9. Who's That Under My Bed - Rich McQueen (Marathon 508) 1952
10. Hey Hey Loretta - Joe McCoy & Real McCoys (Tiara 6115) 1958
11. Mary Lou - John Bullard (Deluxe 6036) 1953
12. Ball Of Fire - Frank Linkenberg (Fran 790) 1957
13. Unsatisfied Mind - Calvin Johnson (New World 2002) 1967
14. Love Me Baby - Jesse Allen (Duplex 9003) 1959
15. Little Eva - Johnny (Rockhouse) Green (On The Square 315) 1959
16. Tarzan - Artie Wilson (Cannady 300) 1959
17. Get It - Georgia Lane (Dynamic 100) 1953
18. Whipped Cream - Lorenzo Holden & Orch. (Mambo 103) 1955
19. I Want My Baby - Bill Heyman (Aladdin 3323) 1956
20. Too Much Goin' On - Joe McCoy & Real McCoys (Tiara 6115) 1958
Rhythm & Blues Goes RockíníRoll Vol 2 - Disc 4
1. Hot Tamales And Bar-B-Que - Chico Chism (Napoleon Chism) (Clif 102) 1957
2. Donít Stay Out All Night - Gabriel & his Trumpet (Mitchell Hearns) (Royal American 33), 1963
3. Good Lovin' - Larry Hanna
4. Cotton Pickin' - Mama Claude Robinson (Studio ST-1002) 1959
5. You Ain't So Such A Much - Blanche Thomas (Imperial 5302) 1954
6. Making Tracks - Sammy Johns & The Devilles (feat. James Murray hca) (Kedlen 129) 1964
7. Rock And Roll In The Groove - Leon & the Hi-Tones (Arion 7-19169) 1961
8. Parlez-Vous L'Francais - Bill Matte (Lanor 503) 1961
9. My Daddy Told Me - Herman Gillespie (Riff 213) 1961
10. Louise - Teddy Reynolds (Crown LP 5247) 1961
11. Lookin' For My Baby - Doc Starkes & the Niteriders (Sue 719) 1959
12. Honey, Why - John Greer (MOA 1002) 1957
13. Love Me Like Crazy - Doc Starkes & the Niteriders (Modern Sound 6908) 1958
14. He's My Texas Baby - Fran Harris & the 4 Friends (Harmad 104)
15. Irma Special - Roland Mitchell & Band (Jumping 5001) 1955
16. Lizzie Lou - Willie Mitchell Orch. (Skipper 1001)
17. That Big Fat Mama - Paul (Georgia Boy) Kimble (Stat 722)
18. I'm Afraid I Love You - Jimmy Newsome (MGM 55005) 1954
19. Let's Turn 'Em On Tonight - Shep Tingle (Big-T 101)
20. Come Dance With Rudy - Monroe Chapman (Ajar 101)

Rhythm & Blues Goes RockíníRoll Vol 2 - Disc 5
1. Invasion - Bobby December & the Famous Renegades (Orchestra 209) 1962
2. You'd Better Find Yourself Another Fool - LaVern Baker (Atlantic 2234) 1964
3. Dog Wild - Jack Harris & the Arabians (Witch 110) 1962
4. Stop And Think - Lowell Fulson (unreleased) 1964
5. Prove You Love Me Baby - Bonnie Graham (Christy 104) 1958
6. Take A Trip - Jimmy Vick & the Victors (Cherry 7888) 1963
7. Little School Girl - Billy Garner (Mojo 2171) 1961
8. Little Ann - Jimmie "Playboy" Knight (Phynk)
9. Can't Stop Me - George Young (Mercury 71259) 1958
10. My Pretty Baby - Ernie Williams (Saturn 4237) 1957
11. Whatcha Gonna Do - Alan & the Flames (Starmount 7972)
12. Country Boy - Nat Robertson & Guitar (Nu-Kat 118) 1959
13. Whoa-Whoa-Whoa - The Good Guys (Lawn 228) 1964
14. Angel Child - Peppermint Harris (Duke 319) 1960
15. She Likes To Boogie Real Low - Frankie Lee Sims (Vin 1006) 1958
16. Movin' Out Boogie - Lightnin' Hopkins (Herald 436) 1954
17. Thinkin' Man's Girl - Lord Luther (Frantic 112) 1959
18. She's My Baby - Screamin' Joe Neal (Emerge 1107) 1966
19. Come Back Uncle John - Big John Greer (King 4941) 1956
20. Choo-Choo - The Cardinals (Atlantic 1090) 1956
Rhythm & Blues Goes RockíníRoll Vol 2 - Disc 6
1. Safronia B. - Calvin Boze & his Allstars (Aladdin 3055) 1950
2. Rock A Little Baby - Harmonica Frank Floyd (F & L 100) 1957
3. The Rooster - Icky Renrut (Ike & Tina Turner) (Sue LP-2003) 1962
4. Look-A-There - Mojo Watson (Nanc 007) 1961
5. Little Red Riding Hood And The Wolf - Bunker Hill (Mala 457) 1962
6. Hillbilly Blues - Clear Waters (Eddie Clearwater) (Atomic-H 203) 1958
7. After A While We Gonna Drink A Little Whisky - The Big Three Trio (Willie Dixon) (Columbia 7893) 1949
8. That's All - Al Garris (Glodis 1005) 1961
9. I Ain't Got The Money To Pay For This Drink - George Zimmerman & the Thrills (Jab 103) 1956
10. Savoy's Jump - Jimmy McCracklin (Irma 107) 1956
11. Shotgun Rider - Bo Dudley (Oscar Coleman) (F-M 745) 1968
12. Wine-O-Wine - Willis "Gator Tail" Jackson & The 4 Gators (Atlantic 957) 1952
13. Go Ahead - Billy Miranda (Checker 957) 1960
14. Holy Mackarel - Prentice Moreland (Challenge 9134) 1962
15. I'm A Little Mixed Up - Betty James (Cee Jay 583) 1961
16. Davy, You Upset My Home - Joe Tex (King 4840) 1955
17. Monkey Doin' Woman - Shy Guy Douglas (Todd 1092) 1963
18. Overboard - Sugarboy (Crawford) (Checker 783) 1953
19. But Officer - Sonny Knight (Aladdin 3195) 1953
20. Holy Smoke Baby - Tony Allan (Aladdin 3403) 1957
Rhythm & Blues Goes RockíníRoll Vol 2 - Disc 7
1. Killer Diller - King Rhythm
2. Tell Me Pretty Baby - Screaminí Joe Neal (Shippings 13229) 1956
3. Jumpin' With Jarvis - Papa Lightfoot (Aladdin 3304) 1955
4. True Fine Mama - Little Julian Herrera (Starla 6) 1957
5. Let's Have Some Heat - Pigmeat Markham (Cosmopolitan 751)
6. I Got To Know - Guitar Crusher (Sidney Shelby) (T&S 102) 1962
7. You Got To Walk The Chalk Line - Buddy Johnson (Decca 24996) 1950
8. Call The Doctor - Dr. Ross (Hi-Q 5033) 1963
9. Tootles - Lenny Capello & Dots (Ric 960) 1959
10. Slow Down - Gus Jenkins (Flash 131) 1958
11. Pleadin' - Mercy Baby (Julius 'Jimmy' Mullins) (Ric 955) 1957
12. Hidden Charms - Charles Clark (Artistic 1500) 1958
13. Let Me Tell You About It - Sly Dell (Flame 148) 1960
14. Say Lou - Sil Austin (Mercury 71627) 1960
15. Everybody's Gonna Rock'n'Roll - The Isley Brothers (Gone 5022) 1958
16. Keep On Doggin' Me - Sonny & Jaycee (Sonny Terry & J.C.Burris) (Ember 1034) 1958
17. I'm Wild About You Baby - Lightnin' Hopkins (Decca 48321) 1954
18. Dragnet - Stomp Gordon (Mercury 70233) 1953
19. She's Mine All Mine - Eddie Lang (Ron 324) 1959
20. Tequila Twist - The Valiants (Fidelity 4057) 1962
Rhythm & Blues Goes RockíníRoll Vol 2 - Disc 8
1. Tell Me Who - Bobo Jenkins (Boxer 308) 1959
2. The Dances - Phil Flowers (Sway 903) 1961
3. John John - Aggie Dukes (Aladdin 3388) 1957
4. Miss Thing - The Silhouettes (Ember 1032) 1958
5. Can't Stop Movin' - Johnny Chef (Fire 1036) 1961
6. Arkansas Jane - The Millionaires (Cadillac 162) 1956
7. Rhythm Rockin' Boogie - John Lee (Job 114) 1958
8. Touch And Go - Wynona Carr (Specialty 628) 1958
9. Yes Baby - George "Harmonica" Smith (Carolyn 005) 1966
10. My Baby's A Good ĎUn - Otis Rush (Cobra 5032) 1959
11. Real Good Time - Eddie Clearwater (Federal 12463) 1961
12. Raise Some Sand - Jay Nelson & His Jumpers (Hollywood 1088) 1958
13. Hi Yo Silver - Ricky Charles
14. Bacon Fat - Big Daddy (Big Bob Kornegay) & His Boys (King 5013) 1957
15. Running Shoes - Juke Boy Bonner (Blues Unlimited 101) 1967
16. Ramblin' Man - Larry Darnell (Deluxe 6123) 1957
17. Let's Shimmy - King Coleman (Symbol 909) 1960
18. Baby Let's Play House - The Thunderbirds (Deluxe 6075) 1955
19. I Get Weak - Tiny Lewis (Linda 100) 1962
20. Little City Woman - Big Bill Broonzy (Chess 1546) 1953
Rhythm & Blues Goes RockíníRoll Vol 2 - Disc 9
1. Look At That Chick - Johnny Wright (Stevens 1001) 1959
2. Run Jody Run - Jimmy Coe & The Gay Cats Of Rhythm (States 155) 1956
3. Come On Home - Jumpin' Jay
4. Twirl - Little Luther (Checker 1090) 1964
5. Killer Diller - Jimmy Breedlove (RCA Camden LP Cal-430) 1958
6. Never Never - Washboard Sam (Chess LP 1468) 1953
7. Please Don't Tell Me Now - Dean & Jean (Welton Young & Brenda Lee Jones) (Rust 5075) 1964
8. Atlanta Boogie - Tommy Brown (Regent 1303/Acorn 318) 1951
9. I Warned You Baby - Frankie Lee Sims (Ace 539) 1958
10. Funny Looking Thing - Honeyboy Bryant (Titan 1707) 1960
11. If I Had My Way - Blind Willie Johnson (Columbia 14343-78) 1927
12. Betty Jean - Harold Burrage (Cobra 5026) 1958
13. Bad Boogie - Lightnin' Hopkins (Ace 516) 1956
14. Rockhouse - Big Maybelle (Savoy 1519) 1957
15. Shake Your Boogie - Model T Slim (Elmon Mickle) (Wonder 15001/2) 1966
16. Rock'n'Roll Lily - Johnny Copeland (Mercury 71280) 1958
17. Bukka's Jitterbug Swing - Bukka White (ASP 1LP) 1968
18. Security - The Lovers (Tarheel Slim & Little Ann) (Fire 1030) 1959
19. That's It Man - The Valentines (King 5338) 1960
20. Little School Girl - Billy Garner (Mojo 2171) 1961
Rhythm & Blues Goes RockíníRoll Vol 2 - Disc 10
1. Hobo - J.D. Edwards (Imperial 5245) 1953
2. Whoís In The Shack - The Barons (Soul 838)
3. We're Gonna Shake - Arthur Gunter (Excello 2137) 1959
4. It Must Have Been The Devil - Otis Spann (Checker 807), 1955
5. Hoy Hoy - Little Johnny Jones (Atlantic 1045) 1955
6. Oogsey Moo - Jessie Hill (Minit 628) 1961
7. Jersey City - Bobby Long (Fountainhead 105) 1960
8. Ride On Red, Ride On - Louisiana Red (Roulette 4469) 1962
9. Little By Little - Junior Wells (Profile 4011/Bright Star 146) 1960
10. She Knocks Me Out - Harold Burrage (Cobra 5022) 1957
11. Nasty Boogie - Champion Jack Dupree (Atlantic LP 8019) 1958
12. Vincent's Blues - Vincent Franks (Ivory 1-128/9) 1968
13. Back...Shack...Track - Little Sonny Warner (with Big Jay McNeely) (Swingin' 614) 1959
14. Ride With Me - Little Larry (Success 103) 1962
15. The Prowler - The Idols (RCA 7339) 1958
16. Hoo-Doo Say - The Sly Fox (Spark 108) 1954
17. Leave My Kitten Alone - Little Willie John (King 5219) 1959
18. Ride Superman Ride - Stomp Gordon (Archie Gordon with the Hi-Lites) (Savoy 1504) 1956
19. Uncle Stan The Hip Hit Record Man - Lightnin' Hopkins (Jewel 825) 1968
20. I Ain't Drunk - Jimmy Liggins (Aladdin 3250) 1954
Rhythm & Blues Goes RockíníRoll Vol 2 - Disc 11
1. 21 Days In Jail - Magic Sam (Cobra 5029) 1958
2. I Was Gone - Eddie Clearwater (Federal 12446) 1961
3. You Don't Have To Go - Sam Myers (Fury 1035) 1960
4. They Just Rocking & Rolling - V. and B.B. (J&S 1623) 1958
5. Uncle John - Al Calloway (Cash 1048) 1955
6. Hard Headed Woman - Eddie Burns (Harvey 111) 1962
7. Chase 'Em Tom Cat - Al "TNT" Braggs (Peacock 1693) 1958
8. The Thing - Curtis and the Creeps (Dauntless 0320 1962
9. How To Do The Bacon Fat - The 5 Dollars (Fortune 833) 1957
10. Tell Me Why - Morris Bailey (Bailey 500) 1962
11. Just Can't Stay - Willie Nix (Sabre 104) 1953
12. Mish Mash - Carrie Grant & The Grandeurs (Newtown 5011) 1962
13. Anna Mae - Brownie McGhee (Sandy 1177) 1955
14. Sea Sick And Water Bound - Bobo Jenkins (Fortune LP 3012) 1961
15. Honey For Sale - Chip Nelson (Astra 1011/Edsel 783) 1960
16. Dig Yourself - Les Cooper (Everlast 5019) 1962
17. Twist Like This - Eddie Clearwater (Federal 12446) 1961
18. House Rent Party - Babs Gonzales (King 4885) 1956
19. San Francisco Breakdown - Dr. Ross (Fortune LP 3010) 1961
20. Rockin' In The Jungle - Wailin' Bethea (Harmon Bethea) (Hawkeye 430) 1962
Rhythm & Blues Goes RockíníRoll Vol 2 - Disc 12
1. Dig Myself A Hole - Robert Lockwood (with Sunnyland Slim) (Mercury 8260) 1951
2. Talking That Talk - Jimmy Liggins (Aladdin 3250) 1954
3. She's A Fine Chick - Neil Darrow and the Quarter Notes (Wizz 717) 1959
4. Blow My Baby Back To Me - Mule Thomas (Jesse Thomas) (Hollywood 1091) 1958
5. Twistin' Linda - Jimmy Ty (Bella 607) 1962
6. She's Just Right For Me - Babs Gonzales (King 4885) 1956
7. Buggin' Baby - George Young (Fortune 524) 1957
8. Walking Down Hill - Otis Hinton (Timely 1003) 1953
9. The Grind - Stomp Gordon (Chess 1601) 1955
10. She's Something Else - Dennis Binder (Cottonwood 101)
11. Mother Fuyer - Dirty Red (Aladdin 194) 1947
12. Do The Dive - Sugar & Sweet 1960s
13. Ivy League Clean - El Capris (Paris 525) 1958
14. Church Members Ball - Tabby Thomas (Delta 416) 1958
15. Blow, Little Willie - Little Walkin' Willie (Jaguar 3012) 1955
16. Johnny Rhythm - The Fairlanes (Lucky Seven 102) 1959
17. Strange Things Happening In The Dark - Joe August (Flip 1001) 1955
18. Twistin' Beat - Phil Flowers & TNT Tribble's Combo (Domino 500) 1958
19. Woke Up This Morning - Chase Canfil (Dart 110) 1959
20. You Got Me Goin' - The Sultans (Tilt 782) 1961
Rhythm & Blues Goes RockíníRoll Vol 2 - Disc 13
1. Corinne Corinne - Muddy Waters (Chess 1793) 1961
2. The Twister - Paul Williams (Savoy 665) 1948
3. I Want My Fanny Brown - Wynonie Harris (King 4304) 1949
4. This Train - Sister Rosetta Tharpe (Decca 2558) 1947
5. Mama Don't Allow - Julia Lee (Capitol 1589) 1951
6. Hard Ridin' Mama - Wynonie Harris (Aladdin 208) 1947
7. Here Is A Little Girl - Blue Lu Baker (Capitol 15347) 1949
8. That's What I Like - Julia Lee & Her Boy Friends (Capitol 15060-78) 1948
9. We're Gonna Boogie - Ivory Joe Hunter (4-Star 1535) 1950
10. Them There Eyes - Varetta Dillard (Savoy 859) 1952
11. House Party Tonight - Amos Milburn (Aladdin 3306) 1955
12. Hole In The Wall Tonight - Albina Jones (Decca 48100) 1949
13. Hollerin' And Screamin' - Little Esther (Federal 12115) 1953
14. Rock The Joint - Jimmy Preston & The Prestonians (Gotham 188) 1949
15. Ooh Pa Pa Dah - Babsí Three Bips And A Bop (Babs Gonzales) (Blue Note 534) 1947
16. DogHouse Boogie - Hawkshaw Hawkins (King 720) 1950
17. It Ain't What You Say - Little Esther (Savoy 1193) 1956
18. Boogie At Midnight - Roy Brown (Deluxe 3300) 1950
19. Turn The Lights Down Low - Esther & Willie (Federal 12115) 1953
20. Summin' Jumpin' - Bumps Blackwell (Keen 4010) 1958
Rhythm & Blues Goes RockíníRoll Vol 2 - Disc 14
1. Boogie Woogie Came To Town - Louis Jordan (Decca 8581) 1941
2. Let Me Go Home Whiskey - Amos Milburn (Aladdin 3164) 1953
3. Little By Little - Nappy Brown (Savoy 1506) 1956
4. Going Back To Chicago - Chet Oliver (Fortune 829) 1956
5. Numbers Boogie - Doctor Ross (Hi-Q 5027) 1963
6. The Jigs Up - Jerry McCain (Excello 2127) 1958
7. That's All - Etta James (Modern 972) 1955
8. A Fool No More - Eddie Hope (Marlin 804) 1956
9. Combination Boogie - J.B. Hutto & his Hawks (Chance 1155) 1954
10. I Done Woke Up - Louisiana Red (Atlas 1246) 1960
11. Jumpin' From Six To Six - Jimmy Wilson & his Band (Big Town 115) 1954
12. Rock'n'Roll Boogie - Jo Jo Williams & his Band (Atomic-H 310) 1959
13. Alley Music - Hound Dog Taylor (C.J. 626) 1964
14. Bring It On Back - Mister Ruffin (Spark 115) 1955
15. I Love You Baby - Sonny Terry & his Buckshot Five (Harlem 2327) 1954
16. Number 9 Train - Tarheel Slim (Fury 1016) 1958
17. I'm Gonna Shake It -Rosco Gordon (Sun unissued) 1956
18. Wow Wow - Willie Egan (Mambo/Vita 102) 1955
19. The Girl Can't Dance - Bunker Hill (Mala 464) 1963
20. Slow Down Baby - Bob Gaddy (Harlem 2330) 1955
Rhythm & Blues Goes RockíníRoll Vol 2 - Disc 15
1. Night Train - Buddy Lucas (Vim 505) 1960
2. I Want My Lovin' - Arthur Crudup (Victor 20-2205) 1946
3. Shim Sham Shimmy - Champion Jack Dupree (Red Robin 130) 1954
4. Don't Cut Out On Me - Tender Slim (Herald 571) 1962
5. Bobby Sox Baby - Slim Harpo (Excello LPS-8003) 1961
6. Riot In Cell Block Number Nine - The Robins (Spark 103) 1954
7. Jumping This Morning - Tippo Lite & The All Stars (Back Alley 202) 1950
8. Tootsie Roll - Bobby Martin (Valid 1003)
9. Pretty Little Baby - Modest "Show Stopper" Clifton (Squalor 1310) 1962
10. Shonuff' Miss Brown - Bob Mackey & King Alex Band (R 516) 1962
11. Kissin' Boogie - Beverly Wright & Preston Love Orch. (Spin 102) 1952
12. Flipping Their Top - The Egyptians (Danae D-1001/1002) 1960s
13. Boss Chick - Shortie Billups (Fine 1002) 1960
14. No, No Baby - Carmen Davis & Ernie Freeman's Combo (Middle-Tone 2001) 1955
15. Boogie In My Bones - Laurel Aitken (R&B/Island 002) 1960
16. Telegram - Charles Kelly, The Three-Of-Us Trio & The Dillard-Kelley Orch. (York 3332) 1957
17. Good Rockin' Tonight - Wynonie Harris (King 4210) 1948
18. Rocket 88 - Jackie Brenston with Ike Turner(Chess 1458) 1951
19. That's All Right Mama - Arthur Crudup (Victor 20-2205) 1946
20. Choo Choo Ch' Boogie - Louis Jordan (Decca 23610) 1946