Pioneer Disc Jockeys:
Al Jarvis, Martin Block and the
"Make Believe Ballroom"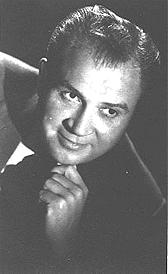 Al Jarvis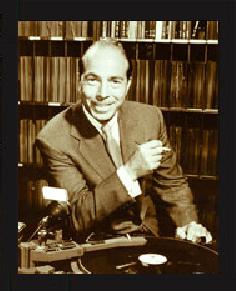 Martin Block
Martin Block was the first real star among disc jockeys, one of a small handful of successful characters who paved the way for the rapid postwar rise of the profession.
Block started his radio career at a station in Tijuana, Mexico. In the mid-1930s, he traveled east from California, bringing with him a new idea conceived by Al Jarvis, a Canadian announcer at KFWB in Los Angeles (where Block had been a junior assistant). Jarvis' revolutionary concept - playing records on the radio.
Though just a staff announcer, Jarvis was an eager student of the music business, and by reading Billboard and Variety, something none of his colleagues had done before, he was able to give his audience a little information about each record. His cozy, friendly style won him plenty of listeners. From the early thirties his show called "The World's Largest Make Believe Ballroom" was broadcast six hours a day and became a local success. But in 1932 Los Angeles, which is now the nation's second largest market and generates the most revenue, was not considered a major market. Jarvis' program thus received very little attention outside the Los Angeles area, and enjoyed nowhere near the runaway success of Block, who would become the nation's number one radio personality for nearly a quarter of a century using a virtually identical format.
Martin Block's "Make Believe Ballroom" was a sensation that began on WNEW in New York City, and quickly spread to other radio stations. Block simply copied Jarvis' concept and pretended that the artists were performing live in the studio "ballroom" with him, as he spun their records.
The beginnings of Block's "Ballroom" show can be traced to February 3, 1935, when, on WNEW, he was broadcasting the trial of Richard Bruno Hauptmann who was ultimately convicted of kidnapping and killing the infant son of aviator Charles A. Lindbergh. During a long break in proceedings, Block decided to play some records, but the station didn't own any, so he was forced to buy his own. Legend has it that he rushed around the corner to the Liberty Music Shop, returned with five Clyde McCoy records, and played them back to back to make it sound like a live broadcast from a dancehall. Block ad-libbed introductions that made it seem like he was actually chatting with McCoy, a Louisiana bandleader. It is likely that among these records was what would become McCoy's theme song, "Sugar Blues," which had just been released a few days earlier.
As the trial wore on, Block continuted spinning records in his "Ballroom" style to fill in the periods between broadcasts direct from the courtroom. Within a few months, this evolved into the "Ballroom" show playing name bands for 15 minutes at a stretch.
After the trial ended, the makeshift show was retained due to requests from thousands of listeners.
In just four months his unscripted, easygoing style, combined with music solely from records, drew an audience of four million listeners, and the show was extended to two and a half hours. Advertisers lined up to sponsor the program: one department store reported that Block's ad-libbed commercials sold 300 refrigerators during a blizzard, and when he made a wartime appeal for pianos to entertain the troops, the USO was offered 1,500 of them.
In 1940 the Federal Communications Commission relaxed its rules about identifying pre-recorded materials, requiring that they be identified only twice every hour. In that same year the courts ruled that the warning on record labels prohibiting broadcast use had no legal significance. From then on radio shows featuring recorded music became increasingly popular.
"It was Block, according to the author of a book commemorating WNEW's fiftieth anniversary, who inspired Walter Winchell to coin the term "disk jockey." Yet Bill Randle, one of the deans of the profession, has traced the term to the late Jack Kapp, a record executive who called DJs "record jockeys" in 1940 -- possibly because their job often included controlling the sound volume, or "riding the gain," on their records. However they got their tag, the radio field was soon filled with disk jockeys." - Ben Fong-Torres in his book The Hits Just Keep On Coming, Miller Freeman Books, San Francisco, CA, 1998
[Thanks to Brian Anastasi for this quote.]
If big band music was jazz, then Al Jarvis and Martin Block were the first jazz disc jockeys.
On October 11 1940, Glenn Miller recorded "Make Believe Ballroom Time" for RCA-Victor's Bluebird subsidiary label at the Victor studios in New York City. It would become the theme song for Block's "Make Believe Ballroom." Miller had been so taken with the show's concept that he actually paid for the "Make Believe Ballroom Time" recording session himself and hired the Modernaires to join in.
By 1940, Martin Block could "make" or "break" records. If he played something, it was virtually guaranteed to become a hit; if he ignored it, it "died." By the end of the war, the hit-making power of radio disc jockeys had earned them much greater respect in the music business, and Block was the undisputed "king" of the disc jockeys.
Block skillfully created the aura of doing a "live" radio program, complete with performers like Harry James or Nat King Cole (on records) "...from the Crystal Studios of WNEW." At that time, the show's famous crystal chandelier was as "make believe" as the "ballroom." But the tremendous popularity of the show, heard twice daily, six days a week, led WNEW to construct a studio in ballroom form with a huge crystal chandelier and a red velvet chair for Block. His verbal imagery also included the "revolving stage" (actually his turntable) - upon which the artists performed:
"And now, Mr. Frank Sinatra ascends our revolving stage to sing
'Nancy With The Laughing Face'."

As a young listener, in my mind's eye I actually imagined a rotating stage with an orchestra and singers performing on it beneath the "crystal chandelier."
In 1948, while already under a multimillion-dollar contract, he syndicated his show for nationwide broadcast, netting him another two million dollars. Block understood the power he held. In 1942 he told Billboard that when he played a record, "If the platter is a good one, the most effective type of direct marketing has just taken place. And sales are sure to reflect the airing of the disc."
Block's daily "Make Believe Ballroom" program was known to everyone who grew up in the New York City - New Jersey - Philadelphia area in the 1940s and 1950s. If you were a "child of the fifties" in the "Ballroom" broadcast area, your mother's radio was always tuned to Martin Block. Everyone who lived through the "Ballroom" era knew most of the lyrics of "Make Believe Ballroom Time" by heart.
Were it not for the pioneeering efforts of men like Al Jarvis and Martin Block, it is not likely that there would have been a Porky Chedwick, an Alan Freed, or a Wolfman Jack on the radio. And it would be even less likely that a television program like "American Bandstand" would ever have aired.
As a result of the work these radio pioneers, radio disc jockeying became a fully accepted profession and an integral part of the music industry in the fifties and the sixties. The disc jockey thus became a powerful hitmaker whose patronage could jumpstart an artist's career overnight.
In 1954, Martin Block left WNEW for WABC. He died on September 18, 1967.
Al Jarvis died in 1970.
Copyright © 2001-2003 - Doo Wop Gino
Return to Main Page.
Last updated 8 July 2003.