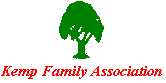 Memorial Page
Mary Cecilia (Kemp) Blowey passed away this past Wednesday (July 7, 1999). I know that she had met with you on one of the Association's trips to New England, two years ago I believe, and she was greatly looking forward to the next one in Utah. As far as the family history research is concerned, probably most of the materials Mom had will pass to me, but more likely will be put into storage, for I live in Kenya and am unable at this time to pursue genealogical matters. Thank you for your help with Mom's family history hobby.

Sincerely, David Blowey (her son)

Mary was a member of the KFA for 3 or 4 years.
---
William Marvin Kemp, 87 of Belton, TX d.Oct. 20, 1997. Rev. Kemp was b. near Rosebud in Falls Co., TX, the youngest of 7 children of Ada Laura Wiese and Simeon Middleton Kemp. He surrendered to ministry in 1934 at Immanuel Baptist Church in Temple, received H.S. diploma from San Marcos Baptist Academy 1938, B.A. from Howard Payne 1940, master of divinity from Southwestern Seminary 1951, M.A. from Bayor 1955, and completed work toward doctorate from the University of Texas.
He was pastor of 22 churches in TX, MO and WI during his life and is survived by his wife, a daughter and two sons.
Jamie Kay Taylor
---
Clinton Roy Kemp passed away Thurday morning Sept 25, 1997 in Hot Springs, AR. Memorial services were held in Hot Springs at Caruth-Hale Funeral Home.
Clinton is a descendent of Nathanial Z. Kemp. He lived just 10 miles from Old Nathan's grave site. Clinton did a good deal of reseach on the Kemp family in this area and will be greatly missed by his family and friends.
Kevin Kemp
---
Leroy Ernest Kemp passed away March 1997, at the age of 72. He is survived by 2 sons; Alan Kemp of Stone Mtn, GA and James Steven Kemp of Great Britain. Leroy lived many years in Atlanta, GA. He served honorable in the U.S. Army. He also left behind a loving niece, nephew, grand niece, grand newphew and many friends. He will be missed.
John D. Lee
---