Kemp Family Association
... and Allied Families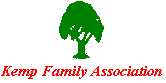 Listed below are books written about the Kemps, as well as KFA publications. If you know of additional Kemp titles which you feel should be included, please e-mail me the name of the book and author (publisher/date would help).
The latest issue of The Kemp Files, the offical newsletter of KFA, is currently hot off the press (Volume 2 Number 4). Some of the articles featured in this issue include an article on William Kemp of Anson County, NC and Matthias Camp in Westmoreland County, PA. If you would like to contribute an article or query, you can mail them directly to the above address or e-mail to

[email protected]

.

The Kemp Chronicles, the history of John Conrad Kemp of Frederick Co., MD and Mathias Kaempffer of Berks Co., PA. Due to binding problems, book is now in 2 books. This will not be a change in price for those who have ordered at the pre-publication price of $65.00. The books are priced as follows: The Kemp Chronicles Book 1 Johan Matthias Kaempffer of PA $35.00; The Kemp Chronicles Book 2 Johann Conrad Kaempf of MD $53.00. If both books are purchased at the same time, the price is $75.00. This includes S&H. Mail checks made out to Dee's Genealogical Research & Publishing addressed to 121 Kings Chapel Dr., Troy, OH 45373-1049. There are some books left for sale. This book is still in the process of being bound, hopefully to be finished the last week in December. Prices will again increase on December 31 due to postage increases. E-mail Debra Kemp Sotzing

Jamie Kay Kemp Taylor (210 Avenue M, Abernathy, Texas 79311) has the following publications for sale to members only:


Iredell & Wilkes Co., NC ... Patriarch John Kemp believed to be son of Isaac Kemp of Craven Co. ... $6
Southern GA Kemps ... Patriarch Joshua Kemp of Montgomery Co. ... $6
Gloucester Co. VA Kemps ... starts in Norfolk, ENG in 1567 ... $7
Frederick Co. MD & Berks Co. PA ... Kemps (Kaemff) of Un. Bretheren Church ... $6
Nathan Kemp (1774- ) ... McNairy Co. TN; his lineage & children ... $6
Kemp Roots Vol. Vlll, Iss. 2 ... Kemps of New England & Middle Colonies ... $7
Kemp Roots Vol lX, Iss. 1 ... Ancestral heads of the South ... $7
Kemp Handbook of OH ... Includes descendants of Frederick Co. MD in Montgomery Co., Seneca Co., Belmont Co. & possibily Butler Co. OH (German heritage); descendants of Berks Co. PA in Butler Co. OH; Henri Kemp of Belgium in Seneca Co.; John W. Kemp, Rev. Soldier in Seneca Co. from Queen Annes Co. MD; Champaign Co. (possibly Quakers); John, George, Stephen, & Joseph Kemp (Allen, Ross, Richland, Stark Cos., etc. (believed to be Quakers & from Frederick Co., VA) ... $6
New England & Middle Colonies ... Includes story on Jack Kemp (VP Candidate 1996) & His Lineage, Lineage Charts of Subscribers, Sons of the Am. Rev. Records (MA), PA Families from Germany, PA 1780 Tax Lists, 1880 Soundex of NH, & 1880 Soundex of NY (not complete) ... $7
Kemp-Camp Handbook of IN ... Those who migrated west to IN from NC, MD, VA, KY, PN, OH, NY, NJ, and immigrated from England and Germany. Included are the Reuben Kemp Family from NJ, PN, & KY; Iredell Co., NC Kemps; Frederick Co., MD Kemps; Quakers from Talbot Co., MD & NC; Queen Annes Co. Kemps; Dearborn & Ohio Counties; Frontiersmen in IN, Goodloe Kemp & Sons Thomas & William ... $8

The History of the Kemp Families of Great Britain and her Colonies" by F. Hitchen-Kemp
A booklet written by Marie Rybolt in 1971 titled "A History of the Descendants of Murphy Kemp"
Kay Taylor has a copy of the Camp-Kemp Family History by Mann for those who have an interest.
Bob Young is doing a complete rewrite of New England Kemps, which will cover six generations of descendents for William, Edward and Samuel Kemp. Bob would like to share data with anyone with lines back to any of the three Kemps in 1650's Massachusetts.
Bob Young has a database of the Kemp's in the Confederate Army, which contains name, home state, company, regiment, and rank for over 400 Kemps. Printed copy $3.50; diskette $4.50; send check or money order to Bob Young, KFA, P.O.Box 544, Sandy Hook, CT 06482.
Return to Index

Our members have been happy to share what they have found on the surname Kemp.

Jim Mannan found in the book A Dictionary of Surnames by Patrick Hanks and Flavia Hodges (Oxford University Press 1988) p 292:
Kemp English: occupational name for a champion at jousting or wrestling, Middle English kempe [a weakened sense of Old English cempa warrior, champion, from camp battle, Latin campus plain, field (of battle);cf. Campion]
Variations : Kempe.
Cognates: German: Kampf, Kempf; Kompf (Bavaria); Kempner (also Jewish, presumably an adoption of the German surname). Low German: Kempe. Dutch: Kemper.
Diminutives: German: Kampfl, Kempfle.
Patronyms: English: Kempson. Dutch: Kempers. Finnish: Kemppainen. (Patronyms are names developed from proper names.)
Kempa Polish: topographical name for someone who lived on a small island or by an isolated clump of trees and tufts of grass.
Variations: Kepa; Kempski, Kepski.
Cognates: Jewish (E. Ashkenazic): Kempe (from kempe, the Yiddish reflexitive of the Polish vocabulary word); Kempinski.
Diminutive: Polish: Kepka
Habitation names: Polish: Kempinski; Kepinski, Kepczynski.


Bob Young found in An Etymological Dictionary of Family and Christian Names, by William Arthur:

KEMP(E) - In Old English, the term "Kemp" designated a soldier engaged in single combat. The name Kemp is derived from the Saxon word "To Kemp" or combat, which in Norfolk [County, England] is retained to this day; a foot-ball match being called a camping or kemping; and thus in saxon a Kamper signifies a combatant, a champion, a man-at-arms. In some parts of Scotland, the striving of reapers in the harvest-fields is still called Kemping."

Is this correct or accurate? I don't know. I've also heard stories that a Kempe accompanied William the Conqueror, and therefore the name is of Norman origin.



Marjorie D. Kemp wrote ... the name is Anlgo-Saxon which now means English. But once upon a time these were two germanic races, the Angles and the Saxons (now northern Germany) who were busy invading wherever they could. England, obviously, was a prime invasion target (way, way, back when). KEMP came supposedly from CEMPA which means "ordinary warrior (or foot soldier to us nowadays) or soldier".



Bill Kemp found in The Surnames of Ireland by Edward MacLysaght:

KEMP. This English name (Middle-English, kempe, athlete) recurs in Irish records from the fourteenth century till the present day but has never been closely identified with any particular locality. It is now fairly numerous in Dublin and Belfast. See CAMPBELL....

CAMPBELL. Mac Cathmhaoil (battle chief). An Irish sept in Tyrone; in Donegal it is usually of Scottish galloglass origin, viz Mac Ailin a branch of the clan Campbell (whole name is from cambeal, crooked mouth). Many Campbells are more recent Scottish immigrants....The name has been abbreviated to Camp and even Kemp in Co. Cavan.

Return to Index

#
Homepage
Description
Roots
KFA Member
1
The Attic
the room that contains my genealogy links, soundex, and charts
My Roots
Linda-Jeanne Dolby
Texas
2
About Me & My Other Web Pages
Includes Genealogy, Travel, Food, Music, Hawaiian Vacation, and many other topics
My Roots
Linda-Jeanne Dolby
Texas
3
a central source of Kemp info in Australia, including a photo of Major William Kemp, b.1782 at Mourne Abbey, Cork, Ireland
Guy Hadden Kemp
Australia
4
An Avid Genealogist
includes advice on creating a family newsletter
Jamie Kay Taylor
Texas
5
The Kemp's
interests include ham radio and he descends from Robert Kemp of Maryland
My Roots
Tim Kemp
North Carolina
6
Ralf's home
his page is in both English and German
Ralf Huelsmann
Germany
7
Kemp/Betts Family Info
interests include genealogy, art and photography
My Roots
Gregg Kemp
North Carolina
8
William R. Kemp Homepage
interests include music
William R. Kemp
North Carolina
9
Ian Kemp's Home Page
interests include running, Japanese language, Japanese pop music, Thai language
My Roots
Ian Kemp
Australia
10
Genealogy Homepage
extensive info on descendants of Thomas Camp III and descends from the Camps of Virginia
My Roots
Pat Chennault
Oklahoma
11
Welcome to Our Family History
Chris descends from John Kemp of North Carolina
My Roots
Chris Kemp
Washington
12
The Edenfield Connection
includes a Kemp database and genealogy links
My Roots
Jim Edenfield
Alabama
13
Andrew Kemp's Genealogy Page
contains links to his existing Genealogy data
My Roots
Andrew Kemp
Australia
14
The Rev. Daniel Kemp is from Australia
Daniel Kemp
Australia
15
Viki's Little Corner of the Web
Chickasaw line of Kemps
My Roots
Viki Anderson
Nebraska
16
Kevin Kemp's Kempsite
Kevin descends from Nathaniel Kemp of North Carolina
My Roots
Kevin Kemp
Utah
17
Irene's Genealogy Web Page
is where you'll find Irene's genealogy links
Irene Hand
New Jersey
18
Genealogy Research Interests
you'll find his genealogy interests here
My Roots
Keith Smith
England
19
she talks about herself and her interests
Elaine Kemp
Canada
20
The Holt and Warburton Family Roots
you'll find some Kemps on his family page
John Holt
New York
21
Jim's Home Page
includes his family tree and other interests
Jim Mannan
Indiana
22
Kemp Family
you'll find info on Capt. Jonathan Kemp (1742-1814) and his family
My Roots
Pauline Bizette Brandy
Florida
23
The Barton Family Page
you'll find a number of Kemps included here, as well as an assortment of good old fashioned Southern recipes plus a few Cajun dishes
My Roots
Vicki Barton
Louisiana
24
Kemp Family
William Kemp of South & North Carolina
My Roots
Pauline Bizette Brandy
Florida
25
Kemp Family Chronicles
Nathaniel L. (Nathan) Kemp b.1774 North Carolina, d.1858 Arkansas
My Roots
Jeffrey D. Kemp
Indiana
26
homepage
NY 21st Civil War unit and her Kemp line
My Roots
Linda Nebrich Beilein
New York
27
was a Gustav Stickley design from the 1907 Craftsman magazine
James Kemp
Oregon
28
Howard E. Kemp, Jr.
Howard's Kemp Line
My Roots
Howard E. Kemp

29
Kemp Family
Nathan Kemp Network
My Roots
John Scott Kemp

30
Randy Seaver's Ancestry and Family History
Ancestry of Emily Kemp Auble
My Roots
Randy Seaver

Return to Index


Figuring out Family Relationships - are they cousins or cousins once removed?

The Attic is where you will find lots of genealogy links and information.

GenWeb Project:

Not sure which County or State the Town you are looking for is located in?

Gendex is a searchable surname database
Written by KFA member Tom Kemp, the International Vital Records Handbook Genealogical Publishing, 1001 North Calvert Street, Baltimore, MD 21202 [1-800-296-6687] : 1994. 417pages; explains how to obtain copies of birth, marriage, divorce and death certificates from all 50 states and every country in the world. It is particularly handy as it includes copies of the actual forms needed to apply for those documents. All you need to do is photocopy the form, fill it in and mail it out. You can find a copy of this book in almost every public library and LDS Family History Center.

There are numerous Newsgroups (Lists) that are available for those with e-mail. Newsgroups are primarily developed so that members can exchange, discuss, or post a query relating to that particular newsgroup, be it surname or area related. Listed below are just a few of those available.

Roots-L ... best known list; to subscribe send e-mail to [email protected] (that's a small L, not a one) - in body say subscribe, nothing else.
State, Area, or Surname Newsgroups ... Newsgroup List
GENCMP-L ... genealogy computer group; to subscribe send e-mail to [email protected] - in body say subscribe GENCMP-L firstname lastname, nothing else.
Not a newsgroup, but a newsletter ... Dick Eastman's newsletter is published weekly and contains all the latest news in the genealogy world. For those without Internet connections, there is no charge to receive it by e-mail. To subscribe, send an e-mail to: [email protected]
For those of you who have a computer and modem, but no Internet access, and would like to have e-mail ... Juno offers free e-mail software to various markets (you connect through a local access number). To request a copy, please e-mail your name and address to [email protected] or call them at 1-800-654-5866.

Return to Index

The Kemp Family Association Homepage
is created, edited & maintained by
Linda-Jeanne Dolby © 1995
A New England Kemp in Texas
This page may be freely linked to, but not copied without my consent.

And this page is hosted by


Get your own Free homepage