They're heeeeeeeeeeeeeeeeeeeeeeeere!
Starting at 3:22 am on June 4, 2006, we welcomed little red butts
to the Dobieden. There is a total of 9 pups: 4 females and 5 males,
all red, for another beautiful litter of doberman pups.
Click on the thumbnails to see larger pics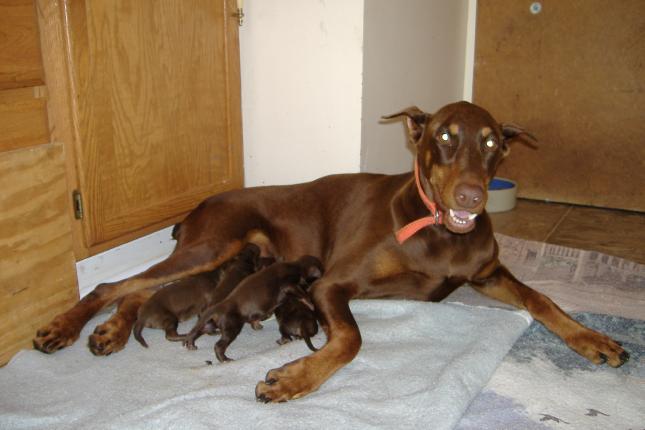 A very tired, but happy family........

| | |
| --- | --- |
| red female | 1 lb 8.0 oz |
| red female | 1 lb 14.9 oz |
| red female | 2 lb 1.1 oz |
| red female | 2 lb 3.5 oz |
| red male | 1 lb 11.8 oz |
| red male | 1 lb 14.1 oz |
| red male | 2 lb 2.5 oz |
| red male | 2 lb 3.6 oz |
| red male | 2 lb 5.3 oz |
**weights are weights on 6/16/2006
This litter produced U-RO3 Pike's Crimson Bodhi RN, CGC
(click on a pic to see a larger view of Bodhi as an adult)