HOME
Junior Rugby News and Match Reports
The WRU Pathway booklet can now be found at: www.wru.co.uk/pathway

Administrative documents (including the pathway) relating to junior and youth rugby can be found at www.wru.co.uk/youthadministration
"Congratulations Newtown N. Wales u12 cup Winners 2007/08"
Newtown beat Llandudno 31-22 at Bala in an exciting free flowing final.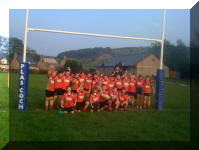 ---
scarlets cup competition
MAY 12th
Although all were ultimately unsuccessful, the 3 North Wales sides who competed in the Scarlets Cup Competition can all be said to have represented the region with pride. The Competition held at Stradey Park saw the top sides from Pembrokeshire, Carmarthenshire and North Wales come together in a triangular tournament.
Newtown Under 12s lost both their matches, to Crymych and Camarthen Quins. However in neither were they disgraced as their young side gave both the South Walian teams a real fright.
Mold Under 14s having won their first match with almost the final play of the match, then narrowly lost their second against Newcastle Emlyn. In the Under 16s it was Rhyl who represented North Wales and having comfortably defeated Crymych by 17 points to 3 they then found Burry Port a little too strong in their decider, losing by 17 points to nil.
---
Congratulations Newtown N. Wales u12 cup Winners 2007/08"
Newtown beat Llandudno 31-22 at Bala in an exciting free flowing final.
Wed, 7 May 2008
Result from U12'S cup final played at Bala on Wednesday night.
Newtown Scorers:Tries: Dewi Bowen (2), Sam Jones, Tom Williams, David Powell.Cons: Dewi Bowen (2), Tom Williams.
Thanks goes to both the ref and Bala for making the game possible and hosting a very competitive and free flowing game of rugby.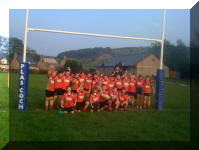 ---
ERYRI FINALS MAY 4th

U.12- Caernarfon 5 v 27 Llandudno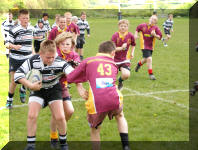 U.14- Llandudno 26 v 0 Bangor
U.16- Pwlhelli 17 v 10 Caernarfon
CLICK ON PICTURE TO SEE FULL SIZE

North-East/Mid-Wales Cup
U.12- Newtown 10 v 5 Ruthin
U.14- Mold 21 v 10 Flint
U.16- Rhyl v Mold Rhyl go through by default

(Winners invited to Llanelli/Llandovery club comp Saturday 10/5)
Will Morecombe [email protected]
---
FIXTURES

November 2007

November 7th
Gogledd Cymru U 16 Cardiff Blues North Away
Won 14 - 10
REPORT
November 19th
Gogledd Cymru U 16 Ospreys at Bridgend College

December 2007

December 5th
Gogledd Cymru U 16 v Cardiff Blues South Away
December 19th
Gogledd Cymru U 16 v Ospreys Away
Lost 22 - 17
REPORT
January 27th
Gogledd Cymru U 17 v Yorkshire Away
Lost 0 - 26
REPORT
February 14th
Thursday
Gogledd Cymru U 16 v Ospreys at Llanidloes 2 p.m.
February 16th
Saturday
Gogledd Cymru U 17 v Gwent Dragons at Wrexham 2 p.m.
February 17th
Sunday
Gogledd Cymru U16 v Pembrokeshire at Aberaeron 2 p.m.
postponed
February 24th
Sunday
Gogledd Cymru U17 v Staffordshire Away
Lost 22 - 5
REPORT
February 27th
Wednesday
Gogledd Cymru U16 v Cardiff Blues South Away
Lost 26 - 12
REPORT
March 15th
Saturday
Gogledd Cymru U 15 v Rhondda Districts schools Away
Lost 29 - 5
REPORT
March 26th
Wednesday
Gogledd Cymru U17 v Cheshire
Lost 6 - 20
REPORT
APRIL 4th
Friday
Gogledd Cymru U14 v Cardiff at

COBRA

meifod Ground

1 p.m.

APRIL 20th
SUNDAY
Lancashire v Gogledd Cymru U17
WON 14 - 20
REPORT
MAY 18th
SUNDAY
RAF U15's festival DinbychRFC
---
NEW - UNDER 16 PROMOTIONAL VIDEO
MAY TAKE A FEW
MINUTES TO DOWNLOAD DEPENDING ON YOUR SYSTEM
---
UNDER 17 RUGBY
Lancashire 14 Gogledd Cymru 20

North Wales Under 17s rounded off their fixtures for this season with a famous victory at Broughton Park on Sunday against a strong Lancastrian outfit. In an entertaining match played in difficult weather conditions it was the home side who opened the scoring when with their first real attack of the match good hands from their backs led to their winger scoring close to the posts.
North Wales pulled themselves back into the match with a Callum Bennett penalty and shortly afterwards Welsh u16 cap George North was able to touchdown following a break from the ever dangerous Jack Roberts. With the wind behind them in the second half North Wales increasingly began to dominate both territory and possession, and they were rewarded for their efforts with another penalty from Bennett and a further try, this time scored by George Cliff after Ben Taylor had stolen possession close to the Lancashire tryline.
These scores prompted Lancashire to bring on their powerful substitutes and the last 10 minutes saw them camped almost exclusively in the North Wales 22. However heroic tackling from the entire Gogledd Cymru team restricted them to just one try and the visitors were able to hang on for a well deserved victory.

Gogledd Cymru Team

Callum Bennett - Rhyl
Paul Selwood- Rhyl
George North- Rhyl
Deio Brunelli- Pwlhelli
Scott Jones- Rhyl
Jack Roberts- Pwlhelli
Will Morecombe-Rhyl
Mark Padgett- Mold
Daniel Owens- Pwlhelli
Rhodri James- Pwlhelli
Dale Blackmore- Rhyl
Peter Kirby- Colwyn Bay
George Cliff-Rhyl
Ben Taylor- Ruthin
Tom Beaumont- Rhyl

Arwyn Jones- Bala
Barry Woodhall- Caernarfon
John Gareth Jones- Pwlhelli

---
UNDER 17's

WEDNESDAY MARCH 26th


A try with the last play of the match gave this a somewhat lop-sided score-line that North Wales did not really deserve. Two first half penalties from Callum Bennett had cancelled out 2 from Cheshire in a generally even contest. Even against a much bigger pack Peter Kirby won plenty of line-out ball and with Tom Beaumont and Jack Hughes punching holes whenever in possession, North Wales were very much in the game.
The second-half started in much the same vein with Cheshire looking dangerous when spinning the ball wide and North Wales counter-attacking well through Scott Jones and Callum Bennett. The crucial score came some 15 minutes from time when a series of rucks close to the North Wales line eventually led to a try to the side of the posts. Although North Wales responded well and came close to levelling the score through Mark Padgett and Tom Beaumont, they were unable to break through the dogged Cheshire defence. The try in the final minute merely confirming Cheshire's victory.Next month North Wales face an even stiffer challenge when they play Lancashire.


North Wales squad

Mark Padgett-MOLD
Ed Gill-RHYL & DISTRICT
Jack Owens-BANGOR
George CLIFF-RHYL & DISTRICT
DALE BLACKMORE_RHYL & DISTRICT
TOM BEAUMONT_RHYL & DISTRICT
TOM DAVIES-MOLD
DAVID CLEGG-MOLD
HARRISON CROWE-RHYL & DISTRICT
WILL MORECOMBE-RHYL & DISTRICT
OLLIE COLLINGE-COLWYN BAY
MICHAEL BAGNALL-RHYL & DISTRICT
SCOTT JONES-RHYL & DISTRICT
PAUL SELWOOD-RHYL & DISTRICT
CALLUM BENNETT-RHYL & DISTRICT
JONATHON HUGHES-BANGOR
JAKE HUGHES-BANGOR
ARWYN JONES-BALA
DAFFYD NGAIA-CAERNARFON
MATTHEW SUTER-MOLD
JOHN GARETH JONES-PWLHELLI
DANIEL OWEN-PWLHELLI
SAM HERD-RHYL & DISTRICT
DEIO BRUNELLI-PWLHELLI
JOSH WOODS-RHYL & DISTRICT

PETER KIRBY

---
Gogledd Cymru U 15 v Rhondda Districts schools Away
SATURDAY MARCH 15th
On Saturday Gogledd Cymru u 15 played Rhondda District schools at Pen-Y-Craig in South Wales. In a match played in horrid conditions against probably the strongest South Wales District side they lost 29-5, but were able to come away with their heads held high. the North Wales try came from Brendan Alsop (Llangefni) but this was a real team performance and one from which the team gained much as they look forward to emulating this years succesful Gogledd Cymru Under 16s when they face the Llanelli Scarlets in August.

---
under 16's lose final match 27th Feb 2008.
Cardiff Blues South 26 Gogledd Cymru 12

Gogledd Cymru Under 16s final match of the season against one of the other regions proved 40 minutes too long as they allowed a comfortable halftime lead to turn into a victory for the South Walians.

Gogledd Cymru were completely in charge in the first half but had only a Jack Roberts try to show for their efforts. If anything they won too much possession and as a result were guilty of playing too much rugby in their own half.

In the second half the Blues South lineout began to take over and in a 15 minute period they scored 3 tries all from mauls following line-outs close to the North Wales line. Although Gogledd Cymru were to score a well worked try of their own by Ben Taylor the final word went to the South Walians who scored in the corner with the final play of the game.

Although disappointed the players and coaching staff of the team can look back at the season with a tremendous amount of pride. They played all 5 of the regions all on an away basis and won 2 and lost 3. In truth they could have won all 5 and lost all 5, but what they proved was that North Wales Teams can compete with the best that South Wales has to offer. In truth this has been the case for some time, but at least they have had the opportunity to prove it. Where they have trod hopefully other Gogledd Cymru representative teams will have the opportunity to follow.

---
STAFFORDSHIRE UNDER 17 22 - 5 GOGLEDD CYMRU UNDER 17
24th Feb.
Yesterday 24th Feb. North Wales Under 17s lost 22- 5 to Staffordshire Under 17s at Stoke. Although the scoreline might appear disappointing this was in fact a first-rate effort from what was in fact a North Wales Under 16 development team, which contained no Under 17s in it and only 4 Under 16s who start for the Under 16 Team. The team weren't helped by the fact their coach broke down en route which meant that they only had time for the briefest of warm-up sessions beforehand. This was an obvious contributory factor to the them conceding 3 tries early in the first half. They actually won the 2nd half 7-5, with a Sean Condon try being converted by Jonny Hughes.

On Wednesday North Wales Under 16s travel south again for a game against the Cardiff Blues South. This will be their final regional game of the season and with them having won 2, lost 2, they will be keen to end the season in credit.

North Wales Under 17s V Staffordshire North Wales Under 16s V Cardiff Blues South

Mark Padgett- Mold Mark Padgett- Mold
Matthew Suter-Mold Josh Woods-Rhyl
Jon Gareth Jones-Pwlhelli Rhodri Jones-Pwlhelli
Daffyd Nagiaa-Caernarfon Dale Blackmore-Rhyl
Adam Davies-Mold Harrison Crowe-Rhyl
Greg Costage-Colwyn Bay Tom Davies-Mold
Harrison Crowe-Rhyl George Cliff-Rhyl
Tom Davies-Mold Ben Taylor-Ruthin
Will Morecombe-Rhyl Will Morecombe-Rhyl
Sean Condon-Rhyl Sean Condon-Rhyl
Adam Lowndes-Colwyn Bay Jack Roberts-Pwlhelli
Josh Trewortha-Llangefni Michael Bagnall-Rhyl
Cai Edwards-Mold Scott Jones-Rhyl
Jake Hughes-Bangor Callum Bennett-Rhyl
Jonny Hughes-Bangor Sam Herd-Rhyl
George North-Rhyl
Subs: Jack Owens-Bangor
Henry Roberts-Rhyl Matthew Suter-Mold
Arwyn Morris-Bala Deio Brunelli-Pwlhelli
Ed Gill-Rhyl Dan Evans-Colwyn Bay
Jack Owens-Bangor Peter Kirby-Colwyn Bay

SUNDAY JANUARY 27th

Although to lose is always disappointing, there were many positives to be taken from this performance against what is probably the top English County side.
Due to the appalling weather that has been sweeping the region over the last couple of weeks, the North Wales squad comprising a mixture of last years Under 16 team together with the younger members of the previous season's Under 17 team had only had 1 training session together. However what they may have lacked in cohesiveness was more than made up for by the great team spirit evident throughout.

It was clear from the outset that Yorkshire planned to move everything through their much larger pack and in both set pieces and the loose they gained an early ascendancy. Fortunately their fly-half whose kicking out of hand was superb throughout, seemed to have trouble judging the swirling wind and 3 early penalty chances were missed.

When after about 20 minutes the visitors massive number 6 side-stepped his way through the North Wales half, it appeared that this might act as the catalyst for an onslaught from the visitors. However if anything it was North Wales who responded best, and with David Clegg and Dale Blackmore starting to turnover ball in the loose, the speedy North Wales backs began to look dangerous. Just prior to half-time North Wales themselves were unlucky not to score when following a deft chip from Sean Condon the Yorkshire winger appeared to deliberately batt the wall away in the dead-ball area. Nonetheless a half-time score of 0- 5 meant that North Wales were still in the game.

Unfortunately spilt ball straight from the restart was punished when Yorkshire went over for their second try of the game. North Wales again showed their resilience and with Tom Beaumont and Joe Sprowston beginning to bang holes of their own in the Yorkshire defence, it seemed that the home side might get back into the game. Unfortunately it was not to be and with Yorkshire scoring 2 late tries of their own , the final score was perhaps a little harsh on the young North Wales side.

The game was played in tremendous spirit and given the fact that the North Wales side was much younger than their opponents there was nothing at all to be ashamed about in losing. With a number of key players being unavailable du to their commitments to the Wales U16 squad the match also gave opportunities for other players to make a claim for a regular North Wales jersey. Four players made their debut for North Wales in this game they were Scott Jones and Paul Sellwood from Rhyl RFC, Jack Owens from Bangor RFC and Dafydd Ngaia of Caernarfon RFC. Dafydd Myrddin Hughes RDO said "The players played very well considering the amount of training they had prior to the game especially with so many new phases in the squad." He went on to say "I feel very positive with many aspects of the game and indeed the potential we have within the squad is tremendous". Darren Owen who was the head coach on the day was impressed with the attitude and the hunger the boys showed to demonstrate to all the coaching staff their playing ability in order to maintain their position in the squad.

North Wales Under 17s next match is home to Gwent on the 16th February, again at Wrexham. There are in fact 2 matches that day, which will mean the entire North Wales squad getting a run-out.
GOGLEDD CYMRU U17 SQUAD
Jonni Hughes-Bangor
Jack Owens-Bangor
David Ngaia-Caernarfon
Huw Ifan-Caernarfon
Oliver Colling-Colwyn Bay
Joe Sprowston-Mold
David Clegg-Mold
Oliver Jenner-Mold
Mark Paget-Mold
John Jones-Pwlhelli
Daniel Owen-Pwlhelli
Deio Brunelli-Pwlhelli
Rhodri Jones-Pwlhelli
Tom Beaumont-Rhyl
Harrison Crowe-Rhyl
Dale Blackmore-Rhyl
Will Morecombe-Rhyl
Sean Condon-Rhyl
Callum Bennett-Rhyl
Scott Jones-Rhyl
Michael Bagnall-Rhyl
Ed Gill-Rhyl
Paul Selwood-Rhyl
Although ultimately disappointed to lose, the young North Wales team could and should be thrilled with their performance against probably the top South Wales region.
Making light of the 4 hours plus journey, it was North Wales who opened the scoring when Callum Bennett slotted over a long-range penalty. The lead was further extended when following a period of sustained North Wales pressure slick handling from the Rhyl backs allowed George North to cross under the Ospreys posts.- Bennett adding the simplest of conversions-.
Although, unsurprisingly, the Ospreys soared back, excellent defence, particularly from the North Wales backs, gave them very little space in which to operate. When breaks were made, excellent cover defence from most noticeably Jack Roberts, Harrison Crowe and Ben Taylor meant that any threat was snuffed out, and the North Wales forwards led by Josh Woods, George Cliff and Rhodri Jones made plenty of yardage themselves. So when early in the second half Roberts himself scored, and Bennett again converted, it appeared that a comfortable victory would be achieved.
However a clearance kick being half-charged down led to a try from the Ospreys, and the renewed confidence that this seemed to give them meant that they were to add another shortly after. With the wind behind him, the Ospreys outside half kicking game kept the North Wales side pinned back deep inside their own half, and when following a well worked try of their own in the corner,the fullback kicked the touchline conversion, the home side took the lead for the first time in the match. A penalty just prior to the final whistle extended this lead further. Although disappointed to have lost upon reflection, the team can justifiably feel that this was perhaps their strongest performance of the season.
North Wales Team:

15. Callum Bennett (Rhyl)
14. Michael Bagnall (Rhyl)
13. George North (Rhyl)
12. Sean Condon (Rhyl)
11. Sam Herd (Rhyl)
10. Jack Roberts (Pwlhelli)
9. Will Morecombe (Rhyl)
1. Rhodri Jones (Pwlhelli)
2. Josh Woods (Rhyl)
3. Gareth Jones (Pwlhelli)
4. Harrison Crowe (Rhyl)
5. George Cliff (Rhyl)
6. Daniel Owen ( Pwlhelli)
7. Ben Taylor (Ruthin)
8. Stephen Dean (Rhyl)

Substitutes:
Ed Gill (Rhyl)
Tom Bond (Rhyl)
Mark Padgett (Mold)
David Clegg (Mold)
Iolo Evans (Caernarfon)
Richard Roads (Llangefni)
Great news for the successful Gogledd Cymru U 16 Squad when, despite huge logistical disadvantages, 4 of their players have been selected to the national training squad this weekend (1/12)
Rhodri Jones -- prop -- Pwllheli
George North -- centre – Rhyl
Jac Roberts --- fly half---Pwllheli
Ben Taylor--- flanker---Ruthin
They are part of the victorious Gogledd Cymru U16 team who has confounded their elite regional counterparts this season by beating Scarlets and Reebok league leaders Blues North. They are scheduled to play Ospreys and Blues South on the 5th and 12th of December. Their success is remarkable considering that all their games are played on an away basis at South Wales venues.
Good luck to the boys/team in their endeavors
---
7th November 2007
Gogledd Cymru u16 added another scalp to their collection when they beat Reebok League leaders Cardiff Blues North 14 - 10 away in their valleys heartland at Abercynon RFC .Tries by Jack Roberts and Callum Bennett (who also converted both), ensured victory for the Gogs and the win will add to their growing reputation as one of the top teams in Wales in their age group.
---
14th September 2007
'Recent meeting of Junior Association have decided to organise Gogledd Cymru/North Wales cup comps at U12 U 14 and U 16 levels. This season other cup comps will run in NE /Mid Wales alongside the existing Eryri Cup in North West Wales. The winners of the two comps will meet in finals.
It is expected to start comps after Xmas, full details to follow in due course.
Saturday 25th August 2007
North Wales u 16 make history against the Scarlets u 16
In simmering heat at Llanidloes on Saturday a very exciting North Wales side took on the Scarlets in this annual fixture. The previous results achieved by the North's all blacks (with only 3 defeats in the past 4 years) attracted a large crowd.
North Wales kicked off to a much bigger Scarlets pack, who were able to secure ample ball from line out and scrum. North Wales defended gallantly for the first 25 minutes, after wave upon wave of scarlets attacks were thwarted. The back row of Ben Taylor (captain), Steven Dean and Harrison Crowe worked tirelessly to hold back the swarming red shirts. Just before half time the Scarlets got their reward with a well worked push over try. The heroic defence of the back line of Will Morecombe, Jack Roberts, Deio Brunelli, George North, Callum Bennett, Michael Bagnull and Sean Condon had tackled everything in a red shirt and were pleased to be only 5 paints down.
The second 35 minutes needed a bigger and more effective effort from the North Wales front 5, with the introduction of Daniel Owen to the back row and Harrison Crowe moving to the second row the pack seemed better equipped. From the Kick off good possession was secured and the North started to build their phases. The powerful Rhodri Jones started to punch holes with close support from Josh Woods, Ed Gill and Tom Bond. The North won clean ball just inside the opposition half. Outside half Jack Roberts passed to the rampaging George North, who broke through and found the blistering looping support of Jack Rob" who past on to the ever available Ben Taylor to score. With the conversion missed the game was set at 5 all with 20 minutes to go. Possession was keenly fought with the Scarlets starting to regain more ball. With some frustration to the North uncompromising defence their outside half fired out a speculative pass, which was snatched out of the air by the classy Jack Roberts who showed the Scarlets back line a clean pair of heels to run 60 meters to score by the posts. Shaun Condon converted to make the score 12- 5. The last 10 minutes of the game saw the Scarlets come close to scoring, but this North Wales side have a togetherness and collective will to win that is a credit to them and the coaches and parents involved. The final whistle blew and far the first time a North Wales u16 side had taken the scalp of the mighty Scarlets.
Mr Mostyn Richards performance director for the W.R.U rewarded this wonderful win by guaranteeing this team the right to play the other regions over the next few months. This will enable the North Wales players to have unprecedented exposure to the Welsh u16 selectors. We wish the boys all best in those games.