For over twenty five years, this fine art studio has been creating:
stained glass windows
room dividers
mixed media glass sculptures
Quality designs and fabrication are custom made to the client's satisfaction regarding aesthetics, privacy and light.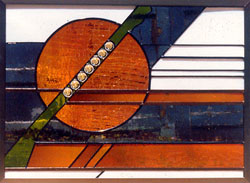 Hall Window (private residence)
Millbrae, CA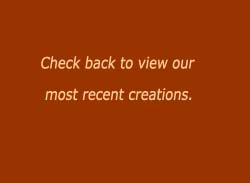 M.A. - New York University
Venice, Italy.
Studio and Environmental Art
BFA - San Francisco Art Institute.
Pilchuck School - Washington
Dale Chihuly's international mecca for the study of art glass.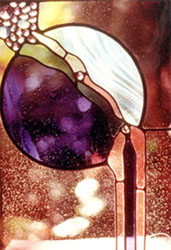 Private Residence
New York, NY
A partial list of commissions include:
Restoration work for the Bohemian Club, San Francisco, California.
Residential creations in Paris, France.
Chapel window in St. Mary's in the Mountains, Virginia City, Nevada.
Interior art restoration at St. Patrick's Catholic Church, Oakland, California
Garden Art for Musee De Brux, France
Private Residences in Hilo, Hawaii.
DI STEFANO RUIZ STUDIO
(510) 465-9031
P.O. Box 24605
Oakland, CA 94623
email:

[email protected]
In 1986 mosaics for interior and exteriors were added to the studio's repertoire. Di Stefano Ruiz pioneered the use of stained glass as the main component of mosaic stepping stones and table tops.
Commissioned work is customed designed in either the ancient traditional style or contemporary mixed media.
Applications include: fireplace facades, floors, walls, fountains, pool accents, pavers, and sculptural motifs.
A local mosaic mural can be seen at Blondie's Pizza, Berkeley, California.
A fireplace mosaic creation of
Ms. Di Stefano Ruiz is included in the published work 'The Art of Mosiac Design:A Collection of Contemporary Artists' by Joann Locktov (pub.Rockport Press).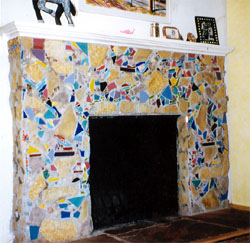 Mosaic Fireplace
Mill Valley, CA