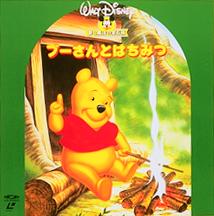 Winnie the Pooh and the Honey Tree SF047-1706
Date issued: 12/23/89, Bilingual, CAV.
---
This is the only digital sound and CAV version available. A CLV analog sound version was released in the U.S. (521AS). Although this short appears in the feature The Many Adventures Of Winnie the Pooh, the voice of Christopher Robin was re-dubbed. The original voice is only available in this short.