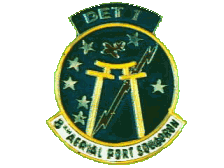 The insignia shown above is the better known of several patches and emblems used by the 8th Aerial Port Squadron in Vietnam. Variations of it included replacement of the white and gold text with the muted blue lettering used for the detachment information shown at the top of the patch. The 8th Aerial Port Squadron headquarters was an Tan Son Nhut AB near Saigon. The squadron operated numerous mobility and detachments throughout what was known as III and IV corps (essentially the geographic area surrounding Saigon up through and including Bien Hoa and the Mekong Delta). One of these was ours, and aside from Bien Hoa it was one of the larger detachments.
Detachment #1, 8th Aerial Port Squadron, was a comprised of approximately 35 military members, two Vietnamese civilians, and was headed by an detachment NCOIC. The unit was responsible for all of the cargo and passenger air lift in and out of Vung Tau. Most of the airlift was on C7A Caribous, Australian Wallabies (Caribou's in disguise), and C-130s, with an occasional C-123 thrown in just for fun.
For the Air Force, Vung Tau AAF was also the home of Friendly ALCE (who was always talking to Mother ...), and the 535th and 536th Tactical Airlift Squadron, both of which flew the C7-A Caribous that comprised much of the airlift traffic. The Army ran Vung Tau AAF though, and had several units there, including the 53rd Combat Support Group, 560th MP Company, 2nd Maint Co, 345th Dispensary, a communications company (aka Long Lines) on the mountain overlooking Vung Tau, as well as Mohawk aircraft and Cobra helicopter units, the 36th Evac Hospital, and an ammo storage facility (that occasionally was the recipient of rocket attacks). Along with the US units, the Australians had Wallaby Squadron on base, and the Korean Army had a hospital in the city of Vung Tau. Most GIs who were in Vietnam will also recall that the somewhat popular In-Country R&R center was nearby, in the city of Vung Tau, just a few miles from the air field.