Torsten Fenslau was, for those who shouldn't know it, the producer behind Abfahrt, LDC, Out Of The Ordinary, Culture Beat (>´93) and a lot of other German techno- and dance acts. Besides this he was DJ at "Lopo´s Werkstatt" in Darmstadt, DJ at the well-known "Dorian Gray" in Frankfurt, DJ at "hr3 Clubnight" and label manager of his own label, Abfahrt Records.



Torsten Fenslau (b. 23.04.64) started his DJ career in 1982 - at the age of only 18. He loved the job ´cause he was burning for the music. Torsten's big idol was Kraftwerk, who already in the seventies took the early steps to the at present huge techno scene.

Torsten was known as "The Introking" because of his use of some very special introes. In the early years of his DJ career, as he was still DJ at "Lopo's Werkstatt", he used a keyboard to make the music more delicate. He experimented with funny noises and special introes and the audience seemed to like it. One night a guy went to the DJ box and asked Torsten why he did not play some ordinary tunes on the keyboard instead. Torsten just answered that he couldn't. The name of the young man was Jens Zimmermann, and some time later (1988) he and Torsten released "The Dream" under the first of many project names, "Out Of The Ordinary". The track was produced in Torsten's own studio, "paraDOX Studios".



-"Torsten had a lot of dreams. His first record "The Dream" became a guiding principle for his life - he gave other people hopes and dreams and was capable of turning his own dreams into reality. On his grave is written - "I have a dream", Martin Luther King."

Frank Fenslau (Torsten's little brother)




"The Dream" (feat. Martin Luther King) was sold in about 50,000 copies, which was quite a successful debut to Torsten and Jens. Later on the same year they released their second track, "Alone (it's me)". A "new" guy called Jürgen "Nosie" Katzmann joined Jens and Torsten on this project, which they called "Abfahrt" and it turned out perfectly. The track is recorded on a four track taperecorder in Torsten's bedroom and Jens didn't even know that the track had been released, untill he heard it the first time. "Alone (it's me)" is today looked at as a "techno classic". Personally I think this track is the best techno track ever made.



-"The idea for the name and sign "Abfahrt" came to Torsten's mind on his way down to the parking house. In Germany "Abfahrt" also has another meaning - Let's go for it."

Frank Fenslau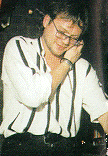 Jens became Torsten's "right hand" (technical production partner) and together they produced a wide range of successfull dance- and techno productions in the years 1988 - 1991. "Tyrell Corp." - "Running", "Culture Beat" - "Der Erdbeermund" and "Ideas For Imitators" - "Der Komtur" are just examples on their ability. Their co-operation lasted for about three years. In the meantime Torsten had worked together with a lot of other producers and song writers around Frankfurt. There among you will find Peter Zweier (Space frog, U.B.I.), Alexander Abraham (Lexicon, Der Verfall), Oliver Lieb (L.S.G., Paragliders) and "Noise" Katzmann (Jam & Spoon, Captain Hollywood). The two projects "Klangwerk" (Klangwerk, Und weiter geht's) and "LDC" (Die schwarze Zone, T-raumreise) are the result of Torsten's, Peter Zweier's and Alexander Abraham's successful co-operation.



-"The remix of "Sundown" by "The Overlords" was influenced by my favourite all time dance classic "Alone (it's me)" and was a kind of payback and tribute to Torsten Fenslau for his creative ideas".

DJ Kenneth Bager (good friend of Torsten)


Shortly after the "Horizon"-album (the first Culture Beat CD, feat. Lana E. and J. Supreme) was released, Torsten and Jens stopped their work together. Peter became the new man behind the mixing console in the paraDOX Studios, and this turned out to be a very successful combination.






Shortly after Torsten and Peter had started working together, "Abfahrt Records" was born. The idea about running a record label Torsten had had for some years, but first in 1992 it turned into reality. Abfahrt Records was a label of ZYX Music, which released Torsten's first records ("The Dream", "Alone (it's me)", "Klangwerk" etc.). The management was all in Torsten's hands, and that meant that he now could release all the records that he wanted. No more problems with A&R-people in the major record companies. ZYX Music should only take care of the distribution. Therefore Abfahrt Records used the same kind of ID registration as ZYX Music (e.g. ZYX 6194-8 / ABF 0001-8).

The first record Abfahrt Records released was "Out Of The Ordinary" - "Immer Wenn Er Pillen Nahm", which in fact is the only record Torsten has done all by himself. A lot of Torsten's songs are anti-drug songs, and "Immer Wenn Er Pillen Nahm" is no exception. This track dissociates from the use of Ecstasy, just like "Hank In Lola's Drugstore" - "Love Says Don't" (another track produced by Torsten) does it from LSD.

Abfahrt Records released more than twenty-five records, but "died" with Torsten in 1993. Most of the releases were produced by Torsten himself.



-"When "Alone (it's me) was played, it was always the standout track - Everything played beforehand sounded weak".

Tommy Gee (Tournesol)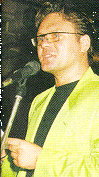 Torsten had this incredible ability to see and hear what the future sound would be like, and this might be why he had so much success with his records. He was one of the absolutely most productive producers in Germany from 1988 to 1993, and was actually elected as "Producer Of The Year" in Germany in 1993. He worked very fast in the studio, and as an example of this he once produced a track over just one night together with Peter Zweier and DJ Kenneth Bager. According to Bager (Dr. Baker) it took from 8:30 p.m. to 3:30 a.m. (7 hours!) to write and produce their common track "Vie La Vie".

Kenneth Bager is, or actually was, THE DJ in Denmark. He is best know from the night life in Copenhagen, and he is in Denmark respected as the pioneer of electronic music - just as Sven Väth, Talla 2XLC and Fenslau in Germany.

In the early nineties Kenneth Bager arranged something called "COMA" raves (Copenhagen Offers More Action) in Copenhagen, and Torsten was DJ at one of the first events. They became very good friends, and Torsten was supposed to have produced Kenneth Bager's (Dr. Baker's) second album, but..... Kenneth wrote this in a Danish magazine in connection with Torsten's death:



-"Torsten dreamed of one thing ever since he was a child - to produce a world hit - and fortunately it happened to him. He was one of the greatest persons I have ever met - both hard as a rock and soft as butter. A warm "cosiness maker" in who you could trust - and at the same time a very professional DJ, producer and businessman. He was DJ at one of the first Coma-raves here in Denmark - and started loving our country and our drug-clean and happy ravers, who he thanked on the "Serenity" album. Now we must send a "thanks" to him. He was both a great inspirator and a very great person who I will never forget".

Kenneth Bager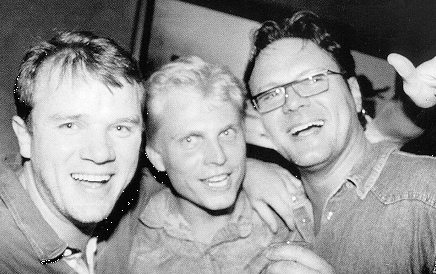 Torsten had a dream saying :"I want to produce a Nr. 1 chart hit", and his dream certainly came true with "Mr. Vain" (the first single from the "Serenity" album). The single was sold in about 4,5 million copies worldwide and to that came a sale of two million copies of "Serenity" - the second Culture Beat album.

The fateful night when Torsten died (6th November 1993), he had been at a friend's birthday party at Paramount Park in Rödermark. According to the Danish music magazine "MIX" he had been in New York early in the morning together with Alexander Abraham to promote the new Culture Beat sound and he was flown back to Germany to visit Paramount Park in Rödermark. The day had been very long, and on his way home from Rödermark he fell asleep in his car. He hit a tree and got killed - because of the fact that he had not used his seat belt. His girlfriend survived with only a few scratches.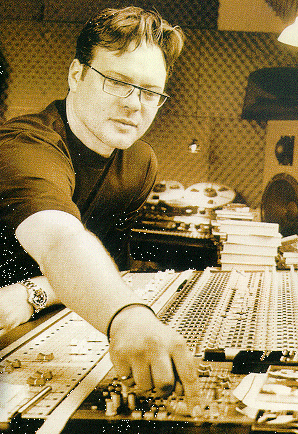 After Torsten's death people talked a lot of what would happen to Culture Beat. Torsten's brother Frank took over the management, meanwhile Peter Zweier took over the producer chair - or at least he was supposed to. Frank did not like the sound of Peter's "new" Culture Beat, so he replaced Peter with no less than 5 different production teams. Among the producers of the different production teams you will find some of Torsten's old friends, such as Doug Laurent ("Public Art" - "River")and Nino Teilman/Peter Gräber ("Pay No Mind", "Miracle"). Late 1995 they released the first single "Inside Out" and an album with the same title. "Inside Out" (the third Culture Beat album) was actually released on the two-year-day of Torsten's death, 6th November 1995.







Meanwhile the producers worked hardly in the studio, Frank released no less than two other albums related to his brother. The first one was "Culture Beat" - "The Remix Album", which includes one remix of every released Culture Beat single from "Horizon" and "Serenity" plus two versions of "Adelante" (not released as CD-single) and a DMC-megamix. The second one is a "must have" in every "Fan-of-Torsten-Fenslau" record collection. The CD is a 2xCD and it is called "The Dream" - "Best Of Torsten Fenslau". It includes all Torsten's biggest hits, such as "Out Of The Ordinary" - "The Dream", "Tyrell Corp." - "Running" and "Abfahrt" - "Alone (it's me). This one is the best CD I have in my collection.

Since then the fourth Culture Beat album "Metamorphosis" has been released, and the fifth is on it's way (the first single is expected to be released around December´00/January´01). Tania Evans and J. Supreme are no longer in front of Culture Beat. As they both wanted to go their own ways with solo projects, Frank decided to ask Kim Sanders to perform the new Culture Beat songs. I think it has succeeded once again for Frank Fenslau to retain Culture Beat as the leading dance act. Abfahrt Records is also making noise again. New versions of "Tyrell Corp." - "Running" made by Mauro Picotto, Tom Wax, Schiller, Aboria (Peter Gräber) and Humate were in the early summer this year (2000) released, and more is to come. According to Frank Fenslau there will be more re-releases of the old classics... and some new tracks are coming up. Deep respect to Frank Fenslau and the Culture Beat/Abfahrt crews for keeping the spirit alive. With this "the beat keeps going on....."



Ivar Christian Bjerg Pedersen,
October 1998
[Updated 17 September 2000]

[ Please mail me your comments, information and greetings etc. This is only the most important facts about Torsten Fenslau. If I was to tell you all I know, it would take at least a couple of pages more. Please feel free to contact me at: [email protected] Thanks ]
---
- Additional information by David Löhe (Thanks a lot David, you're great) and MIX
- All pictures are taken from the booklet to "The Dream" - "Best Of Torsten Fenslau"
- All quotes are taken from the Flex Records CD "Techno Classics vol.1", except of Kenneth Bager's "Torsten dreamed of one thing...."-quote.
- Ivar Christian Bjerg Pedersen says hi and thanks to Frank Fenslau, Kenneth Bager, MIX, David Löhe, Norbert Cordes, Alexander Abraham, the Culture Beat crew, the Abfahrt crew, all Fenslau fans and Torsten Fenslau (your music will stay alive forever).
- Thank you for stopping by...