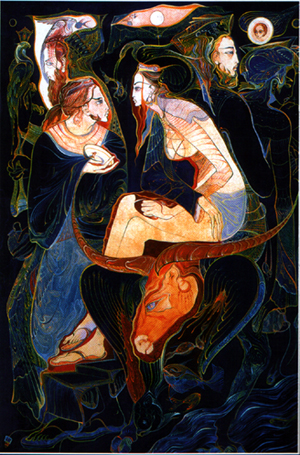 Rusudan Petviashvili is a famous Georgian artist whose childhood drawings were described by Pablo Picasso as works of genius.
Rusudan was born in Tbilisi on the 25th of January, 1968. She started to paint when she was one year and ten months old. The first personal exhibition was held when she became 6. Up to the hundred of her graphic and color pictures were exhibited: the large-formatted, highly complicated one-touch drawings, mostly. Scholars, as well as the wide society, were bewildered to see an amazing skill of the child.
In the age of 8, Rusuadan Petviashvili held two personal exhibitions in Moscow. Three years later, another exhibition took place again in Moscow, then in Tbilisi. 13-year-old Rusudan exhibited her works in different towns of France and finally in Paris.
In St. Yorre, an extraordinary press conference was held tp explore the phenomenon called the paintings of Rusudan Petviashvili. The following years the exhibitions were held in Vienna, Budapest, Madrid, London, again Moscow and Tbilisi as well as in recent years in France and USA.
Books were published with Rusudan's illustrations. Among them are the joint-stock issues of Moscow and Paris: "The Knight in the Panther's Skin" and "National Fairy Tales of Georgia".
Rusudan Petviashvili is listed in "2000 Famous Persons of XX Century", the book published by the Cambrige Biographical Centre".
Rusudan participated in painting of the miniatures for the Gospel of the Holy Trinity Cathedral (largest Gospel written on parchment in ancient Georgian script), under the benediction of His Holiness and Beatitude Ilia II, the Catholicos-Patriarch of All Georgia. The Gospel weigh over 100 kg (220 pounds) and is 1.5 meters (five feet) high and 70 cm (28 inches) wide. The Gospel is being hand-painted by a group of Georgian artists led by Rusudan Petviashvili. The team has been working on Gospel over 10 years. They have been joined by a group of bible scholars and calligraphers. The artists were treating their work on the book as a spiritual exercise and have turned down all commissions which do not have a biblical theme.