175 First Street. · Apt.#13-K · Newark, NJ 07107 · (973) 350-0879
---
Objectives · Education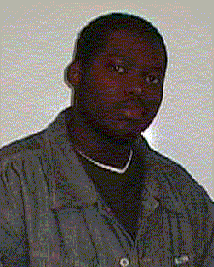 Employment · Other Info
Associate degree holder interested in web page building and design position in the Tir-State area. Highly skilled in the use of computers, especially in HTML, JAVA SCRIPT, MICROSOFT POWERPOINT and other Microsoft Office programs. Interested in positions that will allow me to use my learned skills and also enable me to gather/learn skills not thought in a class. Also willing to travel.
Essex County College(1998-Present)
Currently studying for an Associate Degree in Computer Information Systems
Grade Point Average: 3.15
Deans List: January 2001-May 2001
St. Augustine's College(1995-1997) Ghana, W. Africa
Honor Student: January 1995-Dec.1995; September 1997-Dec.1997
Class President: Jan. 1995-Dec.1995
Treasurer of Student Government
Vice President of Student Editorial Board: Jan.1996- Dec.1997
2001 - Present Essex County College Newark, New Jersey
Academic Computing Lab Assistant
Assist students with their projects if/wheneever they need help.
Download and Upgrade lab computers with new software.
Troubleshooting on ocassions where necessary.
1999 - 2000 Shop Rite of Livingston, Livingston, New Jersey
Dairy Department Clerk
Stocked up shelves with dairy products.
Assisted customers with dairy items/products - answering questionsasked by them as well.
Contacts
I can also be reached at the following number and addresses:
Back to Top