---
---
Oklahoma CAG Sooner Carp Challenge and Fish In April 12 - 14, 2002
---
After the Austin Team Championship I was really looking forward to a nice relaxing weekend of fishing with fellow carp anglers. Bait Boat Charlie had arrived early Thursday morning to start the baiting campaign. The area we chose to fish is somewhat of an L-shape which will accommodate several Anglers so the socializing can take place at the same time fishing is. It is a shelf of about 10-12 ft deep in front of everyone except the end pegs which have the surrounding channel with 25 ft of water. From the middle pegs to reach the ledge in consists of a pretty good chuck of between 125-150 yds. The fish tend to hang out in the deeper water then move onto the shelf to feed. As we expected Hominy started out slow, it was early Friday afternoon before the first run came to Scott Osmond who was on his way back to Massachusetts after a few days in the paradise of Austin, TX. He lost the first run but we knew at least they were around so the anticipation level increased. Scott had also put out a float rod since in Oklahoma we are allowed up to seven rods, which can come in handy when the fish are being finicky. Not long after the first run Scott land a low double on the float rod. Vinny who had traveled with Scott had a couple of runs but the fish beat him to the snags before he was able to turn it...On the end peg Al St. Cyr had shown up and started piling in some pellets the move paid off he had total of 5 runs landing 3 of them including a 23_08 and a 31_03..Howard Van Sickle was in attendance and managed a a 24 lbs fully scaled mirror, in the middle of the night on Friday, but being the humble guy he is slid it back in without any photos..he didn't want to wake anyone!!!!..

1.Al St. Cyr with a healthy 23 lbs fish 2 Al St. Cyr with a 31_03..largest fish caught 3&4 BBC in action..casting demo 5 Bud Yancey enjoying retirement 6&7 Phonebush & Phonebush with grandson Brandt 8 Scott Osmond with a 28+ lbs carp


Al St. Cyr with a healthy 23 lbs fish and a 31_03..largest fish caught







BBC in action..casting demo







Bud Yancey enjoying retirement







Phonebush & Phonebush with grandson Brandt







Scott Osmond with a 28+ lbs carp





Saturday afternoon things were slow so we had a casting demonstration from Bait Boat Charlie. That alone made the trip worthwhile. Also in attendance was the infamous Bill Warder from Kansas City, MO along with his grandson Brandt. Bill guaranteed me he could catch a buffalo from Hominy so I upped the wager to a steak dinner at the local steakhouse if he could catch one. Luckily for me he was unsuccessful.. We did manage to get his grandson hooked on all the cool Euro-tackle. Bill wasn't exactly happy with us about that., he prefers the slack line method. Also in attendance was Bud Yancey. Its always a pleasure to fish with him.. I think he is really enjoying retirement now. Seems like he plans on doing more fishing this year and its well deserved.


All in all we didn't have many fish but the quality of the venue was there.. This is what the fish-ins are all about and probably the things I look forward to the most. Just spending time on the bank with fellow anglers talking about carp fishing and sharing ideas...with Bill there a few really outlandish stories..


Thanks to all who attended hope to see more of you next year...


---
Return to Carp Anglers Group Fishins Page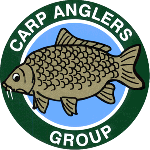 ---