Pablo Picasso's
FRIENDS & LOVERS
---
Friends

During his time in Barcelona in 1899 he frequented Els Quatre Gats (The Four Cats), the café, where artists and intellectuals used to meet. He made friends, among others, with the young painter Casagemas, and the poet Sabartés, who would later be his secretary and lifelong friend. In Quatre Gats Picasso met the vivid representatives of Spanish modernism, such as Rusinol and Nonell; he was very enthusiastic about new directions in art, he said farewell to "classicism" and started his enduring search and experiments. The relations with his parents strained, they could not understand and forgive him the betrayal of "classicism".
Menu from Els Quatre Gats in 1899.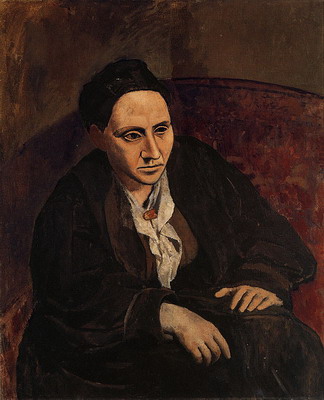 Picasso's Portrait of Gertrude Stein. 1906
In February 1901 Picasso's friend Casagemas committed suicide: he shot himself in a Parisian café because a girl he loved had refused him. His death was a shock, Picasso returned to it again and again in his paintings: "Death of Casagemas," multicolored, and the same in blue, "Evocation – The Burial of Casagemas."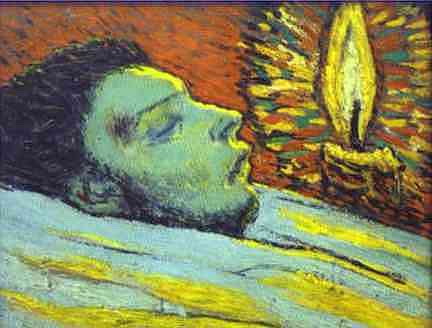 Picasso's Death of Casagemas. 1901
---
Lovers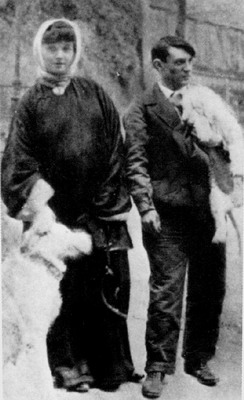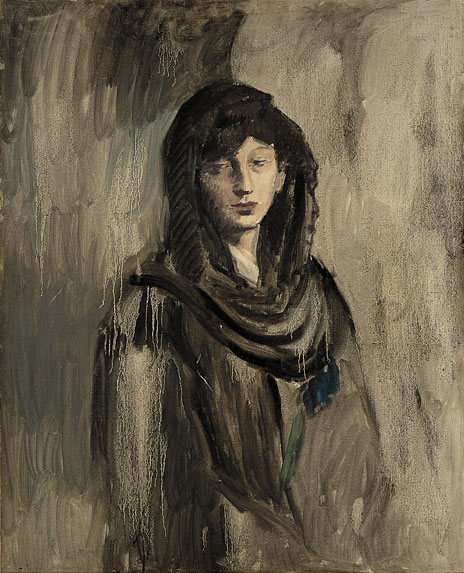 Left: Fernande & Pablo; Right: Picasso's Fernande with a Black Mantilla. 1905/06

Picasso ended his relationship with Fernande in 1911 and started a new relationship with Eva Gouel (Marcelle Humbert), whom he called "Ma Jolie." When it became clear that Eva was dying, Picasso left her as well.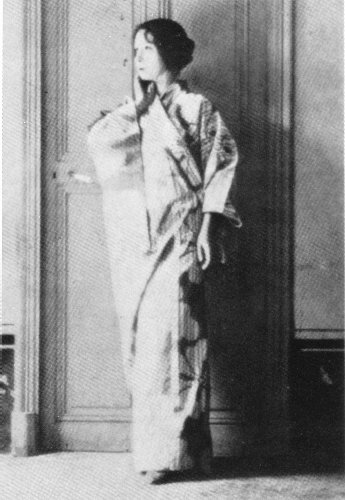 Left: Eva Gouel; Right: Picasso's Study for Woman in an Armchair (Eva Gouel). 1913

In 1917, Picasso meets the dancer Olga Kaklova and marries her the following year. Olga gives birth to their son Paulo in 1921.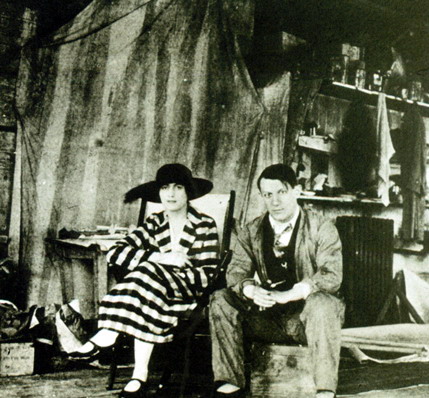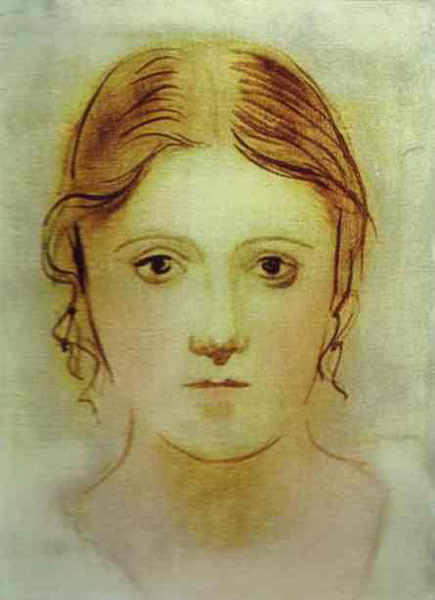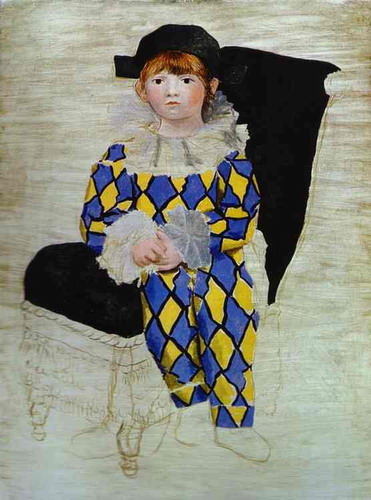 Left to Right: 1919 (Age 38) Picasso in Paris with wife Olga; Picasso's Portrait of Olga. 1923; Picasso's Paulo as Harlequin. 1924
In 1927 Picasso meets 17 year old

Marie Thérèse Walter whom he hires as a model

for his paintings. She soon becomes his mistress. Their daughter,

Maria de la Concepcion (called Maïa)

, is born in 1935, the same year of Picasso's final separation from Olga although the two would remain legally married until Olga's death in 1955.

Marie Thérèse always lived with the hope that Picasso would one day marry her. She eventually hanged herself after Picasso's death.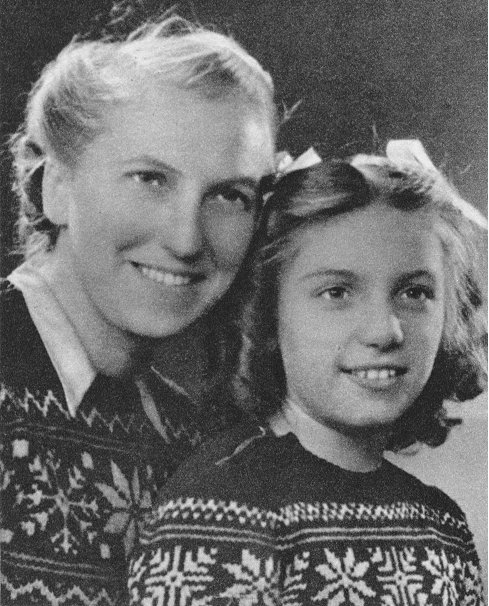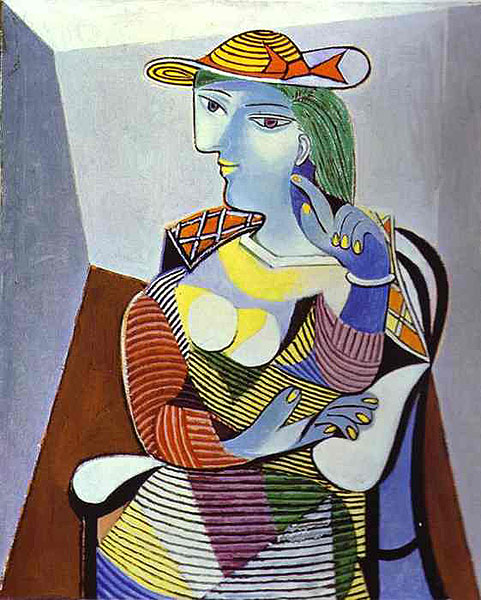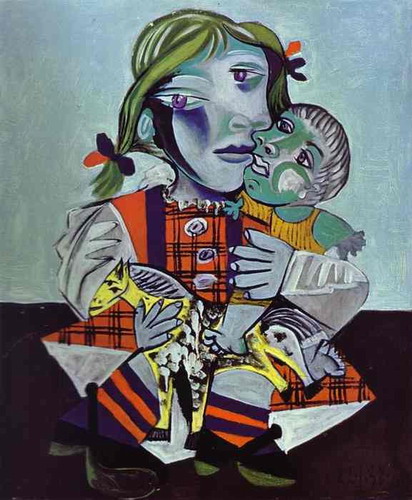 Left to Right: Marie Thérèse Walter & daughter Maïa; Picasso's Portrait of Marie-Thérèse Walter. 1937; Picasso's Maya with a Doll. 1938
The photographer and painter Dora Maar was also a constant companion and lover of Picasso. The two were closest in the late 30s and early 40s, and it was Dora who documented the painting of Guernica. Like all the women in his life, Dora was cruelly abused emotionally by the narcissistic Picasso.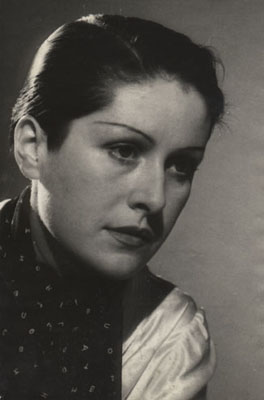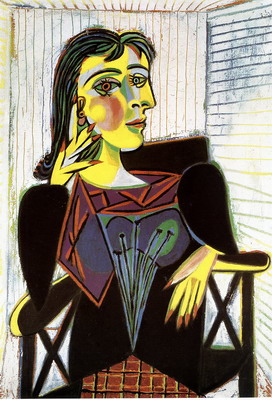 Left: Dora Maar c. 1935; Right: Picasso's Portrait of Dora Maar. 1937
After World War II, Picasso meets fellow painter Françoise Gilot. They have two children together: son, Claude, is born in 1947 and daughter, Paloma, is born in 1949. Unlike Picasso's other women, Françoise leaves Picasso in 1953 because of his abusive treatment and unfaithfulness.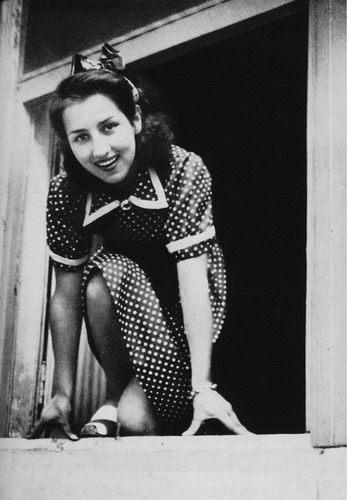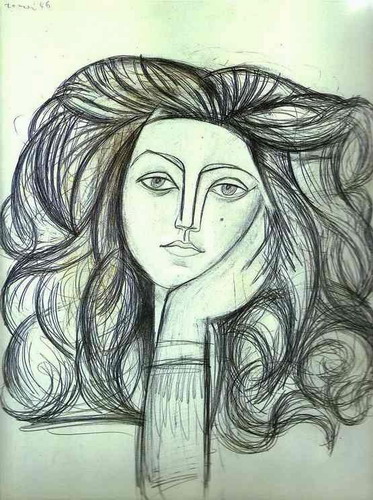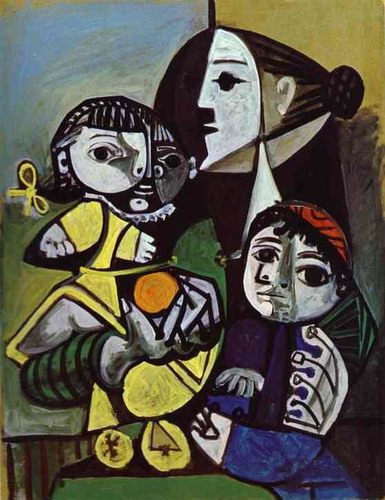 Left to Right: Françoise Gilot; Picasso's Portrait of Françoise. 1946; Picasso's Françoise, Claude and Paloma. 1951
In 1953, Picasso meets a woman named Jacqueline Roque at the Madoura Pottery where she worked and he made and painted ceramics. Their marriage in 1961 was also the means of one last act of revenge against Françoise. Françoise had been seeking a legal means to legitimize her children with Picasso, Claude and Paloma. With Picasso's encouragement, she had arranged to divorce her then husband, Luc Simon, and marry Picasso to secure her children's rights. Picasso then secretly married Jacqueline after Françoise had filed for divorce in order to exact his revenge for her leaving him.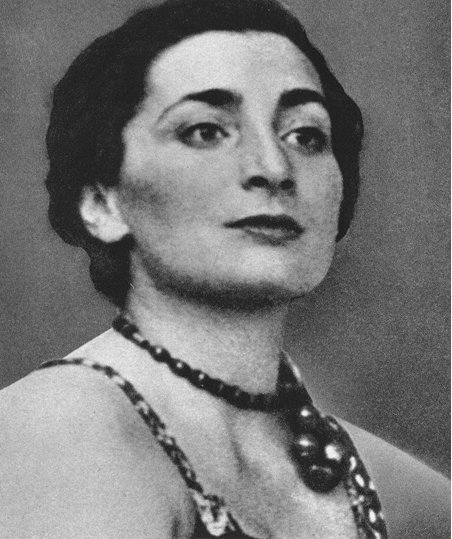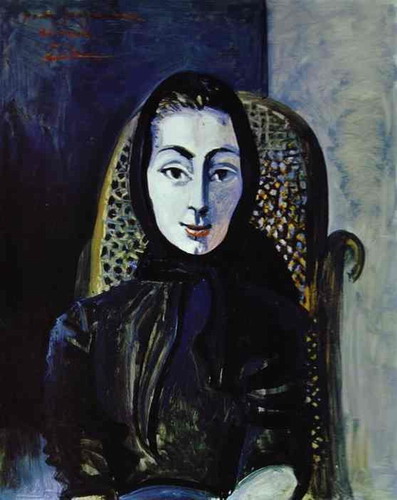 Left: Jacqueline Roque; Right: Picasso's Jacqueline Roque. 1954
---