The Art Dealers
---
Clovis Sagot
Left: Clovis Sagot in 1909. Right: Picasso's Portrait of Clovis Sagot. 1909

Clovis Sagot once worked as a clown in the circus.

He turned a former pharmacy into an art gallery. The art dealer Ambroise Vollard bought all of Picasso's paintings during his Rose Period and Sagot became his first official saleman.

Sagot's art gallery held the first exhibition of Cubist painter Juan Gris in 1911.

He was infamous for selling paintings for much more than he paid for them.

Henry Kahnweiler
June 25, 1884 - January 11, 1979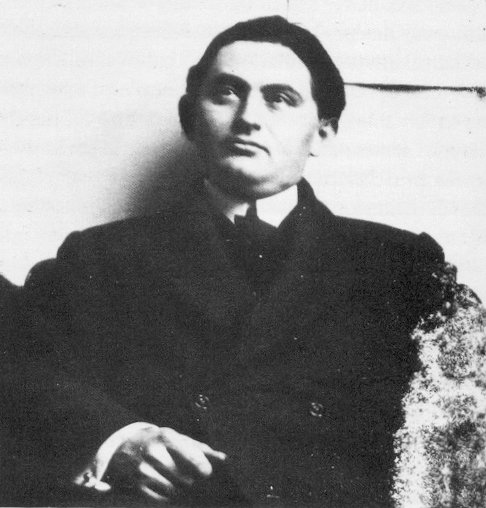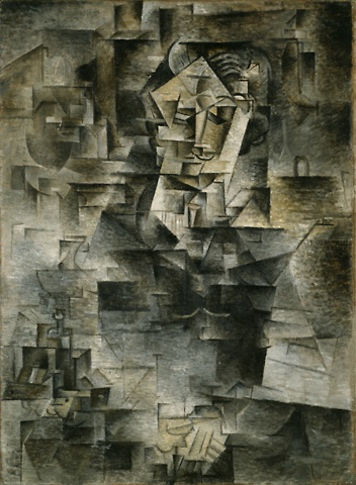 Left: Daniel-Henry Kahnweiler c. 1910-1911; Right: Picasso's Portrait of Daniel-Henry Kahnweiler. 1910.

Daniel-Henry Kahnweiler was born in Mannheim, Germany in 1884.

Moved to Paris in 1902 to work at the Stock Exchange. There he would visit the museums and art galleries in his spare time. His love for art led to him giving up his financial career to become an art dealer and in 1907 he opened up his own gallery in Paris.

Kahnweiler expanded his focus and began bringing together artists, writers, and poets to produce their works as joint projects in over 40 books.

With the start of World War I, Kahnweiler and his family exiled to Berne, Switzerland. During the war his property was confiscated including a large amount of art works by the artists he was representing. Picasso, irate by this, took legal action to regain possession of his unpaid-for artworks. When he got his paintings back he discovered that some of them had been damaged because of the damp storage conditions. Picasso blamed Kahnweiler because he felt that his dealer should have given over his stock to another dealer or had the works shipped to the U.S. or Switzerland. This caused a rift between the artist and his dealer and led to Picasso firing Kahnweiler as his dealer. They did not repair their relationship until the end of World War II.

While Kahnweiler was in exile he wrote the first important critique of the Cubist art movement that he had helped bring about (he gave Georges Braque his first art exhibit) entitled Der Weg zum Kubismus

.

Kahnweiler returned to France at the end of the war and remained a key figure in the art world until his death in 1979.

Ambroise Vollard
1865 - July 21, 1939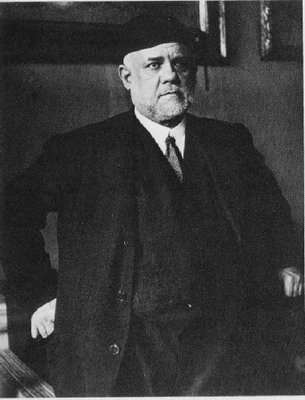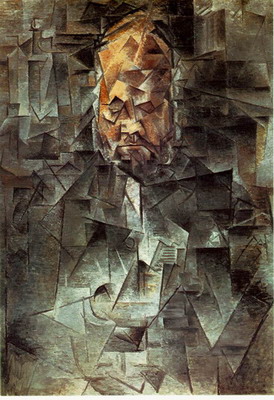 Left: Ambroise Vollard; Right: Picasso's Portrait of Ambroise Vollard. 1910.
He gave studying law to work as a clerk for an art dealer. He opened his first art gallery in Paris in 1893.

Gave Picasso his first one-man show.

Vollard was a shrewd business man who bought art works for much less than what he sold them for. Sold to collectors such as H.O. Havemeyer, Gertrude Stein and her brother Leo, and Alfred Barnes.

Vollard and Picasso collaborated once again when Picasso began working on a set of engraved plates that encompassed the richness of cubism and the eroticism of surrealism. The plates were entitled the Vollard Suite and were finished in 1937. The suite included emotional portraits of Vollard who tragically died two years later in a car crash.

Picasso on his portrait of Vollard: "The most beautiful woman who ever lived never had her portrait painted, drawn or engraved any oftener than Vollard - by Cézanne, Renoir, Rouault, Bonnard... But my cubist portrait of him is the best one of all."
---
Resources:
Sagot
Kahnweiler
Vollard
---