Craig's Book Club
Book Recommendations

Spotlight on: Ray Bradbury

Books Reviewed:
The Best of Ray Bradbury: The Graphic Novel
Bradbury Stories
A Chapbook for Burnt-Out Priests, Rabbis, and Ministers
Death is a Lonely Business
Fahrenheit 451
From the Dust Returned
Let's All Kill Constance
One More for the Road
The Stories of Ray Bradbury
Zen in the Art of Writing

And a rare bonus: Bloch and Bradbury
---
To arrange to have products considered for review, send an email to

[email protected]

.
---
---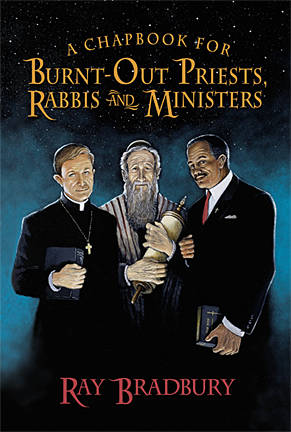 Ray Bradbury, A Chapbook for Burnt-Out Priests, Rabbis, and Ministers
This review originally appeared in somewhat different form on The Green Man Review. Copyright 2004. Reprinted with permission.
This is not a book for the average Ray Bradbury fan; there are no stories about Martians or dinosaurs or murderous babies. A Chapbook for Burnt-Out Priests, Rabbis, and Ministers is a collection of poems, essays, and musings on various literary, philosophical, and religious subjects and includes appearances from Albert Einstein, William Shakespeare, George Bernard Shaw, Gerard Manley Hopkins, H.G. Wells, Garry Kasparov, Death, God, Jesus, Homer, Noah, Ahab, and the Great and Powerful Wizard of Oz. It is the author's way of giving further mill grist to those who have inspired him, and who have taken inspiration from his works, by collecting all of these pieces in one place for quick reference on those off-weeks.
Understandably, the author's religion plays a noticeable role in most of the collected pieces. With Bradbury, however, it never tends towards proselytizing, merely existing as much as anyone's core beliefs seep into their writings. God pops up quite often, but always in interesting contexts: as compared to a chimney sweep, or saying "pass the chicken," for example. Also understandably, space, too, crops up -- often almost as much as religion and surprisingly often in the same work. "Christ on Improbable Planets" looks at religion's possible future relationship to space travel -- primarily in how the author has questioned it in his own works, and "Christus Apollo: A Cantata Celebrating the Eighth Day of Creation and the Promise of the Ninth" cries out to be put to music. Also included are his script pages of the ending to King of Kings that he was asked to write, but that proved too expensive to film. He laments this, saying that the Gospel of John -- which inspired his take -- has not yet been used for the ending of a film about Jesus.
The majority of the Chapbook consists of Bradbury's poetry, which is often heavy-handed. His ideas are interesting (God cannot exist without man, maggot bites inspire creativity), but his execution lacks subtlety; he tries for inspiration but evokes a chuckle. (One ties the great characters of Shakespeare to the assembly building at Cape Canaveral and another compares Moby Dick to Noah's Ark.) More interesting is his choice of form, which seems to be picked or invented for each offering. Ones that appear to rhyme on first look succeed at this with difficulty, meanwhile others that appear to be free verse contain a more natural internal rhyme or rhythm. Throughout all of this, though, his joyous spirit remains infectious. His love of poetry is also noticeable in the rhythm and beauty of his prose, but the most telling is his exhortation to other writers to read more of the stuff.
The prose offerings included in A Chapbook for Burnt-Out Priests, Rabbis, and Ministers include "Goodbye Means God Be with You," a touching fictional meditation on death and family. In "Refurbishing the Tin Woodman" -- within a treatise on the state of science fiction -- he calls Singing in the Rain a "science-fiction musical" based on its plot revolving around society's response to a new invention: the talking picture. Just like any other new advancement, this required an almost complete rethinking of the film industry, which is beautifully -- and humorously -- represented. Bradbury believes that George Bernard Shaw, having seen the first half of the film, would have come up with the second half on his own. It is just this kind of imaginative thinking that has seen the master's work endure through one century -- even chronologically past his own ideas of the "distant future" -- into the next and this Chapbook is a look at the other side of the man who has brought so many of us such indescribable pleasure.
---
Ray Bradbury, The Best of Ray Bradbury: The Graphic Novel
This review originally appeared in somewhat different form on Ex Libris Reviews. Copyright 2004. Reprinted with permission.
I am a huge Bradbury fan, so I picked this book up at the library on impulse. Never having really been keen on graphic novels, I thought that this would possibly be good for a bridge into liking them, since the entries were based on stories with which I was already familiar.
Well, I was wrong. The entries in The Best of Ray Bradbury: The Graphic Novel are uniformly bad. There's none of the joy that is palpable in Bradbury's original texts, and, in fact, the tendency of these artists is toward the depressing and melancholy. None of them enhanced my enjoyment of the stories, and all of them detracted from it. The illustrations are at best passable and, at worst, impressionistic, leaving the reader to form his own opinion of what is being drawn. Most of all, they are simply retellings of the stories, only without the imagination that my mind put to the originals upon reading them.
Supposedly, these are some of the best graphic artists working today, with names connected to such titles as Watchmen and Sandman (which I always assumed--and this title offers evidence--were popular due to the quality of the writing, not of the art). I only hope that this collection does not have the same effect that a music video does for a song, and that I will be able to revisit the stories without having these images in my head. Just awful.
---
Ray Bradbury, Death is a Lonely Business
Ray Bradbury, Let's All Kill Constance
In 1985, over twenty years since the publication of his last full-length work, 1962's Something Wicked This Way Comes, Ray Bradbury reentered the novel-writing world with the release of Death is a Lonely Business, his foray into a genre dominated by Dashiell Hammett, Raymond Chandler, and Ross MacDonald -- the crime novel.
This book has many layers to it. First, on the surface, it's a fine noir pastiche. Second, it's a fictionalized autobiographical portrait of Bradbury himself in 1949, in the early days of his publishing.
The narrator of Death is a Lonely Business is a writer living in Venice, California, where the local carnival pier is being demolished. He discovers the body of Willie Smith, underwater and trapped in a disused lion cage. Then a strange shadowy figure begins appearing in hallways and outside windows at night and the number of murders increases.
He teams with local police detective Elmo Crumley -- reluctantly, at first, on Crumley's part -- to solve the case. The only clues they have are the writer's intuition, articles that go missing from the deceased's residences, and a blind man's keen sense of smell.
Our hero is especially interesting as a portrait of Bradbury himself in 1949. The naive, plump, 27-year-old writer, who is just becoming successful, inspires immediate identification from fans of the master's work. We already like the author, so we immediately root for his doppelganger. I especially enjoyed the personal clues Bradbury laid within the story, some of which it takes a brave person to lay bare in print. But they work to gain our sympathy, which is quite necessary; in the beginning the writer is painted -- whether deliberately or not -- as a somewhat unsympathetic character prone to outbursts.
The other characters are just as fascinating: Crumley, the cop who just happens to also be a writer; Fannie, the 380-pound sedentary soprano; A.L. Shrank, the psychiatrist with the downbeat library; Cal, the incompetent barber with the ragtime past; John Wilkes Hopworth, the ex-silent film star who still pines for former love Constance Rattigan, his former costar who is dead set on not becoming Norma Desmond from Sunset Boulevard ("That dimwit Norma wants a new career; all I want most days is to hole up and not come out."); and Henry, the blind man, who is the only one who can identify the killer -- by his smell.
Death is a Lonely Business is Bradbury's entry into the noir genre, done in his inimitable style. He plays with the conventions, but since he so obviously loves the genre, this is easily forgiven -- embraced, even -- because the end result is, simply put, a fine addition to the canon.
After 1985's Death is a Lonely Business and 1990's A Graveyard for Lunatics, Ray Bradbury has returned to his noir series featuring Elmo Crumley and a certain unnamed writer (obviously Bradbury himself). And we welcome them back with open arms.
In Let's All Kill Constance, Constance Rattigan comes into the writer's home bearing two books: a 1900 telephone directory and her own personal address book. There are several names marked in both books. Some are crossed out entirely: these are names of those no longer of this earth. Others are circled with a cross beside them. Constance believes that these are going to be the next to die and she is frightened since her own name is one of those circled. Constance leaves the books with the writer, then disappears.
Let's All Kill Constance is not quite as good as its predecessors, but any Bradbury is worth reading. His particular style is always welcome, its familiarity alone bringing a level of comfort to the experience -- like revisiting an old friend. And it's still better than a lot of books I've read.
The mystery itself is not as interesting as the characters and their relationships with each other. Although it feels at times (as with the female impersonator) that Bradbury is simply creating a character to fill his plot needs, he still makes each them real enough to justify the time spent with them.
The bulk of the novel concerns the search for Constance. Teaming up again with detective Elmo Crumley, the writer meets several people involved with Constance's past (many of whom she has just left when the writer and Crumley arrive) and puts together the pieces into a disturbing yet satisfying solution illustrative of the difficulties inherent in being a Hollywood actress.
But through all this Bradbury's youthful exuberance shines. Even at 82, his enthusiasm for life comes through as unadulterated innocence. He seems not to be jaded at all by the modern world, and so these books are not as "noir" as they would have been in other hands. And yet, it's refreshing to have, as a hero in this genre, a person whom the world has not made a pessimist.
Let's All Kill Constance is another fine novel from Bradbury -- who recently received the National Book Award for Distinguished Contribution to American Letters -- but it is also dear to me because this series is probably the closest thing to an autobiography we will receive from this man, who has brought so much joy to so many people.
This review originally appeared in somewhat different form as two separate reviews on The Green Man Review. Copyright 2003. Reprinted with permission.
---
Ray Bradbury, Fahrenheit 451 (unabridged audiobook, read by the author)
"Is it true that long ago firemen put fires out instead of going to start them?"--Clarisse McClellan
Guy Montag is a "fireman." With a kerosene hose, he sets fire to books and the houses that contain them. For the span of ten years, he doesn't question it until he meets Clarisse McClellan, a seventeen-year-old girl on his street. Montag's conversation with Clarisse puts the first germ of divergent thought in his mind. Then, when a woman who will not leave her book-ridden house perishes in the ensuing flames, they come to the surface--questions and doubts that culminate in him mindlessly filching a book from another burn site and taking it home.
Montag's questions lead him to Faber, a professor. Faber befriends the "enemy" and teaches Montag the life that is contained in books. Meanwhile, fire captain Beatty explains to Montag how the "rules" were made by the public, that the firemen are there to enforce the already-extant prejudices of the populace. The firemen aren't really even needed anymore, people didn't want to read, anyway. It was too dangerous. It was easier to rid their world of treacherous, deviant books.
Colored people don't like Little Black Sambo. Burn it. White people don't feel good about Uncle Tom's Cabin. Burn it. Someone's written a book on tobacco and cancer of the lungs? The cigarette people are weeping? Burn the book. Serenity, Montag. Peace, Montag. Take your fight outside. Better yet, into the incinerator. Funerals are unhappy and pagan? Eliminate them, too... Let's not quibble over individuals with memoriums. Forget them. Burn all, burn everything. Fire is bright and fire is clean.
Originally written in 1950 in the form of a short story called "The Fireman," Fahrenheit 451 remains timely, and scarily prescient. Attempts to censor reading materials are so prevalent that the American Library Association keeps a list of books that have been "challenged," or requested for removal from libraries--both school and public--and publicizes the numbers each year during Banned Books Week. (Surprisingly or not, the book series most credited with bringing children back to reading--Harry Potter--was also the most challenged in 2001 and 2002.) People don't want their children (or anybody's, apparently) being exposed to anything that will make them question the values their parents have forced upon them. But I digress...

At less than two hundred pages, Fahrenheit 451 still has its slow parts, but, at this point, it is not a book that is necessarily read for simple fun, but also due to its "classic" status. There is plenty of entertainment to be had for the put-upon reader, but the book is mostly a portrait of what could happen if a vocal minority were allowed to control what books (if any) we are allowed to read. Passion fuels Fahrenheit 451 more than plot, but Ray Bradbury's tales have always shown his various passions. Passion for imagination, passion for nostalgia, passion for people, and, most of all, passion for writing. When we enter his world, we are invited to share in his passions and that, in addition to what we experience in the stories, is what keeps us coming back time after time.

This audiobook version, read by Ray Bradbury himself, is an excellent reading that nevertheless suffers in one manner. The author, in his advancing age, has become mildly thick-tongued--possibly due to a stroke suffered in 1999. This slurs his pronunciation of some words. It does not affect the enjoyment of the story, but at the beginning was distracting. I eventually got used to it and the rest of the story flowed marvelously; this is simply something to take into consideration when considering which version of the book to experience.

This review originally appeared in somewhat different form on The Green Man Review. Copyright 2003. Reprinted with permission.
---
Ray Bradbury, From the Dust Returned
In 1945, Ray Bradbury published a story called "Homecoming" about an odd Family called the Elliotts. Since then, Bradbury has been revisiting the Family over the years. Now all those stories have been compiled together for the first time--with new linking material--into a novel of sorts, the absolutely wonderful From the Dust Returned.
It is composed of stories from Dark Carnival, The October Country, and The Toynbee Convector--as well as others. Now fans can revisit all of their favorite Family stories in one location. Bradbury has pulled this off winningly.
It is a wonderful book chock full of all the stuff that makes Bradbury's stories great--terrific characters, believable scenarios (made from the unbelievable), and his marvelous style of storytelling, specifically his voice. His intense enthusiasm for his work always comes through on to the page, making each of his books a treat. I have been a Ray Bradbury fan since childhood and From the Dust Returned is a perfect representation of all the things that keep me coming back time after time.
---
Ray Bradbury, One More for the Road (unabridged audiobook, read by Campbell Scott)
This review originally appeared in somewhat different form on Ex Libris Reviews. Copyright 2003. Reprinted with permission.
Still on my recent Bradbury kick, I picked up his latest collection as an unabridged audiobook read by Campbell Scott. One More for the Road finds the master still in fine form and rather matured since his heyday. The best stories in this book ("Tete-a-tete," "The Nineteenth," "The Dragon Danced at Midnight," "My Son, Max," "Heart Transplant") have no supernatural content whatsoever, being portraits of humans and their foibles.
The lesser ones ("Quid Pro Quo," "Beasts,") are those that rely entirely on those elements for their plots, an exception being "The Laurel and Hardy Alpha Centauri Tour" and "The F. Scott/Tolstoy/Ahab Accumulator" which are entirely science-fiction and entirely wonderful. The unevenness of the tales only make the great ones seem so much more so.
Reading these stories for audio, Campbell Scott gamely performs them, giving each character a distinctive voice. He does especially well with the Laurel and Hardy tale, capturing the essences of the duo without resorting to absolute mimicry. Only a writer of Bradbury's caliber could release a collection of mostly never-before-published stories with this level of quality. Here's to hoping he continues to skip the magazines and go straight to book form. I look forward to his next collection. In the meantime, I think I'll go read The October Country again.
---
Ray Bradbury, The Stories of Ray Bradbury
Ray Bradbury, Bradbury Stories
This review originally appeared in somewhat different form on The Green Man Review. Copyright 2003.
Ray Bradbury fans tend to like their Bradbury in large quantities. We just can't get enough. And that's certainly what 1980's The Stories of Ray Bradbury and the new Bradbury Stories are: 900-page volumes of 100 selections each of the master's best tales.
I lack the space (or, honestly, the inclination) to review 200 stories individually, and in any case those unfamiliar with Bradbury's work are unlikely to purchase either of these volumes, as they run upwards of $20.00 USD--even with Amazon's discount. Newcomers would be better off beginning with one of the smaller collections--I personally recommend The October Country.
As no one story appears in both volumes, and as the average person is just not going to purchase both, the main question becomes which one of these marvelous tomes to spend your hard-earned money on? The answer lies in finding out not which one is better, but what kind of fan you are. In this review, I will attempt to differentiate between these two confusingly similar titles--and their respective style of fan.
The earlier book, The Stories of Ray Bradbury, containing those stories for which he is most famous--"The Small Assassin," "The October Game," "The Veldt," "The Crowd," "There Will Come Soft Rains," etc.--is likely to appeal most to the fan of "classic" Bradbury, or to anyone introduced to his work through the television anthology Ray Bradbury Theater. It feels like the more cohesive of the two probably because of this reason; these are stories that the average fan will recognize, and The Stories of Ray Bradbury certainly does an excellent job of representing the first 35 years of his career, when he was known primarily as a science-fiction writer (although that was never patently true). Also included is an inspiring essay on the art of writing, "Drunk and In Charge of a Bicycle" (later published in Zen in the Art of Writing).
Conversely, several of the entries in Bradbury Stories feel like they were written by an altogether different person. In a way, they were. No longer the wide-eyed innocent, this Bradbury has aged and has gained a mature outlook on life, as represented by the hero of Death is a Lonely Business and its sequels.
Always a writer more of character than plot, this older Bradbury is less focused on the mere actions of his characters, preferring now to dwell on their consequences. He tends now more towards inner dialogue than a simple description of events. Therefore Bradbury Stories has a different feel to it, and those expecting the feel of his earlier work, or anyone expecting a science-fiction anthology, will be sorely disappointed.
The stories here are all good, often better, in some ways, than those in The Stories of Ray Bradbury, but since none of the "classics" are here (the books have different publishers so it is likely there were rights issues), this book is more likely to appeal to the fan who has followed Bradbury into the modern day, curious to see what the master has been up to lately. A good example--and a particular favorite--is "The Fruit in the Bottom of the Bowl," where a man commits an unplanned murder and spends the rest of the story trying obsessively to remove all fingerprints from the scene. There are no spaceships, and we don't even see the murder, just the after-effects.
Bradbury Stories has older stories not included in The Stories of Ray Bradbury, as well as selections from The Martian Chronicles (which is not so much a novel as a series of interlinked tales), but consists for the most part of stories written since 1980. The inclusion of the earlier works leads to a marked lack of cohesion due to the expanse of time covered--over fifty years of a writer's evolution. However, since most people are unlikely to be reading it cover to cover, this is not liable to be a problem. Bradbury Stories, in its way, is a good introductory sampler of all the types of tales Bradbury has ever written. A good career capper--so far--from one I hope will continue to be firing up that marvelous brain for years to come.
I now leave it up to you to decide which of these books appeals to you more, The Stories of Ray Bradbury or Bradbury Stories. One thing I can say is that you will not be disappointed by either of them. Bradbury is one of those writers whose output has been of consistently high quality, so just about any of these stories will appeal to some part of your mind. I find myself simply opening them at random and asking myself, "what adventure will I be taking today?"
---
Ray Bradbury, Zen in the Art of Writing
There are two books on writing that truly inspire me: Telling Lies for Fun and Profit by Lawrence Block and Zen in the Art of Writing by Ray Bradbury. I keep them both at hand, and when my passion flags, I pick one of them up and read it, and they refuel my flame.
This is really a collection of essays, mostly from introductions to other books. However, don't let that detract from their message. To write you must, simply, write. Write until it hurts, and don't stop just because you feel insecure.
Bradbury's style won't work for everyone. He uses free-association to begin his stories. He simply types a word and goes from there. Not all of us can do that, but his passion and love for his work comes through the pages. He also encourages writers to find their own voice through practice, and to write until grammar and story structure become unconscious.
This is a relatively quick read and one that will remain with you long after you finish it. So stop reading this review and go read this book. And then write, write, write.
---
Robert Bloch and Ray Bradbury, Bloch and Bradbury
This originally appeared in somewhat different form in an issue of the column "The Book of Tales" on The Green Man Review. Copyright 2002.
Robert Bloch had a minor specialty of taking an already existent story and using it as a springboard for his own talents. This is shown at its peak in "Yours Truly, Jack the Ripper," in "Lizzie Borden Took an Axe...," and, of course, in his famous novel Psycho (which was based on the story of serial killer Ed Gein). But this time, the story he based his work off of was the story of his own death.
Or sort of. Let me explain.
In 1935, H.P. Lovecraft wrote "The Haunter of the Dark." It is the story of one "Robert Blake" who becomes the victim of an evil force that is able to escape only in complete darkness. Bloch and Lovecraft were friends, and "Blake" was a thinly-veiled characterization of Bloch, even down to having Bloch's correct address appear at the end of the story.
So, in 1950, Bloch responded with "The Shadow from the Steeple," which begins this collection. In it, Edmund Fiske is searching for the true story of his friend Blake's death, as he does not entirely believe the fantastic tale Lovecraft had so obviously fictionalized. Read simply as a story, "Shadow" carries quite a punch by itself, but when you read "Haunter" first -- and know the history behind it -- it adds an extra layer, including a bit of humor in how Bloch characterizes Lovecraft as a bit of a crackpot.
Directly following is a Ray Bradbury story -- "The Watchers" -- which tells about a man who believes that insects are following him, listening to everything, and trying to destroy him. If only he'd left well enough alone... After the Bloch story, I expected Bradbury to be a nice break, a little lighter in tone. Boy, was I wrong.
Next is another Bloch (they alternate in this way throughout the book) entitled "The Grinning Ghoul." It is told in the familiar Poe style of the man-who-is-definitely-not-mad telling us why he has been wrongly placed in the asylum. It is a quite workable pastiche, right down to the one-sentence shocker ending.
Then there are two body-related stories: Bloch's "Mannikins of Horror" and Bradbury's "Fever Dream." Bloch tells us of Dr. Edgar Colin who, driven mad by his work with the Red Cross in Ypres, has taken to building small clay models of humans to keep his surgery-geared hands occupied with detailed work. Only one day, he discovers that one of his models moves, and he goes on from there to... But, anyway, it's one of the best in the book, despite the cliched setup. (There's even a checkmark next to it on the contents page, so I guess that means someone else liked it as well.) Bradbury's story pales in comparison, about an ailing young boy who realizes that his body is being taken over by his disease. Unfortunately, the doctor shrugs it off to the boy's sickness. But who says that fever dreams aren't real?
Bloch then writes a snapper of a tale that takes us to the old country, to Sir Charles Hovoco who has just bought a huge estate -- with an unwelcome addition. Seems there's an altar dating back to the pre-Celtic era that the locals all avoid. And when people in the past have gone to remove it, they have not been heard from again. Well, Sir Charles is not the type to be scared off by silly superstitions, so he has the altar lifted from his ground...and, well, it turns out Sir Charles is going to get more than he bargained for when he bought this cheap land.
He's going to have to face..."The Druidic Doom." (Sorry about that, I'm a fan of old radio.)
If anyone could write a love story between a manicurist and "The Dead Man" and make it touching as well as eerie, it would be Ray Bradbury. And he does his magic here in this tale of Odd Martin and the lady known only as Miss Weldon. Bloch's "A Question of Etiquette" finds an unlucky census-taker meeting up with one Lisa Lorini. She is single, 407 years old, and a witch. This story seemed very short, but it was just a quick read. Nothing special, but a nice twist ending.
But with "The Handler" we have another species entirely. This is the darkly humorous tale of undertaker Mr. Benedict, who exacts revenge upon all the evil people in town after they die. This is the penultimate story, but I would recommend reading it last, so as to finish with a smile on your face. Bradbury has really outdone himself here. Bloch finishes with "The Man Who Cried 'Wolf!'" -- another werewolf story, not a great one, but good enough to close out this stunning collection.
---
Click on the links above to purchase any of the books mentioned, or use the search box below to find what you like.



(Email me and let me know what you think.) <! - - BEGIN READERS RING-->

<! - - END READERS RING - - !>