"The Voice of Canada"
Lorne Greene was born in Ottawa, Ontario, Canada on February 12, 1915, and he later said that he tried to base his interpretation of Ben Cartwright on his own father, Daniel Greene, an apprentice saddlemaker who also turned out orthopedic boots and shoes.
He enrolled at Queens University in Kingston, Ontario, intending to major in chemical engineering, but a love of the theater soon got the better of him. He journeyed to New York to accept a fellowship to the Neighborhood Playhouse School of the Theatre (which was also attended by Dennis Weaver, who played deputy Chester B. Goode on the classic western series "Gunsmoke"). Returning home in 1939, Greene became "The Voice of Canada" when the Canadian Broadcasting Corporation hired him to read the evening news. One columnist went so far to describe his voice as "surely one of the finest ever wrought by nature".

Theatre and motion pictures
After service as a flying officer in the RCAF during World War II, Lorne became "Dean Greene" when he returned to Toronto and founded the Academy of Radio Arts.
Truly a man of many talents, Greene developed a stopwatch that ran backwards as an aid to radio announcers in gauging the time available to them towards the end of a broadcast.
During a promotional trip to New York on behalf of his invention, Greene ran into Canadian producer Fletcher Markle, who cast him as Big Brother in a live Studio One broadcast adaptation of George Orwell's "1984".
More radio and televison work followed, as well as stage appearances in the Stratford Shakespeare Festival in Ontario.
In 1954 Lorne made his motion picture debut as the Apostle Peter in "The Silver Chalice", a religious potboiler that also marked the first screen appearance of Paul Newman. More films and televison followed!

Ben Cartwright of the Ponderosa Ranch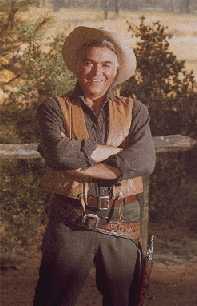 The break in Greene's pattern of alternating engagements in the theater, motion pictures, and television came in 1959 through his performance in an episode of the western series "Wagon Train". "I first spotted him on the set of "Wagon Train"," the producer David Dortort told Lloyd Shearer ("Parade", January 31, 1965). "He was sheduled to play the part of a character who could dominate Ward Bond. Now Bond was not an easy man to dominate..... Lorne not only dominated Bond; he made him look, by contrast, a weak, indecisive man." Recognizing Greene as the authoritative figure he wanted for his projected new western, Dortort asked him to read the first script. Greene, looking for a starring role that would also be both interesting and lucrative, realized that his answer was Ben Cartwright, the father of three sons, whose separate mothers had died. The show was titled "Bonanza".
"Bonanza", which paid him $20.000 an episode in 1965-66, had made Lorne Greene a millionaire and had had other important effects on his life. Ever since the first year of the show he has tended to identify himself with Ben Cartwright. He is said to be a friend and guide to Dan Blocker (Hoss) and Michael Landon (Little Joe) off the screen as well as on and to supervise their joint business activities. He has built a replica of the Ponderosa Ranch, which, for complete authenticity, even has a staircase leading nowhere.
As his fan mail indicates, Lorne Greene had become for millions the archtypical father. Many of his letters are from boys who tell him that they want to be like him when they become fathers or that they wish he was their father. Much of the admiration of viewers for their, idol, Cartwright, is transferred to Greene himself.

Lorne Greene and the rodeos
Although "Bonanza", with its thirty-four episodes a year, takes up an enormous amount of his time, Greene has made hundreds of personal appearances, mainly at rodeos. On these occasions-beside just appearing as Ben Cartwright, with or without Hoss and Little Joe - he usually does a short act. He may combine light, family-type entertainment with an occasional touch of nondenominational reverence, such as singing "This Place Where I Worship".
Immensely succesful in these performances, at the San Francisco Cow palace in 1965 he set new records of attendance at the Grand National Horse Show and Rodeo and made about 20,000 in doing so.
But he often appears free of charge, at fund-raising affairs and Boy Scout events, and in October 1964 he served without fee as master of ceremonies at the Canadian Royal varity Performance for Queen Elizabeth II on Prince Edward Island. On one of his rare TV excursions from "Bonanza", he introduced the London Palladium Show in May 1966.

After "Bonanza"
Less than 30 days after the cancellation of Bonanza (January 1973) Lorne, not one to rest on his Laurels, had signed on to play the title role in "Griff", a detective series that lasted less than four months on NBC.
His most succesful televison work after "Bonanza" was his four year stint as the host and narrator of the syndicated nature film series, "Lorne Greene's New Wilderness".
He also portrayed the part of another father figure (Commander Adama) on the short-lived ABC science fiction series "Battlestar Galactica".

Lorne Greene and his family
Lorne Greene married Rita Hands, of Toronto, in 1940. Their children are twins, Belinda Susan (now Mrs. Richard Bennet) and Charles, born in 1945. Greene's first marriage ended in divorce in 1960, and in December 1961 he married Nancy Anne Deale.
His home is a twelve-room house in Beverly Hills.
An imposing, broad-chested man, Lorne stands six feet one and weight about 200 pounds. He has a rugged, expressive face, white hair, brown eyes, and bushy black eyebrows.
Unlike his TV counterpart, he has an excellent sense of humor and is always joking on the set. He is a good businessman who manages his own real estate investments. A Canadian citizen, he was Canada's Man of the Year in 1965.

Ben Cartwright to the end.....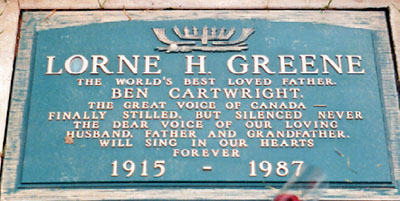 Sadly, Lorne Greene passed away on September 11, 1987.
Plans to appear in a new TV film "Bonanza: The Next Generation" were put on hold when Lorne was hospitalized for surgery of a perforated ulcer. While in the hospital he developed pneumonia, and although the doctor's had hope that he would respond to treatment, Lorne suffered respiratory arrest followd by cardiac arrest, dying whith his wife and children at his side.

"He was Ben Cartwright to the end," commented a mournful Michael Landon (Little Joe), "I took his hand in mine and held it. He looked at me and slowly started to arm wrestle like we used to. The he broke into a smile and nodded. And everything was ok. I think he wanted me to know everything was ok."