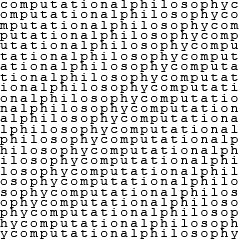 Computational Philosophy
This site features computational algorithms exploring philosophical ideas. It began as a site with algorithms exploring problems in literature, for example a program which came to interpretations, interpreting (returning a conclusion based on) a word, etc. in the same way as its synonym (a word with the same meaning as another word).
Hermeneutics

Internet

Mathematics

Medicine

Music
Download SWI Prolog See also SWI Prolog Manual
My name is Lucian Green (l.green at ugrad.unimelb.edu.au), from Melbourne, Australia and I am a student at the University of Melbourne. See the Personal info for more info.