California 46 - Blood Alley
---
Blood Alley is the most infamous road on the Central Coast. Since 1992, this 25-mile section of California 46 has claimed 31 lives and injured over 65 others. It starts at US 101 and continues until the Cholame Y where 41 and 46 split. It is the fastest route between the Coast and the Valley. A local citizens task force, Fix 46, has recently seen the approval of $62 million by various agencies to widen 46 to four lanes and place a concrete barrier in the median, as most of the deaths are head-on collisions. The work is to start in 2004.
State Senator Jack O'Connell has been very active in seeing that Blood Alley gets the improvements it needs. With his help, call boxes have been installed, the speed limit has remained at 55, and it is a special driving zone with double fines and daylight headlight requirements. As such, the road has been named in his honor. There are also rumble strips on both shoulders and in the middle of the road.
A short, 3-mile stretch of 46 is divided as it leaves Paso Robles. The remaining 22-miles is the most deadly. Starting in Shandon, 46 is multiplexed with California 41 for six miles, before splitting and 41 heading to Fresno while 46 continues on to California 99 north of Bakersfield. Not all of the highway is two lanes. There are some 3-lane sections with passing lanes alternating for each side.
The Cholame Y, 41-46 split, is probably best known as the site of the accident that killed actor James Dean in 1955. There is small memorial for him in Cholame. The road then was US 466.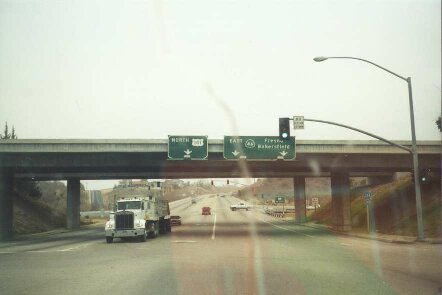 Intersection of 101 and 46 as it leaves Paso Robles. This is the start of the current divided highway section.
---
All of the rest of the pictures were taken in east San Luis Obispo County.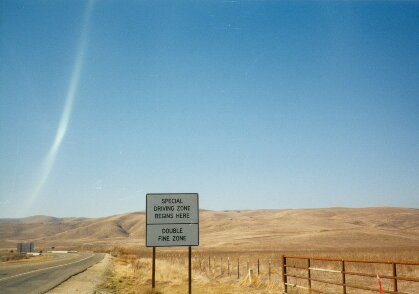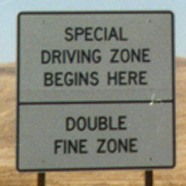 Signs telling of the start of Blood Alley. The CHP has recently increased patrols is this area.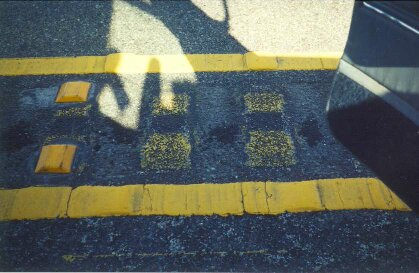 Center divider rumble strip. Even areas that are legal for passing have these. Temporary measures are being taken before work begins on the road. Two-foot tall plastic cylinders are being placed in sections like this where passing is illegal, and jersey curbs are being placed in the deadliest two-mile section of the highway. This strip of highway between Shandon and Cholame killed 5 in 1995 and 5 more in 1999.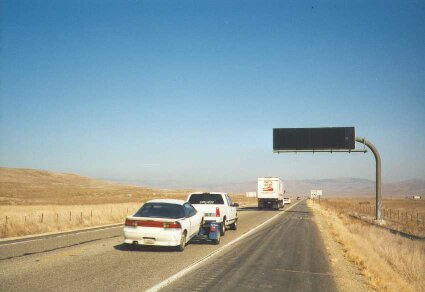 Electric signs to warn of problems at the 41-46 split.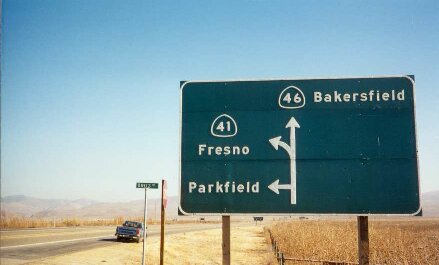 Sign for the Cholame Y. Also a warning not to turn too early onto Cholame Valley Road.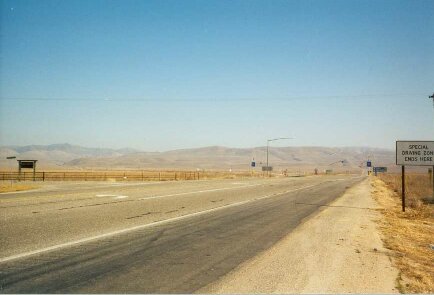 41-46 split, the Cholame Y. Also, the end of Blood Alley. From here Fresno and Bakersfield are the same distance. This intersection is usually not as dangerous as the rest of 46, but it is schedule to be redesigned when work begins.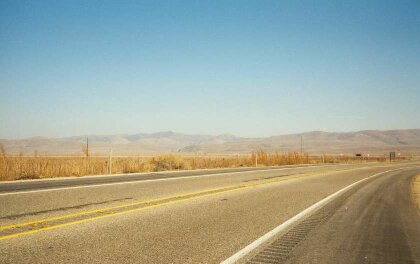 Typical view east of Cholame. Shoulder rumble strips can be seen here. Why is this highway so deadly? One idea is that, unlike routes 58 and 166, California 46 is straight and flat, and people coming off I-5, driving 70 mph or more, still think this is as safe as the interstate. IT IS NOT.
The biggest warning that can be given is be alert (many of the accidents have been caused by people falling asleep behind the wheel), don't pass except in 3-lane passing zones, and SLOW DOWN.