In English In Japanese
Batmon: a battery monitor for Palm OS devices
Batmon is an application which shows the battery status of Palm OS devices.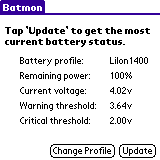 Index
There are many programs which monitor the battery status of Palm OS devices. But many of them have rich functions, or they need HackMaster or DA launcher. I wanna simple one. So decided to make myself another one which meets my needs.
It displays the current status of the device and can change battery profile of the device through scratch pad dialog using one of hidden shortcut commands of PalmOS .

It is a standard Palm application. You don't have to install HackMaster or DA launcher.
It will inquire the status when you start it and when you tap the `Update' button, so it won't consume so much cpu time (= battery power)

There are two versions of Batmon now. Batmon: a standard Palm application, and BatmonPanel: one of panels which is installed in system Prefs.

Batmon (Batmon.prc): This is a standard Palm application. After installation you can see the famous great `b' icon on your Application Launcher. To use Batmon just tap that icon.
BatmonPanel (BatmonPanel.prc): This is a panel for Palm's Prefs application. After installation you can see `Batmon' on the list on the upper right corner of Prefs. Just select `Batmon' from the list. With Batmon Panel you can say good-bye to the famous big `b' icon.

Install one of them or all of them which meets your preference.

Although Batmon and BatmonPanel share most of the functions (actually built from the same set of source files), these are separate programs. You can install and use both programs on the same device as I do.
PalmOS 3.0 or greater.
I tested on the following devices.
IBM WorkPad30J PalmOS3.1 (PalmIIIx Japanese version)
TRGpro US version OS 3.5.2
Handspring Visor PalmOS 3.1H3
Handspring Visor Deluxe, PalmOS 3.1H3 Japanese version
And I tested on various debug ROMs with POSE, tortured with various Gremlin Hordes.
I've got reports that Batmon also works fine with the following devices:
PalmVx Japanese edition
Handspring Visor
Handspring Visor Deluxe
PalmIIIxe, PalmOS 3.3
Palm m100
Palm IIIc, PalmOS 3.5.2
Palm m505
HandEra 330
Sony CLIE 710C
Handspring Visor Neo
Handspring Visor Prism
Palm Tungsten C, PalmOS 5.2.1 reported by Mr Chad Conrad Tungsten C's Prefs app Batmon Panel called from Tungsten C's Prefs app
Palm Tungsten T2, PalmOS 5.2.1 reported by Mr Dariusz Grabka
Palm Tungsten E, PalmOS 5.2.1 reported by Mr wojtekm from Poland
I'd be happy to receive your reports.
Batmon doesn't work correctly with Handspring Treo. One of the standard PalmOS API Batmon uses is broken on Treo's OS.
I've got several reports that PalmOS dot shortcut command, which is not batmon's function, won't work properly with newer Handspring's PalmOS 3.5.2H? devices (Visor Neo, Visor Pro, Visor Platinum). It seems Handspring's OS is broken.
If one issue dot shortcut command on Samsung i330 Smartphone, The weird info is shown.
If you agree with the notice and disclaimer which described later of this page, you can download Batmon from here.
	
MD5 (Batmon-1.2.6.zip) = 4fe8710a8609ee2f4d71590899cba04d
	

-----BEGIN PGP SIGNATURE-----
Version: GnuPG v1.0.7 (NetBSD)

iD8DBQA+hqe0UHt8kCIJ1VoRAnLNAJ94NuSIs0Gm35Ga7iBpgPl6khUTDgCcDqpL
YDq3TrXmjNNzfHQgHslvWa4=
=WFjk
-----END PGP SIGNATURE-----
	
Mailing list for announcement of updates, new release of Batmon. To join, just send an empty message to [email protected] .
Q: What is Batmon?

Batmon is a very very very simple and very very tiny memory footprint battery monitor application which shows the battery status of Palm OS devices. It also can change the battery profile through one of

the hidden shortcut commands of PalmOS

.

Q: What is BatmonPanel?

BatmonPanel is a panel version of Batmon. When installed it appears in system Prefs.

Q: What is 'battery profile'?

PalmOS holds the following battery related information:

current voltage
the voltage at which the low battery warning appears (ie. warning threshold)
the voltage at which the device won't switch on (ie. critical threshold)
formula for calculating the remaining power from the current voltage

The information from 2 to 4 varies among the kind of batteries. A 'Battery profile' is the set of values and formula for a particular kind of battery.

Q: My device has built-in battery (= is not battery exchangeable). Can I use Batmon?

Yes. But changing battery profile should take no effect on such devices. Even if you enter the command over and over the profile shouldn't change.

Q: Batmon shows 'Unknown' battery profile. What it means?

This indicates that your device is newer than the latest Batmon. If this happens please contact me. I'll add the code for it.

Q: I'm using NiMH, but NiMH profile won't appear in spite of entering the shortcut command. Why?

NiMH profile is not available on PalmOS3.1 or earlier devices. You can use NiCd profile instead. NiMH batteries have similar characteristics to NiCd batteries.

Q: The battery profile settings will survive across a soft reset?

Yes. Even across the uninstallation and installation of Batmon. Batmon does not hold the info. PalmOS does. (Of course it will revert to Alkaline alter a hard reset.)

I've got a report that PalmOS 4.1 doesn't hold the profile setting. And I confirmed that.

Q: On my device decimal point of voltage is ',' (comma). Why?

Because you choose comma for decimal point in Prefs -> Formats.

Q: I've found a problem. Where and whom should I report? What kind of information should be provided?

You should send a report to me via e-mail. It should contain the following information:

Version number of Batmon. You can see the version number on Batmon's About Batmon screen.
Which version of Batmon. Application version or panel version.
The model of your Palm OS device on which you use Batmon
Operating system version of your Palm OS device on which you use Batmon
What kind of battery do you use
Problem details and how to repeat it
Other relevant information

In short, exact procedure to reproduce the problem is helpful to hunt down the cause of the problem.
Version 1.0, 2000-11-23, initial version.
Version 1.0.1, 2000-11-26, added ROM version check.
Version 1.0.2, 2000-11-29, minor resource number fix.
Version 1.0.3, 2000-12-03, changed the message of main view.
Version 1.1.0, 2000-12-05, added the 'Change Battery Type' feature.
Version 1.1.1, 2000-12-05, added help to the 'Change Battery Type' dialog.
Version 1.1.2, 2000-12-05, added more explanation to help text.
Version 1.1.3, 2000-12-10, corrected help text.
Version 1.1.4, 2000-12-14, changed menu bar.
Version 1.1.5, 2000-12-15, changed the phrase 'battery type' to 'battery profile' for conveying the strictly correct meaning.
Version 1.1.6, 2000-12-21, added the 'Please wait...' message. remove shortcut for About Batmon. modified the logic of updating main form.
Version 1.1.7, 2000-12-25, removed busy loop at 'Please wait...' message and replaced it with system doze function call. more battery friendly now.
Version 1.1.8, 2000-12-27, added the explanation about NiMH profile on PalmOS3.1 or earlier devices.
Version 1.1.9, 2000-12-30, more explanation about battery profile.
Version 1.1.10, 2001-01-03, added 'Unknown' battery type.
Version 1.1.11, 2001-01-05, capitalized menu label.
Version 1.1.12, 2001-01-10, copyright, minor corrections.
Version 1.1.13, 2001-02-04, About Batmon: changed URL and e-mail address.
Version 1.1.14, 2001-02-08, help text.
Version 1.1.15, 2001-03-18, decimal point character from system preference.
Version 1.1.16, 2001-04-03, help text.
Version 1.1.17, 2001-04-16, removed an unused variable from `About Batmon' dialog code.
Version 1.2, 2001-04-21, Panel version of Batmon.
Version 1.2.1, 2001-05-15, `About Batmon'. Contact address.
Version 1.2.2, 2001-05-25, Fixed the popup trigger resource height.
Version 1.2.3, 2001-07-26, `About Batmon'. Contact addresses.
Version 1.2.4, 2001-10-14, Help text: changed bullet mark to `o' for non Latin devices. And source code clean-up.
Hungarian translation of Batmon is under way by Cseke Balazs <sinus@....>
Treo compatibility report is under way by Jen McIntosh <[email protected]..> :-)
Version 1.2.5, 2002-08-10, a usability improvement: added please wait alerts.
Version 1.2.6, 2003-03-30, changed the message on the main form.
Polling at the user configurable intervals.
Able to change the battery profile (battery type, warning voltage, critical voltage, remaining power). Version 1.1.0 or later includes this feature.
record history of battery change. (Is it possible without Hack?)
You can use Batmon free of charge. Beaming, copying and redistribution without charge is free, too.
The author retains the copyright of Batmon.
The author is not responsible for any damages caused directly or indirectly by the use of Batmon . Use Batmon at your own risk.
Reverse engineering and modification without consent of author is strictly prohibited.
This software is provided by the author ``as is'' and any express or implied warranties, including, but not limited to, the implied warranties of merchantability and fitness for a particular purpose are disclaimed. In no event shall the author be liable for any direct, indirect, incidental, special, exemplary, or consequential damages (including, but not limited to, procurement of substitute goods or services; loss of use, data, or profits; or business interruption) however caused and on any theory of liability, whether in contract, strict liability, or tort (including negligence or otherwise) arising in any way out of the use of this software, even if advised of the possibility of such damage.
---
Comments, suggestions and donations are welcome.


Go to index page
Copyright (c) 1999-2003 IKEDA Shigeru. ALL RIGHTS RESERVED.
Last modified $Date: 2005/07/23 04:31:57 $