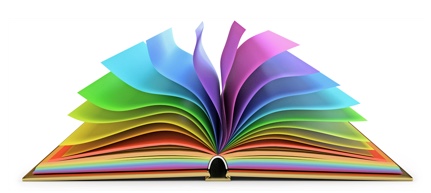 Earle A Rainwater Memorial Library
124 9th Ave SW
Childersburg, AL 35044
Phone: (256) 378-7239
Fax: (256) 378-7287
E-mail address for Mobile Prints: [email protected] (black and white)
[email protected] (color)

| | | |
| --- | --- | --- |
| | | |
| | | |
| | | |
| | | |
| | | |
| | | |
| | | |
| | | |
| | | |
| | | |
| | | |
| | | |
| | | |
| | | |
| | | |
| | | |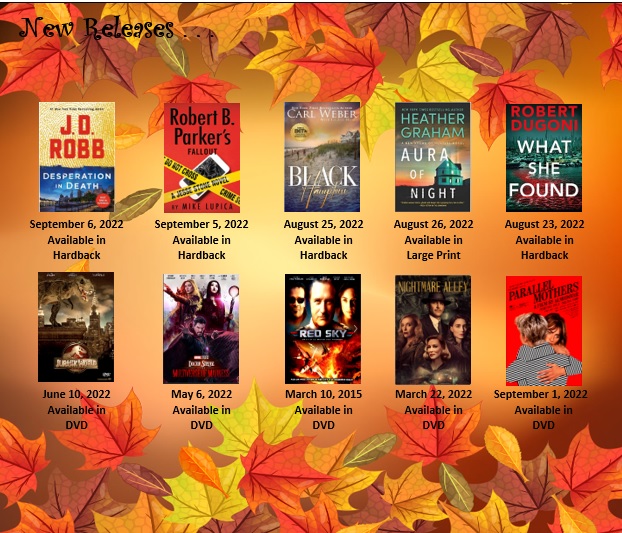 ARC OF SOUTH TALLADEGA COUNTY
The ARC visited the Library on February 8th. One of our patrons, Nancy Champion,
came by to help make Valentine bracelets with them. The library would
like to thank her for her time and generosity and for the ARC for visiting with us.
Valentine's Day Raffle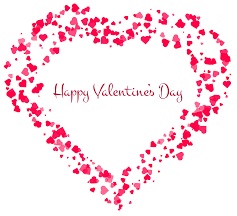 Rainwater Library would like to congratulate Marcus McCain! He is the winner of the Valentine's Day $200 Gas Card Drawing. We also would like everyone to know that we appreciate their continuing support of the Library.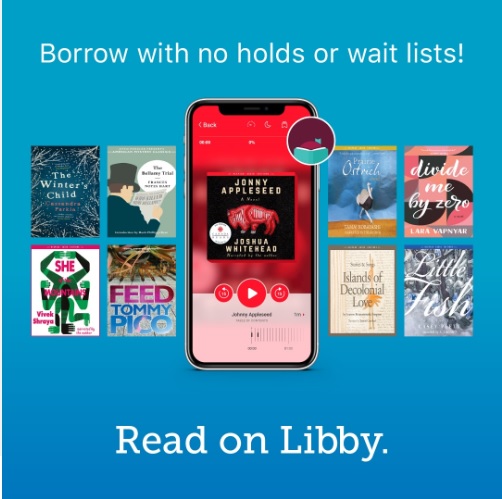 Beginning February 8th, Camellia Net will begin offering over 200 titles that are instantly available for checkout - which means not having to place a hold on your next greatest read! As part of their Everybody Reads Program, Camellia Net will be offering books by authors who include Fern Michaels, Marc Cameron, Sabrina Jeffries, Rebecca Zanetti, Joanne Fluke and Kat Martin.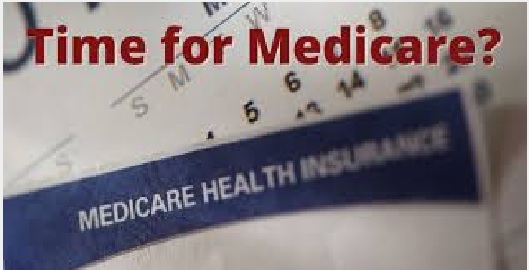 Check back for more information on our next Medicare meeting.
Artists Needed!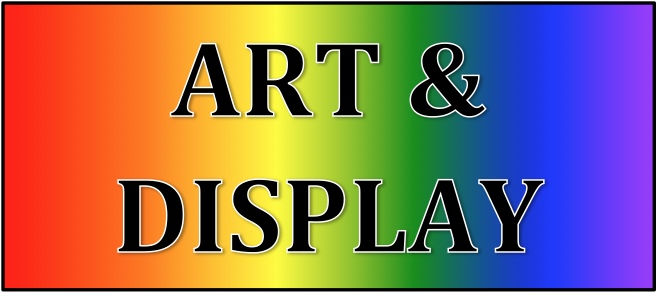 Anyone interested in displaying their artwork (pencil, charcoal, oil, acrylic, photographs, etc.)
at the Library please contact Mrs. Gloria at (256) 378-7239 for more information.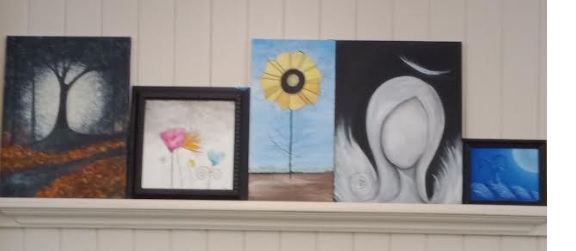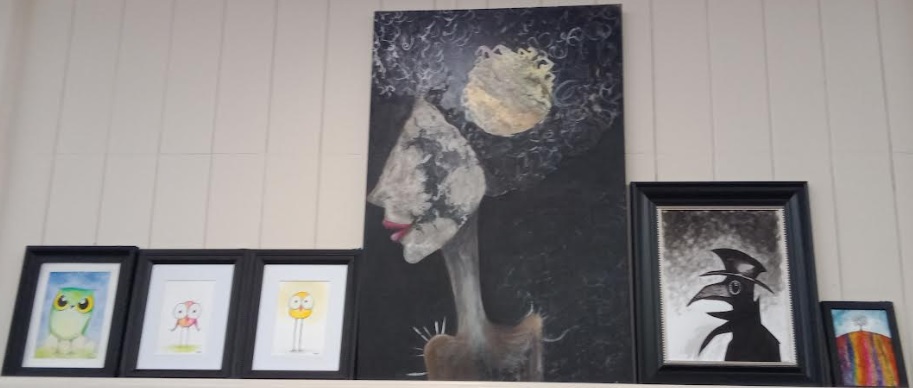 Christy Rae Emfinger, a self-taught, intuitive artist from Sylacauga, began painting seriously at the age of 19.
Her art style is expressionism, dark, whimsical, surreal, abstract, unusual & strange.
Her favorite mediums are ink, watercolor, charcoal, acrylic, soft pastels, oil, dry wall mud, and macro photography.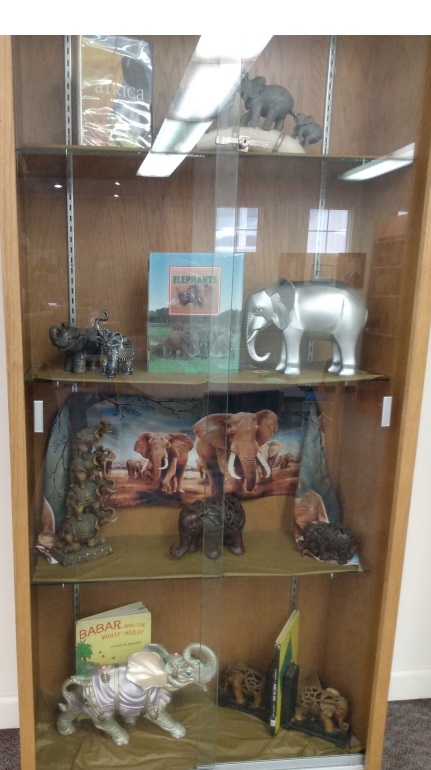 Local artist, Mrs. Elena Crattic, is currently displaying her elephant collection at Rainwater Library
for the months of January and February.

Come and check out the Library's books on sale!
We have a wide arrangement: from children to adult, from paperback to hardback, from magazines to DVDs.
Prices range from .10 to $1.00. Stop by today!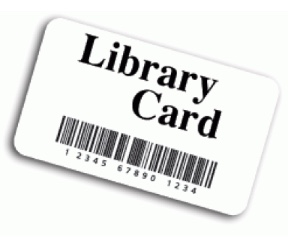 Open a world of new possibilities! Get a Library card today!
It's easy and it's free. Just bring your driver's license or photo id.
Teaching Books & Book Connections

The Alabama Virtual Library is now offering Book Connections and Teaching Books as free resources to all Alabama residents.
Visit Teaching Books at www.teachingbooks.net and Book Connections at www.bookconnections.org.
Follow the directions and you will have access to a whole new way of learning. These websites provide parents, youth and young adults:
"Online databases of thousands of multimedia resources you can use to explore children's and young adult books and their authors.
... Online teaching / learning resources about each author or specific book."
GOT HOMEWORK?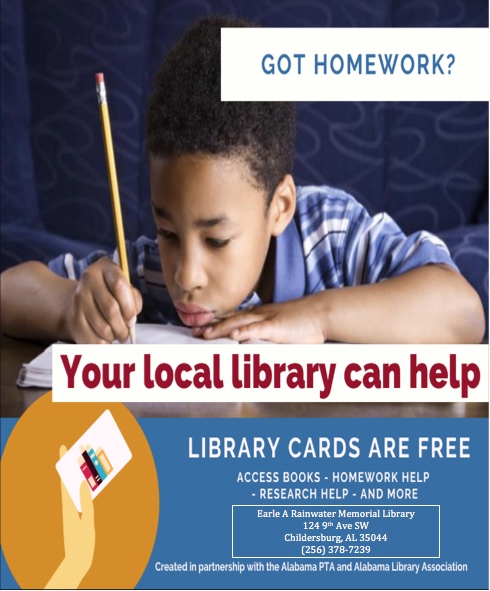 The Alabama Library Association (ALA) and the Alabama Parent Teacher Association (AL PTA)
have started a campaign to remind the public of a rarely used resource that is free: the local library!
Library cards are free and open the door to endless resources including: free wifi, meeting rooms,
library computers, fiction and non-fiction books, librarian knowledge and children's programs.
So, what are you waiting for? Come take advantage of them today!
Free Wi-Fi and Meeting Rooms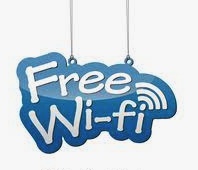 The Library has free wi-fi and meeting rooms available for public use.
Please call the Library at (256) 378-7239 for more information.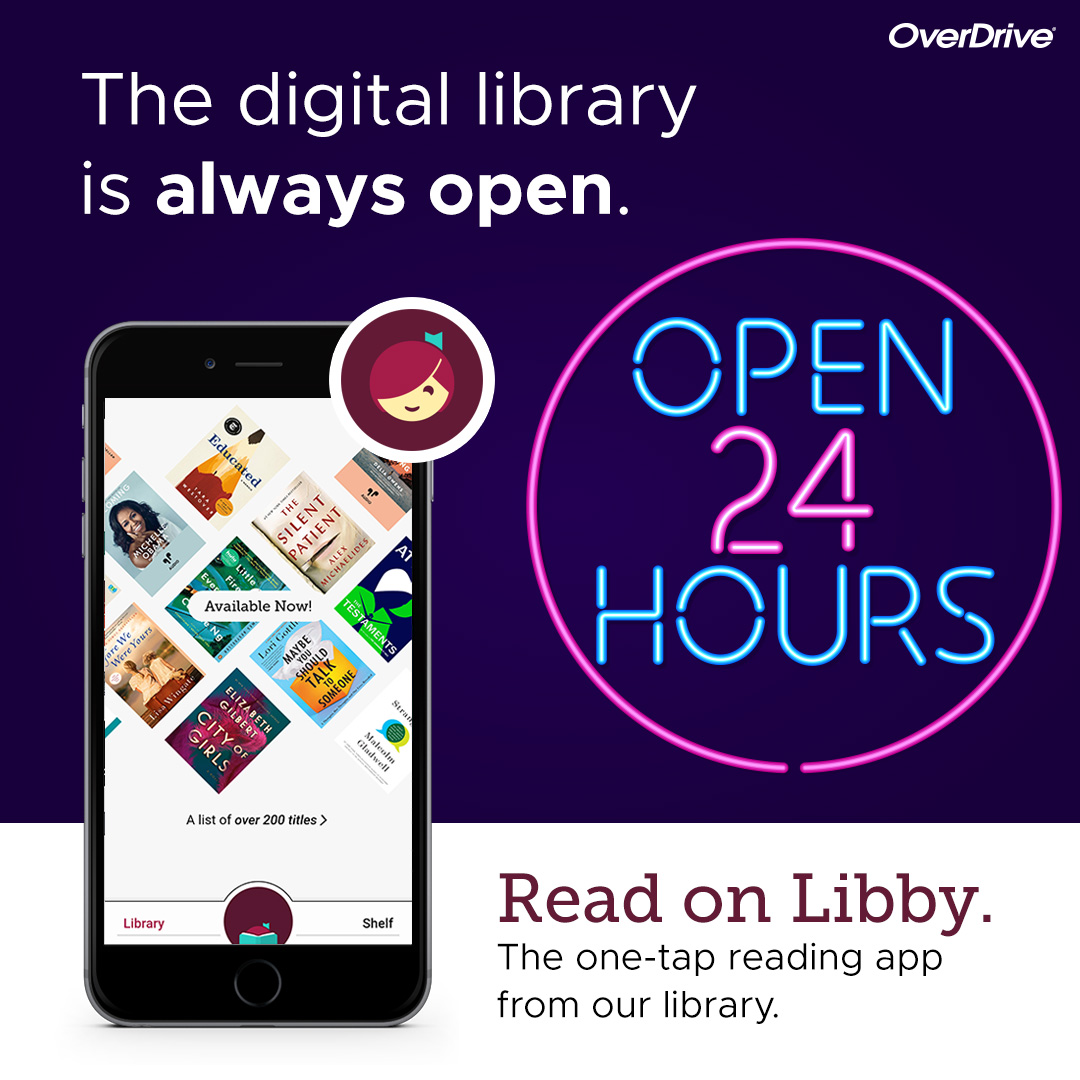 Even though we may be closed on holidays, you can always check out ebooks, movies, audiobooks and emagazines from
Camellia Net anytime of the day or night. Just go to https://camellia.overdrive.com/,
choose Earle A Rainwater Memorial Library as the library name and enter your card number as follows: P 1234.
New Services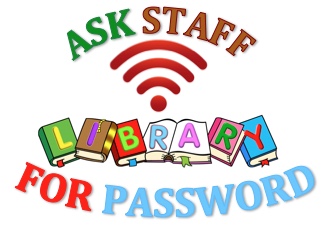 The Library offers free Wifi to the public. A password is required to gain access to the network.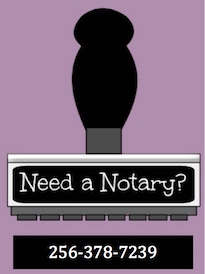 The Earle A Rainwater Memorial Library offers the convenience of Notary Public services for a fee of $5 for the first page and $3 for each page after. Notary services are dependent on the Notary's availability. Please call in advance to ensure the availability of and/or to schedule an appointment.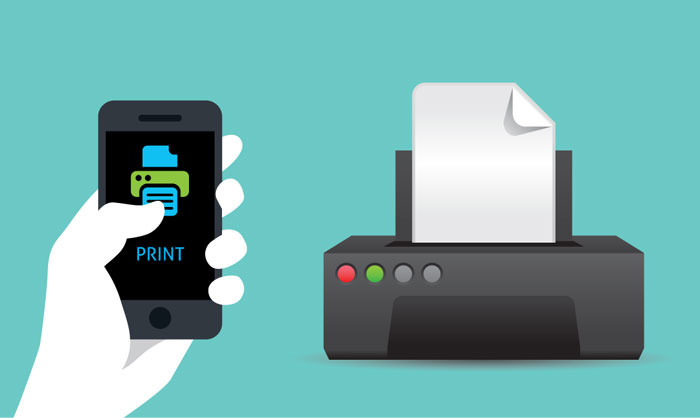 Here at Rainwater Library we are striving to keep up with evolutions in an ever-changing technological world. To that end, we now offer mobile printing. What this means is that patrons now have the ability to print things such as photos and emails from their phone, table or other device. Color prints are $1 and black and white prints are .25 per page. Our staff is happy to assist you with our new service.
Email addresses for Mobile Prints:
[email protected] (black and white)
[email protected] (color)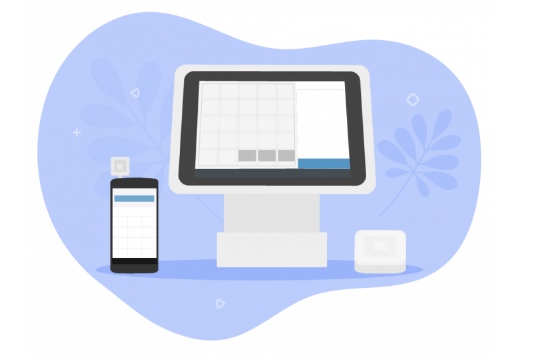 The Library now accepts debit and credit cards. There is a 3% surcharge on all transactions. Purchase amounts must be $1.00 or greater.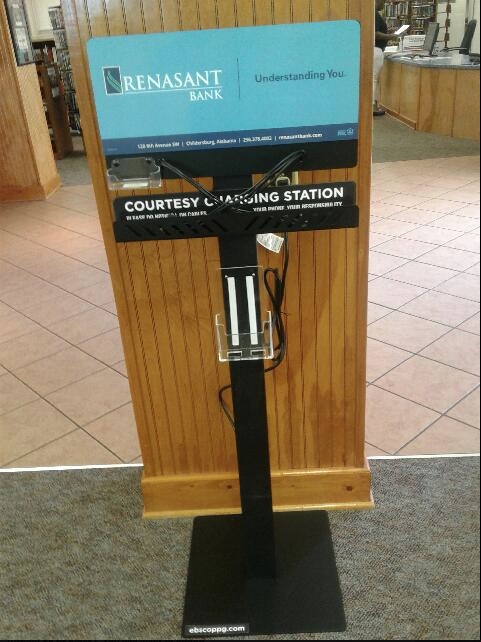 Come by and check out the newest addition to the library - a Charging Station for all devices. The charging station was provided to the library through a partnership between Renasant Bank and EBSCO Professional Partnership Group.
Take time out for these new websites:

ALL Kids is a very affordable, high quality, comprehensive health insurance. Annual premiums range from $52 to $104 per child (not to exceed $312 per family) and there is no co-pay for preventative services such as regular checkups, immunizations, dental cleanings and vision exams.
For more information visit:
http://www.alabamapublichealth.gov/allkids/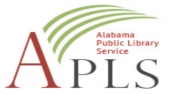 The Alabama Public Library Service (APLS) makes it possible for the public to view classes, tutorials, articles and ebooks on a variety of career and education-based lessons. Through the Learning Express Library, patrons are able to view these lessons on such topics as Career Preparation and Adult Core Skills.
Most recently, lessons on Personal Success Skills, Computer Skills Center and Job & Career Accelerator have been added to the classes offered on their website in order to assist the public in job searches and furthering their education. Please visit these classes at this web address:
https://www.learningexpresshub.com/ProductEngine/LELIndex.html#/learningexpresslibrary/libraryhome

Google for Education offers a variety of services and products directed towards helping kids and adults learn alike. One of the programs they offer is Code Your Hero. It allows kids to experience a fun way to learn how to code. With a simple design, kids are encouraged to create their own superhero, scenery, background, dialogue and storyline, while at the same time learning to code without even realizing it.

https://csfirst.withgoogle.com/s/en/home


Grow with Google offers many tutorials on different subjects designed to help Veterans and Military Families, Educators, Small Businesses, Job Seekers and Students, Developers, and Startups. They have recently added a section aimed at helping job seekers match with their ideal job. In this section, patrons will find a course on Applied Digital Skills that will help them create resumes and cover letters, gather references, and prepare for an interview and first day of work.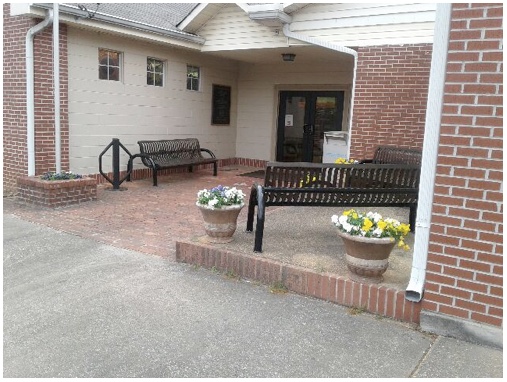 History
Earle A Rainwater Memorial Library was started by Miss Mollie Oden in 1906. She thought the ladies of Childersburg were not being introduced to enough cultural events. She invited 20 of her friends for cake, tea and a general discussion of literature. Fines for the Ladies Book Club were books donated by the membership. A librarian was elected from the membership to house these books and loan them out to interested individuals. From this small beginning, the library has grown to what we are today. We have 17 public computers with Internet access and over 55,000 books, movies, magazines and audios available for checkout. We issue cards to anyone with a license or other proper identification. Our people friendly staff is always available to lend assistance.
Mission Statement
The purpose of the Earle A Rainwater Memorial Library is to provide library service to all citizens of Childersburg and the surrounding areas. The library's primary thrust is education, particularly self-education, but it will supply recreational materials as well.
In the pursuit of this mission, the Earle A Rainwater Memorial Library is in the position to make a difference in lives of citizens by helping to prepare them for the challenges of living in the 21st century through both traditional library services and emerging technologies.
Library cards are free. The only requirement is that the patron must have a driver's license or photo id.
Copies
.25 per page (black and white) 1.00 per page (color)
Scans: 1.00 per page
E-mails: 1.00 per page
Fax #: (256) 378-7287 - 1.00 per page to send and receive
To Use Our Fax Service:
Have a correct fax number; incorrect numbers cost the Library money. A dollar fee for numbers that are answered.
Fax number will be tried a maximum of 3 times.
Fax will be resent only 1 time when recipient claims they did not receive information.
Faxes that are not received will not be resent after a week's time has passed unless said fax is paid for by patron.
To Use Our Email Service:
Have a correct email.
Emails are 1.00 per page per recipient.
(The Library is not responsible for obtaining fax numbers or email addresses.)
Computer Use
The Library provides access to 17 computers along with their equipment, programs, databases, and Internet for information and educational purposes that meet the needs of the community. It is within this context that the Library provides computers for personal use and Internet access. Library patrons are expected to use computer resources in an effective, efficient, appropriate, ethical and legal manner. Please see our Computer Policy below.
Interlibrary Loan
The purpose of Interlibrary Loan (ILL) is to obtain material for patrons that are not available at the Library.
These services are provided to all Library patrons whose borrowing privilege is in good standing. Patrons are entitled to 2 Interlibrary loan requests at no charge within a month. Additional requests are filled at a cost of $2.00 per item. Requests for ILL may be made in person or by telephone. A separate form must be used for each title request.
Items requested must have been circulated for at least one year. If items are lost or damaged, the patron is expected to pay whatever charge is assessed by the lending Library and their Library card will be billed for such costs.
E-books
Camellia Net is a service that we provide free to our patrons. We offer eBooks, audiobooks, streaming videos, periodicals and magazines for daily checkout. Simply click on the link on our homepage and select our library from the dropdown list and enter a "P" and a Space then your library card number.
Test Proctoring
It is the mission of the Earle A Rainwater Memorial Library to provide lifelong learning opportunities to all of its Library patrons. Proctoring exams is not a new task in public libraries, however, it is becoming a larger one and one that consumes a lot of the work capacity of the staff in the Earle A Rainwater Memorial Library. To ensure that staff is available to proctor exams when needed and that space is available, all students wishing to have the Library proctor an exam must comply with the following policy:
All students must provide the Library with specific information regarding the requirements of the proctored exam, duration of the testing time, and use of external resources.

Students must provide the Library with the name of the institution offering the exam and the contact information of the teacher or testing center administrator, as well as phone number, fax number, and e-mail address.

It is the responsibility of the student to arrange the delivery of the test taking material to the Library. The test must be mailed via US mail, FedEx, UPS, or e-mail. Testing material cannot be delivered via hand mail. Students are responsible for calling ahead at least 24 hours prior to the exam to confirm the delivery of the material.

A minimum of one-week advance notice is required before any test will be proctored. Appointments can be made in person or by phone.

The student must provide all supplies needed (such as pens, pencils, calculator, paper, etc.).

The student will be responsible for paying for print jobs ($.25 per page) and for e-mailing or faxing the test to the institution ($1.00 per page). Cash only.
The Proctoring Environment:
The Library agrees to provide a reasonably quiet space for students and private citizens to undertake an exam, but the student should be mindful that the Library is a public building with public traffic and no private rooms are available. The Library does not assume responsibility for the exam. A proctor observes the student while the student is taking the test, but the proctor may leave the room while administering the exam, but will return periodically to assess the testing environment. Students should check with their institutions to ensure that this is an acceptable procedure.
The Library Will Do The Following:
Provide a reasonably quiet place for testing. (See qualifications above.)

Testing schedule Tuesday through Thursday between 10:00 AM and 4:00 PM.

Maintain a copy of the testing material undertaken by the student for 30 days only. After 30 days, all testing materials will be discarded.

Forward tests via e-mail, fax and mail, FedEx, UPS at the expense of the student. The Library is not responsible for completed tests that are not received; it is up to the student to contact the institution to determine if the completed test is received.

Provide a designated contact number, e-mail address, and address. Correspondence will be handled via e-mail, phone, or in person.
Phone: 256-378-7239
E-Mail: [email protected]
Address: 124 9th Avenue SW, Childersburg, AL 35044
The Library Will Not:
Accommodate requests for unscheduled proctoring.

Contact the testing institution to clarify procedural questions such as passwords, wrong tests, etc.

Download software for test taking that is not compatible with the Library's network.

Guarantee that technical problems will not occur when using the Library's network

The Library will not administer GED tests.

Proctor a test brought in by the student.
Fees:
There is a $20.00 advance fee required per test. It is to be made at least 24 hours before the test is to be taken. The Library only takes cash.
Patron Behavior
General Policy Statement
It is the goal of the Earle A Rainwater Memorial Library to provide free, open and equal access to ideas and information to all members of the community. To accomplish this purpose the Patron Behavior Policy is provided to assist staff and patrons in promoting safe, healthy, and barrier-free access to all the resources and facilities the Library has to offer.
Disruptive/Inappropriate Behavior
Disruptive/Inappropriate behavior will not be tolerated within the Library or on the Library property. Library staff will request patrons to stop any conduct that significantly interferes with the use of the Library by others. Disruptive/Inappropriate behavior is defined as, but not limited to:
Committing or attempting to commit any activity that constitutes a violation of any federal, state, or local statute or ordinance.

Brandishing a weapon on Library property.

Verbally or physically harassing or threatening other patrons or staff. Harassment may include, but is not limited to: initiating unwanted conversation, impeding access to or within the building, inappropriate gestures, language or other actions that an individual reasonably perceives to be hostile, threatening, intrusive, or offensive.

Sexual misconduct, such as offensive touching, verbal comments or unwanted sexual advances to patrons or staff.

Offensive personal hygiene which disrupts Library patrons or staff. If a person's body odor is so strong that it is offensive to staff and other patrons, he/she will be asked to leave the Library until the situation is remedied.

Leaving children or other persons in need of supervision unattended in the Library.

Behavior unsafe or disturbing to other patrons or staff such as: using a voice above normal speaking level, shouting, screaming, or making other loud noises, pushing, running, shoving, or throwing things.

Using Library materials, equipment, furniture fixtures, or building in a destructive, abusive, or potentially damaging manner, in a manner likely to cause personal injury to any person or in any other manner inconsistent with the customary use thereof.

Any use of tobacco in the building or grounds of the Library to include smoking, vaping, and chewing tobacco.

Failure to turn off or silence before entering, any electronic device (i.e. cell phone, pager, etc.) that emits an audible noise.

Not abiding by the Cell Phone and Electronic Device Policy.

Use of any personal electronic equipment, including radios, CD players, computers, etc. without headphones or at a volume with headphones that disturbs others.

Soliciting, petitioning or distributing written materials or canvassing on Library premises for any purposes without express permission of the Library Director. Such conduct extends to any soliciting, petitioning, distributing or canvassing outside of the Library premises in a manner as to impede access to or from a Library facility.

Use of the Library restrooms for bathing, shaving, or washing hair, or any activity other than its intended purpose.

Failure to follow a reasonable direction of a Library staff member.

Bringing food or drink in an open container into the Library.

Parking vehicles on Library premises for purposes other than official Library use. Vehicles parked in violation of this rule will be towed at the owner's expense.

Interfering with free passage of Library staff members or Library patrons in or onto Library premises including, but not limited to, placing objects such as bicycles, skateboards, scooters, strollers, shopping carts or backpacks in such a manner as to impede free passage in or onto the premises.

Bringing bicycles and other means of transportation, excluding mobility scooters, inside Library buildings, including, but not limited to covered doorways. Bicycles should be parked in the bicycle rack.

Bringing animals other than service animals inside the Library building without the prior permission of the Library staff.

Entering the Library barefoot or without a shirt or removing one's footwear or shirt while in the Library, intentionally displaying undergarments or inappropriate areas of the body, wearing head covering (i.e. hoodie) or being otherwise attired to be disruptive to the Library environment.
Unattended Child
It is the policy of the Library to provide a safe and appropriate environment for Library users of all ages. The Library is, however, a public building with staff trained to provide public Library services. The Library is not equipped, nor is it the Library's role to provide long- or short-term supervision for children of any age. Aside from planned programs, services, and activities designed for specific age groups, the Library's staff is not responsible for supervising or tending to the need of individual users or groups of users.
Accordingly, children under the age of ten must always be directly accompanied by a parent, guardian, or responsible childcare provider while in the Library. If a child under the age of ten is attending a Library program or activity, the parent, guardian, or responsbile childcare provider must remain inside the Library throughout the program.
In general, parents of any minor children should not leave them unattended at the Library. This is especially important in the evening. The Library closes at 6:00 PM (Monday - Friday) and 1:00 PM (Saturday) and children must be picked up no later than ten minutes before closing time. Police will be notified concerning any children left at closing time. Parents are responsible for the behavior of their children in the Library, whether or not the parents are present.
Staff reserves the right to limit adult patrons from loitering in the children's space.
Failure to supervise underage children will result in the patron(s) being asked to leave the Library for the day, with additional occurrences resulting in limited time banning from the Library.
Violation of the Computer Use Policy may result in revocation of computer privileges. Patrons must abide by the following rules:
The Library computers and their software, including those providing Internet access, must be used as installed. Installation, downloading, or modification software or hardware is prohibited.

Due to the demand for computers, the Library restricts the amount of time allowed at computers for each patron. All computers in the main library are limited to one hour use Monday through Saturday, one time per day, per patron when there is a waiting list. Otherwise, staff may allow patrons to use the computers multiple times per day if computers are available. Time per computer must be taken at one time and may not be split. Children under 16 may use the computers only with adult supervision. The only exception to this rule is if they are completing educational projects.

The demand for the Library's computers may exceed the available supply. Therefore, it is necessary to manage computer access fairly and equitably so that all patrons will have an opportunity to use the resource. Sign-in sheets and time limit software will be used to help accomplish this goal. Patrons must sign-on to use a computer on a next-available-computer basis. Computers will not be reserved for persons who are not in the immediate vicinity when a computer becomes available and their name is called.

Patrons may not download files to drives other than designated removable disks or flash drives.

Prompt payment is required by patrons that incur charges for printing. The Library does not extend credit for print jobs.

Patrons will respect the privacy of other users, and will refrain from attempting to view or read the screens of other computer users.

Computers automatically shut off 15 minutes before the Library closes. The patron is responsible for saving all their work prior to the automatic shutdown of the computer.

Computers will be turned off without notice during severe weather conditions or as needed.
Disclaimer: Users access the Library computer hardware, software and documentation at their own risk. The Earle A Rainwater Memorial Library is not responsible for equipment malfunction, loss of data, or any damages to the user's disks, data, etc. or electronic transactions of any type which are related to the public use of Library computer resources.
Internet Access
The Internet is a vast, unregulated information resource. Internet users at the Library are expected to use the Internet as an educational/information resource. Because anyone can publish anything at anytime from anywhere, the Library has no control over nor is it responsible for the content of the information available on the Internet. Users are encouraged to use critical judgment when evaluating the information they find on the Internet.
The following procedures and guidelines are used to help ensure appropriate use of the Internet at the Earle A Rainwater Memorial Library.
Use of the Internet
Patrons shall not access illegal pornographic materials.
Patrons shall not use Library resources to engage in "hacking" or attempts to otherwise compromise system security.
Patrons shall not engage in any illegal or unethical activities on the Internet. Such use includes, but is not limited to:
Violation of copyright or licensing agreements.

Violation of another user's privacy.

Viewing or transmitting material that is not constitutionally protected.

Representing yourself as someone else.

Distributing advertising, junk mail, chain letters.

Interfering with or harassing other users either in person or online.

Transmitting computer viruses.

Engaging in any activity that is deliberately and maliciously offensive, libelous or slanderous (including attempting to access the dark web).

Attempting to violate computer security or to gain unauthorized access to the Library's network or computer systems or any other network or computer system.
Patrons should use caution in their use of electronic mail, and other forms of direct electronic communications, as these forms of communication can expose patrons to dangerous situations.
Patrons should never disclose personal information to strangers on the Internet.
Any violation of Library policy may result in loss of Library provided access to the Internet. Additional disciplinary action may be determined in keeping with existing procedures and practices regarding inappropriate language or behavior. When and where applicable, law enforcement agencies may be involved.
Computer Rules
1. On ALL computers you may NOT visit any social sites (Facebook, Myspace, YouTube, and Dating Services, etc).
2. I fully understand that I am not to access ANY PORNOGRAPHIC MATERIAL while using the Library's internet computers. I also understand that I can be prosecuted if I do visit the aforementioned sites. I will be held responsible for all sites visited on the specific computer that I use. If such sites should pop up whle I am using the computer, I will exit immediately and inform the staff. I know that if I do not follow these rules, I can be banned from the Library's computers.
3. Children must be 16 years old to use the computer without adult supervision. The only exception to this rule is during the school year, when children are doing educational projects and then the age will be lowered to 14 years old.
4. If you print anything from your computer, whether it be on purpose or by mistake, you MUST pay for those copies.
5. You CANNOT take pictures or videos on ANY of our computers. If you do, you will be fined $1.00 per page for pictures and $5.00 per video.
6. You CANNOT have your laptop near our computers. We have designated an area for you to use.
*** Anyone applying for a library card must sign and agree to these rules before being allowed to use a computer. ***
Facility Use
Reading Room
The Reading Room may be used by small groups of 6 or 8 maximum for meetings with the use of AV equipment. All reservation requests must be made to and approved by the Library Director.
Computer Rooms
The Computer Rooms are primarily intended for Library sponsored or co-sponsored events. However, when scheduling permits, it is available for use by other organizations, with the understanding that the Library will always have priority in the event of a scheduling conflict. The computer rooms seat 50 maximum without tables. Reservation requests should be made 4 weeks prior to the event, if possible, to the Library Director. All requests for the computer rooms are subject to final approval by the Library Director (and all persons attending are subject to Library Behavioral Policy).
The primary reasons for making the computer rooms available for meetings is to increase Library usage by acquainting civic, educational, cultural, and governmental groups and their members with the Library's facilities and services. There is no fee charged to reserve these rooms, but a donation is always accepted.
Guidelines
The Reading and Computer Rooms are available during the following hours:
Monday - Friday 9:15 AM to 5:45 PM
Saturday 8:15 AM to 12:45 PM
No weddings, private parties, receptions and reunions, and other events as deemed unacceptable by the Library Director and/or Library Board.
Green plants, flowers must be placed in spill proof containers, other decorations must be limited to table or floor.
In no way should the Library appear to sponsor any event hosted by an outside organization. All printed invitations, press releases or information pertaining to an event should clearly indicate sponsoring organization.
If available, and with prior request, the Library can provide a laptop, and/or Smartboard for use.
The Library accepts the following items:
New or gently used hardcover and paperback books

Media materials (DVD, CD, audiobooks) in good condition

Cash donations
The Library can no longer use the following materials:
Cassette tapes

VHS tapes

Encyclopedias more than 10 years old

Damaged or moldy materials

Used textbooks or materials with highlighting or handwriting (except author signed books)
Bringing Donations to the Library:
Donations should only be brought to the Library during posted business hours. Please bring your donations in small boxes or bags that can easily be carried. Bring items to the front information desk inside the entrance of the Library. Library staff will be happy to assist you in unloading materials if you telephone us at least one day in advance (256) 378-7239. We cannot guarantee the availability of staff without giving the appropriate notice.

DO NOT place materials in the book return or leave them outside the Library's doors.
Donations are Tax Deductible:
At your request, Library staff will provide you with a letter of receipt that you may fill out for tax purposes. The Library staff is not qualified to determine the value of your donation. It will be up to you to assign a value for tax purposes.
What does the Earle A Rainwater Memorial Library do with donations?
All donations are greatly appreciated. The Library adds donated items to the collection, sells them at Library book sales, or donates them to other nonprofit agencies. The money raised through sales and cash donations goes to funding programs and/or the purchase of books.
What can I do with materials the Library cannot accept?
Contact the Library?
You can contact the Library using our Contact Information:
Phone: (256) 378-7239
Fax: (256) 378-7287
E-mail: [email protected]
Street Address: 124 9th Ave SW
Childersburg, AL 35044
Get or Replace a Library Card?
Library Cards are issued to persons entering the first grade or older. For children who are younger than 16 years of age, and who do not possess a driver's license or permit, a parent is required to sign the application for a library card. Physical library cards are not necessary in order to use the library's services. However, if for some reason a card needs to be reissued, there is a $5 replacement fee.
Return, Renew, or Place a Hold?
Library books may be returned in the wall dropbox. DVDs and audiobooks should not be returned in dropboxes. Instead, patrons should bring the items into the library to be checked in. Any patron who returns a DVD and/or audiobooks inside a dropbox will be charged a fee of $1 per item.
Patrons are able to renew or place books on hold by calling the library at 256/378-7239. Books are checked out for two (2) weeks and may be renewed up to three (3) times.
Request a Meeting Room?
The Library has rooms available for small groups of 4 to 8 people. There is no charge to reserve a meeting room, but donations are appreciated. Meetings must be reserved well ahead of time (at least one week).
Borrow a Book From Another Library?
The Library offers an Interlibrary Loan Service to patrons who wish to check out items not found in the Library's collection. The item being requested must not have been published during the past year. Requests for items can be made in person or by telephone. Information such as author and title must be supplied by patron. Patron will be notified by phone when item arrives and has 7 days to checkout the item before it will be returned to lending library.
Check out an Ebook, Movie, Audiobook or Magazine?
Our Ebook service is Camellia Net and can be found at the following address: https://camellia.overdrive.com/. From the Select Your Library dropdown list, choose Earle A Rainwater Memorial Library. Under Card Number, type in your Library Card as follows: P 1234 (Your library card number may be longer; type in all numbers after the P and make sure there is a space between the P and the number). Then Click on the Green Sign In button. On the following page click on the Search button and type in the title or author of the item you are looking to checkout. Press Enter. If the title is available, it will say Borrow; if not, your choice is to Place On Hold. Once your title becomes available, you will receive an email giving you three days to check your item out. Instructions as to the checkout process can be found in the Help section on the website. If you have any questions, feel free to contact our staff at (256) 378-7239.
Display My Art/Collectibles?
Anyone looking to display their art or collectibles at the library can contact Mrs. Gloria to arrange a time during the year to display.
Donate to the Library?
Donations to the library are always welcome. Some items may be added to our ever-growing collection, sold in order to buy new books, or donated to organizations (such as other small libraries). Money raised through the Library's book sale may also go to fund events such as our Summer Reading Program.
Please call ahead so staff is available to help carry in your donatable items.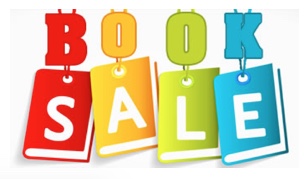 The Library has a variety of new and used books for sale. Occasionally we also have magazines. Prices range from .10 to 1.00.
Library Staff
Susan Carpenter - Library Director
Gloria McGowan - Children's Librarian
Tina Ingram - Library Clerk
Karen Sims - Library Clerk
Laura House - Part-time Library Clerk
Library Board
Joyce Brooks - Board Chairman
Linda Moody - Trustee
Audrey Pate - Trustee
Rosie LaFleche - Trustee
Gaye Powell - Trustee
Follow Us On: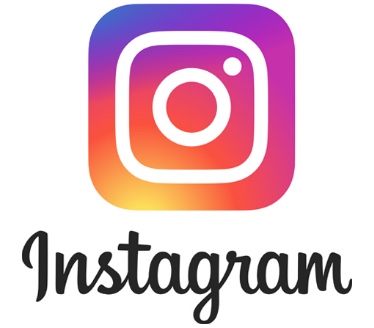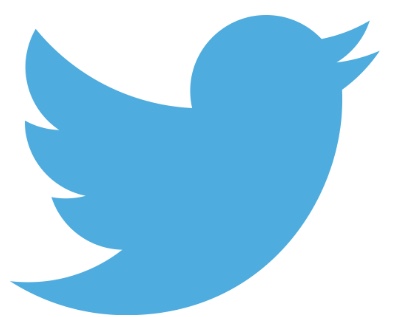 Earle A Rainwater Memorial Library
124 9th Ave SW
Childersburg, AL 35044
(256) 378-7239