Important Announcement!!

Geocities has announced that they will be shutting down their free web pages sometime this year.
This page will stay active until Geocities removes it, but I have no idea when that will be.
Please bookmark my new site so that you keep access to all of my patterns!
Yarncrazy.com
How I join Heartmade Blessings comfortghans
Copyright 2004 Chris Simon
Vote for me in Top 100 Crochet and Hook Sites List
My ghans are joined using Priscilla Hewitt's instructions for the "flat braid" joining method.
When we make comfortghans for Heartmade Blessings, the squares come from lots of different crocheters and may vary in size a bit. We also don't have total control over what colors we get. This method works very well for both handling differences in square sizes, and for using edging and joining colors to help consolidate somewhat random squares into a very nice afghan.
First, I take each square and add another row to it to make it 13 inches - if the square is 12" to start, I use a round of double crochet; if it's 12.5" to start, I use single crochet. (Of course, if a square starts out less than 12", I just use two rows to bring it to 13" instead of one.) Then I use 14 loops per side of each square for the flat braid part (why 14? - just because that's the way I chose to do it - others use different numbers). If you use the same color for the extra rows and the joining, you can do both in a single step, reducing the number of ends to weave in later.
FYI - I find that the extra rows to bring the squares up to 13" plus doing the flat braid joining takes almost an entire 8 oz. skein of yarn, so be careful that you have enough of your joining color when you start.
After I do the flat braid joining, I do an edging around the entire ghan. Here's my standard edging:
Round 1 - 3 double crochet in each loop around the afghan, with (2dc, ch 2, 2dc) in each corner, and only 2dc in each of the joining loops between squares (that will make sense once you've joined a couple of squares using flat braid, don't worry).
Round 2 - Using a contrasting color, I do a round of (sc in dc, ch 1 and skip next dc), with (sc, ch 2, sc) in each corner. (Note - because each side of the afghan contains an even number of stitches, I do have to "fudge" on this round - each side has one place where I do (sc, ch 1, sc WITHOUT skipping a stitch) in order to make it come out right).
Round 3 - Using a different color than round 2 color, (sc, ch 2, sc) in each ch 1 space, with (sc, ch 2, sc, ch 2, sc, ch 2, sc) in each corner.
I use the 3 rounds of edging to pull in colors from the squares to help "unite" the squares, or to bring out a contrasting color from one or two of the squares for a nice accent.
That's all there is to it!
Want more details on how to handle the inside corners using this method? Chris's hints for inner corner joining
Here are some examples of the joining: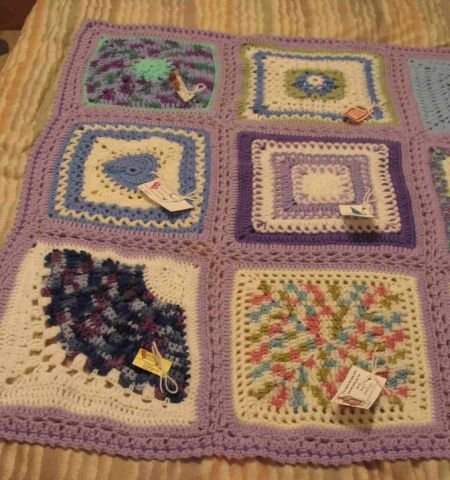 For this comfortghan, I used the same color for edging the squares and for the flat braid joining.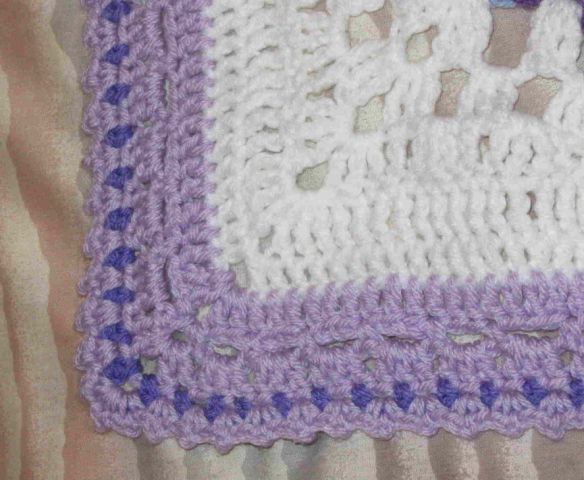 Here's a closer view of the outer edging of a comfortghan.
For this comfortghan, I used soft white to edge each square before joining with turquoise. This was done because I didn't feel that there was any single color in the squares that would work right next to all of them, and I didn't want to do the joining in white. So I compromised by giving them all a nice white border before joining. One thing to consider if you do this - joining with a different color means that you will have to weave ends into the chain stitches of the flat braid, which is more of a pain than weaving into the base of "regular" stitches. So if you dislike weaving ends (24 of them in this case - 2 per square!) into chain stitches, you may want to find another solution!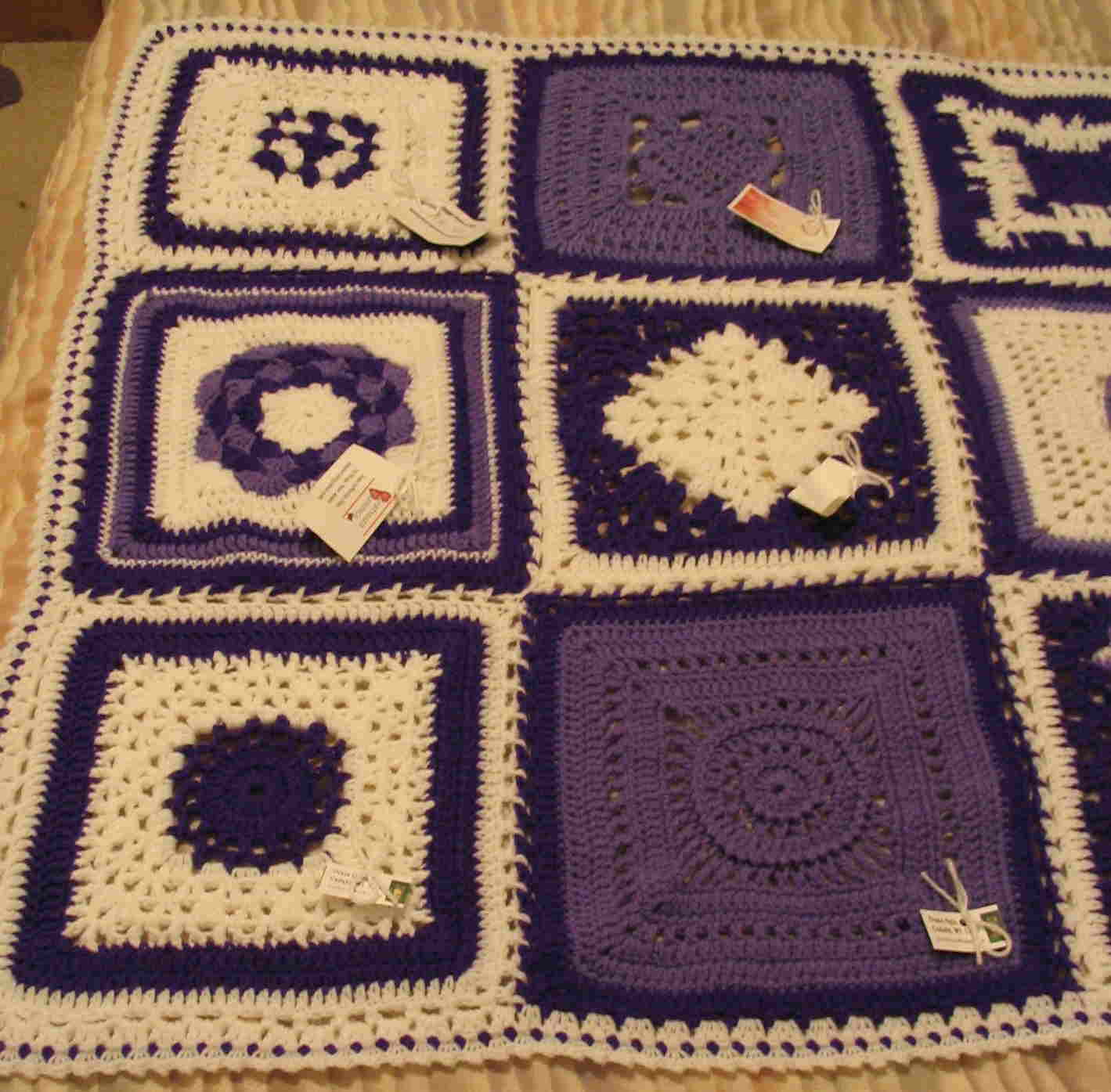 I got a bit fancy with this one. Here I did a checkerboard effect by alternating colors on the edging and joining of the squares. One square edged and joined with purple, then the next one with white, and so on. It made a really neat effect at the corners.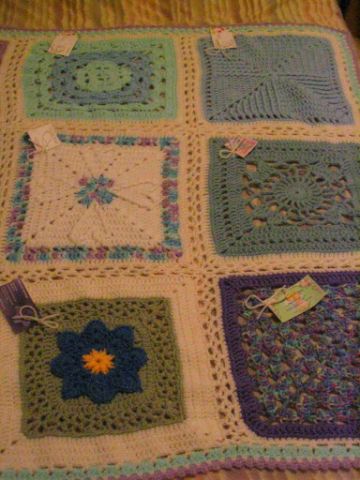 Here I used contrasting colors in the outer edging of the afghan in order to pull out some of the colors from the squares.
Back to Chris's crochet page
Back to our main page
© 1998-2007 Chris Simon - chrissimon(at) verizon (dot) net
You are welcome to print this pattern for personal use. You may link to this page, but please do not copy the pattern source to another web page. Please email me and let me know if you're linking to this page. Thanks!