But Not For Me

Produced by William Perlberg and Stan.
Directed by Walter Lang
Screenplay by John Michael based on the play Accent on Samuel Raphaelson.
Cinematographer; Robert Burks.
Art Director: Earl Hedridc.
Editor: Alma Macrode.
Release date: August 19, 1959.
Running time: 105 minutes.

Cast: Clark Gable, Carroll Baker,Lilli Palmer, Lee J. Cobb, Barry Coe, Thomas Gomez, Tom Duggin, Charles Land, Wendell Holmes.

Synopsis: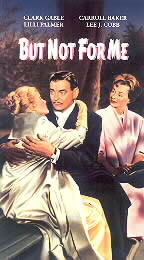 Russell Ward (Clark Gable), a reluctantly aging Broadway is having script trouble with play, A May-December Romance. Stymied at every turn, he decides to quit Broadway, close down his office, and admit to being a has-been.
His 22-year-old secretary, Ellie Brown (Carroll Baker)< an aspiring young actress, berates him for quitting and then passionately declares her love for him. In a flash Russ sees the solution to his script problem: let the young girl in the play pursue the older man instead of vise versa! He talks to the author, a disillusioned drunk named Jeremiah MacDonald (Lee J. Cobb), into sobering up and doing a re-write; Ellie is given the feminie lead; the out-of-town tryout problems are solved; and the play becomes a smash hit.
Completely rejuvenated, Russ to marry his new young star the objections and interference a-wife, Kathryn (Lilli Palmer) and the now teetotaling Jeremiah. To prove he is still irresistible to young women, Russ dutifully describes to Ellie all the reasons why she shouldn't marry him. But Ellie, who has decided she really loves a young actor named Gordon Reynolds, admits the marriage would be a mistake and blesses Russ for having "the wisdom that comes with age." Jolted back to reality, Russ finally decides to admit his age and start life anew by remarrying the mature, but still desirable, Kathryn.
REVIEWS: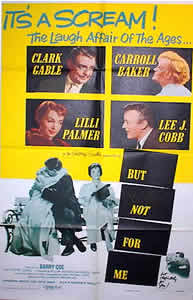 The New York Times: The quaint but refreshing thing about Clark Gable is that he is willing to act his age. What's more, he is willing to make jokes about it and let his script writers make jokes about it, too. That's with Lee J. Cobb what is most refreshing about the comedy, But Not for Me. ... delightful pretense of uncertainty the age of the character he play which ranges in the course of conversation from 44 to 56, he through this glib little trifle. -also hauls a bevy of good actors him, all of them laughing as they go.
Life: For more than a quarter o century Clark Gable's persuasive has drawn movie-lovers by the millions. Radiating good-humored masculine appeal, he had something for everybody. For ladies he was the lover; for men he was the hard-fighting man's man; for both he was the loving comedian. Now in his 6 film, he proves that despite his 57 he is still the indestructible all-a charmer.

Time: So frail that only the acting mastery of Lee J. Cobb and Lilli Palmer saves it. Then too there Clark Gable. No director has ever presumptuous enough to ask The King - to act, but his presence gives any film the atmosphere Hollywood's glorious pre-Method past. Gable's voice may croak a little, still has the confidence of a man knows that so long as he goes playing the King, no one will dare play the Ace.
John McCarten, The New Yorker: Mr. Gable, Mr. Cobb, Miss Baker and Miss Palmer are mischievous as all getout, but their antics don't result in any hilarity.