Teacher's Pet [1958]
Produced by William Perlberg.
Directed by George Seaton.
Screenplay by Fay and Michael Kanin.
Cinematography by Haskell Boggs.
Process photography by Farciot Edouart.
Art Directors: Hal Pereira and Earl Hedrick.
Musical score by Roy Webb.
Editor: Alma Macrorie.
Release date: April 1,1958.
Running time: 120 minutes
CAST: Clark Gable, Doris Day, Gig Young, Mamie Van Doren, Nick Adams, Peter Baldwin, Marion Ross, Charles Lane, Jack Albertson, Florenz Ames, Harry Antrim, Vivian Nathan.
SYNOPSIS: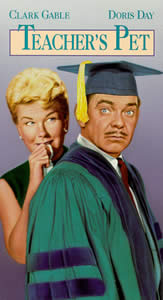 When asked to lecture to a University evening-session journalism class, self-taught city editor Jim Gannon (Clark Cable) refuses in a letter full of contempt for people who "teach" journalism. His publisher, however, orders him to attend. He arrives in time to hear Professor Erica Stone (Doris Day) denouncing him for the opinions expressed in his letter. Taken with her good looks, Jim enrolls as a student. Although he successfully eliminates his competition, Dr. Hugo Pine (Gig Young), Jim is less successful in keeping his identity a secret.
Already angry with him, Erica is outraged when Jim demands that she criticize her father's Pulitzer Prizewinning newspaper articles as outmoded compared with his own modern ones. She tries to prove him wrong, but in all honesty can't. And when they discover that one of Jim's best reporters is a former student of Erica's, teacher and pupil are reunited.

REVIEWS:

Hollis Albert, Saturday Review: While (the film] is funny at times, it isn't at others. Perhaps this is because the stars - - - aren't good at comedy. Miss Day looks too businesslike, and Mr. Gable looks and sounds a little too much like President Eisenhower. Gig Young turns in a blessedly funny performance. One of the movie's gimmicks has several of the nation's motion-picture reviewers acting as staff members on the paper. They are outright hams, one and all.

Variety: The Kanins have decorated the framework with some hilarious comedy lines and scenes which director George Seaton has set up with skill and delivered with gusto. Gable frankly mugs through many of his comedy scenes and it is effective low comedy. One of his best performances in years. Miss Day, who apparently can do almost any kind of role, is bright and fresh. Gig Young gives the picture its funniest moments, milking the scenes with the expertness of a farcical master.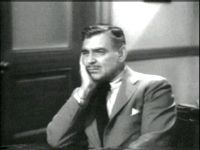 Ellen Fitzpatrick, Films in Review: This pleasant programmer would not merit a review in Films in Review but for a sad fad: Clark Gable is feeling and showing his age (57). The masculine self-confidence he has projected for 30 years-has gone. Gable himself seems to know it has gone and he resorts in this film to mugging of so stereotyped a kind it is heart-breaking to see... - And film historians can perceive the beginning of the end of Gable's great career.
The New York Times: All concerned have welded romance, ribbing and reality into a cheerful and charming entertainment. Gable is not a caricature, nor are the other staff members. Perhaps Miss Day is a mite too exotic for the role . . . but she does convey some of the dedication needed for teaching . . and she certainly has the equipment to turn the head of . . - Mr. Gable.

My Review: For some wicked reason, I like this film a lot. I have watched it numerous times. Perhaps because the film is well-structured and carries a very good script. Clark makes wonderful comedian. Only if he's allowed to do more of these stuffs in his early days. MGM just couldn't realize what a talent they had on their hand. Instead of casting Gable into light comedy, he's mostly doing heavies, and gangster roles. Even later on, he was casted in screwball comedy. The script was not well-suited for him. It's funny the last three comedies Clark did was all with Paramount, Teacher's Pet, But not for me, and It started in Naple. They are much better than most of the ones he did in MGM. Only wish he hadn't contracted his entire career with MGM. Imagine how many more interesting films he would be in!

Summary: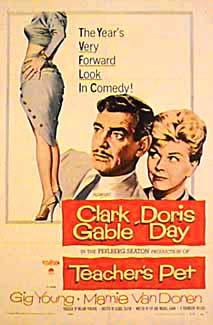 TEACHER'S PET is a delightful and witty romantic comedy. The principal characters are a tough city newspaper editor who has never been to college, a psychology professor who has written dozens of books, and an attractive woman journalism instructor. In a lesser film the tough editor would make a fool of the professor and win the woman on his own terms. Fay and Michael Kanin, however, have written a story with deeper meaning in which the newsman changes his ideas about intellectuals and education. Yet the film is not merely what the newsman would call a "think piece." Under the direction of George Seaton, Clark Gable, Gig Young, and Doris Day have fully realized the comic aspects of the story so that TEACHER'S PET is both intelligent and funny.

Jim Gannon (Clark Gable), the city editor, does not believe journalism can be learned in school. He has nothing but contempt for education and has hired a Phi Beta Kappa in a menial position "for laughs"; then one day he is forced by his boss to visit a college journalism class. When Gannon goes to the college, he sees a frumpy older woman going into the classroom and assumes that she must be the instructor. When he finds that the teacher is instead a young attractive blonde, Erica Stone (Doris Day), he decides to sit in on the class, but without revealing his identity. He quickly becomes her star pupil but tries without success to change the relationship to a romantic one. He finds that he has a rival for Erica's affections, a psychology professor named Hugo Pine (Gig Young). Gannon immediately has his staff at the newspaper do some research on Pine and finds that he has written two dozen books, all with titles like SYMPTOMS AND SYNDROMES, and has held many prestigious positions, such as that of a consultant on psychological warfare for the Army.

We see that these credentials do not impress Jim Gannon because he does not like "eggheads," and he assumes that Professor Pine is a dried up old man whose knowledge has nothing to do with real life. Gannon is therefore encouraged about his chances with Erica. The scriptwriters have thus carefully prepared us for the inevitable meeting of Gannon and Pine.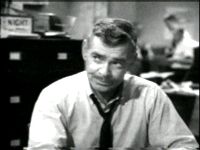 The two men meet accidentally at a nightclub; Gannon is there with a date, Peggy DeFore (Mamie Van Doren), who is a singer at the club. Pine comes in with Erica, and before the evening is over, Pine destroys all of Gannon's preconceptions about intellectuals. For one thing, he is goodlooking (Gannon's date says, "He's dreamy -- must be from Hollywood"). After Gannon mutters that Pine probably doesn't know anything outside his specialty, he finds that Pine knows more about baseball and has better war stories than he himself does. Pine can also mambo and beat out a tribal rhythm on the bongo drums. He can even outdrink Gannon, but finally passes out because Gannon has bribed the waiter to give him triple-strength drinks. Erica then confesses that Pine is so good at everything that it is quite a strain on her because she keeps wanting him to miss -- "just once."

The next day Gannon visits Pine and seemingly is impressed by his mixture of intellect and hangover. He says, "I'm beginning to think something of the education bit," and back at the newspaper he advises one of the young employees to go back to school so he will not be like Gannon, knowing only newspapers and nothing else. Also, Gannon begins having his writers do more interpretive pieces, to give the readers more to think about. And at the end of the film he is delighted with the idea that he can get faculty status at the college.

Meanwhile, the romance between Erica and Gannon continues its up-and- down course. Gannon's fortunes go up when Erica says she is not romantically interested in Pine; she is just collaborating with him on a book. They go down dramatically, however, when she discovers who Gannon is and assumes he has been playing a trick on her. At this point Pine becomes Gannon's helpful confidant and gets him and Erica back together for the happy ending.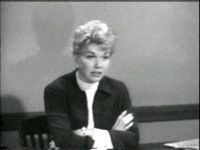 As Gannon and Erica, Clark Gable and Doris Day play quite well together despite the more than twenty-year difference in their ages. Gable had, of course, been playing such roles since the early 1930's, and was still good, but the romantic comedy was new territory for Day. She had been in twenty-one previous films, but chiefly in musical roles. The box-office receipts for TEACHER'S PET proved that she could be as popular a comedienne as she was a singer, and she went on to make an immensely successful series of romantic comedies with Rock Hudson. Day did sing the title song for TEACHER'S PET off camera, however, and it became a hit record.

Gig Young is engaging in the role of Dr. Hugo Pine, and Mamie Van Doren is suitably unrefined and voluptuous in the small role of Peggy DeFore, whose main purpose in the film is to embarrass Gannon in the nightclub scene. Many of the newspaper reporters are played by actual newspapermen in what was more a publicity gimmick than an attempt at realism.

Much of the humor of this comedy comes from its turning upside down the popular stereotype of the intellectual. Jim Gannon expects any woman teacher to be old and unattractive and any male professor to be old, stuffy, and so full of "book learning" that he knows nothing else. Since the film is generally presented from Gannon's viewpoint, the audience shares his surprise when he meets Erica Stone and Hugo Pine. The overall view of TEACHER'S PET indeed seems to be that the intellectual does have something to contribute to the "real world, " and that no matter what his virtues, he inevitably is going to lose Doris Day to the fifty-seven-year-old, charismatic Clark Gable.

Though chief credit for the success of a film usually goes to the director or an actor or actress, in the case of TEACHER'S PET, it is the scriptwriters, Fay and Michael Kanin, who deserve that honor. They gave to the director and actors and actresses a strong story, witty dialogue, and a fine mixture of thought and humor.

Award Citations:
Academy Awards - Nomination - Best Supporting Actor - Gig Young
Academy Awards - Nomination - Best Story & Screenplay (Writing Directly for the Screen) - Fay Kanin, Michael Kanin