NEVER LET ME GO [1953]
Metro-Goldwyn-Mayer





Produced by Clarence Brown.
Directed by Delmer Daves.
Screen play by Roland Millar and George Froeschel, based on the novel, "Came the Dawn," by Roger Bax.
Cinematography by Robert Krasker.
Art Director: Alfred Junge.
Editor: Frank Clarke.
Release date: May 1, 1953.
Running time: 69 minutes.
CAST: Clark Gable, Gene Tierney, Richard Haydn, Bernard Miles, Belita, Kenneth More, Karel Stepanek, Theodore Bikel, Anna Valentina,
Frederick Valk, Peter filing, Robert Henderson, Stanley Maxted, Meinhart Maur, Alexis Chesnakov.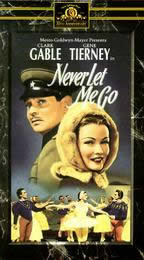 SYNOPSIS: A foreign correspondent, Philip Sutherland (Clark Cable) stationed in Moscow in 1945, falls in love with Marya Iamarkina (Gene Tierney), a ballet dancer, and they are married by the American ambassador. On their honeymoon, they meet Valentina Alexandrova (Belita) and her English husband, Christopher St. John Denny (Richard Haydn). Soon after, Denny is suddenly deported from Russia and forced to leave his wife behind. The same thing happens to Sutherland.
When all efforts to get their wives out through diplomatic channels fail, Denny and Sutherland buy a small sailing ship and set out with Joe Brooks (Bernard Miles), a sailor, to a pre-arranged rendezvous off the coast in the Baltic Sea. Through the help of coded messages from Steve Quillan (Kenneth More), a radiocaster in Moscow, the girls are notified to swim out to sea where the boat can pick them up. But only Bdita shows up.
Marya had been detained for a sudden ballet performance in honor of a Russian general. Sutherland swims ashore, steals an officer's uniform and smuggles her from the theatre. But they are recognized and flee in a car. After a wild chase they manage to make it to safety.
REVIEWS:

The New York Times: A little older, a little fatter, a little shrewder, and more cynical, perhaps, he [Clark Gable] is nonetheless pervious to feminine beauty.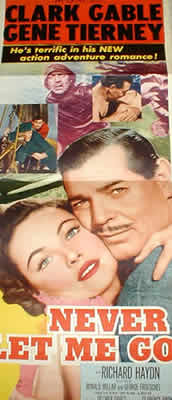 John McCarten, The New Yorker: On a screen as expansive as the celestial concave and with his dimples looking like the craters of the moon, Clark Gable in Never Let Ale Co rips through the Iron Curtain with all the breeziness of a demonstrator showing off the very latest can opener in Gimbel's basement. Mr. Gable, at this point in his career, is grizzled, not withered. And there can be little doubt that as long as he is able to get around, he will represent all that is wholesome, brave, kind and regular in the American male.
Film Daily: Never Let Me Go is not a particularly strong title f or this drama of how love outwits the Communists. Neither is the picture a strong starring vehicle for Clark Gable or Gene Tierney, although their names give it importance and booking opportunities. . - . Love scenes between the two stars are good, with Miss Tierney getting a warm, tender feeling into them.
Hollywood Reporter: An interesting, often suspenseful yam of the struggle of an American newspaperman to get his Russian bride out of the Soviet Union. The still magic name of Clark Gable to head the cast. . . This Clarence Brown production is a rather talky screenplay which is slow in developing action. Brown has chosen his cast flawlessly, all performances being good, and embellishes the story with captivating ballet scenes, handsome backgrounds and excellent photography. Brown also skillfully utilizes newsreel insertions to add authenticity to the film.
My Review: I once read Gable was a good swimmer, and when he lived in Beverly Hill Hotel, he used to swim at night when coming back from work. In Never let me go, Clark demonstrated just how good a swimmer he was. It's kinda funny to see him wearing the weird-looking, sorta ancient style swim suit. But he did show a good stroke when he swims.
At age 52, Clark was definitely showing signs of early Parkinson's Disease. Whenever there is a close-up, you could see a small wave trembling of his head as he speaks. Though he never went to the doctor to check on his condition, but it's common knowledge that Clark had to control the trembling whenever there is a close-up.