MOGAMBO

Abstract:
Victor Marswell (Clark Gable) is an African guide involved with two women: the sensuous, easygoing Eloise (Ava Gardner), and the glacial Linda (Grace Kelly), his employer's wife. Spectacular African landscapes provide the backdrop for this melodramatic John Ford film.

Summary: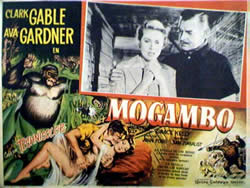 It is probable that the considerable success of KING SOLOMON'S MINES in 1950 prompted M-G-M to make MOGAMBO several years later. Once again, the film utilizes extensive African locations, but unlike the earlier adaptation of H. Rider Haggard's classic novel, MOGAMBO is not essentially an African adventure story. The source is a play, set on a tropical rubber plantation, which the same studio had used in 1932 to make RED DUST. The story remains superficially the same, with many picturesque African details added. John Lee Mahin, who had written the screenplay for RED DUST, also wrote MOGAMBO, but there is nothing stale about this fine writer's work on the film since each of the characters is subtly altered. The same star, Clark Gable, once again plays the hero; he gives the impression of being even more tough and virile than when he was a much younger man, and also provides the sensitivity and depth which many actors acquire as they grow older and more experienced. The role of the woman of the world originally played by Jean Harlow is reinterpreted by Ava Gardner, while Grace Kelly replaces Mary Astor in the role of the respectable married woman. Crucially, John Ford directed MOGAMBO, and although the material is not that which he usually favors, he handles it with characteristic mastery, and the result is a film far more vivid and moving than RED DUST.

The story divides into two sections, the first involving the affair between Victor Marswell (Clark Gable) and Eloise Y. Kelly (Ava Gardner) and the second involving Vic's infatuation with Linda Nordley (Grace Kelly), the wife of a scientist, Donald Nordley (Donald Sinden), for whom Vic is serving as a guide. In the first section, there is virtually no melodramatic plot development; Kelly is heading downriver and circumstances force her to stay with Vic. In spite of her warm humor, great beauty, and honest affection, Vic does not take her seriously this early in the film. For him, her apparently loose morals disqualify her as a permanent partner, and he considers the affair to be nothing more than a pleasant interlude for both of them. When the Nordleys arrive, the polished manners and feminine vulnerability of Linda make an immediate impression on Vic. Kelly remains, but Vic treats her with little regard. Although she is deeply in love with him, she must watch with mock good spirits as he becomes increasingly drawn to Linda, who finally responds. Vic ultimately realizes that he is a fool, and he and Kelly cleverly conceal his relationship with Linda from her husband after the hysterical Linda has shot and wounded Vic in a fit of anger. Although this section of the film is melodramatic, it does not present a classic triangle. Kelly gives the appearance of being sporting about Vic's troubled love for Linda, and her character is looked at independently from the main thrust of the narrative, which appears to center on Vic and Linda.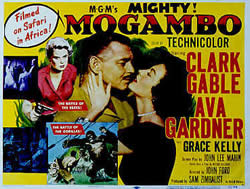 What is so interesting about Ford's interpretation of this story is that it reveals something very unexpected about his attitude toward women. The prim Linda would seem to be a type of woman not too remote from many of his heroines, and he might be expected to show her greater sympathy than Kelly. Instead, he favors Kelly throughout, admiring her independence and perceiving that her waywardness leaves her fundamentally moral character untouched. Whereas Linda eventually becomes a victim of her passions, Kelly is shown to be self-reliant throughout and to have an understanding of her actions. In one of the best scenes in the film, Kelly approaches a priest whose confessional is rather primitive. As Kelly begins her confession, the priest lets down a bamboo curtain to separate them. The scene reveals Kelly to be a Catholic, as much in harmony with her surroundings as the priest is, and to be in touch with her spiritual values far from the civilization which has superficially corrupted her.

The first section of the film, in which Kelly is at the center of the action, is directed in a relaxed and charming manner. Ford captures on film Ava Gardner's free and easy rapport with the animals, and also conveys his quiet certainty that she is the perfect woman for Vic. When the second section begins and the Nordleys arrive, the director sometimes seems impatient with the melodrama of scenes involving Vic and Linda but finds plenty of opportunities for more humor and for adding incidental touches to Kelly's character. To Ford's credit, however, the love scenes between Vic and Linda are romantically intense and charged with a feeling of sexual abandon.

Throughout MOGAMBO, Ford takes advantage of the locations in Kenya, Tanganyika, Uganda, French Equatorial Africa, and the Belgian Congo to create a pictorially appealing view of Africa that is filled with near-documentary moments which, without intruding on the story, reveal native customs, details of animal life, and the physical character of African landscapes. Fortunately Ford blends the natural beauty of Africa with the personal beauty of the two leading ladies. Grace Kelly was in the process of becoming a star when she made MOGAMBO, and the film clearly contributed to her image, which appealed to Alfred Hitchcock. Immediately after MOGAMBO Hitchcock used Grace Kelly for three films, casting the actress as the archetype of a woman whose beauty is cold on the surface but whose reserve conceals a sexuality which is unrestrained once expressed. Her character as Linda was ideal to project this archetype because she was morally forbidden to the hero as an object of love. His love for her must be understood as a flaw in his character, as it is her remoteness and inaccessibility which attract him. He is a man whose emotional responses are not truly adult until he is able to respond to a woman whose feelings are freely given.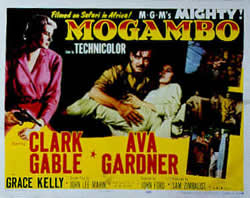 Vic's preference for Linda over Kelly is barely overcome by his rationale, however, since it remains difficult to accept even temporarily the rejection of a woman as consummately sensual and sympathetic as Ava Gardner. It is clear from his direction that Ford found Ava Gardner enchanting, and this may partly explain why Kelly stands out as the most endearing character. Cast as a goddess in all her films during this period, Gardner has never been so natural, witty, and entertaining to watch as in MOGAMBO. In the relatively few moments in which the character is able to express her emotions directly, Gardner shows a dramatic skill for which she is almost never given credit, although it has graced a number of memorable films, notably BHOWANI JUNCTION (1956), THE BAREFOOT CONTESSA (1954), SHOW BOAT (1951), THE KILLERS (1946), THE SNOWS OF KILIMANJARO (1952), and PANDORA AND THE FLYING DUTCHMAN (1951). For her performance in MOGAMBO she received her only Academy Award nomination.

In a touching conclusion, after the Nordleys have departed and Kelly herself is about to leave, Vic realizes that she is his true romantic partner. She is at the river and Ford composes a characteristically beautiful long shot which finds Vic going to her and embracing her. Where other directors would feel the need to cut to a close-up, Ford is visually subtle about this happy ending, and he allows the audience to respond to the resolution of the relationship without intruding on the intimacy of the two characters, thus providing the intimacy with even greater magic. The burnished orange glow of the African sky and the subdued chanting of the natives on the soundtrack contribute to making this final scene both lovely and poignant.

Release Date: 1953

Production Line:
Sam Zimbalist for Metro-Goldwyn-Mayer

Director: John Ford

Cinematographer: Robert Surtees and Freddie A. Young

File Editor: Frank Clarke

Run Time: 115 minutes

Cast:
Victor Marswell - Clark Gable
Eloise Y. Kelly - Ava Gardner
Linda Nordley - Grace Kelly
Donald Nordley - Donald Sinden
John Brown-Pryce - Philip Stainton
Leon Boltchak - Eric Pohlman
Skipper - Laurence Naismith
Father Josef - Denis O'Dea

Studios named in Production Credits:
Metro-Goldwyn-Mayer

Screenplay (Author):
John Lee Mahin
Wilson Collison

Award Citations:
Academy Awards - Nomination - Best Actress - Ava Gardner
Academy Awards - Nomination - Best Supporting Actress - Grace Kelly
Golden Globe Award - Winner - Best Supporting Actress - Grace Kelly

Notes:
MOGAMBO is a remake of the 1932 RED DUST, which also starred Clark Gable. The story also served as the basis for the film CONGO MAISIE (1942).