KEY TO THE CITY [1950]
Metro.Coldwyn-Mayer.





Produced by Z. Wayne Griffin.
Directed by George Sidney.
Screenplay by Robert Riley Crutcher,
based on the story by Albert Beich.
Photography by Harold Rosson.
Ad Direction by Cedric Gibbons and Hans Peters.
Musical score by Bronislau Kaper.
Editor: James F. Newcom.
Release date: February 1, 1950.
Running time: 99 minutes.
CAST: Clark Gable, ]Loretta Young, Frank Morgan, James Gleason, Marilyn Maxwell, Raymond Burr, Lewis Stone, Raymond Walburn, Pamela Britton, Zamah Cunningham, Clinton Sundberg, Marion Martin, Bed Freed, Emory Parnell, Clara Blandick.
Synopsis: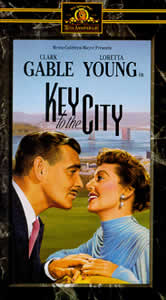 Against a background of a convention of mayors in San Francisco, Clarissa Standish (Loretta Young), a serious-minded, prissy woman mayor of Wenorah, Maine, meets Steve Fisk (Clark Gable), an ex-longshoreman turned mayor whose ready smile and fists have made him the top man of a California city.
Their innocent escapades get them into some not too-innocent looktng situations, as a result of which both of them get nearly bounced f mm office. They become involved in a nightclub fight and spend the greater part of the conference on the verge of being sent to jail. Running the risk of a scandal, she returns with Steve to his home town where he defeats his crooked political opponents and ends up throwing his opposition, Les Taggart (Raymond Bt.err) into a fishpond.
Eventually, they set off to get married, lugging with them a vast key to the city, which had started the day covered with flowers but has been reduced by their adventures to a wire skeleton. In the future, there is to be only one politician in the family and she happily concedes.
REVIEWS:
Variety: A comedy made to measure for Gable and Miss Young, who, helped by a strong team of small part players, rise above the shortcomings of the script. This, after some pleasant satire at the expense of the mayoral conference, concerns itself with wringing every possible laugh f mm a number of stock situations; the result is on the whole amusing, but occasionally labored.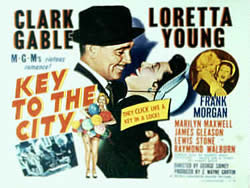 Film Daily: Key to the City puts the mighty Gable right back where he belongs-on the top of the heap with a story geared particularly to his virile talents and the preference of his fans. Key to the City is not especially sound in plot, but what it misses in sound dramatic construction, it more than compensates for in the hilarious gags, the rollicking situations, and the exceedingly clever characterizations. The show is an unashamed rough and tumble comedy in which slapstick comedy, frothy boudoir material and all the trimmings are blended imaginatively and effectively.
Hollywood Reporter: The part is tailor-made Gable, and to it he brings the full impact of his personality, his glib way with a comedy line and unique capacity for making a gal feel desirable. Loretta Young, his co-star, comes through with a performance which deftly accomplishes the transition from conservative New Englander to that of a girl willing to put up a battle for the man she loves; Marilyn Maxwell is terrific
as the other woman; and the late Frank Morgan gives a characteristically fine portrayal of Gable's sidekick. The screen will miss his infectious laugh and charming addle-headedness.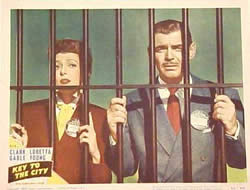 London Film Weekly: Slight comedy hardly worthy of the talents of Loretta Young and Clark Gable. It packs a fair quota of laughs and slapstick fooling, enough to help the thin tale along. ... Clark Gable does his he-man stuff pretty well and Loretta Young makes the most of the part of the mayoress.