COMRADE X [1940]
Metro Goldwyn-Mayer

Produced by Gottfried Reinhardt.
Directed by King Vidor.
Screenplay by Ben Hecht and Charles Lederer, based on a story by Walter Reisch.
Photography by Joseph Ruttenberg.
Editor: Harold F. Kress.
Release date: December 13, 1940.
Running time; 90 minutes.

CAST: Clark Gable, Hedy Lamarr, Oscar Homolka, Felix Bressart, Eve Arden, Sig Rumann, Natasha Lytees, Vladimir Sokoloff, Edgard Harrier, George Renavent, Mikhail Rasummy.
SYNOPSIS: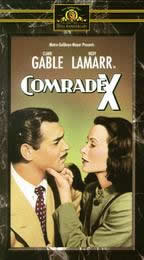 Comrade X, alias McKinley B. Thompson (Clark Cable), who had been smuggling embarrassing stories about the government out of Russia, is discovered by a porter, Vanya (Felix Bressart), at his hotel. Vanya blackmails McKinley into agreeing to smuggle his daughter, Theodore (Hedy Lamarr), out of the country because the secret police have been investigating her since she is a true Communist.
The only way McKinley can persuade Theodore to come with him to America is to assure her that he is a Communist to the core, and that he needs her to help him spread the noble doctrine in the United States. Theodore talks it over with her idol, Siminoff (Sig Rumann), who is the leader of a counter-revolutionary group, and finally consents to McKinley's request. But first they must be married. It is the only way she can secure a passport. This is more than McKinley had expected, but Theodore is a fine figure of a girl and it might be interesting.
Unfortunately, the secret police apprehend them before they can leave the country. They are brought before Chief of Police Gregoriev (Vladimir Sokoloff), who has also had Vanya arrested. Vanya does his best to shield them but to no avail. Gregoriev knows McKinley is Comrade X. All three of them are sentenced to death, and they are joined in the cell by a large group of Siminoff's followers. It seems that Siminoff has taken over GregorieVs post and, to show his good faith, has sacrificed a hundred or so of his former comrades.
In return for their freedom, McKinley offers Siminoff the negative of a photograph that displays Siminoff in an incriminating positron. Siminoff
agrees, and although he tries to trick them, McKinley, Vanya, and Theodore make good their escape from the country. Embittered by the duplicity of her idol, Theodore resigns herself to a life in a capitalistic country. It may not be so bad with McKinley there.
REVIEWS: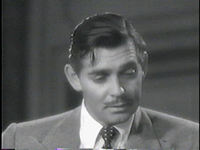 Film Daily: The surprise of the picture is Hedy Lamarr. This gal has found herself or, better, MGM has found her, for she simply knocks over her role of Theodore, looks ravishing and is the top ingredient of -the show. This Lamarr performance, however, takes nothing away from j Clark Gable, who is perfection in his part, with Felix Bressart giving another of his great characterizations.

Newsweek: Performances are excellent. Gable handles his role splendidly. Miss Lamarr is neatly effective as well as decorative in the comic requirements as a street car motorman, a loftily patronizing daughter, a zealous worker for her party, a horrified then complacent bride as she realizes she has been tricked into marriage by a crass bourgeois who takes her to Brooklyn to root for the Dodgers.
The New York Times: How the wits of the lovers are pitted against the succession of menacing commissars shapes up into a tense and suspense-ridden melodrama, culminating in an escape by armored tank which carries a walloping series of thrills. Situations in the tale vary from the legitimate to the fantastic, but always maintain a high degree of entertainment and comedy which runs from innuendo and satirical wit to slapstick.
Liberty Magazine: Here's a lively, raucous farce about Russia, with Clark Gable as a rowdy American newspaperman and Hedy Iamarr as a Soviet motorman. The film is fast and funny and notable from at least one angle: it is the first time Hollywood has gone ahead with utter disregard for what some foreign government might think. Another point of public interest: Hedy Lamarr in a Soviet nightgown.
My Review: MGM followed the success of Boom Town with the cast of Clark Gable and Hedy Lamarr in this classic Comrade X.
The story is somewhat lame, but the action is lively and racy. Gable again plays a rowdy American newspaperman, while Hedy Lamarr plays a Soviet motorman. The interesting thing is seeing Gable playing a newspaperman again. He seems to excel in this type of role.
Let me count, he has been a newspaperman in "It happened one night", "Love on the Run", "Too Hot to Handle", "Somewhere I'll Find you", "Teacher's Pet", and this one. The next most frequent role is probably gambler, a role he is most famous at. re serious roles in her career. Nonetheless, it's a great lineup with a good storyline to back it up.