TEST PILOT [1938]
Abstract:
The recklessness of Jim Lane (Clark Gable), a daredevil test pilot, contrasts with the stability of his best friend and mechanic, Gunner Sloane (Spencer Tracy), as well as with Jim's wife, Ann (Myrna Loy), who, after the first bloom of romance, has trouble adjusting to life with an irresponsible man who enjoys taking risks. The balance of Jim and Ann's relationship shifts, and both are forced to make compromises after Gunner is unexpectedly killed while testing an army airplane. This popular film combines three charismatic stars and dramatic aerial sequences.



My Review:
This is the second Gable-Tracy movie. The first one is San Francisco, and the last one is the Boom Town. Out of all three movies, I like Boom Town the most, and San Francisco the least. Gable and Tracy always make a great tandom. They are good friends off the screen too. What I find in Gable/Tracy movie is that Tracy always plays his buddy role while Gable is fooling around with women. Myrna Loy is charming. Test Pilot really shines Tracy and Loy. Gable, the he-man, is shadowed by the great performances of Tracy and Loy.

Summary: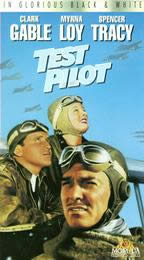 The Hollywood studio system has received a good deal of abuse, much of it deserved, but it did produce a number of the classics of cinema as well as a greater number of lesser works with definite virtues of their own. A prime example of the latter type of film is TEST PILOT, for which M-G-M brought together three stars, excellent supporting actors and actresses, a strong and knowledgeable script, and a first- rate director.

At the very beginning of the film we meet two of the three main characters and learn what sort of men they are and what the relationship between them is. Jim Lane (Clark Gable) is a test pilot who enjoys his dangerous work and also enjoys women and drink when he is not working. In contrast to the reckless Jim is his friend and mechanic, Gunner Sloane (Spencer Tracy). Gunner, we learn, is Jim's caretaker; he tries to see that Jim's off-duty indulgences do not interfere with his ability to do his work well. He has taken upon himself the thankless task of attempting to get the daring pilot to bid goodbye to women and drinks in time to get enough sleep for the next day's demanding job.

The third main character comes into the film when Jim's try for a coast-to-coast flight record goes awry because he has engine trouble over Kansas and makes an emergency landing at the farm where Ann Barton (Myrna Loy) lives. In the usual pattern of romantic comedies, Jim and Ann are two quite different people unexpectedly thrown together who fight at first but finally fall in love. In this film, however, the process is speeded up, and the film then goes on to other matters. They find in each other something missing from their previous lives. Ann is unexcited about the life she sees before her of being a farmer' s wife in Kansas, and Jim says that sitting on her front porch he has found peace for the first time since he was born. When they go to a baseball game together, he finds that this college-educated farm girl is just as enthusiastic and knowledgeable a fan as anyone.

There is some confusion about what they mean to each other, and when Jim takes off in his airplane the next morning, they do not expect to see each other again. When she finally breaks into tears, Gunner, who has come to help repair the airplane and who knows the difficulty of being with Jim, says to her, "You'll be glad in the end." When Jim flies over the baseball field, however, he realizes that he cannot leave her. He returns, picks up Ann, and the two are married when they stop in Indianapolis, less than two days after their first meeting.

The focus then shifts to the attempts of the three to adjust to being together and especially to Ann's endeavor to cope with being married to this undisciplined man with an extremely dangerous job. Gunner says that now he is going to be "associated with two nuts instead of one," and Ann says to Gunner, "Help me make you like me," but it is Jim who is the major concern for both of them. They watch him fly in an airplane race in Cleveland. When his airplane catches on fire and he will not stop, Ann becomes afraid. Not at all calm himself, Gunner calls Ann a sucker for marrying Jim without even thinking about his work, which is "death every time you move." Despite the fire, Jim wins the race and the $10,000 prize, but another flier is not so lucky: we see him carried off in an ambulance as his wife fruitlessly tries to catch up with it and his children cry for their mother.

When Jim then disappears for a five-day drunken spree during which he spends or loses all the $10,000, Ann finally realizes what she is up against. She sees that he must be the kind of man he is and that the road they are on will end in his death. Gunner understands exactly; he has been on the same road for ten years: "He gets you -- there's no fun being with anyone else." Ann says she does not want to love him that much and that she is leaving him. Jim, who has never asked anyone for anything, asks her to stay, and finally she is unable to leave. "Your life is yours," she tells him, but he resolves to settle down. After his next job, a test for the Army in which the wings of the aircraft come off and he has to parachute to safety, he gives the $4,000 check to Ann and takes her to a show instead of going drinking.

Unfortunately, that does not solve all their problems. When Jim and Gunner test a large airplane for the Army, the craft goes into a spin after reaching the altitude Jim was trying to reach. Then the load in the airplane shifts, pinning Gunner in his seat. Jim refuses to parachute out; instead he crashlands the airplane and pulls the wounded Gunner from the burning wreck before it explodes. Gunner is mortally wounded, however, and dies after telling Jim that at least he will never have to go home and break the news to Ann.

When Ann learns of Gunner's death, she is unable to remain stoical. Even though Jim's attitude is that Gunner died at his trade and that his (Jim's) memory of his friend is beautiful, Ann says she will go crazy waiting for Jim to suffer the same fate. "Why don't you die and leave me alone?" she explodes. Soon afterward Jim discusses the matter with his boss, Mr. Drake (Lionel Barrymore). Jim admits to him that being with Ann will make Gunner's death easier to accept, so Drake advises him to tell her that.

The scriptwriters then fashion an ending which is reasonably happy even though not entirely in keeping with the rest of the film. Drake telephones Ann and tells her that he will arrange for Jim to work on the ground, without his ever exactly realizing what is happening, and next we see an obviously uncomfortable Jim training a group of young pilots. Then Ann arrives with their young son, and the film ends with a shot of the child's face with the departing airplanes of the young pilots superimposed over it.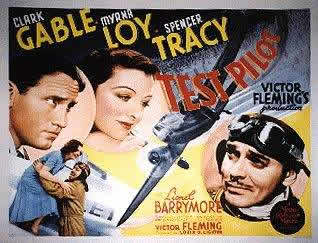 The screenplay by Vincent Lawrence and Waldemar Young is based upon a story by Frank "Spig" Wead, who was a pilot in World War I and later became a screenwriter. He was himself the subject of a film, THE WINGS OF EAGLES (1957), directed by John Ford. The TEST PILOT script intermixes three elements: romantic comedy, exciting aerial drama, and the human drama of the three characters' relationships with one another and with the danger of flying. One particularly amusing scene finds Jim buying a nightgown for Ann while she watches from a discreet distance. He cannot even pronounce the word lingerie, but does carry out the task.

The next year, 1939, saw the release of another film on pilots and a woman's attempt to come to terms with one, ONLY ANGELS HAVE WINGS. Instead of either domesticating or killing the pilot, however, the later film merely ends with the flier (Cary Grant) asking the woman (Jean Arthur) to stay after she has been made fully aware of the life she can expect.

Gable had, by the time this film was made, virtually perfected the role of the dashing adventurer, and he conveys superbly that facet of the character of Jim Lane. Gable had also demonstrated a flair for romantic comedy in IT HAPPENED ONE NIGHT (1934), a flair that is evident in many of his scenes with Loy. Loy herself had worked for nearly a decade in near obscurity in Hollywood before the Thin Man films (beginning in 1934) made her a star comedienne. She saw TEST PILOT as a chance to show that she could play dramatic scenes as well as comedy, and she did so quite convincingly. Tracy had proven in SAN FRANCISCO (1936) that he could play the quiet friend of the irrepressible Gable and he did so again in TEST PILOT and BOOM TOWN (1940), but he let it be known that he did not want to be stuck in the shadow of Gable, and they made no additional films together. The supporting actors and actresses are excellent in TEST PILOT, most notably Barrymore as Mr. Drake and Marjorie Main as the landlady.

Much of the credit for bringing together the separate elements of TEST PILOT, which was one of the fifteen most popular films of the year, should probably go to the director, Victor Fleming. He had begun his career in the film industry in 1910, had directed Gable in two early 1930's films, and was to have his greatest year in 1939 when he directed THE WIZARD OF OZ and was one of the directors of GONE WITH THE WIND, for which he won an Academy Award.

Release Date: 1938

Production Line:
Louis D. Lighton for Metro-Goldwyn-Mayer

Director: Victor Fleming
Cinematographer: Ray June
File Editor: Tom Held

Cast:
Jim Lane - Clark Gable
Ann Barton - Myrna Loy
Gunner Sloane - Spencer Tracy
Drake - Lionel Barrymore
Landlady - Marjorie Main
General Ross - Samuel S. Hinds
Frank Barton - Arthur Aylesworth
Mrs. Barton - Claudia Coleman
Mrs. Benson - Gloria Holden
Benson - Louis Jean Hexdt
Joe - Ted Pearson
Grant - Gregory Goye
Sarah - Virginia Grey

Award Citations:
Academy Awards - Nomination - Best Picture - MGM
Academy Awards - Nomination - Writing (Original Story) - Frank Wead