Parnell [1937]
SYNOPSIS: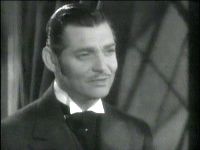 Charles Parnell (Clark Gable) spends two months in America raising money to relieve the sufferings of the poor in Ireland. When he returns home, he realizes that he will have to double his efforts to obtain Home Rule for Ireland. The whole country is behind him to such a degree that he is referred to as "The Uncrowned King of Ireland."
Katie O'Shea (Myrna Loy) is the estranged wife of William O'Shea (Alan Marshal), an unscrupulous and ambitious man. She makes her home with her wealthy Aunt Bea (Edna 'q Oliver), who gives O'Shea money in order to keep him away. Katie longs to be free, but her husband won't allow her a divorce. plans to stand for Parliament, and this end, asks Katie to entertain herself at dinner. She calls upon Parnell at his office.  He tells her that he saw her at the opera one night and knew that they were destined to meet. He accepts her dinner invitation. He is called away by urgent business before the dinner is over. Katie follows him to the door, and he tells her that he loves her.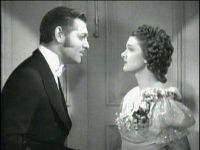 At last it looks as though his long struggle will meet with success. But at this point, William O'Shea reappears. He demands that Parnell appoint him Chief Secretary when a Parliament has been established. Parnell refuses. O'Shea then threatens to sue Katie for divorce, naming Parnell as co-respondent.
That evening Gladstone (Montagu Love) announces at a reception that he is to introduce Parnell's bill for Home Rule in Parliament. It is the highest peak of Parnell's career. Aunt Sea and Katie accompany him to the reception. But on the way, they hear newsboys calling out that Parnell has been named in O'Shea's divorce suit. Katie and Aunt Bea return home and Parnell goes to his office. He notifies Gladstone that he will await word from him there.
The bill is not introduced and the Irish Party feels that Parnell has betrayed his country for a woman. His friends all desert him. Katie is willing to sacrifice her good name and defend the suit, saying that she and her husband invited Parnell to their home in order to betray him. But Parnell won't let her do this, and the suit goes uncontested. Parnell tries vainly to hold the party together, but when it turns against him, the party separates. At a last meeting, he is stricken with a heart attack. He is taken to Katie's home in time to again tell her of his love for her, and he dies in her arms.

REVIEWS: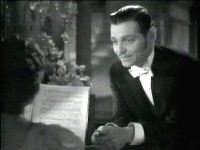 Bob Wagner, Script: Parnell?.....No! Clark Gable, in his worst miscasting. Nor is Myrna lay any help to him, for she is equally stodgy and unbending. Too bad, because the story is good, the direction fine, and the production all we have learned to expect from M-G-M. It is the secondary characters who give the picture what little life it has. Indeed the whole show is splendid. Except for the unfortunate casting of the principals.

F. S. Nugent, The New York Times:  For all the dignity of its production, the imp wing cast at its command Parnell struck me as being a singularly pallid, tedious and unconvincing drama. . . . With its customary generosity, the studio has has not stinted on the physical accoutrements. The sets are rich and solid, the costuming is splendid. It lacks vitality, it completely misses the emotional surge that swept the play out across the footlights into the hearts of its audiences when it was put on last season.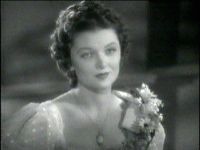 John Mosber, The New Yorker: Among the notable invertebrates, I would list Parnell.. Trudging as I do to the movies year in and year out, I seem always capable of amazement at the amount of boredom they can arouse. Especially do I feel so in a case of this soft, where money has been spent to give the whole thing a rich setting, where persons of recognized talent have been employed In the making. I must say that the two leading players, expert though they may be in their way, give not the slightest indication of trying to understand anything.

My Review: I did not have a complete copy of Parnell. The reason is quite simple. My VCR didn't record the entire film. I have only seen the first half of it. For that, I felt quite fortunate, because I have read nasty tales of how Clark Gable died in Parnell. No, it's not an ugly death. It's just that our hero shouldn't die in the Parnell way. Parnell will be forever remembered as a Gable flop. Carole had so much fun with it. She would shove the word "Parnell" out whenever Clark went on an ego trip. :-)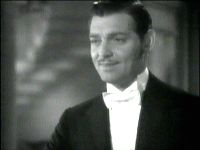 Directed by John M. Stahl.
Screenplay by John Van Druten and S. N. Berhman, based on the play by Elsie Schaufller.
Photography by Karl Freund.
Art direction by Cedric Gibbons.
Musical score by William An.
Edited by Frederick Y. Smith.
Release date: June 4, 1937.
Running time: 96 minutes.
CAST: Clark Gable, Myrna Loy, Fdna May Qliver, Edmund Gwenn, Alan Marshal, Donald Crisp, Billie Burke, Berton Churchill, Donald Meek, Montagu Love, Byron Russell, Brandon Tynan, Phyllis Coghlan, Neil Fitzgerald, George Zucco.