SAN FRANCISCO

Abstract:
A spectacular re-creation of the great San Francisco earthquake highlights this film about the romance between Barbary Coast nightclub owner Blackie Norton (Clark Gable) and Mary Blake (Jeanette MacDonald), a singer. Mary loves Blackie but fears that he will never reform. So, when she is offered a chance to perform at the Tivoli Opera House, she accepts and leaves Blackie and his club behind. Father Tim (Spencer Tracy), Blackie's boyhood friend, attempts to persuade him to pursue her.

Summary: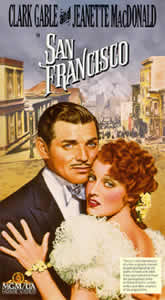 Clark Gable was the leading star at M-G-M throughout the middle and late 1930's. His popularity was the result of both his infectious screen presence and his portrayals of virile, charismatic men; he was admired by women, who were mesmerized by his good looks and charm, and liked by men as well. He won an Academy Award in 1934 for his performance opposite Claudette Colbert in IT HAPPENED ONE NIGHT, and he was nominated again a year later for his work as Fletcher Christian in MUTINY ON THE BOUNTY. His fame reached its height at the end of the decade with the most representative of all Gable roles, that of Rhett Butler in GONE WITH THE WIND (1939). Another role, however, which helped solidify his reputation was that of Blackie Norton in SAN FRANCISCO. The character of Blackie, an arrogant gambler with a tough veneer and a heart of gold, is tailor-made for the star. The film is a lavish, entertaining product of Hollywood's golden age and features some of the best special effects in the history of the cinema.

The narrative of SAN FRANCISCO is pure Hollywood hokum, as original as the previously filmed FRISCO KID (1935) and BARBARY COAST (1935). Set on the Barbary Coast immediately after the turn of the century, the scenario focuses on a quartet of characters: Blackie, Mary Blake (Jeanette MacDonald), Father Tim Mullin (Spencer Tracy), and Jack Talbot (Jack Holt). Blackie is the owner of Blackie's Paradise, a gambling hall and beer garden. Mary Blake, the daughter of a Midwestern country pastor, is a singer who is hired by Blackie to perform in his cabaret. Mary, though, is soon discovered by the socialites of Nob Hill. She loves Blackie but has lost respect for him because of his arrogance. She, therefore, leaves him to perform at the Tivoli Opera House. Father Mullin, Blackie's best friend from boyhood, hopes that the gambler will reform and intercedes in his affairs with Mary. Mullin, however, is no traditional man of the cloth: he calls Blackie a "mugg" and a "sucker," and even fights with his friend in the hope of bashing some sense into him. Jack Talbot is a Nob Hill aristocrat, Blackie's political and financial rival, who vies with him for Mary' s affections.

MacDonald's lyric soprano is featured in several numbers: two popular hits, the title song, composed by Gus Kahn and Bronislau Kaper, and Arthur Freed and Nacio Herb Brown's "Would You?"; arias from FAUST and LA TRAVIATA; and two religious numbers, "Nearer My God to Thee" and "Hosannah." Although SAN FRANCISCO is essentially a story of conflict and emotions, these songs are successfully woven into the scenario and do not lessen its dramatic impact.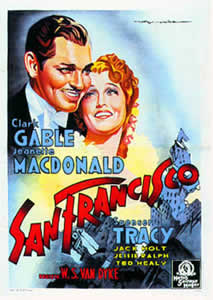 The film culminates with the famed San Francisco earthquake of 1906. The first rumble is heard at 5:13 A.M. on April 18 as patrons enjoy themselves in a crowded music hall. The building soon collapses -- as does the rest of the city. The star of SAN FRANCISCO is, ultimately, this powerfully realistic recreation of the earthquake. It is a frightening yet thrilling spectacle, with special effects that hold up admirably against more recent disaster films such as THE TOWERING INFERNO (1974) and THE POSEIDON ADVENTURE (1972). Great holes miraculously open in the earth, buildings topple, and the citizens of San Francisco are buried beneath the tumbling rubble. Watermains break, live electrical wires flare, and plaster and bricks are thrown in every direction. The city's skyline is soon a horizon of flames. These effects, created by John Hoffman and others -- including James Basevi, who went uncredited -- remain among the most imaginative, effective illusions in film. During the same decade, only the swarm of locusts in THE GOOD EARTH (1937) and the hurricane in THE HURRICANE (1937) -- both created by Basevi -- compare with SAN FRANCISCO's earthquake.

The special effects are not the only special element of the film. All of the principals and the supporting cast, notably Jessie Ralph as Talbot's wealthy mother, offer spirited performances. Among the bit players are such luminaries of the silent screen as King Baggot, Rhea Mitchell, Vernon Dent, Gertrude Astor, Harry Myers, Flora Finch, Rosemary Theby, and Jason Robards, Sr. Anita Loos's script, adapted from a story by Robert Hopkins, keeps the action moving and captures a feeling for the era. The sets are authentic duplications of the preearthquake city. Among the landmarks lovingly reproduced are the Grand Opera House, the Palace Hotel, St. Anne's Mission, Lyric Hall, and the Grenoble Hotel. W. S. Van Dyke's direction is skilled and well-paced. Van Dyke and Loos deftly create an ambience of glamour, vulgarity, high stakes, and fast living. This attention to detail refutes the director's underserved reputation for sloppiness and haste in his productions. Among his more successful films were TRADER HORN (1930), TARZAN, THE APE MAN (1932), and THE THIN MAN (1934).

It is perhaps ludicrous to find Blackie and Mary wandering into each other's arms at the conclusion of SAN FRANCISCO. Even though an entire wall has crashed down on Blackie, he crawls out from under the debris without a scratch. It has taken an earthquake for him to realize that drinking and gambling are indeed "sinful."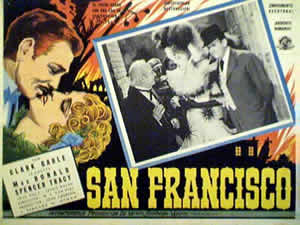 Despite the contrived story, critics hailed SAN FRANCISCO as grand entertainment. The film was nominated for six Academy Awards, losing out in the categories of Best Picture, Best Actor (Spencer Tracy), Best Director, Best Original Story, and Best Assistant Director (Joseph Newman). Only Douglas Shearer won an award for Best Sound Recording. Spencer Tracy lost to Paul Muni for his role in THE STORY OF LOUIS PASTEUR, but he was voted the award for the next two years for his roles in CAPTAINS COURAGEOUS (1937) and BOYS TOWN (1938). Tracy worked well with Gable. In their three films together (the other two were BOOM TOWN, 1939, and TEST PILOT, 1938), they were an anomaly: two successful male stars, one of whom was willing to support the other.

SAN FRANCISCO was enormously popular and was one of the top money- making films of the year. Runs of the film were extended in fifty Loew neighborhood theaters. At Loew's Metropolitan in Brooklyn, for example, SAN FRANCISCO doubled the previous record booking time of three weeks; while at the Loew's State in Manhattan, it broke a fifteen- year record by continuing into its second week. By 1940, according to the MOTION PICTURE HERALD ALMANAC, it had earned more than $2,700, 000, a tidy sum for the day. This popularity is no surprise: SAN FRANCISCO is an entertaining blend of drama, song, romance, and spectacle.

Release Date: 1936


Production Line:
John Emerson and Bernard H. Hyman for Metro-Goldwyn-Mayer

Director: W. S. Van Dyke
Cinematographer: Oliver T. Marsh
File Editor: Tom Held
Sound - Douglas Shearer

Cast:
Blackie Norton - Clark Gable
Mary Blake - Jeanette MacDonald
Father Tim Mullin - Spencer Tracy
Jack Talbot - Jack Holt
Mrs. Talbot - Jessie Ralph
Babe - Harold Huber
Mat - Ted Healy
Professor - Al Shean
Chick - Kenneth Harlan
Dealer - Frank Mayo
Drunk - Tom Dugan
Red Kelly - Russell Simpson
Freddie Duane - Bert Roach
Hazeltine - Warren B. Hymer
Sheriff - Edgar Kennedy
Drunk's Girl - Gertrude Astor
Father - Jason Robards, Sr.
Headwaiter - Cy Kendall
Trixie - Shirley Ross
Della Bailey - Margaret Irving
Signor Baldini - William Ricciardi
Alaska - Roger Imhof
Tony - Charles Judels

Studios named in Production Credits:
Metro-Goldwyn-Mayer

Screenplay (Author):
Anita Loos
Robert Hopkins

Award Citations:
Academy Awards - Nomination - Best Picture - MGM
Academy Awards - Nomination - Best Director - W.S. Van Dyke
Academy Awards - Nomination - Best Actor - Spencer Tracy
Academy Awards - Nomination - Writing (Original Story) - Robert Hopkins
Academy Awards - Winner - Sound Recording - Douglas Shearer