LOVE ON THE RUN
1936 Metro Goldwyn-Mayer

Produced by Joseph L. Mankrewtcz.
Directed by W. S. Van Dyke.
Screenplay by John Lee Mahin, Manual Seff and Gladys Hurlbut.
From the story by Alan Green and Julian Brodie.
Cameraman: Oliver T. Marsh.
Costumes by Adrian.
Editor: Frank Sullivan.
Release date: November 17, 1936.
Running time: 81 minutes.

CAST: Joan Crawford, Clark Gable, Franchot Tone, Reginald Owen, Mona Barrie, Ivan Lebedeff, Charles Judels, William Dematest.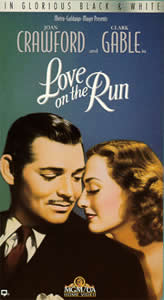 SYNOPSIS: Sally Parker (Joan Crawford), a beautiful American heiress living abroad, leaves her bridegroom-elect, Prince Igor (Ivan Lebedeff) of Taltnka, at the altar and takes refuge in her hotel suite. Michael Anthony (Clark Cable), a newspaper correspondent, who has been sent to cover the wedding, promises to get her out of the hotel unnoticed.

Barney Pells (Pranchot Tone), writer for a rival paper, is interviewing Baron Spandetmann (Reginald Owen), 'who with the Baroness (Mona Barrie) is to embark on a stratosphere flying excursion. They are stopping in the same hotel. Michael - steals their flying suits, and he and Sally put them on and leave the hotel. They arc escorted to the flying field, by a crowd under the impression that they are the distinguished flying pair. Just before take-off, a man thrusts a bouquet of flower's at them. Sally discovers a plan of British fortifications in the bouquet and they realize that the Baron is a dangerous spy.

They make a rather poor landing in the French countryside, and realizing that the spies will soon be after them, they disguise themselves as peasants and go into Paris. Michael cables their story to his paper without Sally's knowledge. That night they hide out in an old palace and confess their mutual love. But the next morning, upon seeing a newspaper, Sally realizes that Michael is capitalizing on their adventures. They quarrel bitterly, and when Barney arrives en the scene she leaves with him, deciding to get even with Michael by letting Barney in on the story too. They start for Nice on the train and are followed by the Baron and Baroness who throw Barney off and capture Sally.

Barney makes his way back to Paris and finds Michael and tells him that Sally is in danger. Michael locates the Baron and Sally in Nice only to become the Baron's prisoner. They are taken to a farmhouse where a plane is being warmed up for a getaway. Barney sneaks in and finds Michael
bound to a chair. Michael persuades him to take his p lace and reluctantly Barney agrees. Then Michael outwits the spies and binds them securely. He and Sally leave in the plane, while poor Barney remains still tied to the chair.

REVIEWS: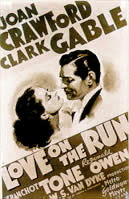 Hollywood Spectator: Such a finished trio as Joan Crawford, Clark Gable and Franchot Tone can make us believe the unbelievable and entertain us with it. . . - Love on the Run is screen entertainment easy to take. Its strength lies in the weakness of its appeal to the intelligence of the audience. It is content with asking us only to have a good time with it.

John Masher, The New Yorker: The plot is a bit improbable, but these three impetuous people have caught the spirit of the story and their rogueties are all depicted with a comic touch. Clever direction, sophisticated dialogue, novel settings and ludicrous situations combined with excellent casting spell "reel" entertainment.

Box Office: Another fast, suave, sophisticated comedy about an heiress --and a star reporter. We like best the -sequence where the worn-out runaway girl and the tired reporter break into Fountainebleau Palace to hide and seek a night's frolic-it touches a high point in comedy this year. There a -mad, fantastic old caretaker mistakes them for the shades of Louis XIV and Mine de Maintenon is as harebrained a comedy sequence as has yet been celluloided. Joan Crawford is amusing as Sally Parker, the spoiled darling of the rich; and Clark Gable, as Michael Anthony, contributes his best comedy role since Ft Happened One Night.

The New York Times: A slightly daffy cinematic item of absolutely no importance . . - with Joan Crawford, 7 Clark Gable and Franchot Tone in roles that by now are a bit stale. In all good conscience, the film ought to bow to several distinguished antecedents, for it has borrowed liberally here and there of tried and true screen devices and situations.