MANHATTAN MELODRAMA [1934]
Abstract:
Blackie Gallagher (Clark Gable) and Jim Wade (William Powell), friends since childhood, follow divergent roads in adult life, the former becoming a shady gambler and the latter an attorney and later governor of the state of New York. When Blackie is implicated in several gangland killings, his girlfriend Eleanor (Myrna Loy) shifts her affections to Jim, whom she marries. A final twist finds Blackie redeemed before the fadeout of a film that boasts one of the most widely imitated plot structures in Hollywood history.

Summary: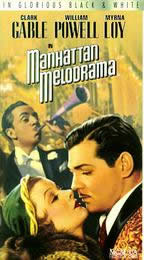 Top showmanship was revealed by M-G-M in presenting MANHATTAN MELODRAMA, a fast-moving modern drama that takes place almost entirely on Manhattan' s East Side. It tells the story of three kids from the sidewalks of New York, three boys who grow up together when their parents are drowned in a holiday river boat accident. As they mature, their lives follow three divergent roads, yet their destinies are intertwined as they follow their individual fates. Blackie Gallagher (Clark Gable) is a rebellious roustabout with the unpolished airs of a tough gent. He becomes the owner and manager of a gambling house that has a reputation as shady as his own. Jim Wade (William Powell) is like a brother to him, but Wade is studious, becomes an outstanding attorney, and rises to become governor of the state of New York. The third boy, Joe Patrick (Leo Carrillo), devotes his life to public service and enters the priesthood.

Blackie is known as a ruthless underworld leader who has a way with women. He is drawn to a girl named Eleanor (Myrna Loy), and he sets her up in style as his mistress. Blackie's gangsterish ways alienate him from Eleanor, however, and when Blackie informs her that he has just won a yacht, she comments sarcastically, "Some day you're going to win somebody's mother." Eleanor is drawn to Jim Wade, who, like her, has class, but the affable Blackie does not object, because he considers his friend Jim a far better man than he, a man who is thoroughly honest and incorruptible.



Blackie is involved in a number of gangland killings, and it is at this point that Eleanor deserts him for Jim Wade, whom she marries. Blackie kills a gambler who has welched on his debts, but he cannot be indicted by Assistant District Attorney Jim Wade because of lack of evidence; Wade nevertheless warns him of the dangerous path he is on. When Jim is elected District Attorney, he fires a jealous assistant named Snow (Thomas Jackson), who sets out to ruin him. Eleanor is aware of the assistant's schemes, and, desperate, asks Blackie to help Jim. Blackie seeks out the offender; the two get into a serious quarrel, and Blackie shoots and kills the man. This time he is caught and imprisoned. Wade's hands are tied; he is powerless to help Blackie and has to work, instead, to convict his friend.

Jim wins his party's nomination and is elected to governorship of the state. He refuses to stay Blackie's execution until Eleanor confesses that it was to insure Wade's own future that Blackie committed murder. Wade rushes to the prison to commute Blackie's sentence, but Blackie refuses to let him corrupt his principles. Blackie, accompanied by Father Joe, goes to his doom without bitterness. Jim resigns as governor, but leaves office with an admiring Eleanor.



MANHATTAN MELODRAMA was popular with both the critics and the public, and an Oscar for Best Original Story was awarded to Arthur Caesar. It also became known for a more sinister reason, for it proved the end for escaped gangster John Dillinger, who came out of hiding to attend a matinee of MANHATTAN MELODRAMA, in the company of the "Lady in Red," and as he left the movie house, he was shot down by the FBI.

Producer David O. Selznick had always believed in Powell as an actor, and he brought him over to M-G-M, where the role of Jim Wade was his first assignment. Powell's career had brought him stardom some years before at Paramount, and he was then enticed over to Warner Bros., who at first did well by him, especially in costarring him with Kay Francis in JEWEL ROBBERY and ONE WAY PASSAGE (both in 1932). His subsequent career there was on the downgrade, and Warners could not afford to keep and groom him. With one film Selznick changed his future at M-G-M, where he not only jumped ahead into a place of box- office importance, but was also teamed for the first time in MANHATTAN MELODRAMA with Loy. They went on together for all the THIN MAN features, a group of romantic comedies, and were paired again when he played the title role in M-G-M's biggest musical, THE GREAT ZIEGFELD (1936), and she played Ziegfeld's second wife, Billie Burke.

Powell and Loy were such a winning couple that they charmed the audience away from Gable, who was stuck in another tough guy role. The part of Blackie was sympathetic in spite of its violence, but it did not have the appeal of a later role that came to him in 1936, when he played another gangster called Blackie in SAN FRANCISCO. As a running mate, Gable clicked more certainly with Spencer Tracy, with whom he costarred in a number of big M-G-M successes. Gable never again played with Powell, but he was often teamed with Loy. It was as if the characters played by Gable did not move in the same circles with those played by Powell, for only once, in this exemplary melodrama, did their paths cross; yet the paths of Gable and Loy crossed in at least six other M-G-M features.

Selznick was always very proud of MANHATTAN MELODRAMA. It was a class film, certainly one of his best and most popular when he was an M- G-M producer. It caught the spirit of contrasting lives in a great, ever-changing American metropolis, and it was always believable.

Notes:
The film boasts the first appearance as a couple of Powell and Loy, who were quickly hustled into the roles of Nick and Nora Charles in THE THIN MAN and became one of the most popular of all screen couples in that film and its sequels.
My Review:
I don't like this movie that much. For one thing, I hate to see Gable die, even if it's for a movie. Secondly, I had hoped he could get away with murder, after all, he did it with good intention to help Powell. Powell played a man with false integrity, and complete stupidity. His integrity forces him to prosecute his childhood pal Gable, but when he found out Gable did it for his own sake, he had had a tough struggle to commute the sentence. This just showed what a coward man he is. I think his integrity is all phony.
Release Date: 1934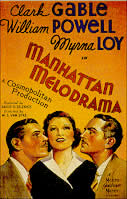 Production Line:
David O. Selznick for Metro-Goldwyn-Mayer

Director: W. S. Van Dyke
Cinematographer: James Wong Howe

Cast:
Blackie Gallagher - Clark Gable
Jim Wade - William Powell
Eleanor - Myrna Loy
Joe Patrick - Leo Carrillo
Blackie (at age 12) - Mickey Rooney
Snow - Thomas Jackson
Spud - Nat Pendleton
Papa Rosen - George Sidney
Annabelle - Isabel Jewell
Tootsie Malone - Muriel Evans
Miss Adams - Claudelle Kaye
Blackie's Attorney - Frank Conroy


Named persons in Production Credits:
David O. Selznick

Studios named in Production Credits:
Metro-Goldwyn-Mayer

Screenplay (Author):
Oliver H. P. Garrett
Joseph L. Mankiewicz
Arthur Caesar

Award Citations:
Academy Awards - Winner - Writing (Original Story) - Arthur Caesar