IT HAPPENED ONE NIGHT [1934]
Abstract:
In this award-winning, Frank Capra-directed masterpiece, recently fired newspaper reporter Peter Warne (Clark Gable) meets spoiled rich girl Ellie Andrews (Claudette Colbert) on a bus traveling from Florida to New York and discovers that she is fleeing her father's influence in order to join the man she loves. Although he has nothing but contempt for the idle rich, Warne agrees to help Ellie reach New York, in the hope that by chronicling her flight he can regain his job. Despite their differences, the two begin to fall in love.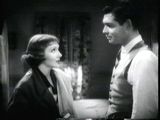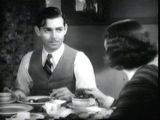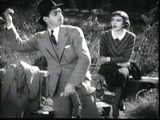 Review:
This is the second Gable movie I watched. I was so delighted to see this one. Now, this role of Peter Wayne is entirely different from GWTW yet it's so charming and adorable. I was mystified by this man. His creativity has no bound.
Movie Mirrors:
This romantic comedy about a bride running away from her rich father with a reporter won the Oscars for best picture, director, actor, actress, and adapted screenplay.
Kidnapped by her rich father Alexander Andrews (Walter Connolly) on his yacht in Miami in order to annul her marriage to King Westley, Ellie (Claudette Colbert) refuses to eat and dives into the sea, escaping. A drunk reporter, Peter Warne (Clark Gable), talks on the phone and is fired. Ellie and Peter meet on a night bus; her bag is stolen, and she sleeps on his shoulder. Ellie tells the driver to wait for her and misses her bus. Peter found her ticket and calls her a "spoiled brat" when she tries to buy his help. Peter telegraphs his scoop on the missing heiress. He saves her from the talking womanizer Shapeley (Roscoe Karns) and puts her on a budget. In the rain he gets them a motel room as a couple. Peter tells Ellie she is just a headline to him; he wants her story, or he'll turn her over to her father. He strings a blanket between the beds and says she is protected by the "walls of Jericho." He shows her how he undresses.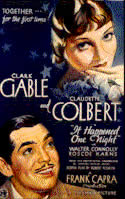 Andrews is flying to New York and has detectives looking for his daughter. Ellie finds a line to the shower and tells Peter she was always told what to do. When detectives arrive, he belligerently protects his "wife" from them. Andrews offers a $10,000 reward. When the bus gets stuck, Peter gives their last $10 to a poor boy. Shapely asks Peter for half the reward, but Peter scares him away by pretending he is a gangster. Peter carries Ellie across a stream, lecturing her on piggybacking. She is hungry and scared, and they sleep on hay. The next morning Peter shows her how to hitch-hike, but cars go by until she shows her leg. Danker (Alan Hale) drives off with Peter's suitcase, but he manages to take the car.
Andrews withdraws his objection to Ellie's marriage. Though they are near New York, Ellie wants to stay another night in a cottage. She asks Peter if he's ever been in love. Then she says she loves him, but he sends her back to her bed. She cries and falls asleep. Peter trades his hat for gas and writes the story in New York, asking his editor for $1,000 for the story she is going to marry him. The motel owners tell Ellie to leave. The editor learns that Ellie called her father. Andrews and Westley with a police escort pass Peter on the road; then he sees them returning with Ellie. Newspapers report Ellie is going to re-marry Westley. Peter gives back the money to his editor. Ellie cries and tells her father she loves Peter but says he thinks she is spoiled. Andrews got a letter from Peter about a financial matter; but Peter only asks for $39.60 and declines the reward as a "matter of principle." At the big wedding as Ellie and her father walk down the aisle, he tells her that Peter loves her. At the last moment Ellie runs off to a waiting car. Andrews buys off Westley for $100,000, and Ellie and Peter finally topple the "walls of Jericho."
Once again Capra pokes fun at the rich and high society by showing how working-class people with common sense have fun with life's daily challenges while broke and hungry during the Depression.
Summary:
Made at a studio regarded as second-rate, with a reluctant star and script trouble, IT HAPPENED ONE NIGHT was an unexpected success. However, it may have been precisely these conditions which allowed the film to become a runaway hit at the box office and at the Academy Awards, where it won all five major honors, a feat unduplicated until ONE FLEW OVER THE CUCKOO'S NEST (1975) forty-one years later.
Later in his career, director Frank Capra was able to sign such stars as Barbara Stanwyck and Gary Cooper for a film even before they saw a script, but in 1933, when he was trying to cast a film for which he and Robert Riskin had written a script (based on a COSMOPOLITAN magazine story by Samuel Hopkins Adams), all the actors and actresses they contacted turned it down. Luckily for Capra and for film audiences ever since, M-G-M at that time wanted to discipline Clark Gable, so they loaned him to Columbia, a studio which was then held in such low esteem that it was widely known as "Siberia" or "Poverty Row."
Gable did not want to do the film, but under the rigid studio contracts of the 1930's, he had little choice. Claudette Colbert was signed to play the heroine, and filming began with nearly everyone involved thinking that the project was nothing more than a routine picture. Even Capra, so tired from all his work to get the project started, just wanted to get it finished. However, this very atmosphere may have, in the end, contributed a natural, unpretentious air to the film in a time when major studios often spoiled their prestigious films by using a too-reverential approach to both the subject and the stars.
Capra also gives credit for the quality and appeal of the film to his friend Myles Connolly, who suggested improvements in an early version of the script. Connolly's main suggestion was to change the hero from a vagabond painter to a newspaper reporter so that audiences could better identify with him.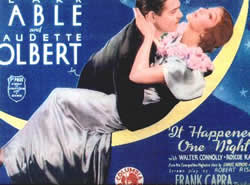 The theme of IT HAPPENED ONE NIGHT is one that was quite popular in Hollywood romantic films of the 1930's and early 1940's: love triumphing over social and economic differences. At the opening of the film we learn that Ellie Andrews (Claudette Colbert), a rich man's daughter, has just married King Westley (Jameson Thomas), a man of her own social class, but also a ne'er-do-well aviator. Her father, (Walter Connolly), opposes him and wants to have the marriage annulled. Next we meet Peter Warne (Clark Gable), a reporter who has just lost his job for sending a story to his newspaper in free verse. It might seem unlikely that these two would ever meet, much less fall in love, but when Ellie escapes from her father's yacht by diving overboard, determined to make her way from Florida to New York to join King Westley, circumstances bring them together.
They meet quarreling over a seat on the night bus to New York. Ellie has never ridden on a bus before, but is doing so to escape detection by her father; Peter is traveling on the bus because that is the only fare he can afford. Their first "conversation" ends with Peter saying, "Now listen, I'm in a very ugly mood. I put up a stiff battle for that seat. So if it's just the same to you -- scram." Ellie, however, does not scram, and the two eventually travel all the way from Florida to Pennsylvania together.
During the trip a romance develops between the two without either of them quite realizing it. After discovering her true identity, Peter regards Ellie as a spoiled brat who thinks her money can get her anything she wants, and she regards him as an uncouth opportunist. However, several times circumstances force them to pretend that they are married: to discourage the amorous attentions of a traveling salesman, to save money on motels (called autocamps in the film), and to fool two detectives her father has sent looking for her.
The first night they spend together in a motel is a justly famous highlight of the film. A washed-out bridge stops the bus and makes it necessary for all the passengers to find accommodations for the night. It is a situation Ellie is completely unequipped to handle on her own. Indeed, this trip is her first attempt at doing things by herself rather than having them done for her; by contrast, Peter is used to living by his wits and quickly realizes that they must register as husband and wife to save money. When Ellie gets indignant and asks what gave him the idea she would stand for such a scheme, Peter explains that he is only interested in her as a headline. He is a newspaper reporter, he tells her, and needs to sell the story of her "mad flight to happiness" to his editor to get his job back. He will, therefore, help her reach King Westley for this reason, but if she rebels, he will turn her over to her father.
Peter then explains that he likes privacy. Stringing a rope between the two beds in their room, he hangs a blanket over it to divide the room into two parts. "The walls of Jericho" he calls it, but Ellie is dubious about the arrangement and refuses to go to her side of the wall. Peter tries to reassure her by telling her that he does not have a trumpet to bring the walls tumbling down as Joshua did in the Bible. When she still does not move, Peter begins taking off his clothes one article at a time while discoursing on the various ways men take off their clothes. When he has removed everything except his trousers, Ellie hurriedly retreats to her side, acquiescing in the arrangement.
Another highlight of the film is the hitchhiking scene. They have had to leave the bus because another passenger has also recognized Ellie, and Peter is becoming quite smug about his ability to take care of the helpless rich girl. He tells her they will have to thumb a ride and explains in great detail the technique of hitchhiking. When he tries to demonstrate his infallible methods, however, he is totally unsuccessful. After watching car after car pass without even slowing down, Ellie finally says she will try, and by lifting her skirt above the knee she stops the first vehicle. The man who picks them up later tries to steal Peter's suitcase, but Peter runs after him and returns with both the suitcase and the car, and he and Ellie continue their journey by automobile.
Finally Ellie realizes that she loves Peter and tells him so (in a conversation conducted over the "walls of Jericho"). They do not immediately get together and live happily ever after, however. When she says she loves him, Peter is taken aback, never having considered the idea. By the time he ponders and accepts the idea, Ellie is asleep. He leaves for New York to obtain some money from his editor because he does not want to be penniless when he proposes to her. After his departure, Ellie is awakened by the owner of the motel, and finding Peter gone, thinks she has been abandoned; she therefore has her father come to get her. Once they return to New York, they prepare for a large formal wedding for her and King Westley, although neither she nor her father is enthusiastic about the idea.
Shortly before the wedding Peter goes to see Ellie's father. Both her father and Ellie assume that Peter wants to collect the ten-thousand- dollar reward that was offered, but he asks for only $39.60, the exact amount of his expenses for the trip. Under the father's questioning he even admits to being in love with Ellie. "But don't hold that against me," he says. "I'm a little screwy myself." The wedding ceremony begins, but on the way to the altar her father explains the situation to Ellie and tells her he has a car waiting for her if she wants to escape. At the moment in the ceremony she is asked to say "I will," Ellie picks up the train of her wedding dress and rushes off to Peter's waiting car.
In the last scene we see the outside of a motel cabin, then we hear the sound of trumpet and see a blanket fall to the floor as the film ends.
In IT HAPPENED ONE NIGHT Clark Gable gives one of his best performances. His Peter Warne is tough, masculine, and cynical on the surface, but has a certain tenderness and romanticism underneath. Gable makes both facets of his personality perfectly credible. In addition, the character Gable plays does some acting of his own. For the benefit of some friends he plays the ultra tough guy, telling off his boss on the telephone, although we know that the boss is no longer on the line. Later he pretends to be a gangster to frighten off the passenger who has also recognized Ellie, and he and Claudette Colbert do a humorous scene as a quarreling married couple so that a pair of detectives will not realize who Ellie is. Capra summed it up best: "I believe it was the only picture in which Gable was ever allowed to play himself: the fun-loving, boyish, attractive, he-man rogue that was the real Gable."
As Ellie Andrews, Claudette Colbert perfectly complements Gable in what is arguably the best role of her career. She must show both sides of Ellie, the spoiled rich girl who expects the bus to wait for her while she has a leisurely breakfast, and the spunky woman with whom Peter falls in love almost against his will. It is not easy to make both antagonism and romance credible in one relationship, but Gable and Colbert do it to perfection.
Director Frank Capra later became famous for celebrating the virtues of the common man in such films as MR. SMITH GOES TO WASHINGTON (1939) and IT'S A WONDERFUL LIFE (1946). It is a theme which is important in IT HAPPENED ONE NIGHT and is particularly underscored in the final scenes in which the down-to-earth reporter can barely tolerate the elaborate and meaningless extravagance of the rich. This theme is not, however, as important as it is in later Capra pictures; instead, the film is chiefly a romantic comedy. Capra proves himself a master of the genre as, with careful pacing, he builds the characterizations upon which the comedy depends, so that IT HAPPENED ONE NIGHT is more a comedy of character than of events or surprises. Indeed, the many imitations of the film in the 1930's and the remake YOU CAN'T RUN AWAY FROM IT (1956) are so inferior to the original that they merely reinforce one's appreciation of the artistry of Frank Capra.
Release Date: 1934
Production Line:
Harry Cohn for Columbia
Director: Frank Capra
Cinematographer: Joseph Walker
File Editor: Gene Havlick
Run Time: 105 minutes
Cast:
Peter Warne - Clark Gable
Ellie Andrews - Claudette Colbert
Alexander Andrews - Walter Connolly
Mr. Shapeley - Roscoe Karns
King Westley - Jameson Thomas
Bus Driver - Ward Bond
Danker - Alan Hale
Bus Driver - Eddie Chandler
Lovington - Wallis Clark
Zeke - Arthur Hoyt
Zeke's Wife - Blanche Frederici
Joe Gordon - Charles C. Wilson
Reporter - Charles D. Brown
Reporter - Hal Price
Henderson - Harry C. Bradley
Auto Camp Manager - Harry Holman
Manager's Wife - Maidel Turner
Station Attendent - Irving Bacon
Flag Man - Harry Todd
Tony - Frank Yaconelli
Drunken Boy - Henry Wadsworth
Mother - Claire McDowell
Detective - Ky Robinson
Detective - Frank Holliday
Detective - James Burke
Detective - Joseph Crehan
Drunk - Milton Kibbee
Vendor - Mickey Daniel
Dykes - Oliver Eckhardt
Boy - George Breakston
Secretary - Bess Flowers
Minister - Father Dodds
Best Man - Edmund Burns
Review Sources:
New York Times: February 23, 1934, p.23
Variety: February 27, 1934, p.17
Screenplay (Author):
Robert Riskin
Frank Capra
Samuel Hopkins Adams
Genre:
Comedy, Family Viewing
Award Citations:
Academy Awards - Winner - Best Picture - (Columbia)
Academy Awards - Winner - Best Director - Frank Capra
Academy Awards - Winner - Best Actor - Clark Gable
Academy Awards - Winner - Best Actress - Claudette Colbert
Academy Awards - Winner - Writing (adaptation) - Robert Riskin
Notes:
IT HAPPENED ONE NIGHT was the first film to win all five major
Academy Awards.