STRANGE INTERLUDE
1932 MGM

Directed by Robert Z. Leonard.
Screenplay and dialogue by Bess Meredyth and C. Gardner Sullivan,
based on the play by Eugene O'Neill.
Photography by lee Garmes.
Editor: Margaret Booth.
Release date: December 30, 1932.
Running time: 110 minutes.

CAST: Norma Shearer, Clark Gable, Alexander Kirkland, Ralph Morgan, Robert Young, May Robson, Maureen O'Sullivan, Henry B. Walthall, Mary Alden, Tad Alexander.

SYNOPSIS: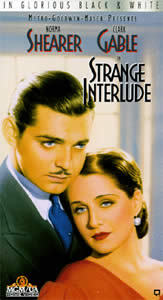 When World War I threatens, Professor Leeds (Henry B. Waltball) prevents the marriage of his daughter Nina (Norma Shearer) to Gordon Marsh (Robert Young), convinced that it would be best to wait. When Gordon is killed two days before the Armistice, Nina becomes bitter toward her father for having robbed her of her marriage. To escape from his rule, she marries faithful Sam Evans (Alexander Kirkland), a hopeless impotent who is all but repulsed by physical love.

Realizing that her marriage is a failure, Nina takes on a lover, Dr. Ned Darrell (Clark Gable) and becomes pregnant by him. Sam, thinking it is his child, is overjoyed. The baby is called Gordon after Nina's first sweetheart. He becomes the focus of his mother's passionate and possessive affection, even through his manhood. She becomes furious when she learns he is engaged, wanting to keep him for herself.

Nina attempts to frighten Gordon's fiancee, Madeline (Maureen O'Sullivan), by telling her of the inherited insanity of the Evans family. Darrell stops her lies and comforts the girt, who is sympathetically tolerant of Nina's outbursts. Sam then suffers a stroke and, as they realize his helplessness, Darrell and Nina know that they must continue to set aside their own feelings, honor-bound to care for this man who has ignorantly trusted them so implicitly.

REVIEWS:

John Gammie, London Film Weekly: From the filmgoers point of view, the outstanding thing is the acting of Norma Shearer, Clark Gable and May Robson. . - . Clark Gable's powerful personality shines steadfastly through the misty atmosphere of mixed psychology. - . . Norma Shearer's response to the demands of an extraordinarily exacting part shows that she has a far greater range as an actress than one would have suspected, even after her fine work in many intelligent talkies. Strange Interlude is a film that wilt be widely discussed. It must be set down as a cinematic novelty to be seen by discerning audiences.

Terry Ramsaye, Motion Picture Herald: Those elements of the play which are so poignantly O'Neill have for the screen, somewhat in the movie fashion, been subdued, sandpapered and varnished toward euphemism. There was in the making of Strange Interlude an evident awareness that it was strong meat. A borrowing from the stage though it is, it is a stepping out for the motion picture.

Photoplay: Clark Gable and Norma Shearer age beautifully within the short span of an hour and a half and, like vintage wine, they improve with each year.

My Review: This is the second teaming of Clark Gable and Norma Shearer. They made three movies together, A Free Soul in 1931, Strange Interlude in 1932, and Idiot's Delight in 1939. Each time Norma Shearer played a strong-will, manipulative type of girl, while Clark's roles range from a gangster, a gentleman doctor to a con artist. So much sexual sparks were striked when these two appear together - Clark with his virile manhood, Norma with her sensual body movement. Clark and Norma aged beautifully within the short span of an hour and a half. This is the first movie Clark ever wore a mustache. He must have noticed that he looked good in it, cuz since then, he decided to keep the mustache look. The mustache gave him an air of superiority. All hails to the king.



Movie Mirrors: Based on Eugene O'Neill's play, a grieving woman manages to keep three men in her life by dividing her love between them. In this absorbing drama the audience gets to hear thoughts of the characters as well as the spoken words, a marvelous technique, though in this production the emotional tone of the acting seemed melodramatic to me.
Nina (Norma Shearer) welcomes back her old friend Charlie (Ralph Morgan), who thinks, "Spoken words are just a mask to disguise us." Nina is mourning the loss of Gordon in the war and regrets her father prevented their marriage. She goes to nurse soldiers, and her father dies a year later.
Sam (Alexander Kirkland) has asked Nina to marry him, but she says nothing until she is encouraged to do so by Dr. Ned Darrell (Clark Gable) and by Charlie, who is too afraid of life to tell her he loves her. Ned is not in love with her and wants to stay free, while Nina says she can't feel anything. Ned says she has been necking with the patients, and she asks Charlie to punish her. After the wedding Charlie visits Nina at the house of Sam's mother, who tells Nina not to have a child because of the hereditary insanity in their family. Fear of Sam going insane drove his father crazy, and his mother never told Sam in order to preserve his sanity. His mother tells Nina she wishes she had found another man to father her child, like with stock. Sam wants a child, and Nina tells Ned about the problem. Ned agrees with the mother's solution, and Nina loves Ned. Sam thinks of offering her a divorce. Ned kisses Nina, but he does not want to love her. Meanwhile Charlie is upset over his mother's death.
Nina wants to tell Sam her baby is Ned's. Ned tells Sam he is going to be a father just before he leaves to go to Europe. Sam is happy, and Nina can't tell him the truth. Charlie visiting the young family hopes that Nina sent Ned away. Ned comes back to tell Sam, because he loves Nina. Charlie helps Sam financially, because he is successful. Ned meets the child and asks Nina to go away with him; but she can't destroy Sam's life even though she loves Ned. She believes Ned will still love her, and he can't tell Sam, saying, "To kill happiness is a worse murder than to take life."
About ten years later Gordon hates Ned when he sees him kissing Nina. Nina asks Ned to go away again, and Ned gets Gordon not to tell his father what he saw because of honor. At a college rowing race Gordon (Robert Young) tells his mother he is going to marry Madeline, and Nina tries to prevent losing him by telling her about the family insanity; but Ned stops her. So she tells Charlie that and that Gordon is Ned's. After the race Sam has a stroke and dies. Gordon announces that Sam's will leaves $500,000 to Ned's research project. Gordon hopes Ned and Nina will marry; as he believes she has never been unfaithful, neither tells him the truth. Nina believes their lives have been good; but Ned says good-bye, leaving Nina with Charlie.
The fascinating voice-over enables us to understand better how each character's thoughts and feelings differ from their outward behavior and speech. Thus we can penetrate their psyches and hidden motives, making the gap between hopes and reality stark.