SUSAN LENNOX-HER FALL AND RISE
1931 MGM

Directed by Robert Z. Leonard.
Screenplay by Wanda Tuchock from the novel by David Graham Phillips.
Dialogue by Zelda Sears and Edith Fitzgerald. 
Photography by William Daniels. 
Edited by Margaret Booth.
Release Date: October 10, 1931.
Running time: 84 minutes.

CAST: Greta Garbo, Clark Gable, Jean Hersholt, John Milj an, Alan Hale, Hilda Vaughn, Russell Simpson, Cecil Cunningham, Theodore von Eltz, Marjorie King, Helene Millard, Ian Keith.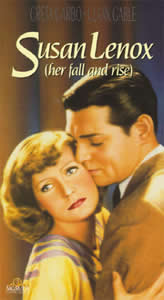 SYNOPSIS: A brutal farmer named Ohlin (Jean Hersholt) wants to marry his illegitimate daughter, Helga (Greta Garbo), to a low-class wealthy farmer, Mondstrum (Alan Hale). In order to escape the undesirable marriage, she runs away and comes upon the mountain cabin of an engineer, Rodney Spencer (Clark Gable). He hides her from her angry father and they fall in love. When Rodney leaves for work, Helga's father returns to the cabin and she flees again.

When night falls, she manages to get aboard a carnival train. In order to stay with the traveling show she has an affair with the owner, Burlington (John Miljan). She finally gets away from the carnival to find Rodney, who learning of her affair rejects her. She changes her name to Susan Lennox and with the money she's saved, she buys new clothes and becomes the mistress of a rising politician, Mike Kelly (Hale Hamilton). But when his enemies find out, his career is mined and he forces her to leave.

All hope gone, she takes a boat to South America to look for Rodney who has continually rejected her. She finds him down-trodden and working on a jungle construction project. He refuses to believe that she has changed. But when she has a chance to leave with a rich man, Robert Lane (Jan Keith), and elects to stay with Rodney, they are reconciled and begin a new life.

REVIEWS:

Richard Griffith: Susan Lennox approaches an honest treatment of the male response to the streetwalker heroine; and Miss Garbo does a superb job in bringing this type of female to the screen, alive and running with and afoul of our due sympathies. She more than betters the able performance of her rugged co-star, Clark Gable, who shines under stress but occasionall lapses into moments of amateur play-acting.

Variety: Once more she [Garbo] achieves an acting effect by means that baffle while they provoke interest. Teaming with the great Garbo, of course, marks the peak of Gable's vogue. The picture is good for the reason that it covers a lot of ground and refreshes the eyes with circuses, cabarets and the like while our minds are resting. It is good because Mr. Gable is excellent as the king of job who is Rodney.

London Film Weekly: Garbo makes up for a great deal [of the picture's weaknesses] by a clever study in alternating moods, while Clark Gable gives a strong, if straightforward, performance as her lover. Even though a bit scrappy and unsalatable, it is worth seeing for the acting and personalities of the leading players The novel on which the film is based was written in 1917 by David Graham Phillips, who was shot some years later by a crank who objected to his treatment of women in the book. His work aroused a storm of protest in America.
Movie Mirrors: This film portrays the troubles a woman goes through to find the one man she loves.
After her mother died when she was born, Helga (Greta Garbo) is brought up by a father who does not want her. He orders her to marry Mondstrum (Alan Hale). When he tries to force himself on her even before the wedding, she runs away in the rain and is taken in by the young engineer Rodney (Clark Gable). She cooks breakfast for him, and they go fishing. As she helps him pack for a business trip, it is apparent they have fallen in love. He promises her the ring her mother never had. Found by her father, Helga refuses to go back, running away again, this time on a train. She is introduced as Susie Lenox and gets a job in a carnival. When Mondstrum comes looking for her, her boss hides her in his compartment. She has been writing to Rodney, and eventually he comes to see her but is jealous of the way the boss treats her. He throws the ring down in disgust and leaves. Though she hated men before (except for Rodney), now Susie decides to enjoy them.
Lovesick Rodney gets fired for being drunk and causing a cave-in. Susan has risen into high society and has secretly arranged for Rodney to get a lucrative contract. As she is hosting a fine dinner party, Rodney says she has "accepted the protection of a shady politician" and storms out. That night Susan decides to leave the politician and look for Rodney; but he has gone away. After traveling to many cities Susan is working at a saloon in a jungle port. A rich American invites her to go on a cruise with him; but she says only one man means anything to her. She finally meets Rodney in the saloon and tells him how she worked her way to find him and that she has been refusing all men. She says she'll do anything for him, while he drinks and tries to take her crudely. The rich man intervenes and asks her to marry him. Rodney tells her he has been trying to forget her in the jungle and drink. She asks Rodney to leave with her, saying there is a "bond of hurt" between them. He has doubts, but in the end she promises, "I'll make you believe in me."
This mostly sad but romantic story enables the audience to experience the longing and difficulties experienced by a romantically ideal woman (Garbo) and man (Gable). He wants her to be faithful only to him and almost ruins his life when her life's challenges do not allow that purity. Her perseverance and determination in spite of great difficulties is admirable and finally rewarded, bringing emotional resolution.