POSSESSED
1931. Metro-Goldwyn Mayer

Directed by Clarence Brown.
Screenplay adaptation by Lenore Coffee, from the play, The Mirage, by Edgar Selwyn.
Photography, by Oliver T. Marsh.
Release date: November 29, 1931.
Running time: 76 minutes.

CAST: Joan Crawford, Clark Gable, Wallace Ford, Skeets Gallagher, Frank Conroy, Marjorie White, John Miljan, Clara Blandick.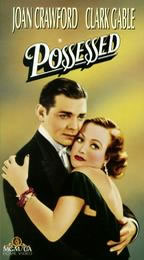 SYNOPSIS: An employee in a box factory, Marian Martin (Joan Crawford), determines to make a better life for herself, and resolutely refuses the proposal of Al Manning (Wallace Ford), a cement worker in the same factory. She runs away to New York, where a friend, Wally Stuart (Skeets Gallagher), introduces her to Mark Whitney (Clark Gable), a wealthy young lawyer who has a political future. After several engagements, Mark realizes he is in love with Marian, proposes to her and they are married. She insists, however, that it be kept a secret until she can educate herself to fill the position of his wife in the proper manner.

The night they are to announce their marriage, Travers (Frank Conroy), the man responsible for a large part of Mark's political success comes to their apartment. He tells Mark it must be kept secret for at least another month because Mark is being groomed for a political job of great importance and their enemies will start a whispering campaign against him concerning the sudden marriage. Mark says he is through with politics and that his wife's happiness comes first. After Travers leaves, Marian refuses to let Mark sacrifice his career and pretends that she has been insincere in her love and plans to marry Al Manning, now a successful contractor. Mark believes her, tells her to go and takes up the political campaign for governor.

At a large rally some hecklers interrupt Mark to ask about Marian, and he is so shocked he can make no defense. But Marian, who is in the audience, rises and makes a wonderful speech, insisting she is not in his life any more and that he belongs to the people, and turns the murmurs of disapproval into a rousing demonstration of good will. She rushes out of the auditorium during the uproar, but Mark finds her on the street, takes her in his arms and says he might win and he might lose, but whichever way it goes, it will be with her.

REVIEWS:

Film Daily: This man, Gable, that we've been watching for little over a year has come a long way from his villain roles. His performance suggests that he may become a solid actor. A personality he already is; but so much talent - . . will take him a good deal farther than just good looks.

Variety: Gable again is the stiff, cold-blooded, manly leading man. Since graduating from gangster parts he has failed to register any strong emotion. Happy or sad, it's always the same Gable. Only when the script calls for a snarl or for him to slap Miss Crawford in the face, to calf her a 'little tramp and, to tell her to scram, did anything register on the Gable horizon. One Variety sobbie said that in Gable's face there is cruelty. So maybe that's what they like.

Mordaunt Hall, The New York Times: Through Clarence Brown's able direction, handsome settings and fairly well written script, Possessed is gratifying entertainment. . - - Miss Crawford adds another excellent performance to her list and Mr. Gable delivers a performance that is nicely restrained.
My Review: A wonderful Crawford/Gable picture. Their love story is very believeable. I read somewhere that they shoot this movie at the height of their affair. No wonder they show such affections in the movie. The story is so sarcastic. A young working-class girl headed to New York and met a rich lawyer. She later became his Mistress. It's sort of a slap on the face for the working girls. No matter how much brains Crawford has, she still has to rely on a man to become rich and be successful. In this case, she meets a guy who falls in love with her, but in essence, it points out the irony of the Crawford dream.



Movie Mirrors: In this adaptation of Edgar Selwyn's play The Mirage a poor worker goes to New York and finds a wealthy lawyer, who will not marry her.
Cement-worker Al Manning (Wallace Ford) wants to marry factory-worker Marian (Joan Crawford); but wanting a better life, she turns him down. A rich man on a train gives her champagne and his address in New York. Tipsy, she argues with Al and then goes to New York, where the man turns her out. She manages to meet the wealthy lawyer Mark Whitney (Clark Gable). She says she is looking for a rich man, and he invites her dinner.
Three years later Marian is ordering food in French and commanding servants, but Whitney does not want to marry her because of the scandal of his first marriage. She's had three years of precious gifts and happiness, pretending to be the divorced Mrs. Moreland. At a party she is embarrassed when a married rich man brings his mistress. Marian knows all the reasons why Whitney won't marry her. She says coldly, "A woman can do anything and get anywhere as long as she doesn't fall in love." Al calls on Marian and tells her in contracting he has increased the investment of the money Marian has been sending her mother. Al gets turned down by Marian again, but Whitney promises him a letter of recommendation for the government contracting job. Al tells Whitney he hopes to marry Marian, and she takes Al to Coney Island.
In Whitney's apartment Marian overhears some men ask Whitney to run for governor, but he must give up Mrs. Moreland. Whitney says he plans to marry her; but they do not like that idea, suggesting he marry her off to someone else. So Whitney declines to run. Marian pretends to come in from outside and asks for the rules of conduct for employees. Whitney asks her to marry him, apologizing for making her suffer for his previous bad experience. Marian tells Whitney that she never loved him, and she is going to marry Al. Whitney does not believe her, calls her a tramp, and tells her to get out. She leaves and cries. Whitney runs for governor, and Al and Marian decide to marry until she tells him the truth. Al says he doesn't want her but panics when he realizes he may lose the contract. Whitney gives a campaign speech on prison reform. Leaflets are dropped asking, "Who is Mrs. Moreland?" Marian stands up to say that she is nothing to him now and walks out, crying. In the final scene Whitney goes to her and embraces her.
This story shows the double standard that disgraces single women more than single men for a love affair. Conflicts between love and ambition and also between different social classes are explored.