THE PAINTED DESERT
1931 Pathe

Directed by Howard Higgin.
Original screenplay and dialogue by Howard Higgin and Tom Buckingham.
Cameraman: Ed Snyder.
Editor: Clarence Kolster.
Release date: January 18, 1931.
Running time: 80 minutes.

CAST: William Boyd, Helen Twelvetrees, William Farnum, J. Farrell MacDonald, Clark Gable, Charles Sellon, Will Walling, Guy Edward Hearn, Wade Boteler, William LeMaire. With Cy Clegg, James Donlon, Richard Cramer, George Burton, James Mason, Brady Kline, Jerry Drew, Hugh Allen Adams.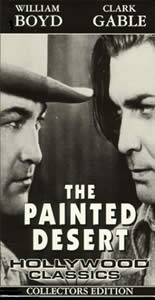 SYNOPSIS: A baby is found in an abandoned covered wagon on the desert by two old prospectors, Jeff Cameron (J. Farrell MacDonald) and Cash Holbrook (W/illiam Farnum). Both want to adopt the infant, but Cash takes the baby from Jeff. This causes a rift between them and their resulting feud is carried on for over thirty years, for Jeff never lets Cash forget. Jeff and his pretty gun-toting daughter, Mary Ellen (Helen Twelvetrees), keep Cash's cattle from the waterhole at the point of a gun.

The foundling grows up to sturdy manhood and is known as Bill Holbrook (Bill Boyd). After returning from an Eastem engineering school, he dedicates his life to patching up the quarrel between the bitter old men. Also he falls in love with Mary Ellen. With his engineering knowledge he decides to mine tungsten to become wealthy and then resolve the feud by marrying Jeff's daughter.

In wooing Mary Ellen, Bill has to contend with Brett (Clark Gable), a young tough in town who is also a suitor for her hand. Brett plays on the feud in order to aid his case and finally resorts to dynamiting Bill's mine. Upon discovering Brett's involvement, Bill forces a showdown and emerges vidorious, and also wins Mary Ellen. The subsequent wedding brings Cash and Jeff together again and they are reunited.

REVIEWS:

Film Daily: He [Clark Gable] wasn't a very good cowboy but the lady fans liked him. His brutish mannerisms were appropriate to the role.

Hollywood Reporter: The picture is filled with lovely views of mountains and the grim stretch known as the painted Desert. Toward the end there are a number of effective scenes of a mountainside crumbling under the impact of a dynamite charge set by an unsuccessful suitor (Clark Cable) for Miss Twelvetrees' hand to destroy Bill's mine ... Much of the dialogue is unconvincing and serves chiefly to slow up the action.

Variety: Of the pictures three featured people, Helen Twelvetrees contributes much toward its superiority over other Westerns. She's a name now in the first-runs, which can't harm this non-first runner. William Farnum's presence, in grey hair, should attract some old-timers. Bill Boyd was handed one of those honest, but misjudged hard-riding hero parts that less experienced others often grapple with. Boyd just strolls through and nothing more was necessary -Director Howard Higgin moved his players carefully through the great outdoors in such a way that they didn't take too much away from some excellent camera views of the fantastic beauty of the bleak California desert.

Photoplay: You'll like this Western, which makes no pretenses other than entertainment. It's far above the average, with Bill Boyd (uh-huh, the movie actor), as just the sort of virile guy he does best, and J. Farrell MacDonald and William Farnum, swell as two old Westerners who quarrel but almost kiss and certainly make up. Helen Twelvetrets is the girl. You'll find it a nice show.
Movie Mirrors: Two friends quarrel over a found baby, starting a feud over water that is finally settled when the child grows up and develops a mining business.
Jeff Cameron (J. Farrell MacDonald) and Cash Holbrook (William Farnum) find a baby boy in a wagon at a deserted waterhole. They can't agree on a name, and Cash takes "Bill."
A generation later Jeff has not given water to Cash's cattle, as he and his daughter Mary Ellen (Helen Twelvetrees) prepare to defend it. Rance Brett (Clark Gable) asks Jeff for a job so he can get a horse. Cash brings his cattle to the waterhole, but his son Bill (William Boyd) drives them off to prevent a fight. Bill shows Cash tungsten ore that could be mined on Jeff's land, and he asks Cash to help him with money. Cash raised Bill and sent him to mining school; but he won't make up with Jeff and tells Bill to leave. Bill calls on a hostile Mary Ellen and Jeff. Bill explains about the ore and says both Jeff and Cash are wrong for hating. Jeff agrees to go in with Bill, because he found him. Mary Ellen apologizes to Bill, and Bill says she and Jeff will have money and that Cash is a kind man.
Men work the mine and bring in the first load. Mary Ellen goes to school in town with the wagons; but some of the wagons are taken. Tex is shot but manages to tell Bill it was Cash's men. Bill takes seven tons of ore into town in order to pay the bank. Mary Ellen was worried about Bill, and they schedule a wedding for four o'clock. Jeff learns that dynamite was stolen, and explosions cause the mine to cave in. He sends Rance to tell Bill the mine is out of business. Cash is blamed, but he recounts the story and says he didn't do it. Cash offers his bank account to Bill, and Bill gives half his share of the mine to Cash. Now Cash can water his cattle at Jeff's well. So Jeff rejects Bill for selling out to Cash. Bill hits Rance for causing trouble and forces him to confess to all the wrong-doing. Not having heard this, Cash and Jeff shoot at each other, both hitting Bill in between. In the final scene at four o'clock Bill tells Mary Ellen they will be late at the courthouse.
This story shows how the hostility of a western feud can go on for a long time until a young intermediary they both value can bring the opposed sides together. Best friends had become worst enemies because of their stubborn resentment. Fortunately the next generation had better attitudes.