LAUGHING SINNERS
1931 MGM

Directed by Harry Beaumont.
Screenplay by Bess Meredyth, from "Torch Song," a play by Kenyon Nicholson.
Dialogue by Martin Flavin.
PhotoRraphy by Charles Rosher.
Edited by George Hively.
Release date: September 5, 1931.
Running time: 71 minutes.

CAST: Joan Crawford, Neil Hamilton, Clark Gable, Marjorie Rambeau, Guy Kibbee, Cliff Edwards, Roscoe Karns, Gertrude Short, George Cooper, George F. Marion, Bert Woodruff.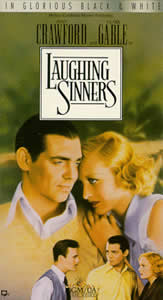 SYNOPSIS: Ivy Stevens (Joan Crawford), an entertainer, is given the brush-off by a traveling salesman, Howard Palmer (Neil Ham i/ton) - Her life is pulled out from under her; she feels that all purpose in living is gone. She is befriended by a Salvation Army worker, Carl Loomis (Clark Cable), who tells her that she must believe in God and leads her to the mission. She joins the group that goes singing on streets.

While singing in a hotel, she notices Howard in a poker game sifting with a slut named Edna (Gertrude Short). Howard has since gotten married and Ivy pleads with him to be faithful to his wife. He palms Edna off on Cass Wheeler (Guy Kibbee) - Ivy wants him to see the light as she has. When the group sings a ribald parody on a sacred hymn, she, with Howard's help, drives them out of the room. Now that they are alone, Ivy gives in to Howard, and sleeps with him. In the morning she hates herself. She only wanted to help Howard. God cannot be proud of her anymore. Ivy becomes hysterical and begins screaming, bringing everyone, including Carl, into the room.

When Carl enters, there is a hush. Howard clears the room and he and Ivy tell Carl what has happened. She tells him to find another girl for her uniform; it doesn't fit anymore. But rather than give her up, Carl turns his back on the Salvation Army. Leaving the past behind, he 6nds real happiness with Ivy.

REVIEWS:

The New York Times: New leading man Clark Gable is rather unconvincing as the savior of fallen Joan Crawford, who is better than usual in a film that is less than average in its overall scheme. It doesn't live up to its publicity.

Photoplay: Adapted from the stage play The Torch Song and not so good, but if you're a Joan Crawford fan you may like it. Clark Gable, as a Salvation Army worker, causes Joan to go straight after Neil Hamilton, the cad who does her wrong. Hamilton's work is splendid in a dirty-dog role. The title came out of a grab-bag.

Film Daily: Better than average screenplay with Neil Hamilton giving the outstanding performance. As a cad of a traveling salesman, he is quite strong when the moment of truth demands it. The Salvation Army worker, Clark Gable, doesn't have the high moments that Hamilton does, but is more consistent, however average. He has done better. So has Miss Crawford.
Movie Mirror: This morality tale of a jilted dancer who joins the Salvation Army is based on the play Torch Song by Kenyon Nicholson.
Ivy (Joan Crawford) has been the lover of traveling dress salesman Howard (Neil Hamilton) for two years. Not having seen him for two weeks, she joyfully greets him at the train station; but he can only spend two days with her. She is obviously very much in love with him. While she is singing him a torch song in the night club where she works, he is figuring out how to leave her because he is getting married. At a friend's suggestion he just writes her a note on a menu and disappears. Two months later she is stopped from jumping off a bridge by Carl (Clark Gable), who wears the uniform of the Salvation Army. He invites her to their picnic the next day; she shows up and enjoys helping the children and getting to know Carl, who found this life after he spent two years paying for his wrongs.
The Salvation Army has another attractive young woman named Edna. A year later Howard meets her and is going to take her out when he sees Ivy in uniform. Thinking she would only join such a group if she were down and out, Howard offers to help Ivy; but she is not interested in what a married man has to offer on the side. Later Carl and Ivy talk things over, and he says goodnight. Howard calls her and discovers she is in the hotel room next door. She says she does not want to meet him but reluctantly opens the door. He says he wants her back and gradually re-awakens the old feelings in the woman he used to call Bunny; she follows him into his room and spends the night there. In the morning Howard is called out by friends to revive a girl they got so drunk she is unconscious. The drunk older salesman Cass Wheeler (Guy Kibbee) gives Ivy liquor, and she starts dancing. Carl comes in and is horrified by what he sees. Ivy says that she is going to go back to her old job and that the part of herself that is Bunny can no longer be repressed. Carl loses his temper and hits Howard in the face. Then he tells Ivy that we all stumble; but after we fall, we have to get up and go on until we find ourselves. Howard makes fun of this sermon, but in the end Ivy is seen back in uniform walking with Carl.
This story attempts to take on the prejudices of usual movie audiences to groups like the Salvation Army. Ivy herself has a low opinion of them at the start, but a glimpse of the helpful work they can do for the poor and those who need help changes her mind and may reach a few hearts in the audience as well. Surely this is a better choice for her than being used occasionally by a married traveling salesman. One hopes that once the hurt of that affair is healed, she'll probably find a more healthy relationship.