A FREE SOUL
1931 MGM

Directed by Clarence Brown.
Screenplay and dialogue by John Meehan
based on the novel by Adela Rogers St. John.
Photography by William Daniels. Edited by Hugh
Wynn. Release date: June 20, 1931.
Running time: 91 minutes.

CAST: Norma Shearer, Leslie Howard, Lionel Barrymore, Clark Gable, James Gleason, Lucy Beaumont.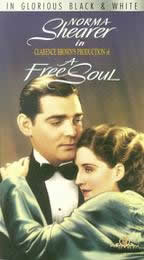 SYNOPSIS: Stephen Ashe (Done! Barrymore), brilliant criminal lawyer, is generally disapproved by his family for his drinking and unconventionality. When drunk, he brings Ace Wilfong, (Clark Gable), gambler and underworld leader, to his mother's (Lucy Beaumont) birthday gathering. Being unwelcome, they leave, together with Jan (Norma Shearer), Stephen's motherless daughter.

Jan becomes Ace's proud mistress. When Ace wants to marry her, Steve refuses to let him, saying that it would be no life for his daughter.

During a raid that night, while trying to hide, Steve discovers Jan and Ace together. She agrees not to see Ace anymore if he will stop drinking.

But Steve cannot stop and Jan goes back to Ace who has changed and has become brutal. He tries to molest her and Dwight Winthrop (Leslie Howard), Jan's ex-fiance, interferes. Winthrop kills Ace and is arrested.

Frantically, Jan gets her father to save Winthrop. When Steve realizes what anguish he's caused Jan, he confesses to the murder of Ace and is gunned down by one of Ace's mob. He dies with a prayer for forgiveness and the happiness of Jan and Winthrop.

REVIEWS:

New York Herald Tribune: Clark Gable is a fascinating villain who will convince the female customers that he is naughty but nice. Although not as prominent as Leslie Howard in this photoplay, he does stand out in one's mind as the major character. His acting, however, is nowhere on the same level as the superb Mr. Barrymore. Mr. Gable would do well to sit back and take a lesson.

Motion Picture Herald: Clark Gable and Leslie Howard are both grand. The story concerns a modern girl, brought up by her clever but erratic father to do exactly as she pleases- to be a "free soul." She pleases to have a sordid affair with a gambler, whom she discovers to be a cad.

London Film Weekly: Both Leslie Howard and Clark Gable were relatively unimportant players, at the threshold of their subsequent fame . It marked Lionel I3arrymore's return to the screen as an actor after a long period of direction..
Movie Mirror: Based on a novel by Adela Rogers St. John, who also wrote a biography of her famous lawyer father, Earl Rogers, this story portrays an alcoholic lawyer and his free-spirited daughter.
Supplied with liquor by his friend Eddie (James Gleason), Stephen Ashe (AA-winner Lionel Barrymore) manages to get gangster Ace (Clark Gable) off on a murder charge by using a hat trick. At the 80th birthday celebration of Jan's grandmother, Dwight (Leslie Howard) announces his engagement to Jan Ashe (Norma Shearer), Stephen's daughter. Ace comes in and is snubbed by the society family for being a gangster, but Jan goes out with him. They survive a drive-by machine-gun shooting, and Ace takes her to his secret gambling club and residence. Jan tells Dwight she does not want to marry, and Ace summons Stephen Ashe to his club, where he tells him he wants to marry his daughter. Jan acts coy with Ace, not saying she will marry him but fawning on him. As the place prepares for a raid by the police, the drunk Ashe complains of chips being taken from him. He discovers Jan there and calls her cheap and Ace a rat. Jan has refrained from criticizing her father's drinking, but now she promises not to see Ace if he will stop; he agrees.
Jan, Stephen, and Eddie go camping in Yosemite valley. After a week Stephen is regretting he made a bargain for a mobster, but after three months he feels great. On the way back though he gets drunk. Jan is turned away by her family and has only Eddie. So she goes to see Ace, who angrily says they will get married in the morning and tells her to forget her father. Offended by his insensitivity, she leaves. Dwight visits Jan's grandmother, who tells him to marry Jan and dies. Ace pushes aside Eddie and orders Jan to marry him, but she says no. Dwight comes in, and Ace tells him she has been staying there and belongs to him, threatening Dwight if he interferes. In the next scene Dwight goes to see Ace and shoots him dead; then he calls the police and confesses he did it over a gambling debt. Jan visits Dwight in jail, saying she loves him and hates herself. She finds her father among the drunks, and he manages to take up Dwight's trial defense at the last moment, pleading that he was temporarily insane. He calls Jan to testify how Ace made threats. In his dramatic summation Ashe pleads for the noble Dwight and then collapses. In the final scene Jan and Dwight are talking as though they will meet in the future.
This strong story based on real people reveals the dangers of addictive alcoholism, gambling, and mob violence, all criminalized and made worse by prohibition. Unfortunately murder is not much of a solution to these problems. Even Jan has lost her innocence succumbing to Ace; but she seems to have learned from her experience, and the audience can too.





Detailed Summary:
With her films supervised by her brilliant husband, Irving Thalberg, who was head of production at M-G-M, Norma Shearer had the pick of story properties at that studio. When a novel by Adela Rogers St. John, A FREE SOUL, attracted her attention, Thalberg assigned it to her. In it, she plays Jan Ashe, a modern San Francisco girl who has been brought up in an atmosphere of freedom. She is motherless, but her father, Stephen Ashe (Lionel Barrymore), whom she adores, is a famous criminal lawyer. They are both free-thinking rebels. Stephen has just proved his courtroom genius by freeing Ace Wilfong (Clark Gable), a gambler and underworld character, from a murder charge.

Stephen has one great fault: drinking. He is drunk when he brings Ace to his mother's home for her birthday party, where Jan is waiting with her fiance, Dwight Winthrop (Leslie Howard). The aristocratic Grandma Ashe (Lucy Beaumont) is appalled by her son's lack of taste in bringing someone like Ace into her home and lets Stephen know that Ace is not welcome. Stephen, already more than half drunk, says he will leave too, and Jan, in a sudden spirit of rebellion, leaves with him and Ace, even though it means the end of her engagement to Dwight Winthrop. Ace is flattered by Jan's attraction to him, and they have an affair. He is very attracted to Jan, and she has never known another man quite like him. Ace goes to Stephen to ask Jan's hand in marriage, and he is amazed and angry when Stephen will not give his consent to the marriage. Stephen tries hard to convince Ace that he is no husband for his daughter.

When Ace's gambling den is raided, forcing Stephen to take refuge in Ace's private quarters, he discovers Jan in a negligee with Ace. She is ashamed and goes away with her father, who realizes that in his drunken way of life he is debasing his own daughter. He makes a bargain with her: if she will agree not to see Ace any more, he will give up drinking. They go away to the mountains together on a camping trip, and for the first time there is hope for both of them. When Stephen returns to San Francisco, however, he begins drinking again, and Jan, realizing that there is no point in her keeping her part of the bargain, goes back to being Ace's mistress.

Ace, triumphant, turns brutal, and Jan contemptuously leaves him, returning to her ex-fiance, Dwight Winthrop. One night when they are together, they encounter Ace, who boldly tries to molest Jan. Although she fights him off, Ace is relentless, causing Dwight to draw a revolver and shoot Ace. Dwight is tried for murder, and Stephen defends him in a brilliant courtroom scene in which he says that it is not Dwight who should be on trial, but he himself, who is guilty of allowing his daughter to associate with a "mongrel" like Ace. He asks the court to free Dwight and judge him for the act of murder. His speech is so impassioned that he collapses and has a heart attack, dying in his daughter's arms. The jury frees Dwight, and Jan turns to him for consolation, acknowledging that it is he that she truly loves.

A FREE SOUL was Norma Shearer's seventh all-talking release at M-G- M. Her films were all modern stories, ranging from stylish dramas to drawing-room comedies, and all styled to make her "First Lady" of M-G-M. She had won the Academy Award for Best Actress in the year 1929-1930 for THE DIVORCEE, and that same year she also earned a nomination for her work in THEIR OWN DESIRE. (It was a practice in the early years that actors could be nominated more than once in the same year.) She was nominated again in the year 1930-1931 for her role as Jan Ashe in A FREE SOUL, but lost to Marie Dressler in MIN AND BILL.

Top honors went to Lionel Barrymore in his role of Stephen Ashe, for which he won his only Oscar. It was a popular award; his was a brilliant performance, much admired, especially in its day. Adela Rogers St. John based the character of Stephen Ashe on her own father, Earl Rogers, an attorney who was notable for his ability to take over the courtroom like a star about to give his finest performance. He seldom lost a case, and the courtroom was always packed when he worked. Rogers, like Stephen Ashe, was a very free soul, also well-known for his drinking exploits. William A. Brady had presented a play version of A FREE SOUL on Broadway by Willard Mack, with Mack in the role of Stephen Ashe and Kay Johnson playing Jan Ashe. In 1953, M-G-M filmed a new version of the story entitled THE GIRL WHO HAD EVERYTHING, starring Elizabeth Taylor, with William Powell playing Stephen Ashe. It played well and might have been more successful had there not been many viewers around who still remembered the electricity of the 1931 version.