_________________________________________________________________________

24 HOURS MOBILE NOTARY SERVICES - APOSTILLE - LANGUAGE TRANSLATION
_________________________________________________________________________

Apostille Service: Spanish translation, certification of your documents with Apostille, Courier service, Same day rush service available. We speak Italian, Spanish too
Mobile Notary Public Signing Agent Services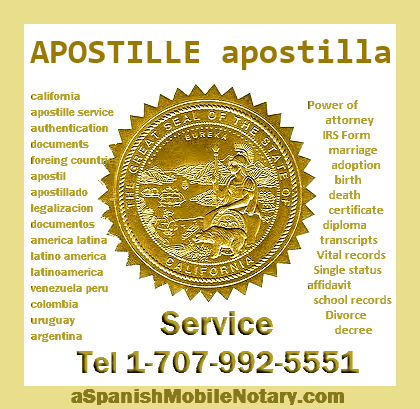 Call or text me to make an appointment.
Same-day appointments possible and last minute notary requests are welcome.

Department of Motor Vehicles Transfer
401K, 403K, Retirement
Permission For An Adult To Travel With A Minor
Legal, Personal and Business Contracts
Promissory Notes
Grant Deeds,Quit Deeds, Notes
Conditional Waivers, Lien Waivers and Unconditional Waivers
Acknowledgments, Jurats, Affidavits
Wills Prepared By An Attorney Only
Spousal Divorce Settlements Arrangements
Insurance Theft, Settlements
Power Of Attorney Health Care Directives
Domestic Partnership Health Insurance and much more.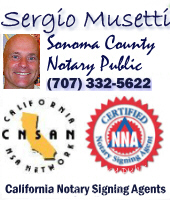 MOBILENOTARY.HOMESTEAD.COM


aSpanishMobileNotary.com
CaliforniaMobileNotaryNetwork.com



NOTARY PUBLIC APOSTILLE APOSTILE TRUST WILL LIVING TRUST REVOCABLE TRUS DEED RECORDING DEED OF TRUST POWER OF ATTORNEY SIGNING AGENT LOAN SIGNING AGENT SAN FRANCISCO BAY AREA MOBILE NOTARY TRANSLATION CERTIFIED TRANSLATION SONOMA COUNTY NOTARY NOTARY IN SANTA ROSA COTATI ROHNERT PARK PETALUMA SEBASTOPOL WINDSOR HEALDSBURG NOVATO SONOMA SECRETARY OF STATE APOSTILLE SERVICES CALIFORNIA NOTARY NOTARY REPUBLIC SIGNATURE NOTARIZE NOTARY SERGIO MUSETTI NOTARIUS NOTAR HAGUE CONVENTION LAST WILL AND TESTAMENT LEGAL DOCUMENT ASSISTANT LDA REGISTERED LEGAL DOCUMENT ASSISTANT SF NOTARY NOTARY IN PENNGROVE NOTARY IN PETALUMA NOTARY IN SANTA ROSA NOTARY IN ROHNERT PARK DOWNTOWN NOTARY PUBLIC FREE NOTARY HOSPITAL NOTARY SPANISH NOTARY ITALIAN NOTARY AUTHENTICATION FREE ADVICE NOTARY STAMP NOTARY AD NOTARY UPS LOCATION NOTARY FEDEX BEST NOTARY AFTER HOURS NOTARY PUBLIC EVENING NOTARY PUBLIC
California Mobile Notary Network, italian, spanish, espanol, italiano, apostillado, apostilla