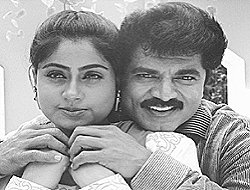 A big-budget but rather simple-minded action movie.
After a few clips showing the history of war in India, culminating with the nuclear explosion at Pokhran, the scene shifts to the US, where highly placed officials, worried that India is becoming a super power, have got together terrorists from several countries. The terrorists then congregate in TamilNadu.
The Indian Government learns of these infiltrations and forms a special task force under former BSF soldier Hariharan(Sarathkumar) to bring them to book. The group also consists of policewoman Gayatri(Vijayashanti), who also happens to be Hariharan's lover.
Among the terrorists, one girl joins a local college and befriends a muslim classmate. Another man sets up shop in a coastal fishing village. What their plan is and how Hariharan and co. disrupt it forms the rest of the movie.
The start doesn't inspire a lot of confidence. A war between the BSF and terrorists where the explosions are so obviously special effects, a blurred shot of the White House and a cardboard setting of a downtown skyline to indicate the US and a meeting of criminals and officials who are almost cartoonish - these do not constitute a promising start to a big-budget, action flick. But Selvamani (director of Pulan Visaranai and Captain Prabhakaran but struggling these days to regain his touch) does get better as the action moves to TN. He succeeds in maintaining the suspense as to what exactly the terrorists are upto while showing them going through with their plans. And the plan itself, when revealed, doesn't seem too illogical. But silly sequences like an elaborate escape sequence lifted straight from 'Silence of the Lambs' and a policewoman cavorting in skimpy outfits to capture one of the terrorists tell us that Selvamani has aimed rather low.
Sarathkumar romances, fights and does what's expected of him. Vijayashanti struggles in the so-called fight sequences inserted, I guess, to maintain her status as an 'action-queen'. A big-name actor(his name is shown only when he is introduced. So I'm not going to break the surprise here) plays the head of the terrorists. Ilaiyaraja comes up with another disappointing soundtrack.