FAQ
Frequently Asked Questions: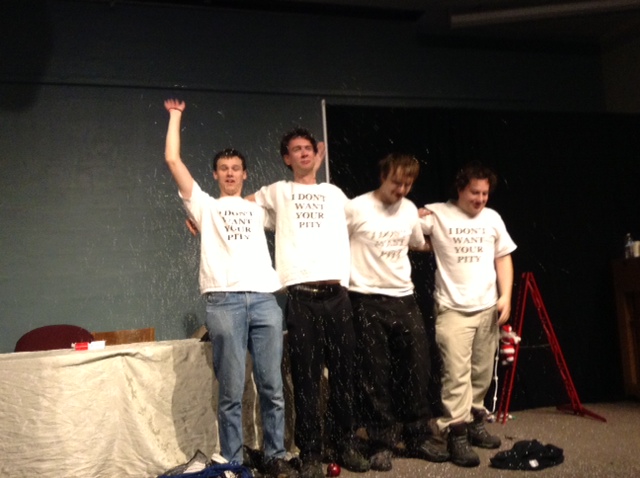 Q1. How can I book the troupe for a performance?
A1. Contact us! We only perform in seated venues with a backstage, stage lights, sound system, and someone to run those last two for us. We always need enough to cover travel, and, if we can't find a place to stay for free, enough to pay for two motel rooms. How much extra we need will vary depending on our schedules and whether we're on tour already, so make us an offer and we'll talk.

Q2.What is your show like? I'd like to book you at my autism program/school.
A2.The only time our show might reference autism directly is during the Q&A at the end. Otherwise, we're just there to do comedy. But, if you want to pay us to do a different sort of presentation, where we talk about our experiences with autism, we're open to it, as long we agree with your organization's philosophy. Get in touch!

Q3.I liked the songs I heard in the documentary. Where can I hear more of Noah's music?
A3. http://requestfreebird.bandcamp.com, http://aclubenefit.bandcamp.com, and http://www.facebook.com/requestfreebird, as well as Spotify, iTunes, and Apple Music.

Q4. I'd like to screen the Asperger's Are Us documentary (or I want to express an opinion about the documentary), who do I talk to?
A4. Alex Lehmann made it, with some help from Mark Duplass. You can contact Alex at http://www.facebook.com/aspiecomedydoc.

Q5. Is Noah's "This is not what a Feminist Looks Like, Feminists are not Shirts" shirt available for sale?
A5. No. He is not making any more because too many people assumed there was a self-righteous message behind it, when in reality it's just a very literal pun referring to the shirt, not the wearer. Even if you interpreted it the correct way, you don't want to wear it because most people you meet will still interpret it the wrong way. But if you're dying for one, just make it yourself (don't sell it though!). The troupe sells other shirts

Q6. I just want to say you guys are so inspiring and heartwarming and adorable!
A6. We're not here to inspire you or to be adorable, we're here to make people laugh. If you aren't laughing at our jokes, we don't need to hear from you.

Q7. What was the name of the camp where you guys met/can you recommend some resources for my child with autism?
A7. The name is a secret. But for other services.

Q8.What was your connection to The Accountant?
A8. One of the producers of the documentary about us sent a rough cut to the director of The Accountant, and he and Ben Affleck watched it for inspiration, while making The Accountant. They never consulted us, but instead chose to consult with a terrible organization run almost entirely without the input of autistic people. We haven't seen The Accountant and don't know if it's accurate.

Q9.What is the story of your troupe's name?
A9. In 2010, a guy who is no longer in the troupe suggested a sketch about a toy store that only sold toys for autistic people. We thought it wasn't a funny idea for a sketch, but Noah suggested using the toy store's name for the troupe (though, first, he changed the spelling to "Are"). Noah's only reason for this was that it was the only name he'd heard any of the troupe members mention that included our diagnosis, and he wanted fans to know what to expect: Autistic comedy by autistic people. If we had it to do over again, we might choose a different name, just like every other comedy troupe. We were totally surprised by neurotypicals' subsequent assumption that our name meant we were either self-deprecating or educational. Their mistaken assumption inspired the blind man sketch. We almost changed our name last year, but the impending release of the HBO series meant it would be too confusing, so we appear to be stuck with this until we disband again.

Q10. Can I (or my kid) join your troupe?
A10. We're glad you like us, but would you ask The Rolling Stones this question? Start your own thing! Or go find people on one of the countless Aspie groups on Facebook.

Q11. Are you touring with the RV this summer?
A11. We never had an RV, but Duplass Brothers Productions sold the RV they bought to drive us around at the end of that tour. Our upcoming tour will be via car (U.S.) or public transit (Europe).

Q12. Where can I get the Mozart shirt New Michael made (visible in episode 1)?
A12. It is for sale on his Etsy.

Q13. Are your live shows like what I saw in the TV series (or movie)?
A13. Not really. Documentaries don't really give you the feeling of watching a show, they give the feeling of watching people watching a show. Watch our videos if you want good comedy.

Q14. Where can I hear Jack singing Homer's Odyssey?
A14. On our album

A15.It's a cliff hanger.