Effort announced to get writer Isaac Asimov on a Postage Stamp
Fan wants noted multi-genre writer to take proper place with O. Henry, Hemingway, Dorothy Parker, Ayn Rand, Hawthorne, Melville, Parker, and Saroyan.
Cleveland, Ohio (IPS)-A local fan announced today that he is beginning an effort to have the United States Postal Service place the picture of noted science, religion, and science-fiction author Isaac Asimov on a commemorative postage stamp.
Speaking on the condition of anonymity, the fan said that "...it's about time the Postal Service commemorated more contemporary authors in their Literary Arts series of stamps. After all contemporary subjects like "Star Trek" and "E.T. The Extraterrestrial" are on postage stamps [in the Celebrate the Century series], why not a more contemporary author too?"
---
Hi there! If I were writing a press release about what I'm trying to do it might look something like the one above (of course, it's been a while since my high school journalism class!).
It's been said that one can tell a lot about a country and what is important to it and it's citizens by just looking at the postage stamps that are printed and used. The various images illustrate history, culture and rulers of that country. In America, that means the flag (as it has progressed from 13 up to 50 stars), Presidents & signifcant historical events and anniversaries. Through the years, the Postal Service has added more and more topical stamps to its yearly line-up, from adding Christmas stamps in 1962, adding Hannukah in 1996, Kwaanza in 1997, and Lunar (Chinese) New Year in 1992. Events commemorated range from the voyages of Christopher Columbus to spaceflight and man's first steps on the moon to the amazing space images taken by the Hubble Telescope.
Among the ongoing postage stamp series the Postal Service has been issuing (i.e.-Christmas, Love, Black Heritage, etc.) is the Literary Arts series, first issued in 1979. The very first subject was John Steinbeck. Since then, other noted authors featured have been Edith Wharton, Nathaniel Hawthorne T. S. Eliot & Ayn Rand (see the full list below).
| Year | Scott's # | Subject |
| --- | --- | --- |
| 1979 | 1773 | John Steinbeck |
| 1980 | 1832 | Edith Wharton |
| 1983 | 2047 | Nathaniel Hawthorn |
| 1984 | 2094 | Herman Melville |
| 1986 | 2239 | T S Eliot |
| 1987 | 2350 | William Faulkner |
| 1989 | 2418 | Earnest Hemingway |
| 1990 | 2449 | Marianne Moore |
| 1991 | 2538 | William Saroyan |
| 1992 | 2698 | Dorothy Parker |
| 1994 | 2862 | James Thurber |
| 1995 | 3002 | Tennesee Williams |
| 1996 | 3104 | F Scott Fitzgerald |
| 1997 | 3134 | Thornton Wilder |
| 1998 | 3221 | Steven Vincent Benet |
| 1999 | 3308 | Ayn Rand |
| 2000 | 3444 | Thomas Wolfe |
| 2002 | 3659 | Ogden Nash |
| 2003 | 3748 | Zora Neale Hurston |
| 2004 | 3871 | James Baldwin |
| 2004 | 3882 | Moss Hart |
| 2005 | 3904 | Robert Penn Warren |
| 2006 | 4030 | Katherine Anne Porter |
| 2007 | 4124 | Henry Wadsworth Longfellow |
| 2009 | 4386 | Richard Wright |
| 2010 | 4476 | Julia De Burgos |
| 2011 | 4545 | Mark Twain |
| 2012 | 4705 | O. Henry |
| 2014 | 4866 | Ralph Ellison |
| 2015 | 5003 | Flannery O'Connor |
| 2016 | 5105 | Henry James |
| 2019 | 5414 | Walt Whitman |
I would like to put forward the suggestion that noted author Isaac Asimov be so honored with a postage stamp of his own.
Those of you who are familiar with Isaac Asimov do not need to be reminded of the quality and the quantity of his works. Those of you who are not, please consider the following facts: Dr. Asimov wrote well over 400 PUBLISHED books. This does not include short novels, novellas, essays, etc. And the subject matter was very eclectic, including (but not limited to): Science-Fiction, Religion, Math, science, mystery, fiction and non-fiction. The word prolific was created just to describe Dr. Asimov's output.
The "Foundation Trilogy", written very early in his career, is considered by many SF fans as the single greatest piece of science-fiction story telling of all time, spanning over 500 years of galactic history. This does not count the two prequels and two sequels written later in his life.
---
To those of you interested in seeing Dr. Asimov commemorated on a postage stamp may write to:
CITIZEN'S' STAMP ADVISORY COMMITTEE
c/o Stamp Developement
475 L'Enfant Plaza SW
Room 5670
Washington, DC 20260-3501
Here is a little advice if you plan to write a letter:
1) Please be polite. We would like to project a positive image of SF fans in general and fans of Dr. Asimov in particular.
2) Keep your letter brief and to the point
3) Send letters, not petitions (Petitions might be counted as one letter no matter how many signatures are on them)
We, the fans of Dr. Asimov, would like to present the image of being civilized, rational, reasonable people. Do not not be disappointed if you don't get an answer or get a form letter in reply. Also, a follow up letter to the editor might also be sent to your local newspaper. If you are a member of s Science Fiction fan club pass the word on to your fellow members. Print this information in your newsletter. Post this website on your blogs. SPREAD THE WORD!
Thank You,
STnM
---
For those of you who are not acquainted with Dr. Asimov, or for those of you who are but desire more information, please check out the link below.
---
Postscript 11/13/2017-I've had this web page for quite a few years (almost from the inception of Yahoo!Geocities ® since it started out as a sub-page of my main SF page) combining two of my hobbies, SF and stamp collecting. I never really knew (or suspected) what kind of an impact that I had until I ran across this editorial by Gordon Van Gelder (editor of "Fantasy & Science Fiction" magazine). For those of you who haven't read it, you can click here to read it. A similar editorial written by Mr. Rober Silverburg appeared in "Asimov's Science Fiction" magazine (no longer posted online). While I cannot thank Mr. Van Gelder and Mr Silverburg for their words about my website (since it is only mentioned in passing in both instances), I can thank them, albeit belatedly, for my 15 minutes of Warholian fame. The editorials are more devoted to the qualifications that we all feel make Dr. Asimov (Ike to his friends) deserving of the honor of philatelic commemoration. I am not likely to give up this any time soon, since I was one of the many 'Trekkers' who helped to get ST on a postage stamp.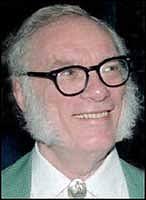 ---
Opinions expressed here & coding of this page is © 2017-2021 M. A. Sopko. I am not affiliated with the USPS, Scott's Publishing, the Citizen's Stamp Advisory committe, the estate of Isaac Asimov, any science fiction/fantasy magazine, publication or publisher, fanclub, etc. The editorial linked here is © 2004 Gordon Van Gelder/"Fantasy & Science Fiction" magazine and is linked here with permission.