The Star
The Official Newspaper of the American University in Kyrgyzstan
January 2001 - Volume 4. Issue 1
---
---
ICP Creates a Credit-Like System, Classes Worth 136 Points
By  Lola Ibragimova, Second year, International Relations 
            Starting this semester there will be some changes in the point system in the International Relations and Comparative Politics Department. Instead of 68 points IR students will receive 136 points for each ICP course they take. Each ICP course will be counted as 4 pairs. Two of them are regular classes and the other 2 pairs are so that students can stay in the library and study.
            The cause of such changes, as explained by the Head of the ICP department William Hansen, is that IR courses are very demanding. They require much outside reading, and work. Mr. Hansen claims that this allows students to teach themselves. "The role of us as teachers is only to facilitate the process of learning and complement the classroom experience," he said. IR students taking 10-11 courses each semester, detract themselves from the educational experience, argues Mr. Hansen. By taking far fewer courses they will be able to put in more effort and learn more. Of course professors of the ICP department have much more expectations with regard to the work that each IR student will perform. Mr. Hansen says that every student of IR will have to study 2-3 hours per week for each course outside of the classroom. Moreover, the load of the readings is much heavier. Now it is about 70-80 pages per week for each ICP class.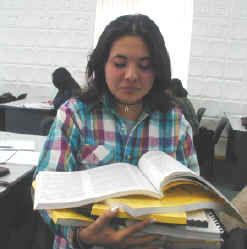 "Of course what we have is not a credit system," says Mr. Hansen, "all we did is just double the number of points. What we did is preemptively moved towards a credit system". Relatively speaking, 136 points for our IR courses are about 3 credits. 
            The attitude of students towards these changes did not vary greatly.  Most of them agreed that they like the changes. Some freshmen's first reaction was negative because they wanted to take more classes but were restricted, yet now it seems like they are able to focus more on what they study instead of rushing around all the time.  Sophomores and juniors were much more enthusiastic and had difficulties finding negative sides of the new point system at all. Overall, however, ICP students pointed out that they still run out of time and can't read all of their readings. Some relate it to the immaturity of the students arguing that some of them just need to be forced to do something. Others connect it with the idea that they are not used to studying so much on their own. They are easily distracted from reading by other things. The distractions varied from partying, to checking e-mails and engaging in the dialogs with other students passing by.  
            All respondents agreed that the credit system, if fully implemented, will eventually work in all departments, yet the major obstacle will not be students but teachers who might follow the new system using old Soviet methods of teaching. 
---
Camilla Dushebaevna's New Appointment
 By Kontantin Sudakov and John Atwood
            Camilla Dusebeavna is no longer Provost of AUK. She had to leave the position when she accepted Askar Akayev's invitation to be Minister of Education and Culture of the Kyrgyz Republic. This does not mean that Camilla has fully left AUK. «I am here and I am not here,» she said in a recent interview with The Star. Camilla continues to teach at AUK and plans to attend all events and ceremonies.  Camilla still feels very strongly about AUK and will probably return when her position at the ministry ends.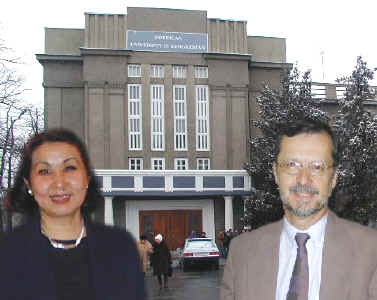 Camilla's appointment came as a shock to both her, and AUK. After talking it over with her family Camilla called President Huwiller late at night to inform him of her appointment. «I was stunned. I couldn't imagine AUK without Camilla,» said Huwiller. At first Camilla thought that she would not take the appointment. However after considering, she decided to take it. «In the long run it is probably in the best interests of Kyrgyzstan and of AUK,» said Dr. Huwiller. He seemed upbeat about the possibilities that having Camilla as Minister of Education and Culture would bring. «I can't think of anyone better than Camilla to serve in this role,» he said.
            As Provost, Camilla was responsible for the day-to-day operation of the university. Her tact, experience, and personal poise allowed her to do so well in that position.  «There is no way that we can replace her. No one can play the role she played,» said Dr. Huwiller. As a result Camilla is on a leave of absence. Dr. Huwiller and Martha Merrill and other staff members will take over the duties that Camilla was responsible for. They still communicate regularly with Camilla.
             Camilla's appointment opens up many new opportunities for Kyrgyzstan.  She is well known as a reformer who demands excellence and does not tolerate corruption of any kind.  Under her leadership, perhaps AUK and other institutions in Kyrgyzstan will be given the opportunity to offer world-class educational opportunities.
             Camilla's appointment is a big change for Kyrgyzstan. If Camilla can make half the changes she wants to, Kyrgyzstan will be a much better place. The Star would like to extend our sincerest congratulations to Camilla and wish her well in her new position.  
---
Computer Department: 'We are going to make all of you happy!'
 By Roman Yumatov.
             Nowadays the whole University is waiting for new changes in the Computer department. But since students and staff have no official information about it, there are rumors going around. In order to clarify the situation we interviewed the Co-chairman of the Computer department, Nancy Leland.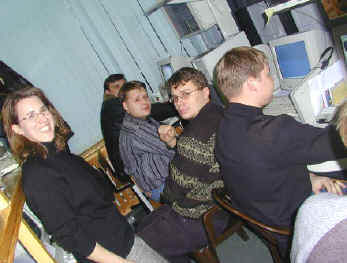 First of all the time that students use the computers will be regulated. Every student will have 2 hours per day to work on a computer and it doesn't matter what in particular he /she is going to do. The position of Computer department was agreed upon with the President of AUK. Every student will have the right to use a computer for any purpose, including chatting, Internet surfing and not necessarily academic purposes. The computer department feels that students are responsible for their own time management. If chatting or Internet surfing or things like that will be banned it will be viewed as non-democratic attitude towards students. 
            Students will pay for printing. The reason for this decision is the budget, which was planned for the whole academic year, has been used up during the first semester. For example, a student, after printing 50 pages found a mistake in his paper and then he re-printed the whole paper. Nancy Leland also suggested two solutions to this problem. First, students will not pay for anything and we will be out of toner, because there is no money in the budget at all. The second one is to pay for a toner (for instance, 300 soms per semester) or for a paper (about 2 soms per sheet). Or the Computer department will give us a particular number of pages that can be printed per month. Those who want to print more will pay for that. 
            As far as Lab hours are concerned they will not be changed and even increased during the exams period. 
            In conclusion, Nancy Leland said that all students are encouraged to ask questions and give their comments (including both positive and negative) about the new system of the Computer department. The main point is that there are not going to be permanent changes. It is just an experiment.  If students will be satisfied with it (that's why they should give their comments directly to the Computer department and not to the labs assistants and especially right to the President's office or high Administration) it will be working after the experiment time will be finished. The main purpose is to choose the best policy for the AUK Computer department. The department is always in cooperation with the President, the Student Senate and directly with the students. The main problem, as Nancy Leland added, is that students always go right to the high Administration to talk about their troubles related to computers. That is not right, because our Computer department wants to work in cooperation with the students. Its purpose is to help all of them to become successful and not to limit them or create obstacles for them. 
---
Canceled Classes Cause Registration Headaches
By Medina Aidarova
            When I came back from vacation this semester, many of our students and teachers seemed to be discontented.   The reason was that many classes were canceled and students couldn't find any other elective classes to replace them. I looked at the list of the canceled classes and saw that the Service, Law and Business departments had the biggest number of canceled classes. The head of the Service department S. Sclyar said that the budget was based on the registration period.  Because of that the department has no right to open any other classes. Basically, there is no money for them. As for shaping, for example, there are a lot of students who didn't get registered on time and who want to add it now.  I asked Mr. Sclyar why so many classes were canceled in his department and he answered that it was because classes with less than 10 students were canceled. Many of the classes were math electives. Students tend not to be that interested in them. It was something like tryouts for math electives this semester and almost none of them succeeded.
             I interviewed Toktobaeva Chynara Toktomyshevna, a French teacher, about this issue. She teaches French grammar and Practical French. Even though these two courses were offered separately, students were supposed to take them both at the same time. The French Grammar class remained because there were 10 people who signed up, though her Practical French was canceled. There were only 9 people who signed up. In the beginning of the new semester there were 6 more people who added this class. So there are 15 people in the class now, and the canceled Practical French was never given back.
             ICP professor Chad Thompson pointed out that the policy from the 3rd floor excluded elective courses taught by CEP lecturers. He agreed that it would not effect the budget if CEP professors taught a course because of the way a CEP professors contract works.
             According to sociology professor Madeleine Reeves under the policy of 10 people in a class Sociology would have very few electives since it is a small department to begin with. The Sociology department got the administration to let them teach classes with more than 7 people. Although the administration allowed the smaller classes Miss Reeves noted that there was still pressure to cut down the number of elective courses.
             I talked to the head of the Business Administration department Tatiana Filipovna Parfenova. She strongly stated that the canceled classes had nothing to do with the budget problem. Classes were canceled because of the policy about 10 people in the class and because some of the courses offered would be more popular in the fall.
             The last interview was taken from Mrs. Merrill and Mr. Huwiller. I asked Mr. Huwiller to tell me why so many classes were cancelled. He started with the background from which I've learned that every semester the administration checks the budget planed for a year. When they checked the budget for this semester they realized that there was not enough money to fund all the classes. They had too many classes with 3, 4, 5 students. If they left this situation alone AUK would be in a huge amount debt by the end of the year. Consequently, they decided to eliminate unnecessary classes that wouldn't damage students too much. They tried not to hurt students and made the policy of 10 people in a class. Mr. Huwiller noted that it was their fault and they will try not to make the same mistake again. Next semester everything will be fine. This is the only semester where we will have this problem. Mr. Huwiller said that the administration will watch out for these types of problems from now on.
---
By Anisa Afshar
            More than 60 AUK staff gathered in the CH, on January 24th to create AUK's very first staff union. Mr. Hansen, Amanda Wooden, and Olga Zalesskaya organized the gathering. The meeting started with a brief introduction by Mr. Hansen about the functions of the union and about the purposes of this union: to represent and protect the interests of AUK's staff, to determine a procedure for hiring and firing of the staff, and to contest all arbitrary dismissals. 
The president of AUK, Dr. Huwiler, asked Mr. Hansen to form a staff union, which will represent the interests of the AUK staff. The Union contains all the non-teaching, non-administrative staff of AUK.  This includes the cafeteria workers, the librarians, the computer staff, the secretaries, the cleaners, and the extra-curricular activates staff. The union contains 86 people according to the registrar's office. All of them, excluding the assistants of the president and the provost, were invited to the meeting.
As a result of this one and half hour meeting, the AUK staff chose 12 delegates, which will be the coordinators of the Staff Union. The secretaries got 3 delegates: Asel Kyrgyzbaeva, Bermet Jakjrbekkyzy, and Venera Abyshkaeva. The cafeteria workers got 2 delegates: Clara Osmanalieva, and Irina Zinchenko. The cleaners got 4 delegates: Nikolai Burnaev, Olga Zalesskaya, Vitali Lapshin, and Leonid Savin. The computer staff got 1 delegates: Valeri Starejikin. The staff of the personnel, finance, registrar, and medical offices got 2 delegations: Rustam Khairullin, and Zarina Shapakova. The librarians and the extra-curricular activates staff did not come up with any delegates. 
The delegates will meet regularly once and week. Mr. Hansen offered, "Amanda and I will work along with you, if you wish". He was asked to take the position of chairperson. He rejected saying, "This is YOUR union". The coordinating committee will meet once a week. Their very first task will be to write their agenda.
"In one of my previous lives I was a union organizer. I have organized unions when one could be easily shot for doing so", said Mr. Hansen. After the union meeting was over, he smiled with a relief: "It was the easiest union work I ever did".  Yes, the meeting went fine and the organizing was not difficult but there are other factors to consider. What Mr. Hansen has initiated is certainly necessary. The unions work might be challenging seeing as it is difficult to get people around here to object to the authorities.
---
The Journalism Department, About to Make Curriculum Changes
 By John Atwood
            Students and teachers of the Journalism Department agree that the department needs to be changed. Currently the curriculum is an ad hoc mix of courses with a light emphasis on literature. Many courses are redundant and could be easily combined with other courses. Only a small portion of the courses would give students the theoretical background that is central to the department's goal of training media specialists who would be able to work as journalists in print or electronic media, public relations specialists, advertisers, and marketers.
 In the past the department did not really control the direction of the curriculum and the number of classes offered. People would submit proposals for elective classes that they wanted to teach. Most of these proposals were approved without second thought. As a result of this policy the department has many part time teachers who come, teach a class, and then disappear. There have been very few full time teachers to see that the curriculum did not become too big and scattered.
             This scattered, disorganized approach has taken a toll on students moral. Students regularly get good grades without turning in all of their assignments. "We hardly did anything," said Zima. This creates bad habits among students. Evangelia Papoutsaki, who teaches Writing Skills II, has a hard time getting students to turn in their assignments. This is an even greater problem since Ms. Papoutsaki's teaching style involves analyzing student's work in class. Much of her time is spent listening to student complaints about their teachers and classes. Most of these complaints would not be necessary if students showed responsibility.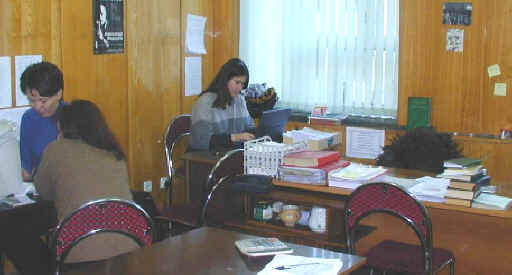 The head of the department, Evangelia Papoutsaki, and Svetlana Kulikova, and Eleonira Alexandrovna are currently the department's only full time teachers other than Ms. Papoutsaki. Together they are currently working on a new curriculum to go into effect as soon as next semester. The new curriculum will feature such courses as International Communication, Political Communication, Modern Russian Journalism Mass Media and Society, Mass Communications Research, and. Students will be specialists of communication, able to understand and utilize all types of information. After getting a firm grounding in the intellectual aspects of mass communication students will be able to take practical courses in their specialty. The new curriculum will most likely result in a reduction of time students spend in class and an increase in time that students spend doing independent studying, writing, and practical work. Luckily these changes come at a time when the whole university is changing to the credit system.
            Making all of these changes is a thankless job. Evangelia Papoutsaki is currently the head of the Journalism Department. She is a visiting CEP lecturer and is volunteering as department head. She receives little or no encouragement and support from the university's administration. Her colleagues are sometimes slow to let her know what is going on and to share information with her. Despite these setbacks Ms. Papoutsaki continue on with a smile and a good sense of humor. There have been noticeable changes in the department already. Teachers have office hours so that students can come and get consult with teachers. With Ms. Papoutsaki's help The Star has grown in membership, size and quality. 
---
By Anisa Afshar 
On Friday, 26th of January 2001, students of the AUK met Monica O'keefe, wife of the US Ambassador to Kyrgyzstan, who gave a lecture on the topic of making US foreign policy. 
Mrs. was born in Baltimore, Maryland. She got her BA in Sociology from Carlow College in Pittsburgh.  Her diplomatic career began with the Assistant Cultural Attaché in Philippines, 1986 to 1989. Then she served in Belgrade, Yugoslavia, as the Assistant Press Attaché, till 1992. In 1996 she went to Moscow to serve as the Assistant Cultural Attaché. In 1998, she returned to the US and worked in the State Department on Human Re sources and on the consolidation of the US Information Agency with the State Department. Mrs. O'Keefe came to Bishkek in September 2000, taking a year leave, accompanying her husband, John O'Keefe, The US Ambassador to Kyrgyzstan. In August 2001 she will be going to work in Almaty as the chief of the Political Economical Section of the US Embassy in Kazakhstan.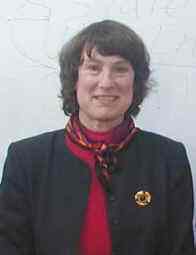 The meeting began with Dr. Huwiler's introduction of Monica O'Keefe's political background. The meeting was then focused on the US foreign policy and the ways which it has being shaped.  Mrs. O'keefe explained the role of the House, Senate, the President, and the public opinion on the US foreign policy.  "American foreign policy take will of its people", said Monica O'Keefe at the end of her speech.  Students then were given the chance to ask her questions related to the topic.
This speech was part of a series of speeches from distinguished professionals who can contribute to the AUK students' knowledge. The plan of having such series of speeches is being initiated by Dr. Huwiler. It is hoped that there will be such speeches at least once a month and the scope of the speeches' topics will include all AUK programs. It means we will have speakers who are economists, businessmen, lawyers, psychologists, diplomats, and etc. I, personally, find this plan fascinating. It not only enables the students to accumulate their understanding of what they study more profound and earthy, but it helps them to begin thinking of their future career.  
            The Star was given a chance to have a short interview with Mrs. O'Keefe, which was focused on few personal non-political questions.    
 ·   What do you think of the AUK students? AUK students are great, brilliant, curious, ask intelligence questions, and have inquiry minds.  
 ·   What do you think of student newspapers like the Star? Student newspapers give students a chance to work on journalism and, improve their writing skills, and pose good questions!
  · What was your impression of Kyrgyzstan? It is a friendly place, with hospital people.
  · What is your message for the AUK students? "You have a great university. Keep up to good work".
            P.S. It is possible that Mrs. O'Keefe will conduct a follow up speech on the US foreign policy. Keep watching the notes on the walls!
---
By Ilgiz Kambarov
       On the 25th of January, Thursday, there was a concert in CH, which was given by a young Rock band. The members of the band were from several states such as Colorado, California, Pennsylvania, New Jersey, Hawaii, and Chicago.
       Before arriving in Kyrgyzstan they weren't playing in one band. This band joined together to give concerts to people and became united here in Kyrgyzstan. The members of the band are not professionals, however some of them are very experienced. Our Christian club, "Alpha & Omega", invited them. They are young guys whose hearts are devoted to God and Hard Rock. There are about twenty missionaries but only four of them were singing and playing on stage. The handsome and slightly crazy guys tried in many ways to entertain our students.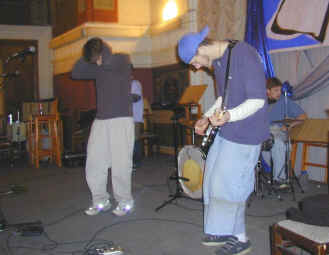 The main purpose, according to a representative from Alpha & Omega (BA 197) says, was to make fun show for AUK's students.  But unfortunately few students came to the party to jump and shout along with the music. Most of them were very busy with their papers and presentations. Most of the students who came to watch that performance did not come into contact with the band and were just standing around looking at the extra members of the group jumping and pushing each other. People had a hard time trying to make out what they were singing about and were expecting something much different. The atmosphere itself seemed to be mind-numbing, boring, and not well organized, even though the extra members of the band were hanging out and having a great time listening to the crazy Hard Rock.
            There was a group of people whose tastes in music matched the band's type of music.  Those people were so excited and even joined the jumping and grooving crowd in front of the stage.  They didn't last long because they are probably not accustomed to such crazy hanging out so they gave up and decided to walk around and get to know as many Americans as possible, there were many of them around.
             However, some people liked it, and some people did not. The band tried their best. The main reason why some students did not like it was that the genre of music was very different from what they were used to. Unfortunately few students like such kind of music that's why so few students went to the concert.  It is a matter of taste.  Most of the students would rather listen to mild rap rather than hard rock.
            As one of the leaders of Alpha & Omega said, "last year it was more interesting when the Rock Band "Torn" came. There was good organization and presentation. The style of music was different".
      Any way we are glad that we have such kind of shows occasionally and we always welcome them. We hope that in next year we will have more fun, and more people will come.
---
By Anisa Afshar.
            Cheers and greeting! I am pleased to tell you that The Star has been changed, enlarged, and refreshed! Our dear Zima and Sergey left us and headed to the AUK TV Production club, but we got 10 new staff members, which are 100% motivated running around AUK hunting for new stories! You wanna know them?!
Roman
  (MM 100 in progress

à

PSY 100)
1- Introduce yourself in one sentence:  The most unconscious and naive human being in the earth.
2- What was your first impression of The Star? Brave and troubleless guys and girls, forever enthusiastic!
3- Why did you decide to join The Star? Because it's name is the same with what I am!!!
4- Is The Star seems different from within? Well, when I became a member, I recognized that these guys and girls are not always smiling and enthusiastic, because… because they are HUMAN BEINGS (as I am!), despite they are future journalists!
5- What do you think you will contribute to The Star? Am-m-m… my ideas/ thoughts/ comments and … my SYMPATHY to all its members and readers!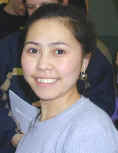 Jenny  (MM 100)
1- Introduce yourself in one sentence: I am a student of journalism faculty and I think it tells everything about me..
2- What was your first impression of The Star? My first impression was that the Star is a university newspaper but sometimes it is not interesting to the students of AUK. 
3- Why did you decide to join The Star? I want to try to make it more interesting to the students because I know what they really want to read in the Star. I will try to do it. 
4- Does The Star seems different from within? No.
5-What do you think you will contribute to The Star? I want to bring to it fresh news and everything that would be useful.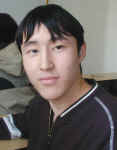 Elgiz
  (AAS 100)
1- Introduce yourself in one sentence: ilgiz, AAS..
2- What was your first impression of The Star? I said it is a good idea.
3- Why did you decide to join The Star? To ty myself as a journalist and have fun with new freinds.
4- Does The Star seems different from within? Yes, completely different. You make an article which takes long process and it is another way when you just read it!
5-What do you think you will contribute to The Star? New interesting articles, maybe ideas...
Medina
  (ASS 199)
1- Introduce yourself in one sentence: I am funky cool Medina...
2- What was your first impression of The Star? 
3- Why did you decide to join The Star? The Star was so bright that I had to follow it.
4- Does The Star seems different from within? Yes, it is dark and scary, like the inside of any planet. Just kidding.
5-What do you think you will contribute to The Star? The most boring and unnecessary info I could ever find.
Lola  (IR 199)
1- Introduce yourself in one sentence: Lola.
2- What was your first impression of The Star? A lot of enthusiastic people with bunch of ideas. Especially the new staff.
3-Why did you decide to join The Star? Actually I have been thinking about joining the Star for long time. I am glad I eventually did it.
4- Does The Star seems different from within? Yes, a lot of new people, a lot of work, and no money from the AUK administration.
5-What do you think you will contribute to The Star? I think I can contribute a lot of interesting articles.
Saodat
  (MM 199)
1- Introduce yourself in one sentence: Pretty Tajik girl at AUK.
2- What was your first impression of The Star? I liked it.
3-Why did you decide to join The Star? I wanted to experience how it feels like being a news hunter.
4- Does The Star seems different from within? Oh, yahh...
5-What do you think you will contribute to The Star? Huge smile.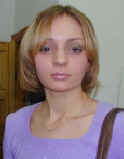 Galina  (MM 199)
1- Introduce yourself in one sentence: The most mysterious and clam girl in AUK.
2- What was your first impression of The Star? The staff of the Star did everything to make the issue interesting.
3-Why did you decide to join The Star? It's a good practice to write in a proper way.
4- Does The Star seems different from within? No.
5-What do you think you will contribute to The Star? Not ordinary and trivial way of writing articles.
Top
---
By Anna Kirey
            "Sveika, do you happen to have a key from the kitchen? I am new here. Man sauc Anna. I am from Ukraine but study in Kyrgyzstan."
                For a week already I have had to say phrases like the one above everyday. I feel a bit foreign especially because I decided not to reveal my knowledge of Russian. I am spending a semester in Latvia in the small town of Valmiera, which is 100 kilometers from Rīga (yes, long ī – Riiga). I spent three weeks here in the summer so it is not that unusual even though it is –10 degrees outside and I always have to remember not to use Russian unless it is an emergency, like when the shop assistant is giving me something completely opposite from what I was asking for in my vernacular Latvian.
The place is beautifully small, long main street with a couple of cars going back and forth, a couple of old churches, ruins of an old castle in the center, a couple of shops with friendly sellers who correct my weird Latvian, and the half frozen Gauja, the river that divides the town into two parts. The weather is nice compared to -17 in Russia where I was unfortunately had to spend a couple of days. My friends keep asking how I can survive this cold after Kyrgyzstan. The first couple of days I did not want to go outside but now it is quite ok.
The university is called Vidzemes Augstskola. Vidzeme is a region of Latvia. To Northern Europeans, Augstskola looks like a cross between a college and university. It is much more peaceful than AUK even thought there are less computers. They do not have lab assistants because people do not do bad things. Chats are prohibited and if you are caught in a chat you just pay a fine of 5 lats, about 9 $.
Classes start at 9 pm. The majority of mine start in the afternoon, much to my personal joy. My group smiled to that sentence. At AUK I overslept 4 mornings out of 5. The schedule is a bit strange. Upon my arrival it turned out that all my classes started in a week so I had a continuous vacation. My first class, the one my Swedish friends talked me into taking, was real fun because it was in Latvian. You might know that my knowledge of Latvian is slightly limited. I spent a wonderful hour and a half listening to a lecture on Corporate PR. And guess what. I understood 30 words and 1 full sentence. I had a bad cold and a running nose, which is always fun during lectures. The Swedes did not understand anything but took notes. Now I understand why I am not straight A student, I should always take notes.
            Ok, not to bore you with my numerous confusing adventures, I just want to mention a couple of things. First, so far all the students I have met, over 30, have been somewhere abroad for a semester, usually Northern Europe, but Spain and England were popular as well. Second, Latvians are very friendly to my Russian especially when I promise to speak fluently in a month. People of my age speak Russian with great difficulty and many mistakes. Older people in their 30s and 40s speak fluently.
            This is my small report on the first week in Latvia and I would like to ask you for some feedback, if there is any area of Latvian life in which you have a particular interest, please, let me know and I will find out for you. My new email is [email protected]. You are welcome to write at any time.
---
I Was a Foreigner In My Own Home
 By Jessica Buckingham
            I went home to Canada expecting my friends to be waiting for me with open arms. I expected them to be curious about my experiences in Kyrgyzstan, to be curious about my new friends, to be curious about the new me. In a matter of speaking, I was sort of a new person. I went home expecting a whole new home. On that had changed and learned with me, even though it was so far away.
            This was not the case. I landed in a place that looked like home. The sounds and smells were the same, there were the same buildings, street names and friends, with a few exceptions, and yet it felt as if something drastic had changed. Something intangible. I felt it all around but could not quite pinpoint it. I soon became frustrated with the same constant flow of the same topics of conversation, interests, and problems. And here I expected a changed land. It may have been ignorant of me to expect a change in my former environment. I had hoped for them some of the same kinds of truths and revelations I had been experienced.
            Home had remained a constant thing. Home had become for me a kind of a safe haven, a little piece of solace, geographical piece of mind. Regardless of that fact that I felt like a foreigner. I felt anxiety because of the events and feelings that surrounded me, confusion to be exact. I felt unable to connect with some of my closest friends because I felt and thought so differently. But I could always count on the fact that I was understood and never really lost, I was in a place I knew so completely I could relax for most of the time.
            I now understand that it was naïve of me to expect the same changes in my peers. I came here to accomplish my own goals and do my own thing, not to end up the same as my friends. So now home is for me a place where people of my past patiently wait for me, where I know the places, the language, things are simpler for me to understand, a true vacation spot. I now know that it is me who has changed, because home is not supposed to. 
---
By Konstantin Sudikov           
            A significant part of AUK is composed of FSA FLEX exchange program alumni, who have been to the States for a year studying in American high schools.  Alumni are all very active and they are representing one big group of people who do community projects.  Many things unite them and make them somewhat different from ordinary people of Kyrgyzstan.  The ACCELS office is the place for them where they reunite, spend time together having fun, and plan their projects—it's like the second home for them, equally as AUK is.
               Today alumni are faced with the fact that ACCELS now has a new director who came to take over the position of Todd Drummond.  Todd Drummond was like a spiritual advisor to the alumni, their main inspirer and a friend.  It was not clear if someone else could replace him fully.
Nevertheless, he's not there any more and a temporary director Garth Willis replaced him in September.  One day in December it has become known that the new guy has arrived finally.  There were rumors about how he looks, what kind of person he is, that he has a Kazakh wife and many other things.  No one really knew anything about him. 
His first day in the office was very exciting for the employees as it is always when a new boss starts working.  The first impressions of him were that he is a very handsome as in the sense of personal qualities guy, nice in conversation, he's always ready to listen to what you are going to say.  He possesses a great sense of humor that makes the communication process very easy.  His informality and the fact that he can be productive without being demanding assist him in his job.  But what's most important is that he doesn't make an impression that he is a boss there. 
To clear up any doubts or to destroy rumors here some information about ACCELS' new head.  The new director's name is Andrew Segars.  He came to Bishkek from Almaty (Kazakhstan), where he worked as an ACCELS program recruiter for five months but he's been in Kazakhstan for about two years in total. 
He has known Todd Drummond for about 9 years and he has known about Todd's position from their talks.  When a job announcement was posted, he saw it and applied for it.  He had to have an interview and submit his CV to Washington, D.C.  He also had to go to Moscow while applying.  Finally, he found out that was selected. His first thought was, "How am I going to tell my wife?"  The new appointment meant moving and moving is always problematic physically and psychologically.  However, there was a great deal of excitement about going to Bishkek. 
The first impressions of Bishkek were that it is much smaller than Almaty, for instance, it is quieter and cleaner as well.  Mr. Segars has emphasized the air in Bishkek—he said that it is very clean, fresh, and just unforgettable. 
Andrew Segars doesn't know for sure yet how this new job will influence his future life and career.  He graduated from the University of New Mexico. He then got a Master's Degree at the University of London in Modern Turkish Studies (so it makes sense that he is here).  His grand plan is to do a Ph.D. This work experience can greatly help in getting that degree.
The main concern for alumni is what kind of changes will there be soon due to a new head.  Mr. Segars said that he thinks the Kyrgyz alumni are very active and there aren't big changes or developments needed to make but he expressed a desire to set up a job database for FLEX alumni.  It is a very useful thing to have, speaking out of other regional ACCELS offices' experience.  He commented that almost every single organization should be contacted in the area.  They should receive information about our alumni and if they have any part-time or full-time positions they could easily employ alumni. 
Another point Mr. Segars has made was that alumni should have as many activities as possible.  "Alumni should continue big ideas for bigger projects!"  It is also expressed by the new head that more small regular meetings should be called.  That was basically all concerning changes or developments within alumni community. 
It has been already a little while since Mr. Segars is in Bishkek.  He is getting to know more and more of the alumni and he is getting more familiar with things in the ACCELS office in Kyrgyzstan and in Bishkek in general.  He is "very happy to be here" and is "looking forward to this atmosphere" of working with alumni and people of Kyrgyzstan.
---
 By Saodat Asanova
            Each year the American University opens up it's doors to hundreds of students from all over the world. Last year it started hosting foreign teachers as well. Currently there are high school instructors from Tajikistan. They came here through a grant from the Aga-Khan Foundation, which is already providing scholarships for ten other Tajik students at AUK. The Aga-Khan Foundation is a branch of Aga-Khan Development Network regulated by Prince Aga-Khan IV.
Prince Aga-Khan graduated Harvard University and has a huge legacy passed to him from his ancestors. Under his leadership many schools, highly institutions, NGOs were established. Funds for supporting economical and educational development in less developed countries and many other things were established. AKF operates in 25 countries including Tajikistan.
The aim of these instructors is to obtain a high level of English language and critical thinking skills that they can use in their hometown. As we found out from one of the teachers, Bahor Mamadbekova, they are planning to open a critical thinking course at the Aga-Khan Lyceum in Tajikistan. AUK is providing their best methods of training to try and help train the teachers, 22 classes of English and 32 classes of critical thinking. Despite the difficulty the Tajik teachers enjoy studying here and moreover they find AUK's environment very interesting. "The only problem we have is that since we're teachers ourselves and used to moving around the class in the position of students WE CONSTANTLY FALL ASLEEP," - said Khinzo Zavkibekova. Out of the class time they get a great chance to discover the priorities of this institution, make new acquaintances, and share their interests with the local people and students. "Many of us had training programs in other countries but AUK seems the best. People here are so hospitable and friendly that it feels like we're in the US itself"-says Saidnazar.  The teachers will be here for one more month and would be most pleased to help anyone who has a desire to build a broader worldview. So let's wish them good luck and the best time in AUK!
---
By Kadyr Toktogulov
At the end of the last semester AUK received a grant from the Open Society Institute (OSI). Our school received 70 more computers. This grant was expected to partially meet AUK's computer access needs. According to the head of the Computer Department, Nancy Leland, 18 computers will be set in room 207/old building, 42 computers, 11 in the computer lab, and the rest in departments, will be used by teachers, ten by the administrative staff.
As soon as students knew these figures, they started saying that this was an unfair way of distribution. "There are more students than teachers in this university, therefore we have to get more computers!" This is very true. But where would you place additional computers considering the shortage of space we've been experiencing for a long time now? Nancy Leland said that the grant proposal was submitted to the OSI in three variants: low, middle and high. The low and middle variants were written considering the current space problem. The high was written in hopes that this year we would get a new building so that there would be more rooms for computer labs. All the three grant proposal variants were prepared by Nancy Leland, Genadi Desyatkov, Andrei Simakov and Aleksey Koshev of the Computer Department, and finally approved by the President Huwiller. Nancy Leland said that if we had enough space for computers, then we would have got more computers for students.
Recently a senior journalism student, Almaz Rysaliev, published an article, which had been published in the Star before the New Year, in "Res Publica". In his article Almaz criticized the way the computers were going to be distributed amongst teachers and students. He was right in his article, but it was incorrect not to mention the space shortage at the university. It is not realistic now to get extra space for new computers. Nancy Leland said they had a hard time trying to get 207/old building ready for the few computers that were put there. One or two more rooms are hard to find.
It was also a priority of the President to provide the teaching staff with computers so that they can teach students on high standards. Before, the teachers used to have only 5 in the lab, and there are around 200 teachers excluding part-time teachers as they also have a right to use school resources so that they can teach excellently.
Let's not forget that students now use almost all the computers that the university got before now.
---
 By Konstantin Sudakov
            "…7 years in prison with property confiscation and deprivation of military rank 'general-leutenant'…" read the verdict for Felix Kulov, the leader of the political party "Ar-Namys", announced by the chairman of the Bishkek military court D. Ayjigitov on January 22.
            Kulov was accused of forgery, abuse of power, instigation and complicity in a crime.  This had been committed, according to the accusation, while Kulov was the Minister of National Security from 1997 to 1998.  Opposition stated that the accusation against the leader of the opponent to the government party "is nothing but political persecution".  This also was an opinion of Kulov's supporters who held demonstrations demanding his release.
            On August 7 of last year a Bishkek military court, with judge N. Ashimbek Uulu presiding, acquitted Kulov on all charges.  That court's decision made political analysts speak about a turning moment in the development of democracy in Kyrgyzstan.  "In the background of the president's power consolidation tendency in Central Asia the court decision carried an element of suddenness," said Michael Oaks, an expert on the former USSR of the Helsinki Commission.  That also was a surprise for western countries, which had been disappointed by the parliamentary elections earlier that year.  Kyrgyzstan seemed likely to recover it smirched image of a democratic country.  However, right after the verdict announcement, the General and military prosecutors appealed the court's decision.  As a result, the judge of the Military Court overturned the verdict.
             The next surprise about Kulov happened in November 2000, when the opposition leader held a press conference where he announced publicly of his drawing together with the government.  "Many people don't believe in fair elections in Kyrgyzstan and are ready for violence.  The strained situation in the country is in favor of extremism of any kind.  Therefore, our party decided to resist to the government but maintain calmness in the republic.  We will go much further if we will be cooperating with the authorities," Kulov said.  One of the main purposes of that decision was attracting investments to Kyrgyzstan from the West.  "Only with the maintenance of a democratic regime can we count on help of donor countries.  Without credits and investments the country cannot go on," he added.
            Nonetheless, some local newspapers expressed their suspicion that Kulov's cooperation with the government was just an attempt to avoid going to jail as a result of his court case.  The public was certain that the former opposition leader would be found not guilty again.  Therefore the recent court ruling in the case of Kulov was again a big surprise.  Kulov was arrested in the courtroom right after being sentenced and immediately taken to the National Security isolator.  His advocates said they would appeal the sentence in the Supreme Court of the Kyrgyz Republic. 
---
Democratization Process in Kyrgyzstan 
 By Abdrazakova Burul
            Getting sovereignty and the transition to democracy made many things in Kyrgyzstan to change. People are given the opportunity to speak out openly on the government and parliament's work and to criticize them. The codex of mass media's activity has been worked out. They are able to cover the negative and positive sides of authority and society. Holding pickets and meetings have become the norm. There are several non-governmental organizations, which are dealing with the protection of human rights. International organizations such as OSCE and NDI have been functioning to promote the protection of human rights and democracy in Kyrgyzstan. Political science has been included as a main subject in colleges and Universities.
However the authoritarian methods, which existed in Soviet times, still remain. Living by the principle "the teacher is always right," many undergraduates' rights are violated. For instance:
·      A teacher can give them unfair mark
·      Teachers can force students to vote for themselves, or somebody close to them, when they run for parliament or other supreme organs.
·      Teachers can conduct lessons improperly, being late for lessons, missing lessons or requiring from students more than.
·      Teachers fail students unless they give bribes.
All these factors influence young people, which is the strategic base of future. They are expected to continue the democratization of society, started by their predecessors. But these problems don't allow for further growth. Instead students end up facilitating the corruption of society, since they encounter many negative things, such as bribery, tribalism, etc.
            It is a well-known fact that when a student can't pass an exam he offers money to teacher or searches someone who could solve his problem. If he keeps the other point of view he must keep his mouth shut just not to be the enemy of teacher or be dropped from the college. Being outraged and humiliated by teachers is normally accepted. After graduation from the college they feel that everything is evaluated with money and connections and search for their own ways to continue this corrupt system. Because of this we have the idea of democracy only on papers.
            World practice shows that where corruption exists there will not be a stable economy. In the period of parliamentary and presidential elections many candidates in their pre-election programs promise to fight the corruption, develop the economy, provide medical and social assistance and many, many wonderful speeches were spoken out. All of them would be appreciated and get "excellent" if it would be the competition for the most beautiful speech. But in this case when the people's mentality is ill they should think about real problems and real ways out of this situation.
---
Will there be a happy end?  A look at Central Asia's Biggest Egotist 
By Mirdan Halilov            
              Before landing at Saparmurat Turkmenbashi International Airport of Turkmenistan, one can view a huge building in the midst of the Karakum sands. If you are lucky to pass the passport check without having to give bribes, you will notice that the airport is empty. There are fewer flights, and fewer clients to fly. The emptiness is taking over the whole country. For two to three dollars a taxi driver will take you to the city on the finest roads of Ashgabat, the capital of Turkmenistan.
One of the international newspapers compared the President's work to that of the Middle East kingdoms. He might want to build a welfare state relying on the oil and gas revenues. But his extreme personality cult and authoritarian governance proves the contrary.
S. A. Niyazov, having an electrical engineering degree from Leningrad Technical Institute, gained his fame in 1989, being elected the First Secretary of the Communist Party of Turkmenistan. He was able to stick to power after the dissolution of the USSR, and did not take the chance to continue the hard-line Soviet style politics until November 30, 1993. That is when his pictures began to appear in each and every newspaper of Turkmenistan. By crushing the opposition, and cracking down on the 1995 Ashgabat demonstration, he made sure that there is no one in the borders of the country who might create obstacles for him to reign by himself. December 28, 2000 marked the point when the National Council, that is authorized to amend the constitution, elected him as a life-long President of Turkmenistan. This was only the formal side of the matter, since he has been 'receiving' 99.9% percent of the votes in previous elections. The state-run propaganda machine has made sure to lessen the number of dissent at the moment, and providing a stable ground for his future, as it is very bleak for democratic development. Especially when every kindergarten child, every schoolchild, every university student, members of the Parliament, mass media, etc., have been reciting the following for a decade:
Turkmenistan, my beloved motherland,
my beloved homeland!
You are always with me
in my thoughts and in my heart.
For the slightest evil against you
let my hand be lost.
For the slightest slander about you
let my tongue be lost.
At the moment of my betrayal
to my motherland, to her sacred banner,
to Saparmurat Turkmenbashi let my breath stop.
            I have not been there for a year, and I expected more changes to come. He has built lots of monuments, fountains, squares, several more state-owned factories and plants, opened up a new TV channel, named 'Epoch of Turkmenbashi,' tightened the security control of the border regions and thus created more obstacles for people to move freely in their own country. No one can explain what use these architectural personality-cult concrete structures have, when around 4.5 million population lives in poverty. But the main sketch of his grand plan of dictatorship has become clearer only this January. He started paying all (about 12-14 thousand) students $20-40 ($80-160 – official 'non-existent' rate) stipend. This amount is an average salary in the country. So the catch here is that he is buying the elder by different social welfare programs, and the youth by paying them a student salary. A huge amount of the population is left out. Ex-prisoners will worship him too, as he has given amnesty to almost all of them. In a few years, Turkmenistan will not need any jails, as their lovely leader is directing them in the 'Golden Age of the Turkmen' his new brainwash gift to people. Of course, when these words are written in Russian, it says 'Golden Age of Turkmenistan,' since it is an absolute nationalist, or even maybe proto-fascist, claim in a country that hosts many different national minorities. At least, an intelligent person has done the translation.
---
Opinion by Merdan Halilov, Student Senate Chairman
It seems to me that you have used Kamilla Duyshebayevna's famous words, "Students are our clients," which consequently means, in your understanding, that student have the right to be rude, to present non-valid claims to teachers, etc. Well, you sound like someone who just came to AUK for the first time, although you have been here for quite a while.
First, you pointed out that some popular students of AUK pressure teachers to get A's, as they think that this is the only grade they deserve. Good, let them do it. It is your responsibility to act professionally and not let them influence you. If not, this is your own problem. It has nothing to do with democracy or freedom of speech at this place. Then you lead us to the questionnaire issue. Students take their revenge when they fill out the end of the year teacher evaluation sheets. Hello there! Who is it done for? If I am not mistaken the evaluation is needed for YOU, be it subjective or not, and once more this is your responsibility to read and understand such things for what they are, not for what they are not. You do not need to complain that anonymousness is the problem. If they go to the department and say that you are very subjective in grading, it is another chance for you to prove to your foes that you are THE PROFESSIONAL.  Your comment on the wrong use of the 'fourth power' is extremely preposterous. It is nobody's right to decide in whose hands lies the 'forth power.' But when I reached the point about the add/drop issue, I was shocked because of your attitude. You say that you do not like when students drop your classes without explaining the reason. But why should they have to do it? It is their business. If they want, they will explain. If not, it means that they did not want to do it, or did not want to have bad relations with you, since some of AUK's teacher might not like you if you drop their class.
            Moreover, the Registrar's request to get teachers' signatures to drop the course is absurd. Even the university's handbook says that you do not need to get the signature in the first add/drop period. I had a hard time arguing with them last semester.
I can go on and on with this, but there is no point in it. Students are AUK's clients and they do not mind having some improvement in teaching methods. It is not necessary to ask students, as you did, if they want to pay brides to get a higher grade, etc. This is a perfect place to prepare for the future. Students would not be hit by the harsh realities of life when they graduate from here, as you have said. AUK is a style of life, and we will do our best to have this outside of its wall too.
---
Letter To The Editor
By Mirdan Halilov
             In the last issue of the Star, Almaz Rysaliev mentioned my name in his article about the new computers that AUK got. He claims that I said that the Student Government is not doing anything concerning the equal distribution of computers. He has completely misunderstood my point. I said that we are unable, not 'not willing' to act on this issue. This is my first point. Secondly, I have told him then that AUK is receiving them as a grant, which means that applications were filled out to get them, these applications mentioned the number of computers and how they will be used. If it said 17 in the document, even the President of AUK cannot change this, not to mention the Student Senate.
---
We would like to announce the start of production of a new movie.
We are looking for a writer to produce a story (which we are going to turn into a screenplay), according to the following requirements:
It must be a thriller

It must involve AUK

It must be inexpensive
Please contact Zima at [email protected]
Or see Natalia in room 105 (Student Affairs Office).
The author of the chosen story will receive a credit in the movie and a prize from AUK TV PRODUCTION CLUB.
---
Êëþ÷êèí Àíòîí & Ïåñèíà Òàòüÿíà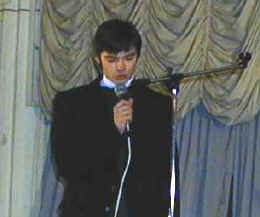 Âû çíàåòå ,÷òî òàêîå áåíåôèñ ? Áåíåôèñ – ýòî âûñòóïëåíèå îäíîãî àêòåðà, à  â ïåðåâîäå  ñ ôðàíöóçñêîãî—âûãîäà. Òàê âîò èìåííî òàêîå âûãîäíîå ñîáûòèå íàêîíåö ïðîøëî è â íàøåì óíèâåðñèòåòå. Ïðîøëî óïåøíî. Óðà .
            Ïåðâûì áåíåôèöèàíòîì â èñòîðèè íàøåé àëüìà-ìàòåð ñòàë Èãîðü Ìåíèíêîâ.
Åãî  âûñòóïëåíèå çàíÿëî â ìèíóâøèé âòîðíèê, 30-ãî ÿíâàðÿ öåëûé ÷àñ è, ðàçóìååòñÿ, ïîëó÷èëî ñâîþ çàêîííóþ äîëþ ... Áóðíûå îâàöèè. Âèäàòü íå îäíè ìû òàêèå… òàëàíòëèâûå.
À òåïåðü ñåðüåçíî. Äîáðûé âå÷åð. Äàâàéòå ïîãîâîðèì î äîáðîì. Âå÷åð íà÷àëñÿ, êàê ïîëîæåíî, âûíåñåíèåì äàííûõ âèíîâíèêà… òîðæåñòâà, òî åñòü Èãîðÿ, íà ñóä çðèòåëÿ. Ýòèì, ñîáñòâåííî, ïðåäñòàâëåíèå áåíåôèöèàíòà è çàêîí÷èëîñü. Ïîñëå ÷åãî íà÷àëîñü øîó! Ãðàíäèîçíîå. Èãîðü ïîäàðèë âñåì ïðèøåäøèì  ïåñíè Ëåîíòüåâà (ïðàâäà â íîâîì, ñâîåì îáðàìëåíèè) è ñòèõè, à òàêæå äóøåâíóþ òåïëîòó. Ê ñ÷àñòüþ îò ïåðåãðåâà íèêòî íå ñêîí÷àëñÿ, ïîñêîëüêó çàë æàðîì íå ïûõàë. Çèìà ïîäè. Õîëîäà. Òåì íå ìåíåå, áåíåôèñ ïðîøåë ïðè ïî÷òè àíøëàãå,  âñåì áûëî âåñåëî è äàæå òåïëî (íàäûøàëè, âèäàòü). À íàø Èãîðü ïðîñëàâèëñÿ.  çðèòåëüíîì çàëå, ñðåäè çðèòåëåé áûëà çàìå÷åíà íàø ïðîâîñò. Îòçûâû òåõ êòî ïðîñëóøàë, íå â ñìûñëå ïðîïóñòèë ìèìî óøåé, à â ñìûñëå, ïðèñóòñòâîâàë,  áûëè ýìîöèîíàëüíû äî íåïðèëè÷íîãî.  ïîëîæèòåëüíîì ñìûñëå, êîíå÷íî. Ïî êðàéíåé ìåðå ìû íè÷ãî ïëîõîãî èç óñò îïðîøåííûõ íå óñëûøàëè. È ñàìè ïîâîð÷àòü íå ìîæåì. Áðàâî, Èãîðü! Áèñ!
Ïî ãîðÿ÷èì ïðîñüáàì çðèòåëåé ïðåäñòàâëåíèå áåíåôèöèàíòîâ ïðîäîëæàåòñÿ. Ñêîðî áóäåò åùå îäíî. À ãåðîåì åãî ñòàíåò… íåò, ñåé÷àñ ìû âàì ýòîãî íå ñêàæåì. Ïðèõîäèòå – ñàìè óâèäèòå.
---
            Èíòåðåñíàÿ øòóêà. Îíà èç èíòåðíåòà. Ñòðàííî, íî îíà ðàáîòàåò. ÑÒÐÎÃÎ âûïîëíÿéòå âñå ïóíêòû. Ïîïðîáóéòå, ìîæåò ýòî ïîêàæåòñÿ èíòåðåñíûì. 
            Êîðî÷å, ýòî çàéìåò 3 ìèíóòû. Íî íå æóëüíè÷àéòå! Ýòà èãðà èìååò ñìåøíîé õàðàêòåð. Íå ÷èòàéòå âñå ñðàçó, ïðîñòî âûïîëíÿéòå ïóíêòû, ýòî çàéìåò òðè ìèíóòû è ýòî ñòîèò èñïûòàòü. 
            Ñíà÷àëà íàéäèòå ðó÷êó è áóìàãó. Êîãäà âû áóäåòå ïèñàòü èìåíà, âûáèðàéòå èõ òàê, ÷òîáû ýòî áûëè èìåíà òåõ ëþäåé, êîòîðûõ âû çíàåòå, à òàêæå ïîâèíóéòåñü ñâîåìó ïåðâîìó èíñòèíêòó. ×èòàéòå âíèç ïî ñòðî÷êå, à íå âñå ïîäðÿä áåç îñòàíîâêè, íå òî âû îáëîìàåòå ñåáå âåñü êàéô, ïîíÿòíî? Îùóùåíèÿ, áëèçêèå ê ýðîòè÷åñêèì !!!
1. Ñíà÷àëà íàïèøèòå â ñòîëáèê ÷èñëà îò 1 äî 11.
2. Ïîòîì, íàïðîòèâ 1 è 2 íàïèøèòå ëþáûå äâà ÷èñëà.
3. Íàïðîòèâ 3 è 7 íàïèøèòå èìåíà ïðîòèâîïîëîæíîãî âàì ïîëà.íå ñìîòðèòå äàëüøå, åñëè âû íå äîïèñàëè, à òî âñå áóäåò íå âåðíî.
4. Íàïèøèòå ëþáûå èìåíà (íàïðèìåð, äðóçåé èëè ÷ëåíîâ ñåìüè) â 4,5 è 6-îì íîìåðå.Íå ìóõëþéòå, à òî ïîòîì áóäåòå ðâàòü íà ñåáå âîëîñû.
5. Íàïèøèòå ÷åòûðå íàçâàíèÿ ïåñåí â 8,9,10 è 11.Ñêàçàëè âåäü, íå ìóõëþéòå, à äåëàéòå âñå øàã çà øàãîì!
6. È íàêîíåö çàãàäàéòå æåëàíèå.
À òåïåðü êëþ÷ äëÿ èãðû... 
 Âû äîëæíû ðàññêàçàòü îá ýòîé èãðå ñòîëüêèì ëþäÿì, êàêîå ÷èñëî âû íàïèñàëè ðÿäîì ñ íîìåðîì 2 

 ×åëîâåê ïîä íîìåðîì 3 - ýòî òîò, êîãî âû ëþáèòå 

×åëîâåê ïîä íîìåðîì 7 - ýòî òîò, êîòîðûé âàì íðàâèòñÿ, íî ê êîòîðîìó âû íå ìîæåòå ïîäúåõàòü (âîëüíûé ïåðåâîä) 

 Áîëüøå âñåãî âû çàáîòèòåñü î ÷åëîâåêå ïîä íîìåðîì 4 

×åëîâåê ïîä íîìåðîì 5 çíàåò âàñ î÷åíü õîðîøî 

×åëîâåê ïîä íîìåðîì 6 - ýòî âàøà "çâåçäà óäà÷è" 

 Ïåñíÿ íîìåð 8 àññîöèèðóåòñÿ ñ ÷åëîâåêîì ïîä íîìåðîì 3 

Ïåñíÿ íîìåð 9 – ïåñíÿ, êîòîðàÿ îòíîñèòñÿ ê ÷åëîâåêó ïîä íîìåðîì 7

Äåñÿòûé ïóíêò - ýòî ïåñíÿ, êîòîðàÿ ãîâîðèò î òâîèõ ìûñëÿõ, î òåáå ñàìîì(ñàìîé)

È 11 ïåñíÿ ïîêàçûâàåò òâîå îòíîøåíèå ê æèçíè 

×òî çíà÷èò ÷èñëî ïîä íîìåðîì îäèí – íèêòî íå çíàåò, íî ÷òî-òî  îíî äëÿ Âàñ çíà÷èò, ðàç Âû åãî íàïèñàëè.

 Ïðîâåäèòå ýòîò òåñò ñ 10 çíàêîìûìè íå ïîçæå ÷åì ÷åðåç ÷àñ ïîñëå ïðî÷òåíèÿ. 

Åñëè âû ýòî ñäåëàåòå, æåëàíèå èñïîëíèòñÿ, à íåò - íå âûïîëíèòñÿ. 
Ñòðàííîâàòî, íî, êàæåòñÿ, ðàáîòàåò! 
---
DURING THE BREAK 

 

Jessica Buckingham, Prep year student

Name and Position

:

Amanda Wooden, CEP lecturer at ICP

Taurus

Horoscope Sign

:

Cancer

a plant named Fred

Home Pet:

Cats, they are sublimely intelligent

 

I didn't

Do people get what they deserve:

Oh yes, Karma in the next life and the grades I give in this life

The cars that try to run me over when I walk from one building to another

What do you love to destroy:

Ignorance, complacency, selfishness, silly male chauvinism

 

When there is "Îëèâüå" in the cafeteria

What excites you:

Water!

Istanbul

What is the most exotic place you have ever been:

Chad Thompson's desk

When all else fails, move to Kyrgyzstan.

Life Motto(s):

* Strive for the unreachable and you might get part way there,*Almost nothing is entirely impossible, 

*It's a woman's world, men just have not realized it yet.

an island of democracy

Kyrgyzstan is not...

a hegemon

Make the lunch period 20 minutes longer

If you were AUK's president what would be the first thing you would do:

Declare AUK meet-free!

It's not the wand, it's the magician.

Does size matter:

After careful research, the results are inconclusive: sxxx may equal power but it does not always equal influence.

 

I would quit smoking and stop biting my nails.

If you could change something in yourself what would you change:

Well, I would not change my gender.

1) a male friend, 2)a book, 3) a bag of chips, 4) a swiss army knife, 5) music

What five things would you bring with you if you were stranded on an island:

1) paper, 2)a box of pencils, 3) a reverse-osmosis desalinizer, 4) an anthology of poetry, 5) a Zimbabwean

 My life!

The Star is:

Nosey! (Great for AUK, I think, but will reserve my final opinion until I see if I am misquoted...)

What really goes on in the Critical Thinking Laboratory?

Nonstop drag shows.

Q from the last interviewee

:

Why is the tendency to torture students SO common among AUK teachers?

 

Because it is the natural order of things.

What's going on with the squirrels here?

Q for the next interviewee:

Why is the tendency to moan SO common among AUK students?
---
Co-editors - John  Atwood, and Konstantin V. Sudakov
Photographer – Anisa Afshar
Adviser - Evangelia Papoutsaki, Deborah Eisenberg
Staff who contributed to this issue:  Tatiana Pesina, Anton Klyuchin, Anna Kirey, Kadyr Toktogulov, Roman Yumatov, Ilgiz Kambarov, Lola Ibragimova, Jessica Buckingham, Saodat Asanova, Medina Aidarova.