PROTOCOLS and METHODS
when: pliocene and pleistocene
basket 5 - time-scales will be measured before 2000 alike before present
Time is timeless (of course) hence
dealing with genetic (so early genesis at first) alike with biology and geology or astronomy and oceanography or some other deep investigation into heart of all these our immense living bodies we cannot pretend to use as our time-scale a simple (unuseful) segment of the whole time-scale (notwithstanding we don't know how will be this whole)
in fact when you do not have a simple but correct scale of time (like in our prehistory) there is simpler use the last (so the first or the lowest) rung of the ladder: use Time Before Present (BP) and you are definitely correct
here we are dealing with immense distances by Time: the dendrochronology reach 10.400 perfect years ago and the Last Glacial Maximum is suggested around 22.000 years ago when the Aurignacian prehistoric culture is typical around 30.000 years ago and Neandertalers reach 80-90.000 100.000 years ago the Australopitecinae are beyond 1.000.000 years elder and Pliocene paradise is well beyond 3.000.000 years at least
honestly speaking it is unwise deals with these things and hear again and again: before and after Jesus Christ before and after Communist before and after Fascist before and after before and after..... who care?
before and after Rome or Buddah do not worth (and do not warrant) a time-scale..... it appear that scholars investigating the incredible universe of chimpanzees and primates or of plancton and pollen or of planets and comets are attempting to humanize the whole world jailing it in a frame they can hold safely: no more wide of that no more deep of that no more long of that no more short of that no more frozen of that no more wet of that no more dry of that no more hot of that no more no more no more..... that's the frame
but who pretend to anthropomorphize Nature?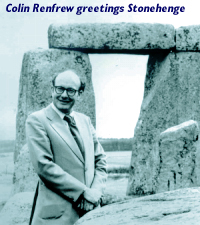 sixty years ago they (of course they are ever) boasted that Pleistocene was long one million years (no more that was the distance they could manage into their skull really their frame) but next appeared Robert Ardrey and Elaine Morgan who seemingly do not known nothing of Pliocene and Pleistocene and smashed the frame.....
today diagrams by oxigen-18 isotope stages (by Cesare Emiliani and Maureen Raymo stratigraphies) show us that Pleistocene was at least 2.600.000 years long
just in that years prof. Colin Renfrew who knows well Pliocene and Pleistocene smashed other distances (other totem and taboo also) showing that prehistory down untouchable Europe was (is) very very long according radiocarbon and dendrochronology investigations
noteworthy who pretend to use a framing time-scale sometime could be wrong according his scale: in the mediaeval era was sure useful the chronology compiled by Dionisius "the minus" alike is useful again sunday morning into your church mass (of course)
but when you have to count years by whatsoever reason (like is when you keep lectures by your University for instance) you cannot use it or (for sure) you must not use it because the whole count into this time-scale is wrong (by seven years you know) no matter if seven years do not care at all..... it simply is wrong and so (simply) you must do not use it
you do not need any reason to be honest with TIME..... you simply must be
[ Dionisius diagram is on our BASIC PROTOCOL ] [ click to enlarge ]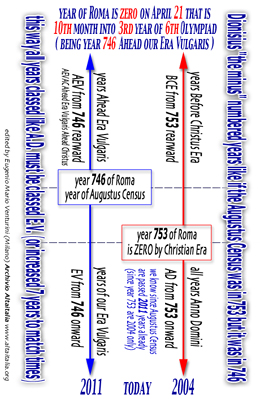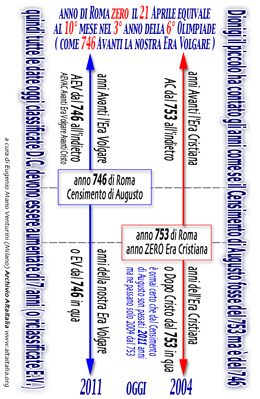 [ english read this calendarius Dionisius ] [ italian read this calendario Dionigi ]
nevertheless a time-scale must describe TIME within readable limits (of course) but not frame or bound it by arbitrary purposes: for sure a mediaeval or liturgical time-scale will be unwise dealing with ecosystems and chimpanzees or neandertalians as well
here we must investigate TIME
of PLIOCENE and PLEISTOCENE
at first [1] we must investigate the early genesis of our KAPPA haplogroup hence all about the stratified layers before birth of actual whole group so investigating primates into Pliocene paradise (like the so-called Proconsul and most recent Australopitecinae) down to last glaciation of Pleistocene (named Wurm) investigating elder Heidelberg and Neander and Cro-magnon humans encompassing whole Villafrancan until early Aurignacian periods or cultures (since three or four millions years ago and up to 50.000-100.000 years ago) over the floors or layers stratifications where next above them will start our KAPPA group
that was the early habitat and life of our prototype populations: from this distant landscape we retain today a deep kinship with water and his swimmers like dolphins and whales..... and retain unforgettable words and rituals as well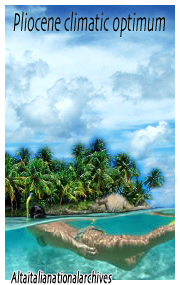 our fair and wet ancestral territory here into pliocene climatic optimum (that is a typical hawaian climate on mediterranean shores) was the same already inherited by our most distant miocene's ancestors (like is typical by Primates on whole Earth) maybe commencing on oxigen isotope stage n.222 when the miocene hot climate turned fair into pliocene with the arctic sea temperature that sink to zero degrees (that is 32 farenheit) about 5.200.000 years ago and by 2.000.000 fantastic years onward
here is a map of our pliocenic paradise
[ these maps are on our BASIC PROTOCOL ] [ click for a better view ]
please note that these ellipses are encircling the habitat of our genesis even if haplogroups K and T will emerge later (about 60.000 years ago)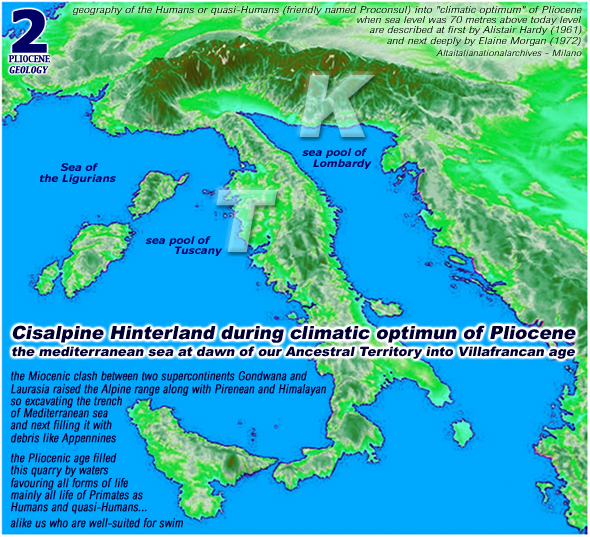 [ italian read habitat del Pliocene ] [ italian read geologia del Pliocene ]
slowly next during many thousand years we began to experience some dry and cold climatic long seasons revolving every 40.000 years about (exactly 41.000) until their maximum turned immense and very cold alike 100.000 frozen years (every round) became typical
during a million years at least twelve deep frozen waves (into five seasons named Donau, Gunz, Mindel, Riss, and Wurm) seated on our Alps and Pyreneans and Sierra Nevada and Cevennes and Big Boulder and Olympus and Caucasus where the ice-cap reached 2.000 meters above the valley bottom when all around there was the dust of arctic desert..... less the leewardside of these ice-caps where the sinking katabatic fair wind preserved year-round a very nice dwelling hinterland
just here atop one of ultimate ice waves
about 60.000 years ago (if not many years before) appeared our KAPPA group out of our optimistic ancient population
see two first maps of frozen pleistocene reading aequilibrium line altitude (ELA) and his temperature along with Mediterranean sea surface temperatures (SST) during typical glaciations like the Last Glacial Maximum (LGM) where figures show how dwelling hinterlands was more favourable leeward side of icecaps (north or south) than otherwise..... mainly on our alpine/cisalpine hinterland just on the plain of Lombardy
equilibrium line altitudes during last glacial maximum
[ maps and diagram are on our BASIC PROTOCOL ] [ click to enlarge ]
[ italian read equilibrio and temperatura durante L'ultimo Glaciale Massimo and ELA diagram]
following [2] by the birth of our KAPPA haplogroup so completing the genesis at his climax 50.000-60.000 years ago during the first high wave of Wurm and next going to the Last Glacial Maximum of Pleistocene (the ultimate glacial maximum about 32.000-22.000 years ago) when huge ice-cap got double thickness above our Alps living into Aurignacian prehistory seemingly to be highest point of palaeolithic cultures
here our group dwelled 10.000 frozen years again
in those endless bright seasons
maybe friendly groups joined our alpine hinterland and meets our needs so matching our genetic compound maybe forever or maybe until defrost 10400-12400 years ago when glaciers began melting and mammuths along with sabretooth tigers and all reindeers slowly began moving north.....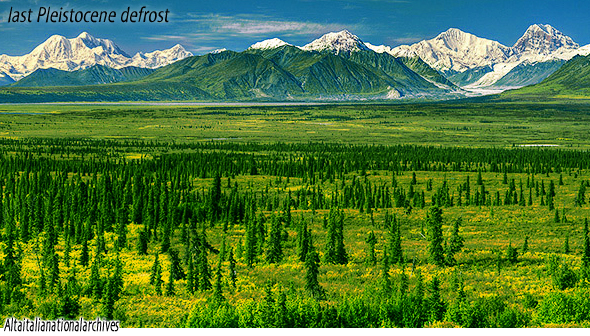 nevertheless we remained here
and sure we all keep contact thru high alpine passes broken down by tonnes of melting ice
in this new season our ancient aurignacian calendars was re-designed matching the newly opened (free of ice-cap) distant horizons just when the four seasons matched the perihelion between year 11.640 (-23:18 hours) and 11.501 (+23:47 hours) during a whole century as our ancient proverbs remember it again today
.....and next the stone tools was abandoned for copper and brass and iron spreading into the modern Villanovan culture until roughly 2.000 years ago
moreover [3] there will be possible to track time since friendly peoples joined our Alpine and Altaitalia Modal Haplogroup compound (AAMH) around the steady KAPPA haplogroup nucleus .....but all useful dates will stop around 2.000 years ago when Roman Calendar superseded our ancient (former Aurignacian) Villanovan Calendar of course
some other researches dealing with younger times (from year zero of our Era Vulgaris onward) are of genealogy interest and so will be described into your genealogy pages
these diagrams will be our basic time-scale
[ all diagrams are on our BASIC PROTOCOL ] [ click to enlarge ]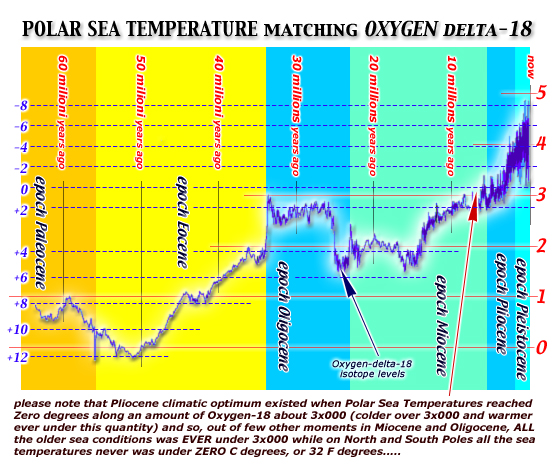 [ english read this oxygen-18 diagram ] [ italian read this ossigeno-18 diagram ]
this first TIME DIAGRAM show levels of Oxygen-delta18 during our last 65 million years: note that zero-degrees into polar seas water was reached on pliocenic age only..... when before PLIOCENE the polar seas water was warmer than zero degrees ever
an unique climate optimum
here under, two diagrams show towering icecaps above Arctica and Antarctica, Himalaia, Caucasus, Olympus, Gran Sasso, Cevennes, Pyreneans, and Alpine mountains during our last 300.000 years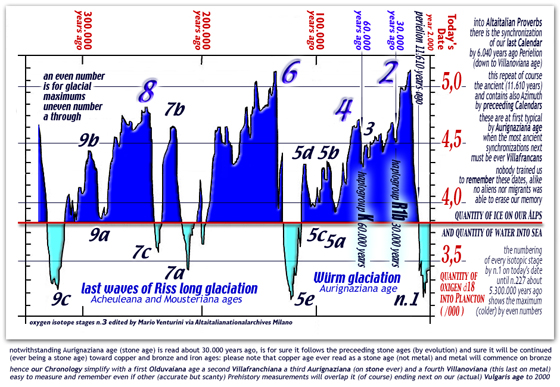 [ english read this Wurm diagram ] [ italian read this Wurm diagram ]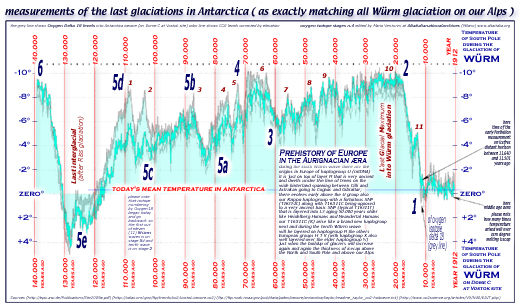 [ this antarctica icecore diagram ] [ this antartide icecore italian diagram ]
here at last
the Time will be measured by genetic distance or time between SNP bases (like in the diagram n.1 by prof. Cavalli-Sforza on this page) so locating all ancient events on a readable time-scale and next matching the main events accordingly by comparing other precision time-scales like radiocarbon and dendrochronology and oxigen isotope stages diagrams
that will be useful with all screening results
NEXT
deeping into life of KAPPA group we think that genetic results can be compared by whatsoever you wish to measure..... but we do not: here we must compare only with data by fixing date
for instance: language elements will be compared only if could help to date something (in a timeless past) alike fix something into environment where otherwise some dating could be measured..... like words embedded into proverb rhymes because are possible time-markers on the genesis of proverb itself
alike if precision dating will be our goal
.